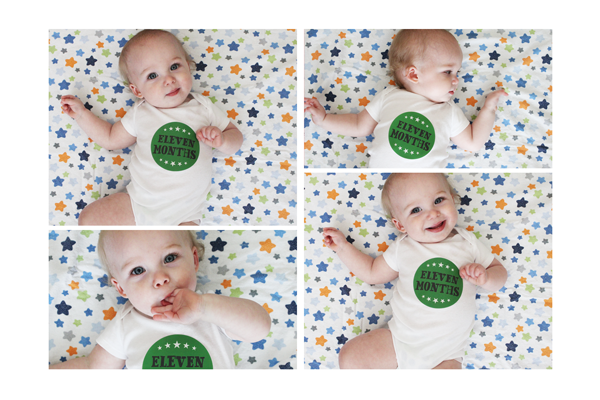 (monthly onesie sticker from HERE and photo template from HERE)
Yes, I'm in bit of denial, but Luke is officially 11 months old now. How did THAT happen?! He'll be 1-year-old in less than a month. Whoa.
Anyway, I better not keep thinking about my last baby turning a year old soon and just get right to what he's been up to this month. Sigh.
Weighs ?? and is ?? inches long (I SO gotta remember to do that this week!)
Is walking across rooms now, but not quite walking officially. ANY DAY NOW.
When you ask him "Who is Mama?" or "Who is Dada?" or "Who is Caylin or Jack" he will point to you. It's sweet.
In size 3 diapers still, but running out of room. ;)
Taking 2 good naps a day again and sleeping well at night.
Loves to pinch! Ouch!
Has these little curls at the base of his neck. Sigh.
Still has the longest eyelashes I've ever seen in my life
Throws everything
Likes to "play" ball
Almost too big for his car seat
Sits in his stroller like a big boy now
FINALLY said Mama really good – July 9th
Gets super excited and makes the cutest "SO EXCITED face (his eyes get big and wide and he opens his mouth REALLY big)
Is still loved. A WHOLE BUNCH. ;)
Have a great day, friends! Make it a good one!