Happy Project Life® Tuesday!
Hope you all are having a good week so far! Here are the pages I'm sharing today! I'm using lots of goodies from the August OHDEERME embellishment kit from Freckled Fawn that was just released! Just like EVERY month I'm blown away by the cuteness, uniqueness and amount of goodies in the kit! EVERY month it's my new favorite and August was no different! ;)
Here we go!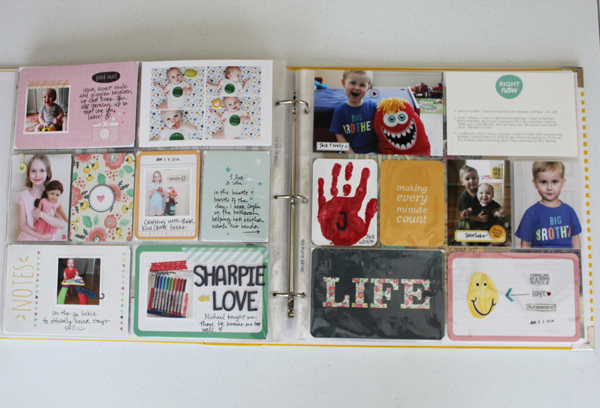 Here's a shot of both pages. DESIGN A pocket pages and I've used cards from the Kiwi and some from a couple of We R Memory Keepers packs.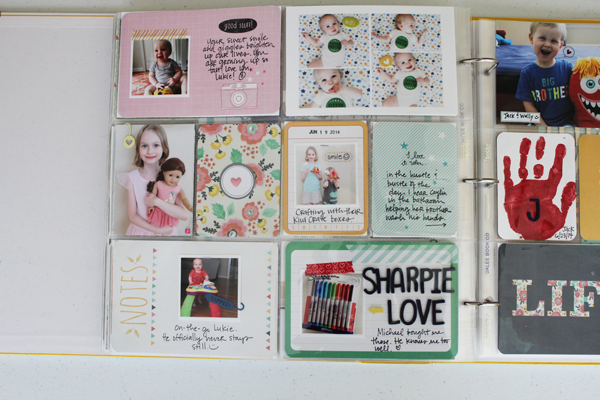 Here's the left side shot. :)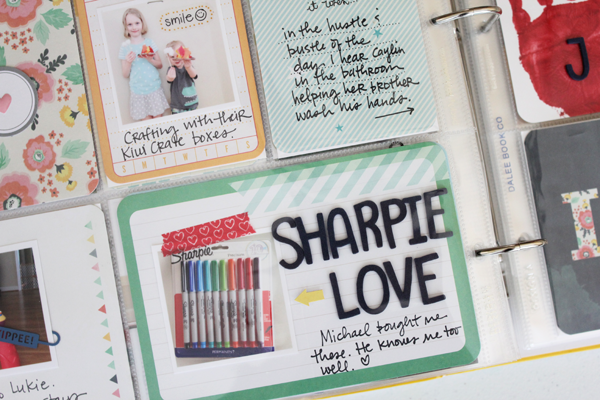 These cute foam letter stickers are from the August OHDEERME kit and so is the yellow arrow sticker and that cute heart washi tape!
Here's a closeup of one of the 4×6 cards I included on this page. Freckled Fawn always has such cute paperclips! These are no exception! I love the "YIPPEE" on it! Adorable!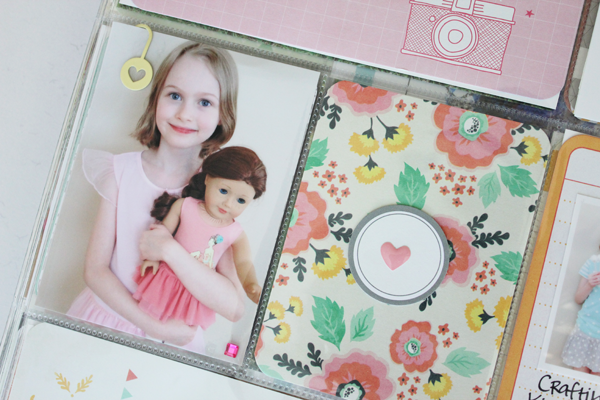 This closeup has another cute paperclip on it (the heart one) and I used a little heart epoxy from last month's kit in the round label circle sticker from this month's kit. The paperclip is an add-on product you can get at freckledfawn.com! I added a tiny little pink square gem to the corner. Caylin wanted me to give it a little girly bling! ;) A set of cute, colorful square rhinestones come in the kit, too!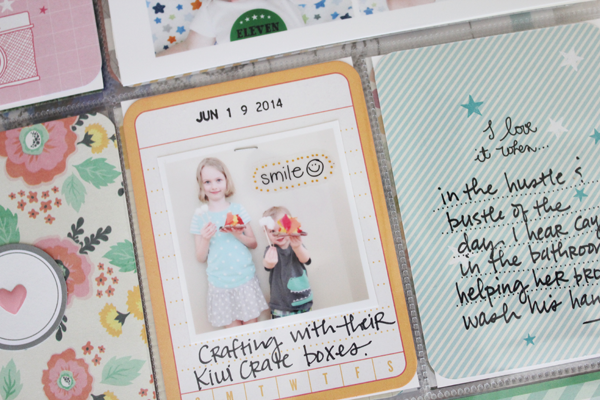 I always have my handy-dandy Project Life® date stamp close and use it A LOT. The "smile" sticker is in the kit and comes on a sheet with a lot of other clear, super cute stickers! Both cards are from the Kiwi kit and the floral one is a We R Memory Keepers card.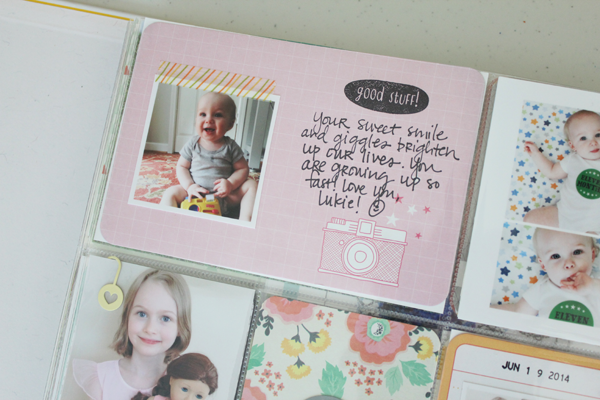 The washi I used on the little photo is in the kit and that "good stuff" is a stamp in the awesome stamp set that's included in the kit!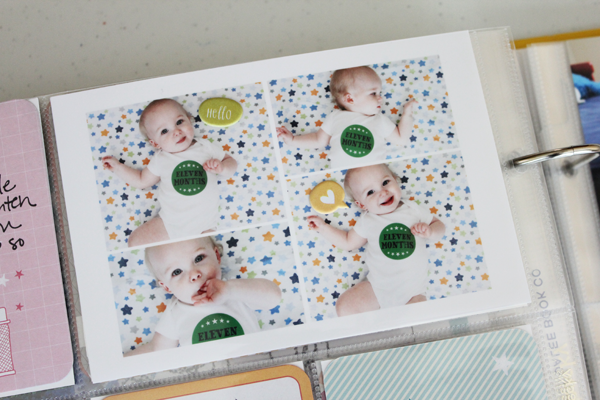 Love this photo template from my friend, Tracy Larsen. Use her templates A LOT. Can't recommend them enough! I added some cute puffy stickers to the photo that are in the kit! LOVE!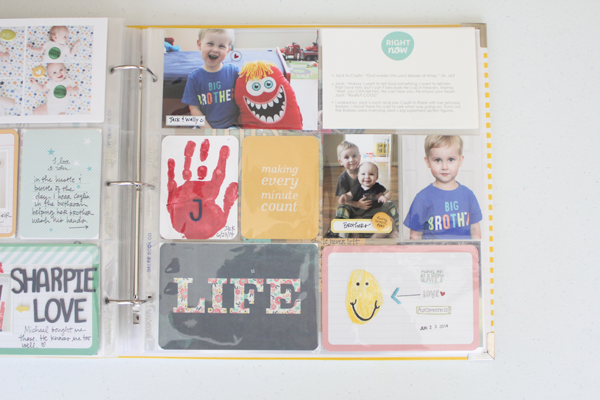 Here's the right side. :)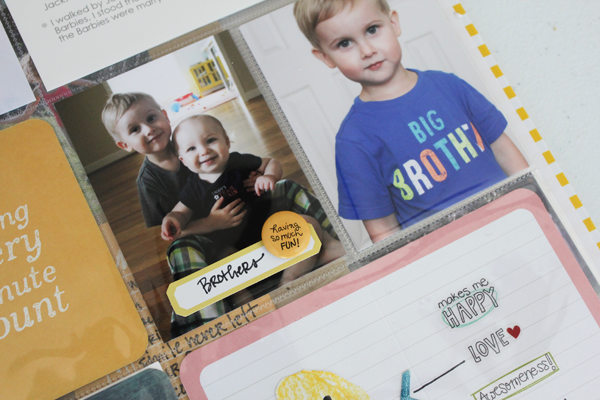 The yellow label and mini flair badge are in the kit, too. You know how everything that's mini is just more adorable? Well, that's so true with these flair badges, too! LOVE them and LOVE the size! Perfect for pocket scrapbooking! The kit comes with two and the other one has a different saying on it. I need more mini flair. That is all. :)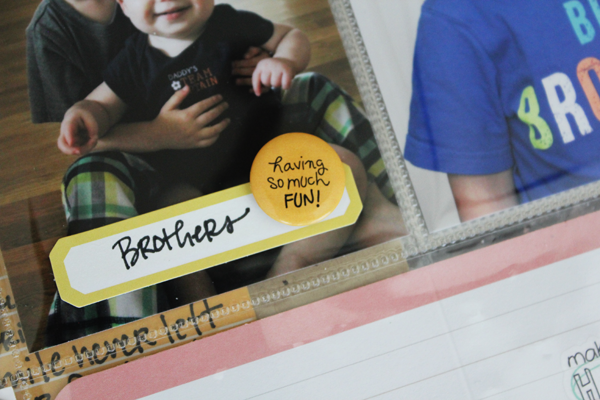 Close up of the flair. Told you it's SO adorable! ;)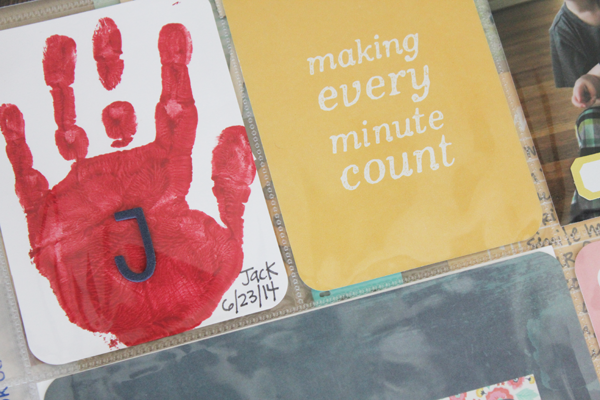 I cut a piece of white cardstock to size and let Jack paint his hand with acrylic paint and then do a hand print. Super simple way to get this sweet little keepsake into your Project Life® album. I think I'll do one for him every year and Luke, too! Caylin's hand is bigger, but I bet it would fit on a 4×6 card. Gotta do one for her soon! ;) The "J" is one of the foam letter stickers from the kit.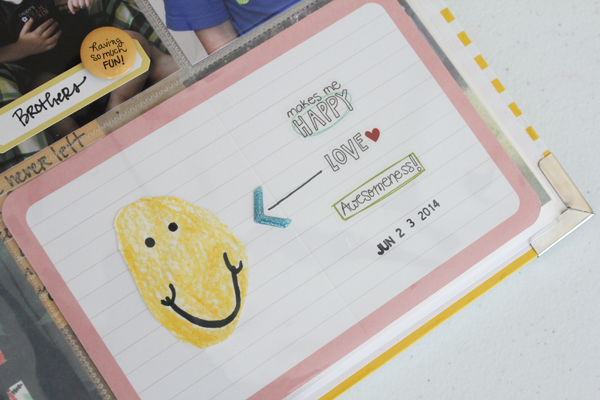 Caylin made this little smiley sticker for me so I included it this week. Seems like I have a little handmade goodie from her every week in my pages. Love that. Love my girl. ;) The clear stickers on the card are from the OHDEERME kit. LOVE! Super adorable!
Lastly – here's another close up shot. That label sticker and the little talk bubble with a heart are also from the kit!
See – the kits come with SO much every month and are so fun to add to your pages! I'm not a big embellisher – but these kits give me the perfect amount of embellishing on my pages and I'm able to use them on multiple pages and projects because there's so much in them!
Thanks for stopping by! Be sure to check the blog post below since it's also the 5th of the month and my friends Crystal and Rebecca and I released a new Freebie on the Fifth today! Yay!
Make it a good one! XO!