Hi there friends!
I pray you all are having a beautiful Sunday today!
Here are the final two days of my Week in the Life album – Saturday + Sunday.
I enjoyed this project SO much! So glad it's done and now I can get back to catching up on my Project Life spreads! Ha!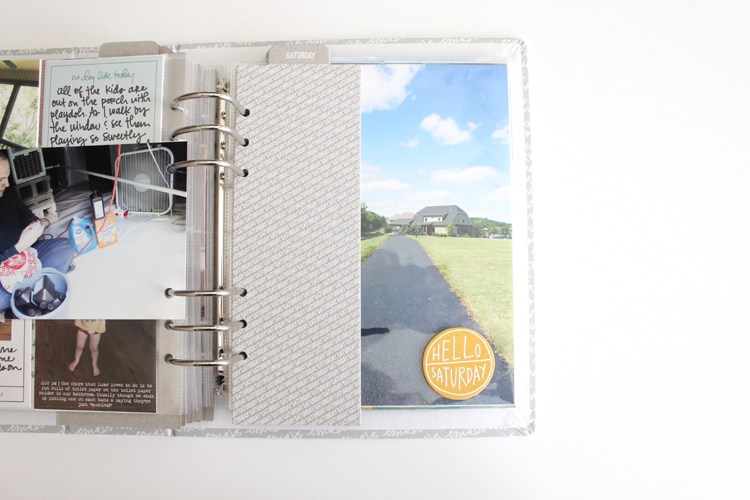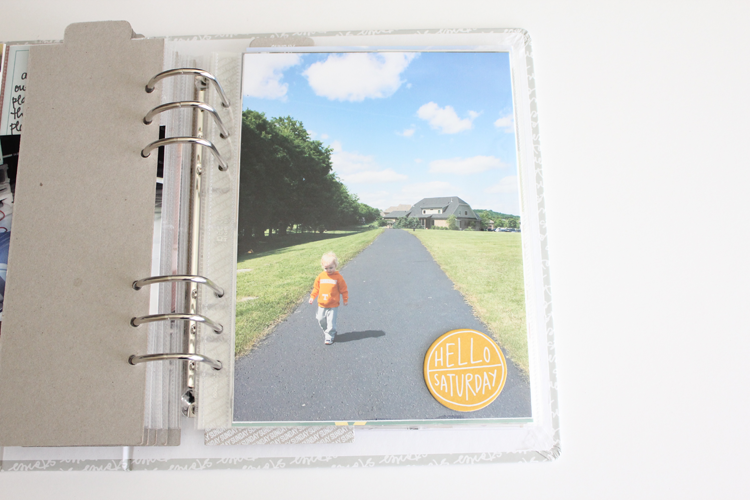 I love how the "hello Saturday" chipboard matched Luke's sweatshirt in this photo! Ha! Don't you love it when that happens?
Anyone else a fan of Chick-Fil-A's breakfast? ;)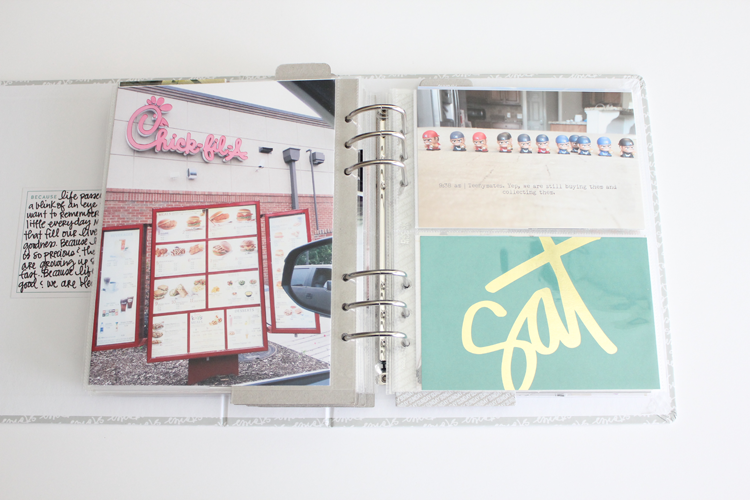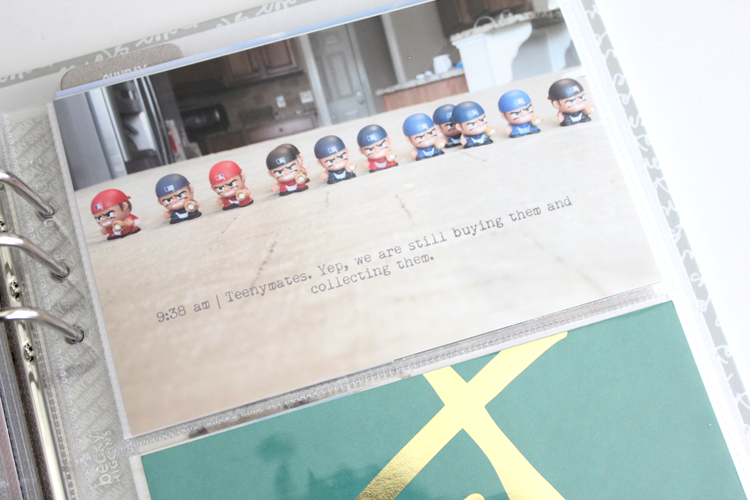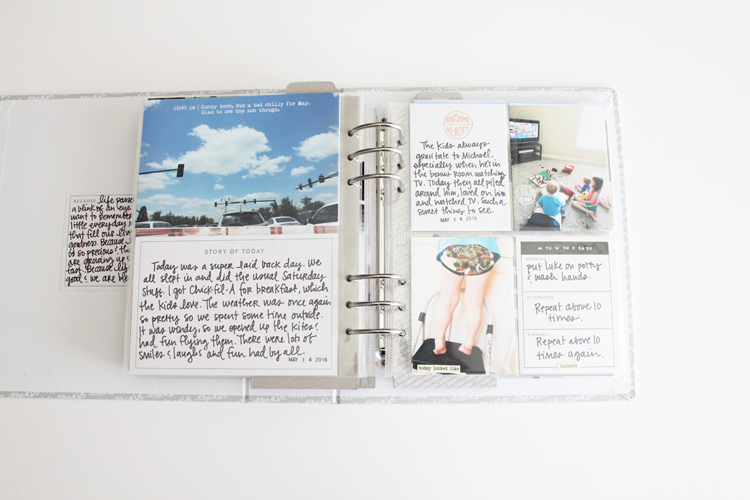 There was definitely more journaling and photos in this Saturday section. I added a couple of page protectors and wrote quite a bit, as you can see!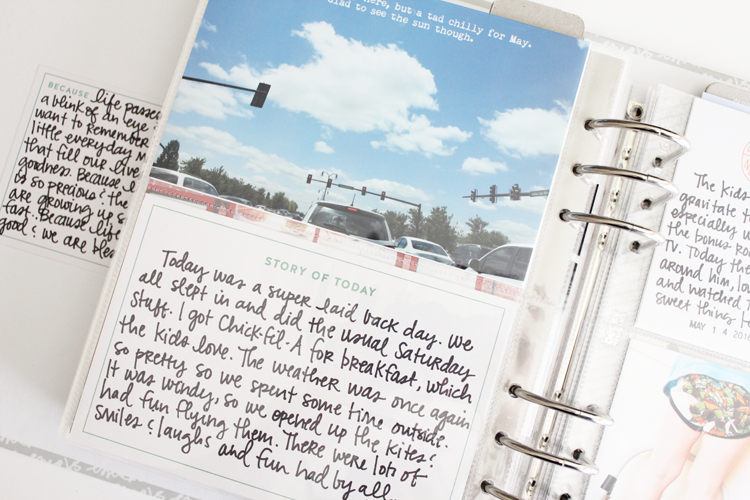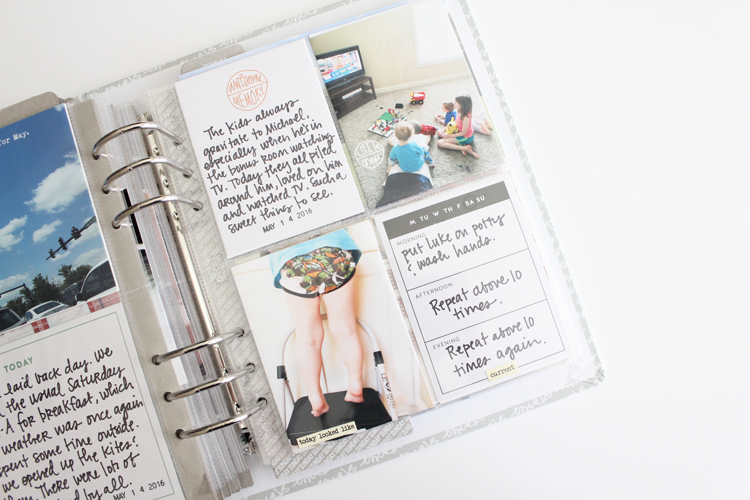 I thought it was funny to use that bottom right 3×4 card to put that Luke was on the potty and washing his hands like ALL day that day (since he was newly potty trained). Ha! That was what this day – heck this week – had a lot of! I had to include a super cute photo of him on the stool washing his hands with his adorable big boy undies!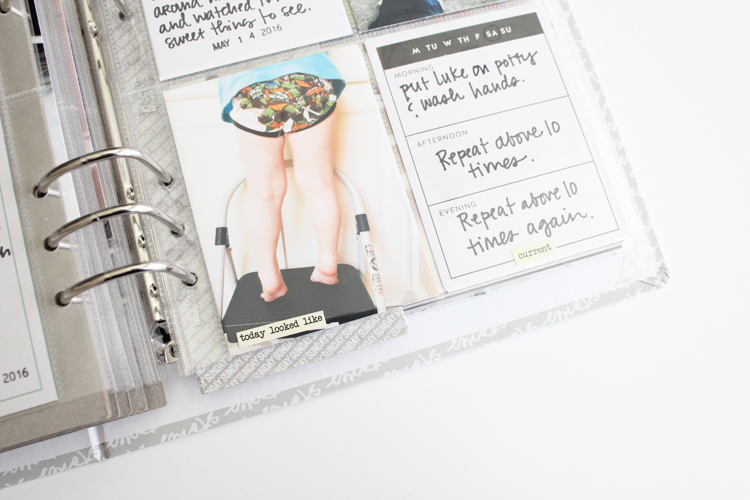 I used a digital brush on the 3×4 photo and love how it matches the 3×4 card next to it. If you don't have any of Ali's digital brushes yet, you NEED some. Seriously. They are so versatile and cute!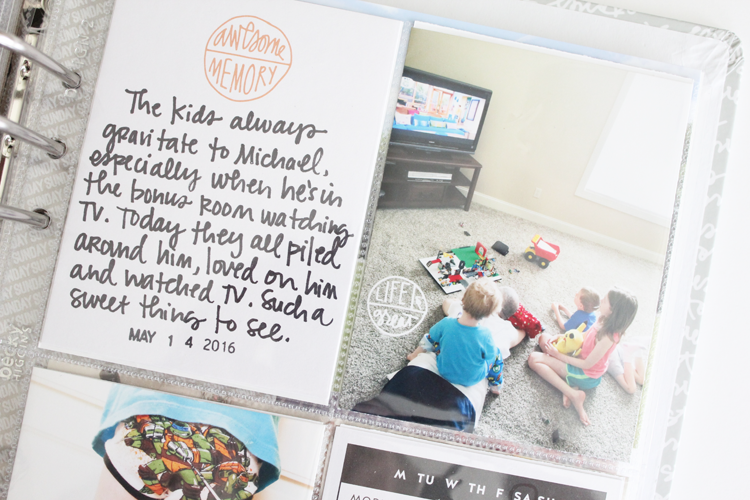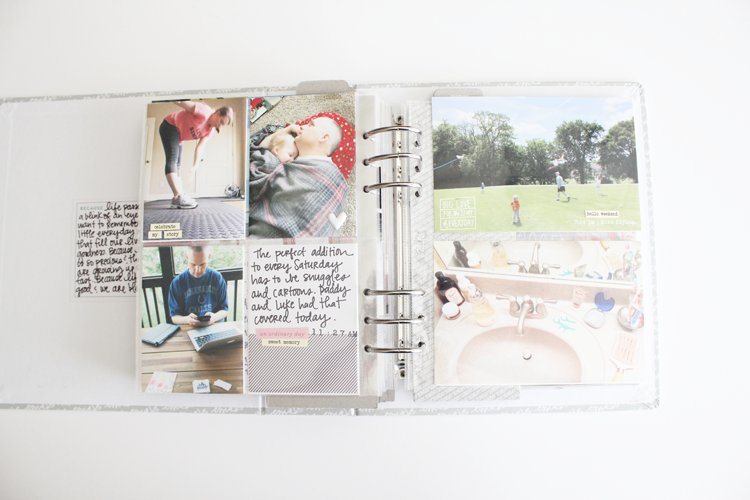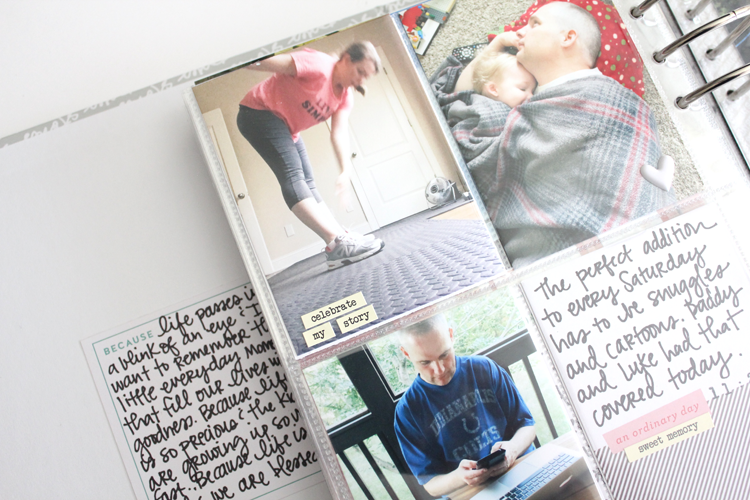 The puffy heart sticker is from Freckled Fawn.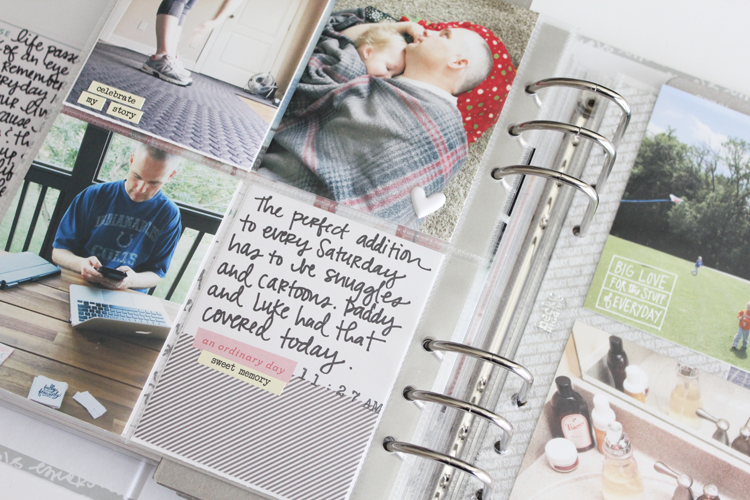 This kite flying photo is another favorite from the week! Added some journaling digitally and a digital brush, too.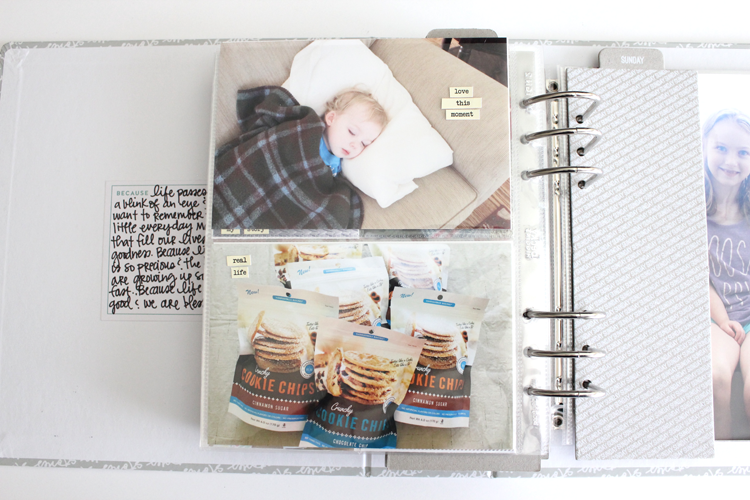 I could take a picture every day of my kids sleeping. I just love them. Sigh.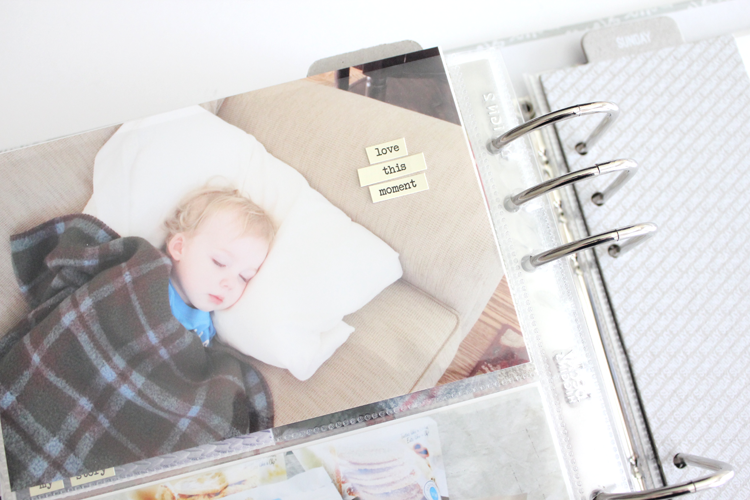 Now let's move onto Sunday, shall we?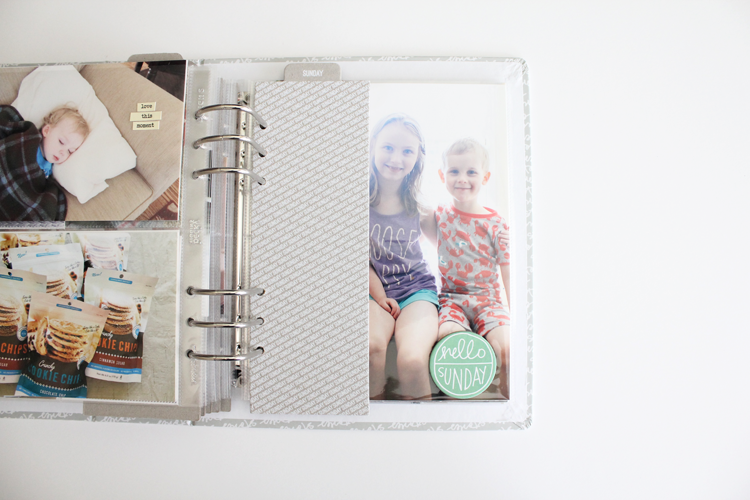 I love this sweet photo I got of my kids. Makes me happy. :)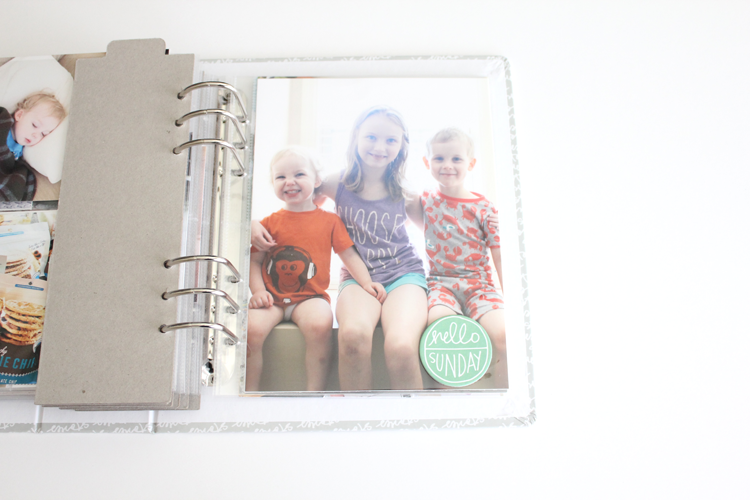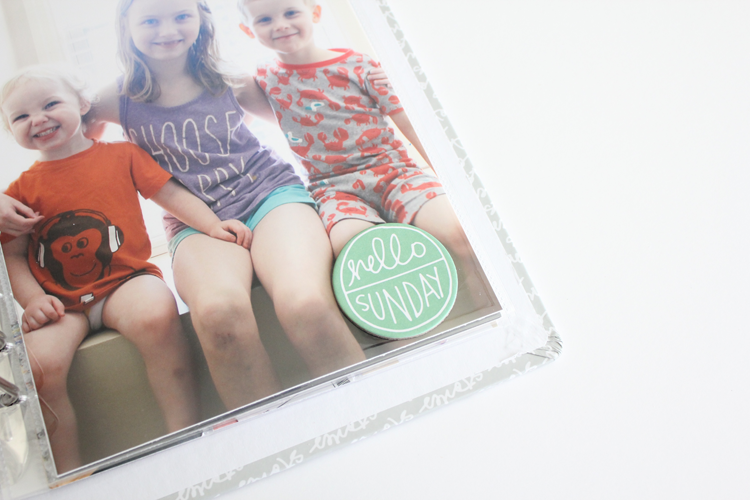 For this year's WITL, I thought it would be the perfect time to include what I normally have been including in my Project Life – a "currently" list for each of my kids. I got the idea from Ali a good bit ago, I believe. She does these kinds of lists and a few years ago I saw a blog post of hers talking about it and so I started doing one for my kids and including it in my PL spread – probably a couple of times a year. I think it goes great in this type of album though and so I think I might include it in here from now on once a year to see what my kids are up to. I love asking them and then reading them after time has passed. I just simply created a 5×7 file in Photoshop, added one of Ali's digital brushes for "currently" and then typed each one's name above it. Then just wrote the list out, printed it out, punched holes in them and then added the tabs so they are easily seen and handled. Easy peasy and I love them!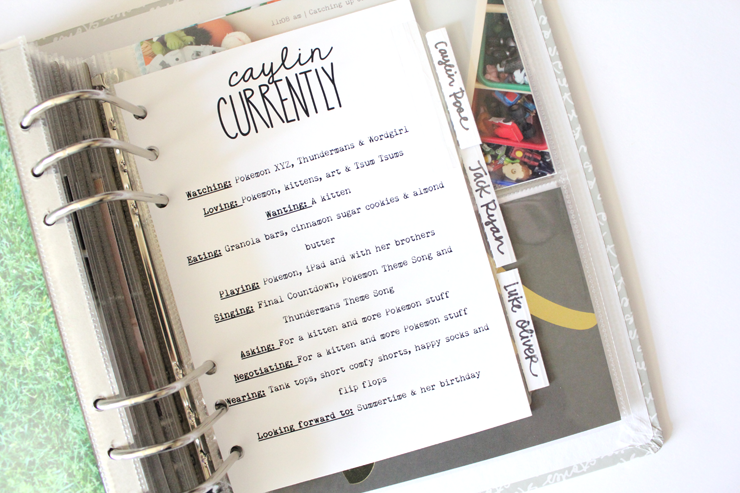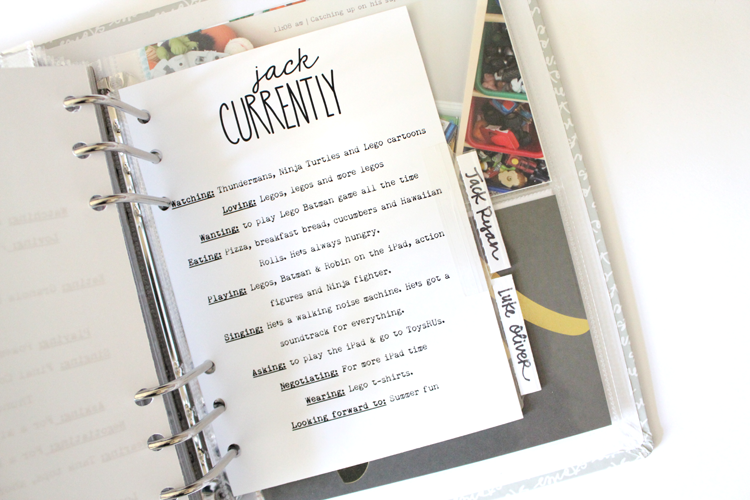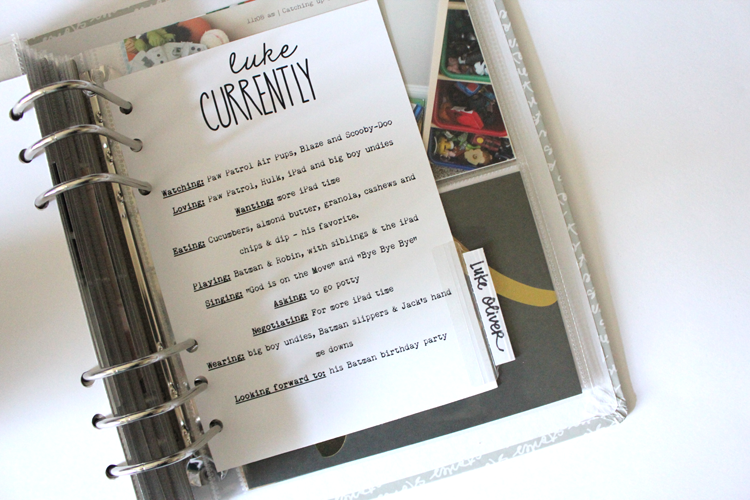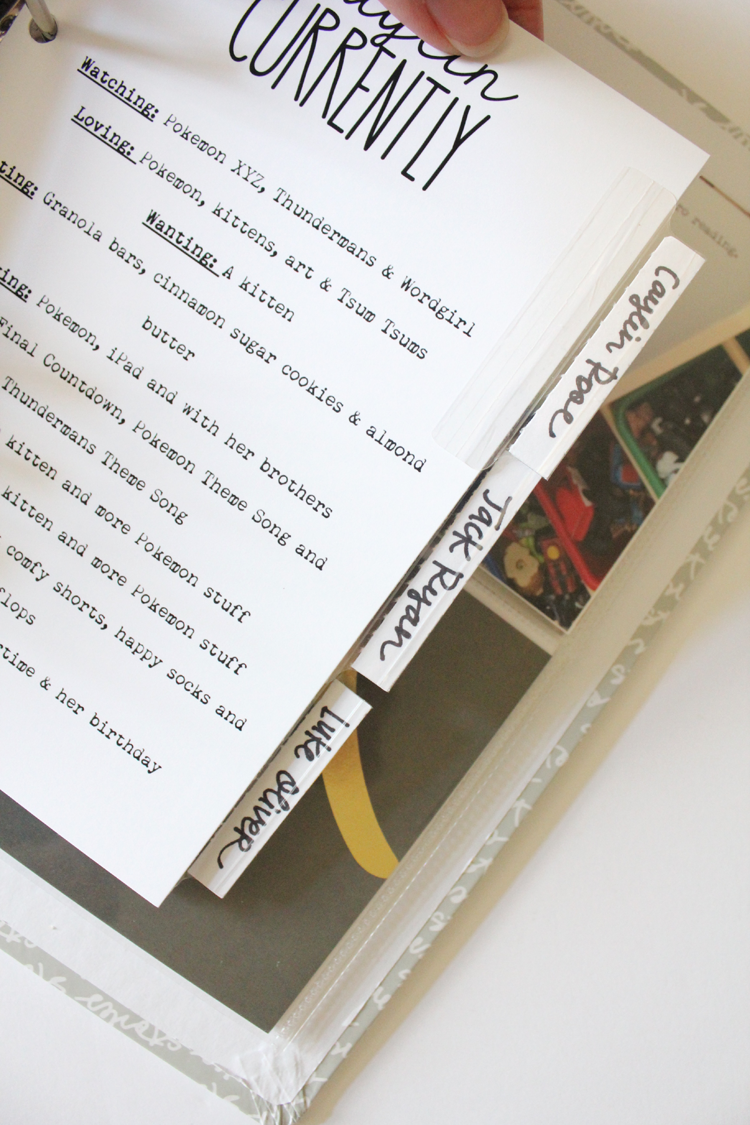 The currently pages seen above are stuck right here in between these pages. I totally forgot to take a photo of them IN the book for the below shot! Ha!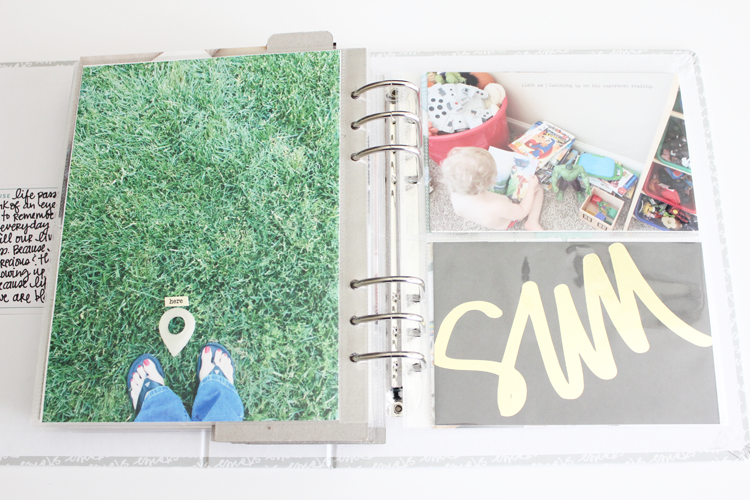 Geotag acrylic is from Freckled Fawn.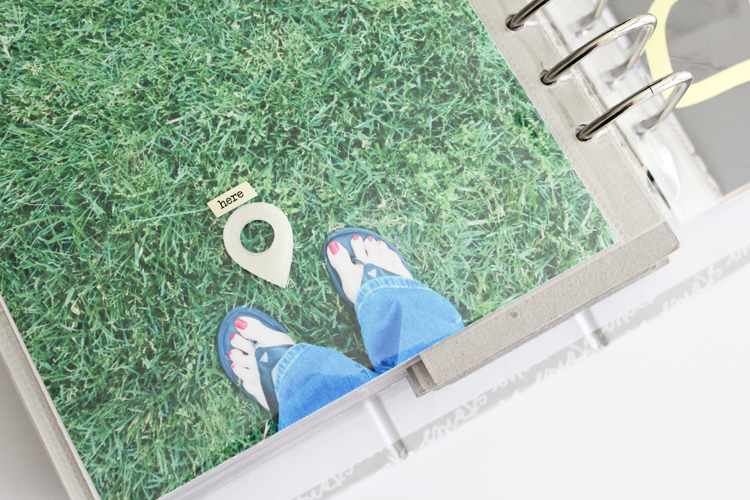 I love how simple and easy it is to add journaling directly onto photographs.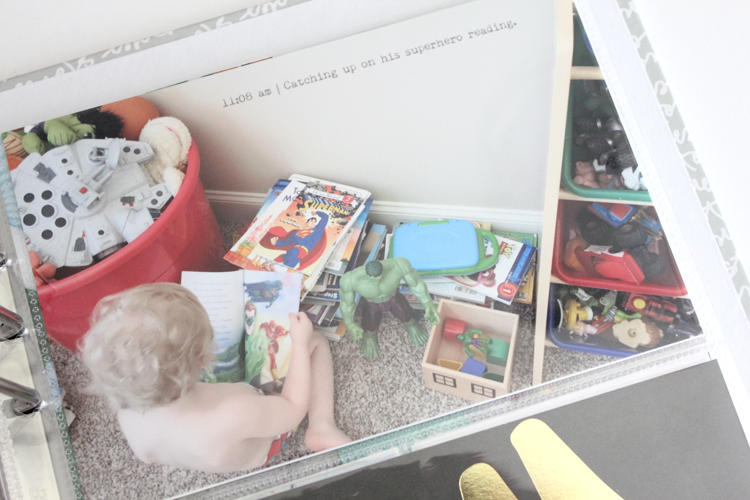 More photos & journaling. :)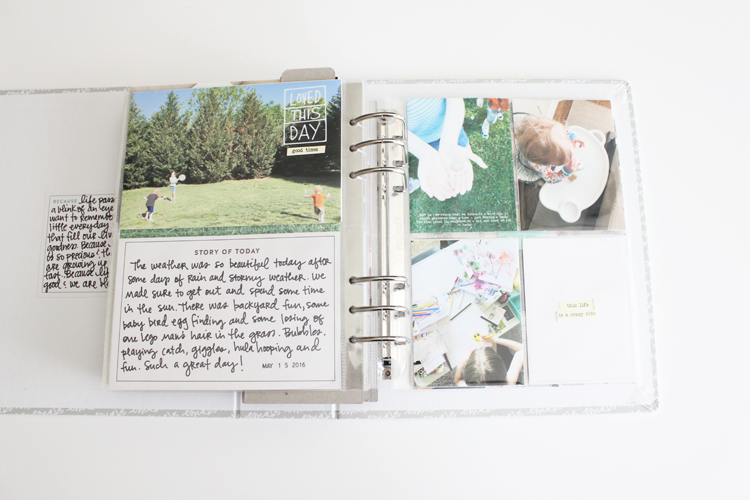 Another digital brush. I couldn't get enough of those this year.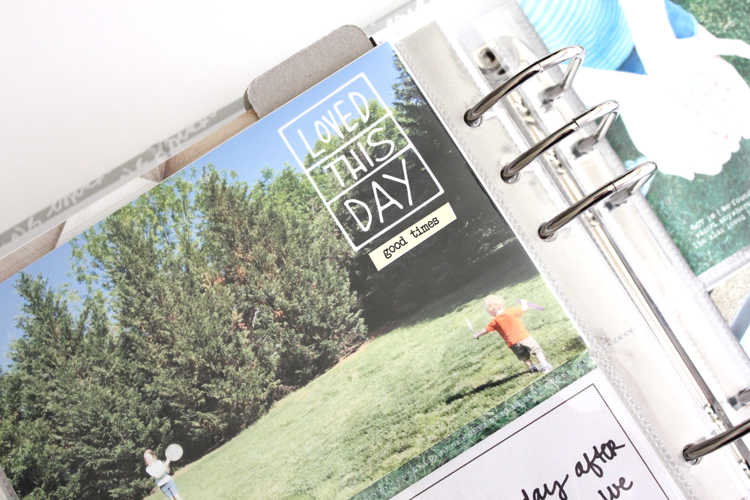 For this 3×4 card, I just simply used white cardstock, stuck two of the phrase stickers on it and then stapled them.I love the simplicity of it.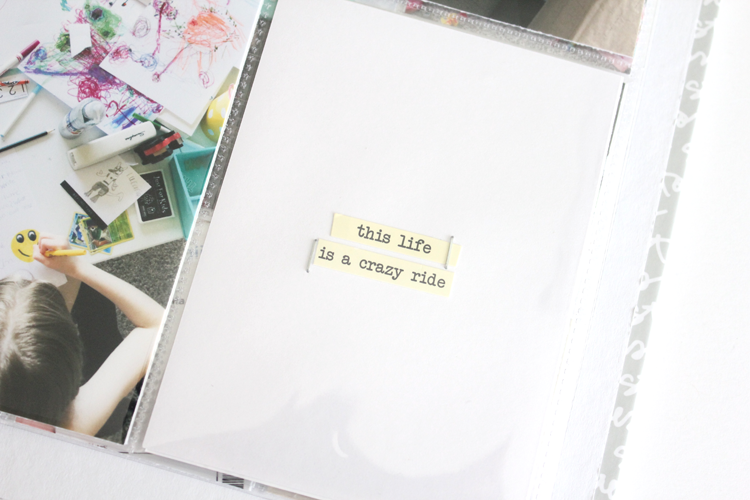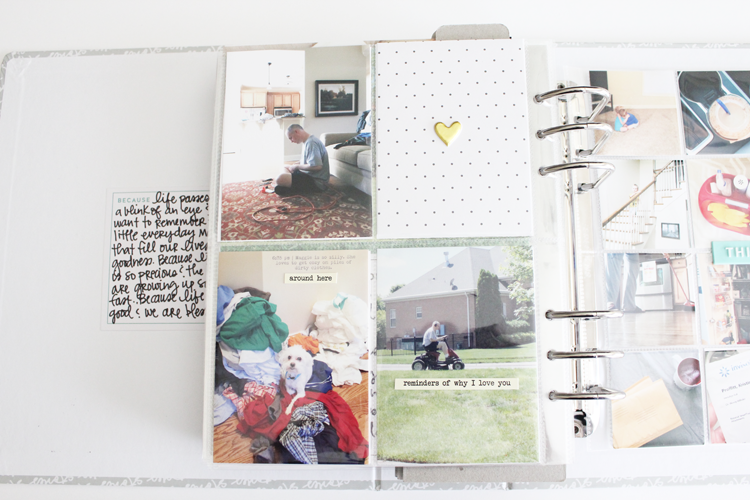 Gold puffy heart sticker from Freckled Fawn. :)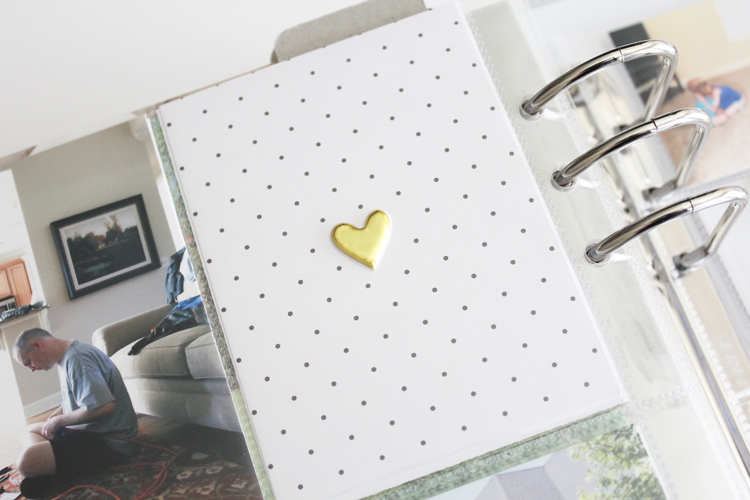 And then finally for the last page of the album, I used one of the 2×2 page protectors that came with the kit. I had lots of random photos from the week and so I just printed them all out and stuck them all in! Ha! I love how it's just a bunch of everyday photographs. It really summed up the entire week for me and just how my life is in general.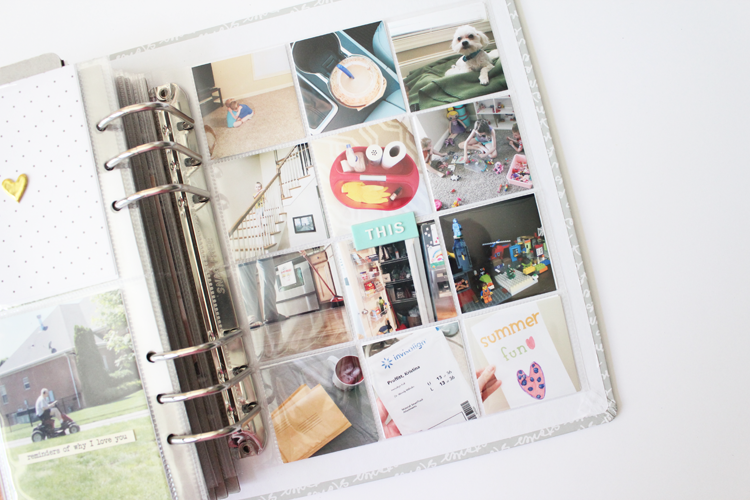 I included the "THIS" rubber embellishment in the middle of the front of the page. "THIS" is what this project is all about. Capturing life.
Here's the back – more random photos from the week!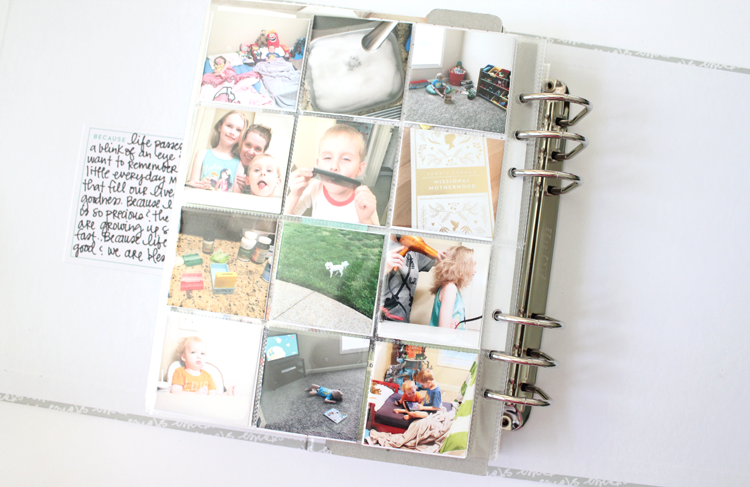 And this is what I included on the spine. I totally need to straighten up the 1 and the 6 – it's bugging me – ha! You know me – keeping it simple! ;)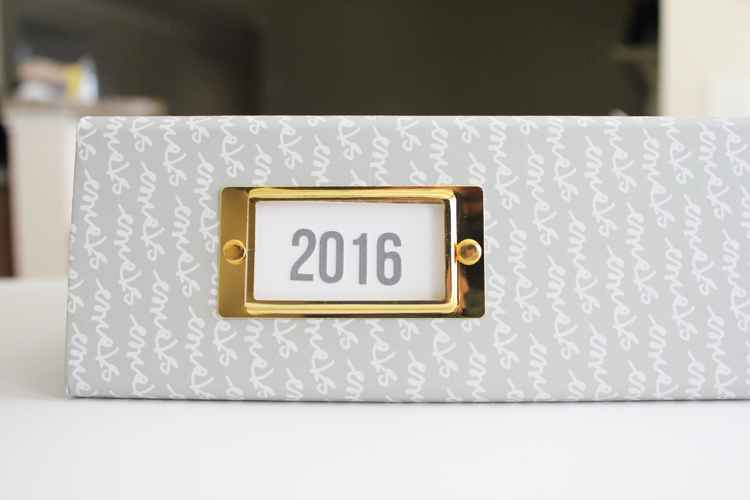 And there you have it, friends! The last two days of my Week in the Life album! Thanks for coming along with me on this journey! You know I'll be doing it next year! If you have any questions about my album or process, let me know! I'm happy to answer them! If you want to learn more about Week in the Life, check out Ali Edwards' website HERE. I'd love to have you do this along with me next year! She even does a few "Day in the Life" throughout the year so you could even start there if you think a week might be too much first!
I hope you all have a great week ahead! Now it's time to get back to some other layouts, projects and my Project Life! I'm excited to dive back into it all!
XO!