Happy Monday, sweet friends!
I'm super excited to introduce you to a very talented and creative woman named Colleen Attara today. I stumbled upon Colleen's work when I was reading Ali Edwards' blog one day and just loved her beautiful work. I knew that instant that I wanted to spotlight her on my blog to make sure that lots of other people knew about her. Colleen's work is so amazingly cool. I knew I wanted her to make me a word (cut from salvaged and scrap plastic) and so after some thought, I decided to get the word "blessed" because I knew it would serve as an important reminder to me all day and every day to count my blessings and to focus on what truly matters.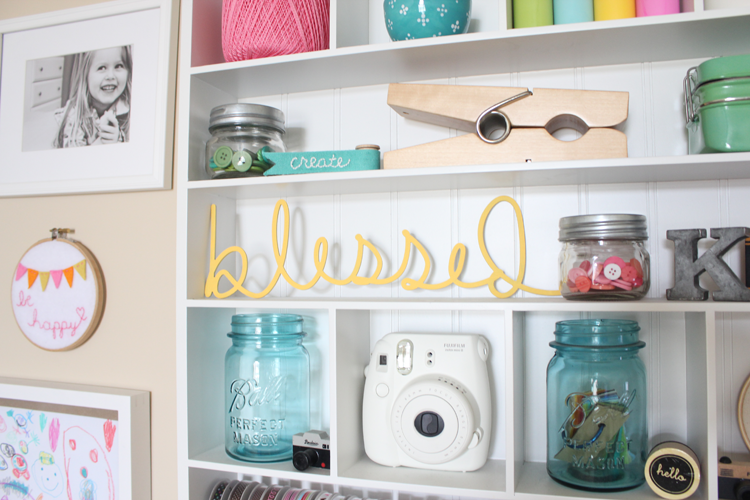 I decided to place my word in the shelf above my desk (where I spend a lot of time). I painted it a happy yellow (I think yellow and aqua are my most favorite colors EVER) and the word itself has really blessed me. I often glance at it and smile. I've even been known to see it and then pray a sweet and simple prayer thanking God for the blessings in my life. Funny how something so simple can be such a great reminder in our lives.
I love how the word is in the handwritten script. It's beautiful and has a very whimsical look to it. I also love how Colleen wrote a sweet message on my package when it came in the mail. I asked her about it and she said that she writes a message on EVERY package using that person's word. She said she loves writing them and she loves reaching people. How amazing is that? It's such a sweet touch that DOES make a difference. On my package she wrote, "She was blessed in every way – her heart was wide open." How beautiful is that? I loved it so much I wrote it down so I wouldn't forget it. ;)
Colleen also sent me some really unique and beautiful cards and a beautiful print as well.
Here are the cards: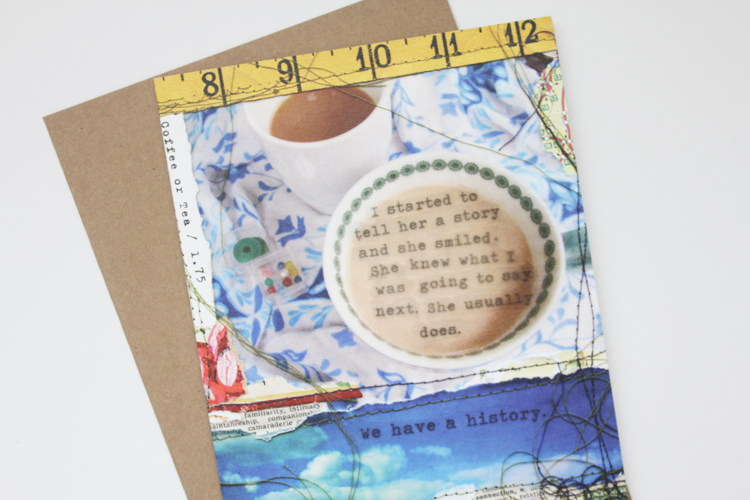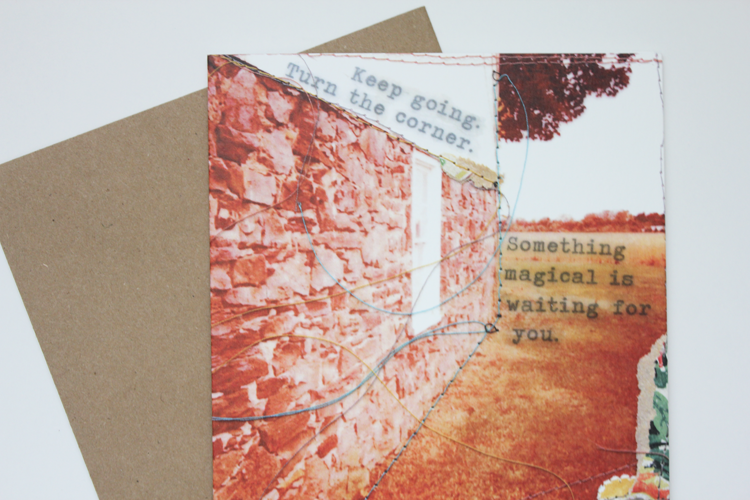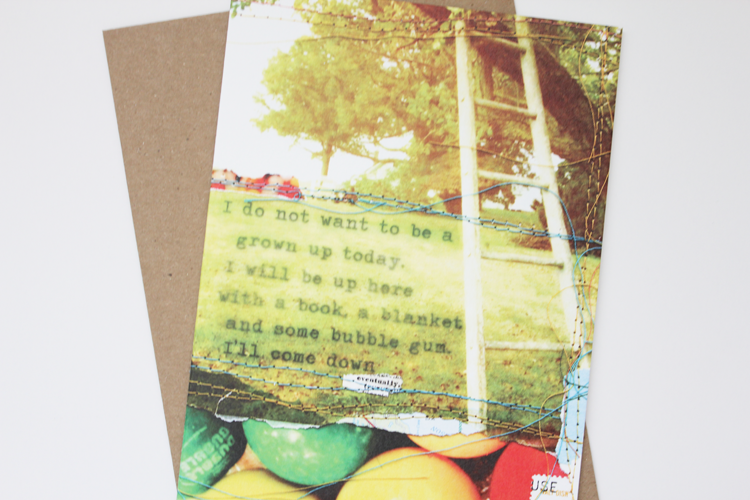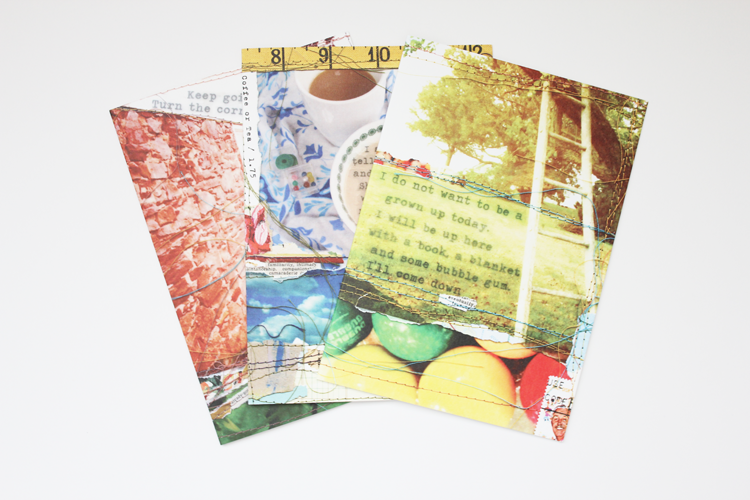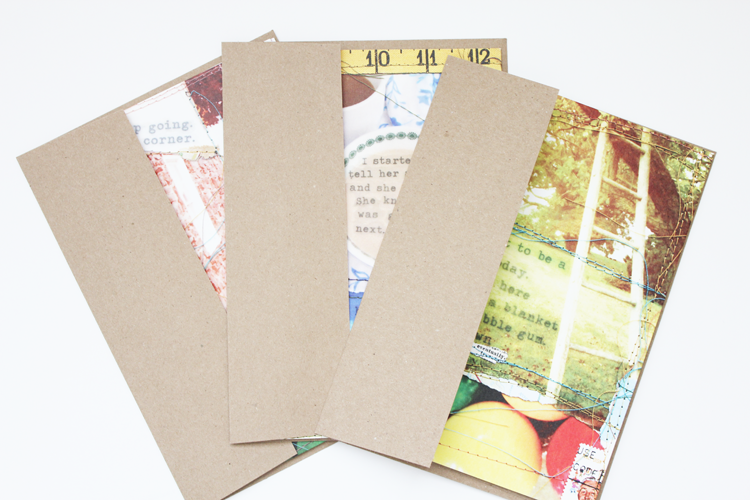 Each card is so beautiful and unique. The cards are a reproduction of her mixed media art, which I think is so cool. There are bits and pieces included on them, sewing, ephemera and Colleen's original artwork as well. The inside of the cards are blank and they come with a kraft envelope.
Each card looks pieced together perfectly and contain a beautiful message on the front, too. You won't find cards like these in the card section of your local grocery store. SO amazing! The cards are also acid-free, recyclable, biodegradable and elemental chlorine free.
The print that Colleen sent to me is just as beautiful.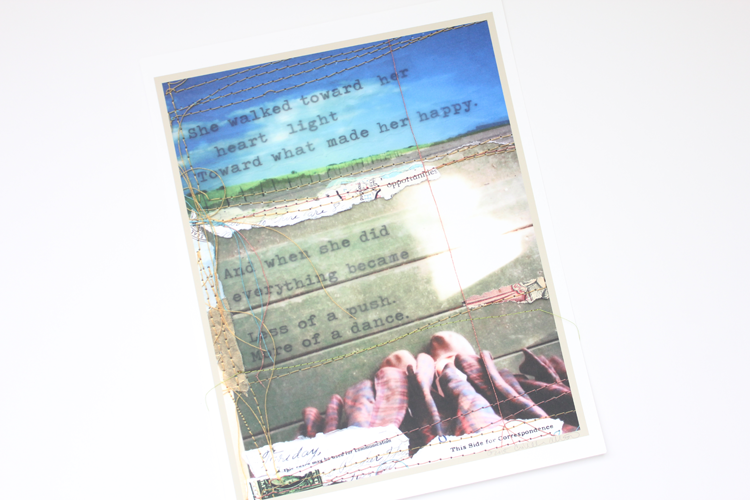 I mean, come on! Read that beautiful message! Love!
This is an 8×10 print and is also an archival reproduction of her original mixed media art. It has stitching on it, which gives it a whimsical and carefree feel.
Colleen's work is really rare and by that I mean, it's not too often that you see such unique, airy and beautiful bits and pieces combined to create such a beautiful piece of art. I love how she concentrates on using recycled materials that are environmental friendly and how the message of her work is also important to her. Just one more reason why I am so glad to share her and her work with all of you.
You can see so much more of Colleen's beautiful work HERE on her website.
You can also find Colleen on Instagram HERE and Facebook HERE. Definitely reach out and see more of her work. I know I'll be purchasing more of those salvaged words to use around my home. They are the perfect little reminder to scatter here and there.
Looking forward to having more of her beautiful artwork in my home.
Thanks so much Colleen for sharing your beautiful, creative work with us!
Disclosure: Colleen sent the salvaged word, print and cards to me for free, but all thoughts and opinions about her products and her shop are all my own. Her work is beautiful and I will be purchasing some more goodies from her soon. I only share products that I use and love.