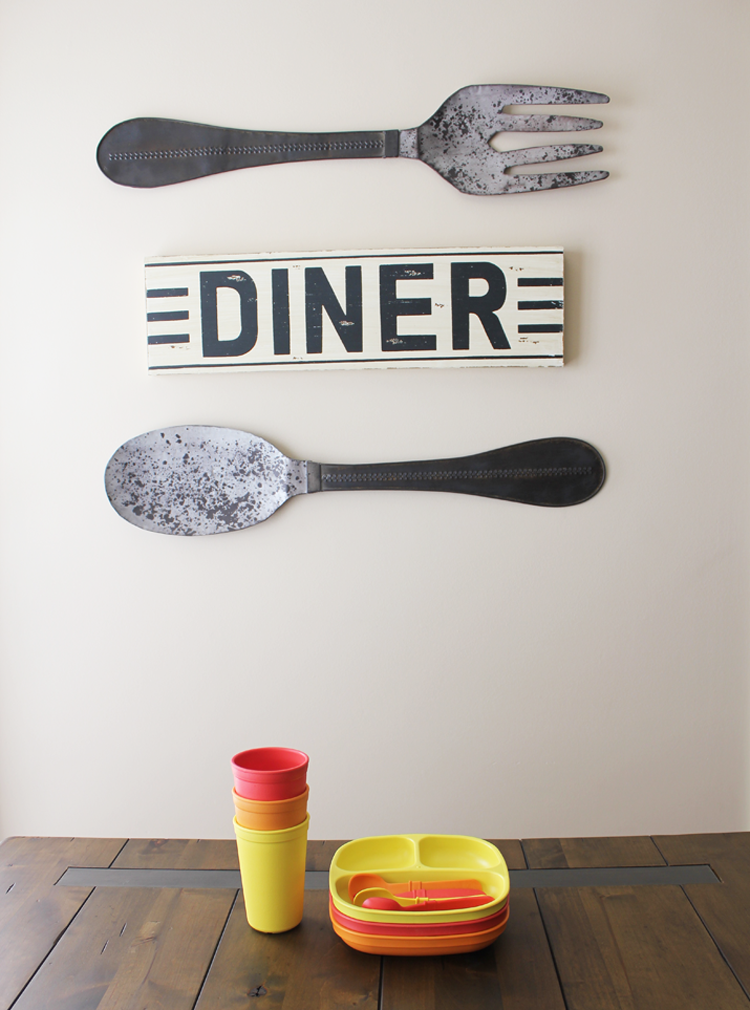 I was SO excited to have been sent some of these super cute kids tableware from Re-Play Recycled. I was sent some cups, divided plates and utensils in: orange, red and yellow, part of the Color Box collection.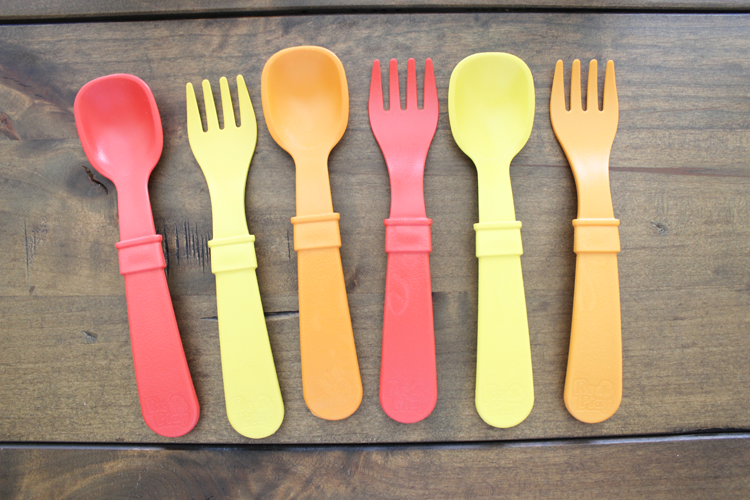 Upon receiving the sets in the mail, I noticed right away how the material that they were made from was a really thick and substantial material. I loved that and felt like the quality of the material was great and I knew that they were going to hold up against the craziness that is kids. The utensils are a great size for little hands to hold and I love that the spoons have a wide mouth area to pick up a bunch since Luke tends to lose a bit when it travels to his mouth. ;)
The cool thing about Re-Play Recycled is that they are a family owned and family-focused company and all of their products are manufactured, assembled and tested in the USA. LOVE that! Their products are also made from recycled milk jugs, which is super cool and a neat way to reuse material and turn it into something, not only cute, but functional for our children, too. Kudos to them for doing that and doing it well!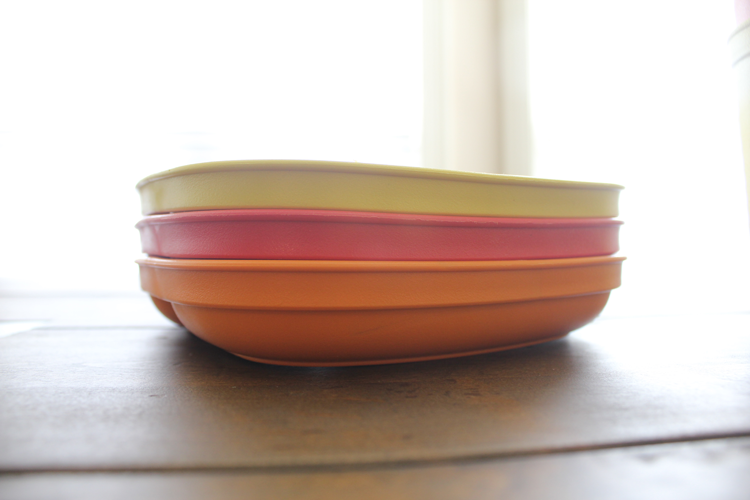 I really loved the divided plates as well. I think it not only makes eating fun for kids because their food is divided into little sections that they love, but it's great for us Mamas so that we can be sure our kids have a well-rounded meal. Those little slots are fun to fill with deliciousness for our kids and Luke really loved picking from each little section.
The cups are also really great. Once again the material is a really strong, sturdy material and although I didn't get any of the sippy cup lids for on top, Luke's at an age now where he's all about using a straw with a "big boy" cup and so he was all about these colorful, fun cups. They fit in his hand good and were easy to grip.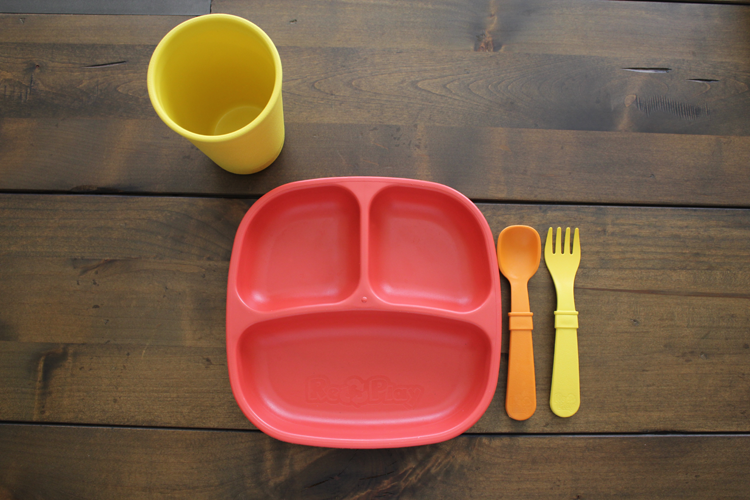 I love how there are so many cute colors to choose from and you can mix and match them. My kids love colorful things and so it was perfect to mix and match these up for Luke and then ask him what the colors were. It was great practice for him too since he's learning his colors now. ;)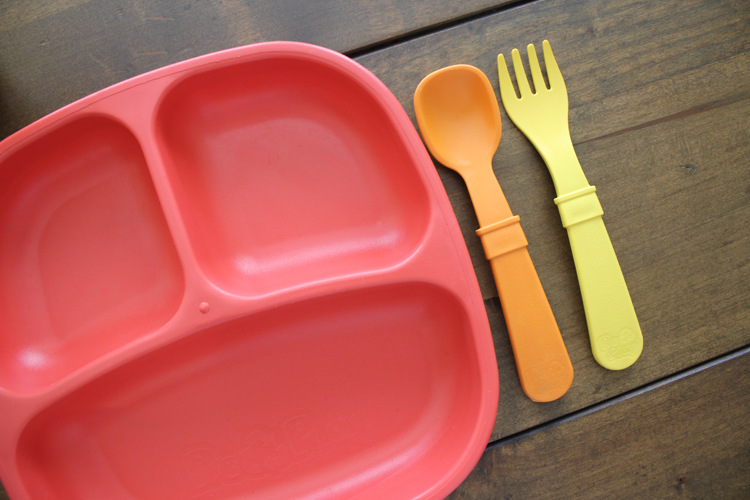 One of Luke's favorite lunches is some homemade pizza on gluten-free crust, some applesauce and some carrot sticks.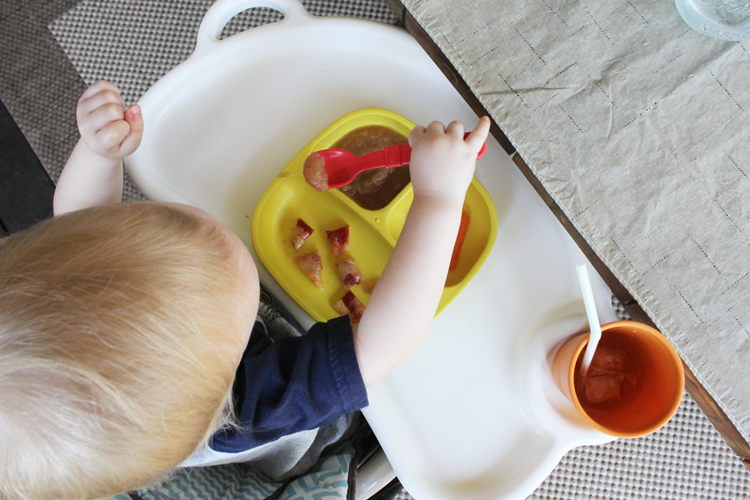 He's a pro now at feeding himself and I really think these spoons are not only fun for him, but they really have helped him develop those great eating skills.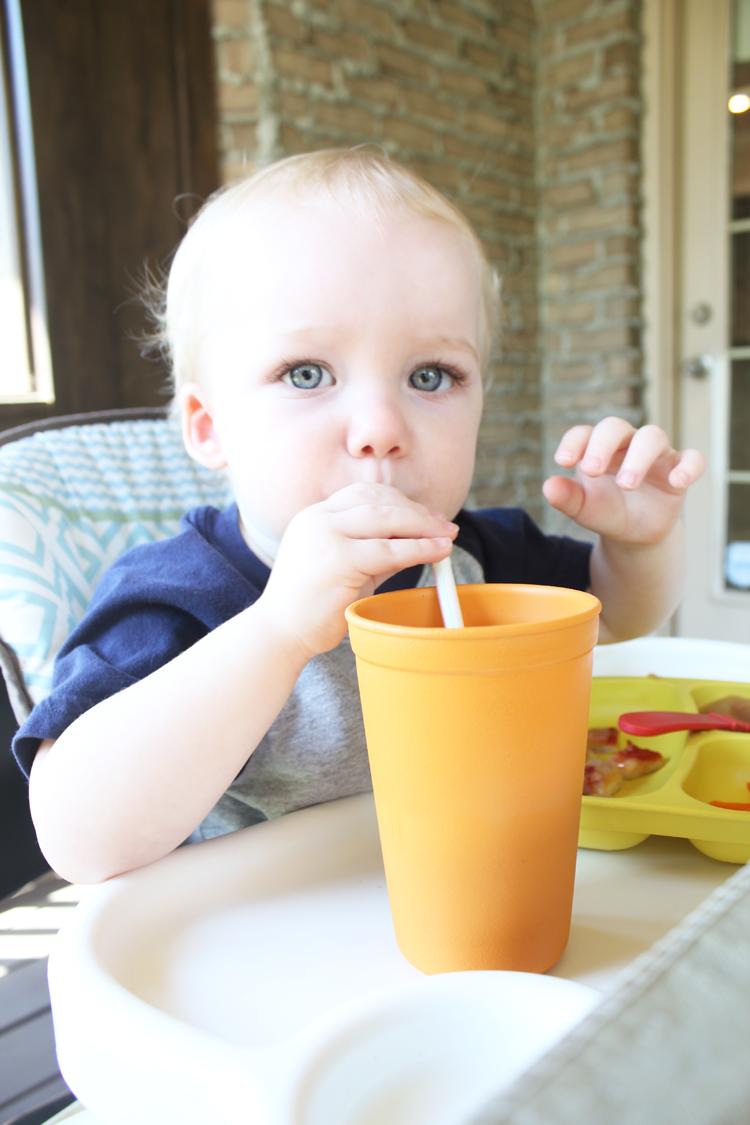 See – told you he loved using the "big boy" cups. ;)
Some other things that I love about Re-Play Recycled and their products:
They are BPA free.
I love how they use recycled materials for their  products – even their packaging is made from recycled material.
They are durable. My kids (yep, even Caylin and Jack) have used them for going on 2 months now and they have held up great! They haven't stained either, which I love. Most kid tableware that I've purchased in the past has stained. These do NOT fade. Folks – they've even driven over their divided plates with a CAR and it didn't cause any damage. These are LEGIT!
They are also dishwasher safe! That helps us Mama's out SO much! Can I get an Amen?! ;)
They are affordable. That's super important because let's face it – we have so many things that our kids need and so being able to purchase some kids tableware that will LAST and won't cost us an arm and a leg is nice. I wish I would have had these when Caylin was little!
I'm most definitely going to be adding to our Re-Play Recycled collection. I've got my eye on all of these: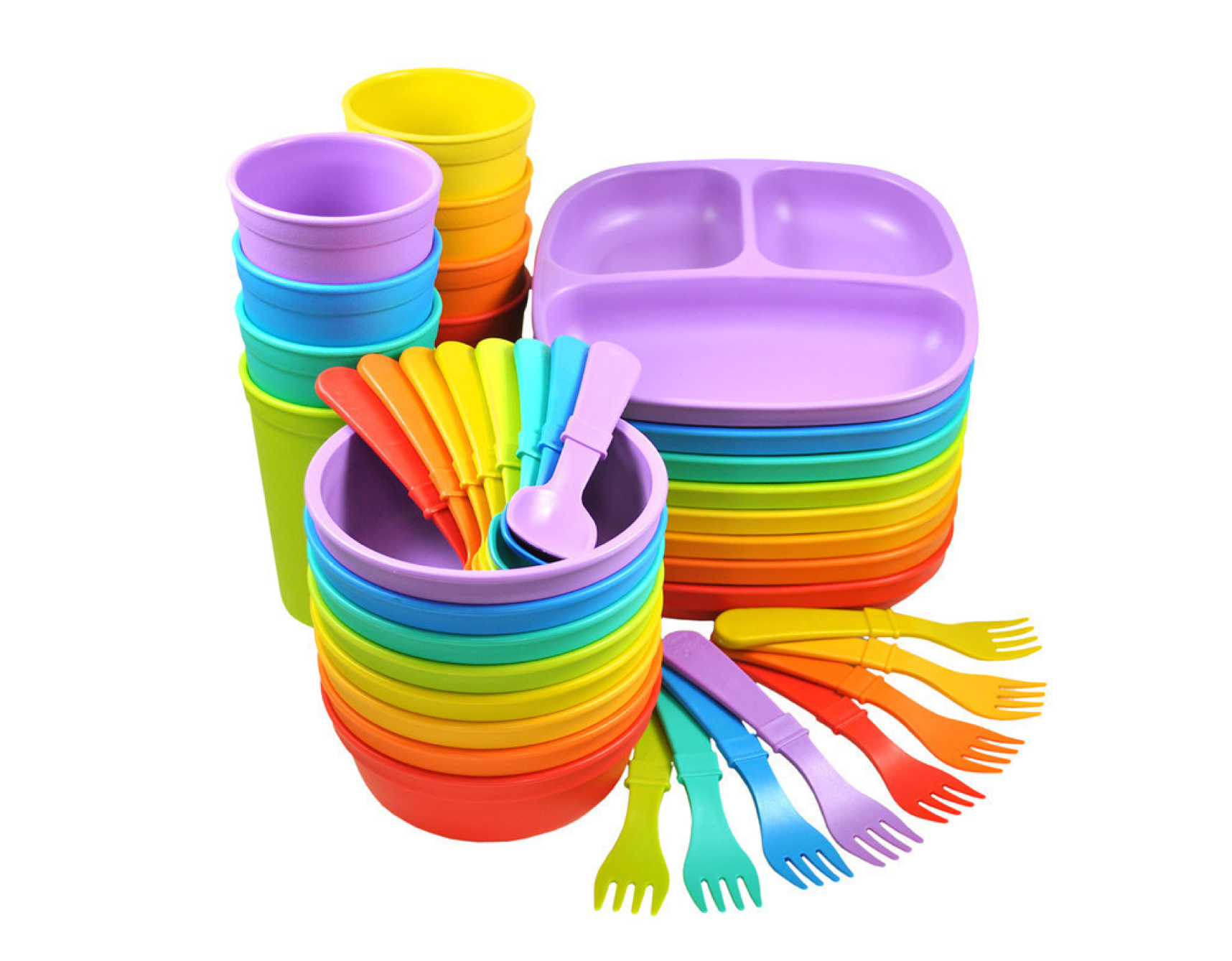 Look at those colors and my goodness – I would totally eat and drink out of them, too! Ha!
So to sum it all up, we LOVED these products from Re-Play Recycled. I not only love the products, but I love what the company stands for and what it is doing for families.
Here's what Luke thinks about it all, too: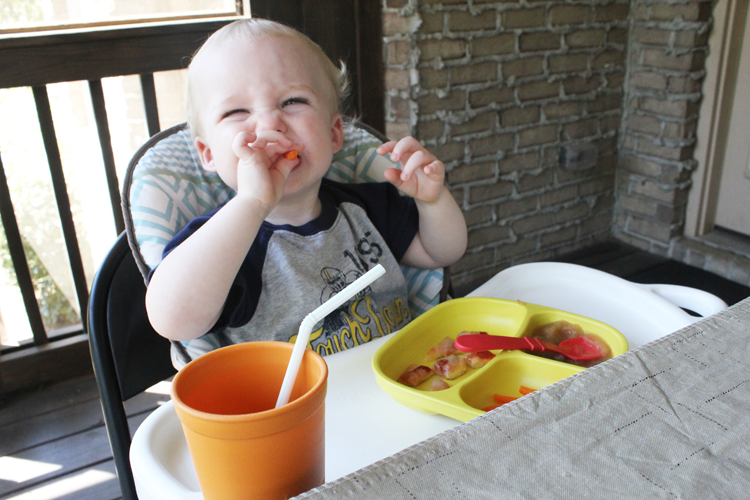 Yep, he approves. He keeps saying that he wants the "greeeeeeeeeen" set next. I think I'll have to order it. That's his favorite color. Maybe I'll have to see if it'll help get him to eat more meat. He's at that really picky food stage and it's driving this Mama crazy at times. At least his plate, silverware and cup are cute, right? Oh, and he's cute, too! ;)
Thanks so much to Re-Play Recycled for sending me the above set and giving me a couple of months to use the products so I could give an honest assessment of them.
Re-Play Recycled has generously donated a super cute set to giveaway to one of my readers as well, so just leave me a comment below letting me know which product is your favorite or which color is your favorite (here or on my Instagram post) and I'll draw a winner on Monday! Yay! You can even choose which color you'd like!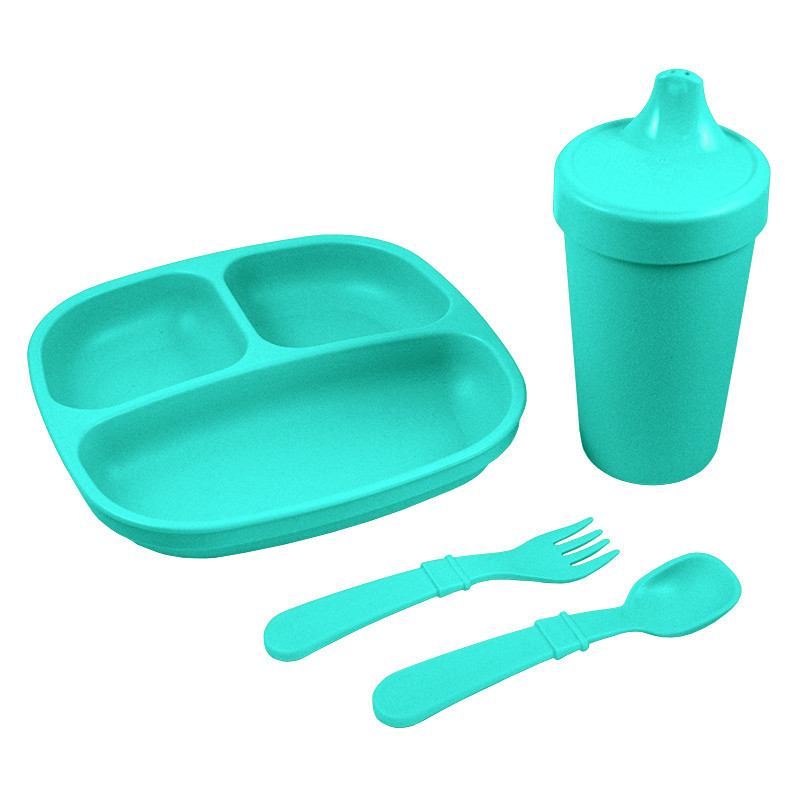 Keep up to date with Re-Play Recycled here:  Website / Facebook / Twitter / Instagram / Pinterest
Disclaimer: Re-Play Recycled sent me a some kids tableware to review, but all opinions expressed are solely my own.