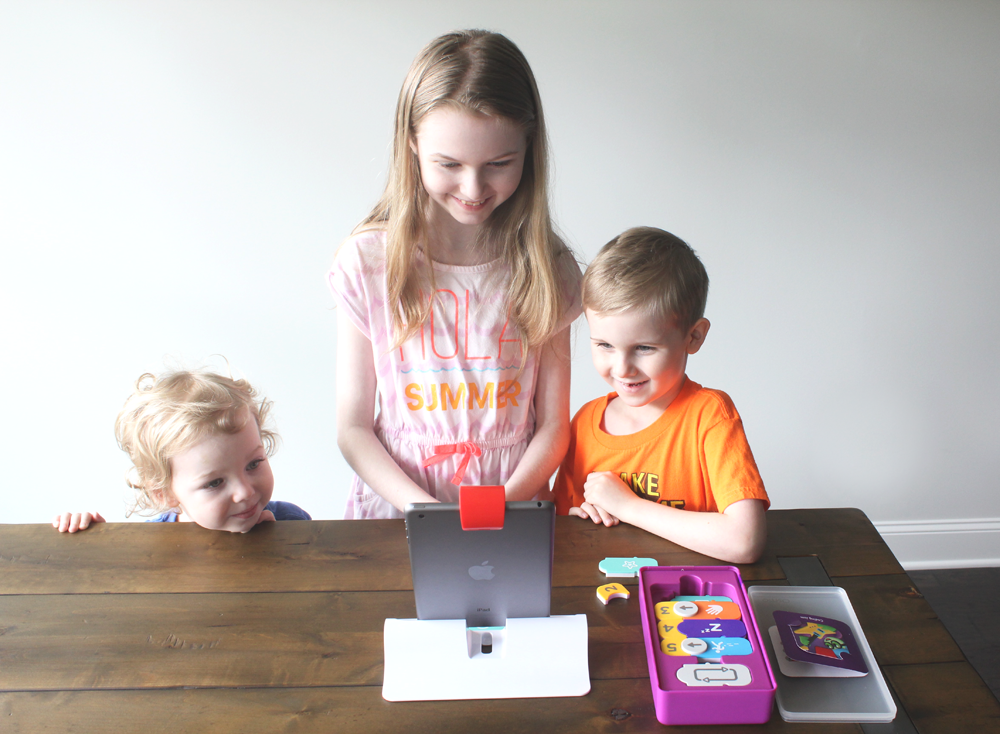 A few weeks ago I was contacted by the company, Osmo, to see if my kids and I wanted to try out their new interactive game, Coding Jam. I had heard of Osmo in the past & thought it looked super cool and I'm so glad that I can officially say now that, yep – it IS cool. Osmo's latest game, Coding Jam, combines coding + music and gives kids the chance to learn both, all the while using their own creativity to create music.
Nowadays kids are in front of iPads every so often (ok, sometimes on those super crazy or hectic days they're in front of it a bit more than we'd like to admit, right Mamas?), but when they are in front of the iPads with the games from Osmo, they're learning AND having fun and well, it's entertaining them, too! It's a total win for us Mamas. I loved seeing my children interact with Coding Jam.
So what exactly is OSMO? Osmo is a unique gaming accessory for the iPad that comes with games that will change the way your child plays. Simple as that. Osmo offers multiple games right now (looks like 9) and they each offer cool ways to not only allow your child to have fun and use their imagination, but to learn, too!
The games Osmo offers teach children a wide variety of things like:
• logic and problem solving skills
• fosters spatial relational skills
• spelling and critical thinking skills
• fosters creative problem solving skills
• teaches drawing and creative confidence
• teaches counting, addition and multiplication
• teaches math, money, fractions and nonverbal communication
What all do you need to play OSMO? All that you need is an iPad with a camera. Osmo is compatible with: iPad 2, iPad (3rd Generation), iPad (4th Generation), iPad Mini, iPad Mini 2, iPad Mini 3, iPad Mini 4, iPad Air, iPad Air 2 and the 9.7-inch iPad Pro. They are exploring support for the 12.9-inch iPad Pro, but there are no plans for the near future. Osmo does not work with Android-based tablets, however they hope to develop for Android in the future. Right now they are just focusing on iOS.
You'll also need the Osmo base to play the games. Some kits will come with the base, but most times you'll have to purchase the base separately for the games. You only need one base though – it works for all of the games.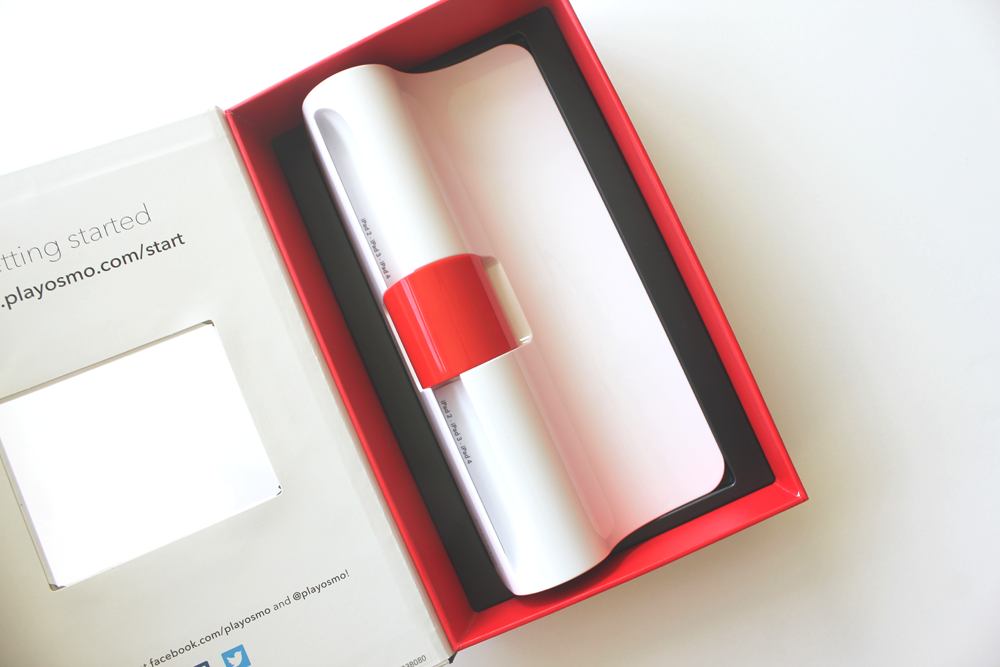 The base holds the iPad while your child plays and the red reflector (that comes with the base) is placed over the camera of the iPad. Really easy and both are super durable. All of my kids (even Luke) were able to set it up themselves without much direction at all.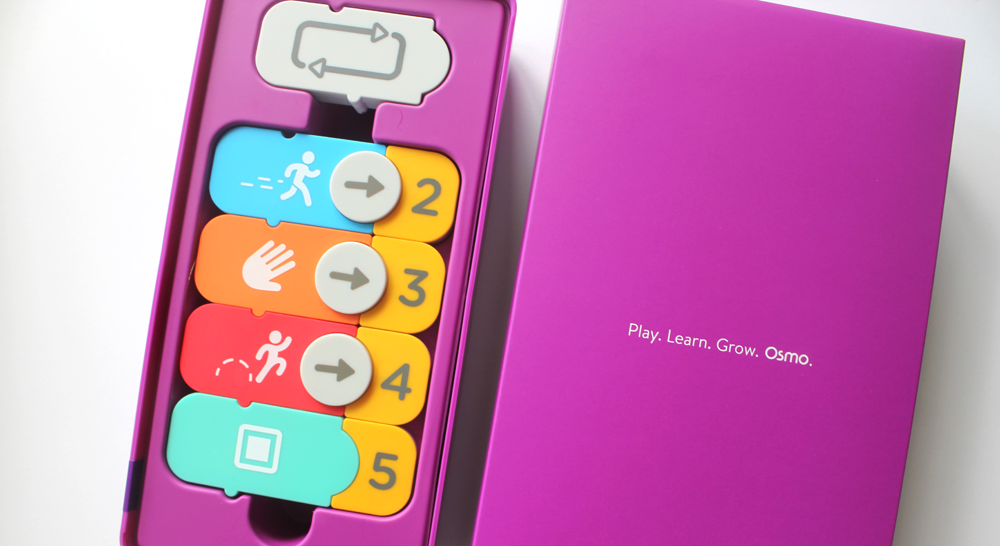 Coding Jam came in a great plastic storage container – that is stackable – so that we can keep all of the pieces safe and together in one place – thank goodness! This Mama is super thankful for that!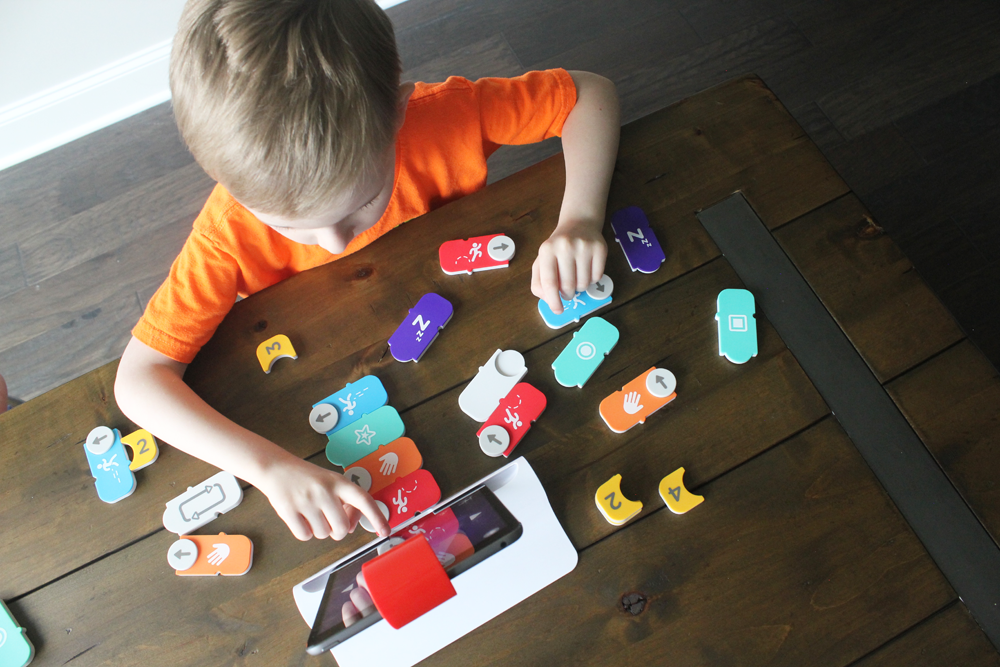 The game has very durable and thick magnetic blocks that the kids arrange in front of the iPad to guide the characters in the game to create their own unique musical masterpieces. The different patterns and sequences are endless and so are the giggles and smiles.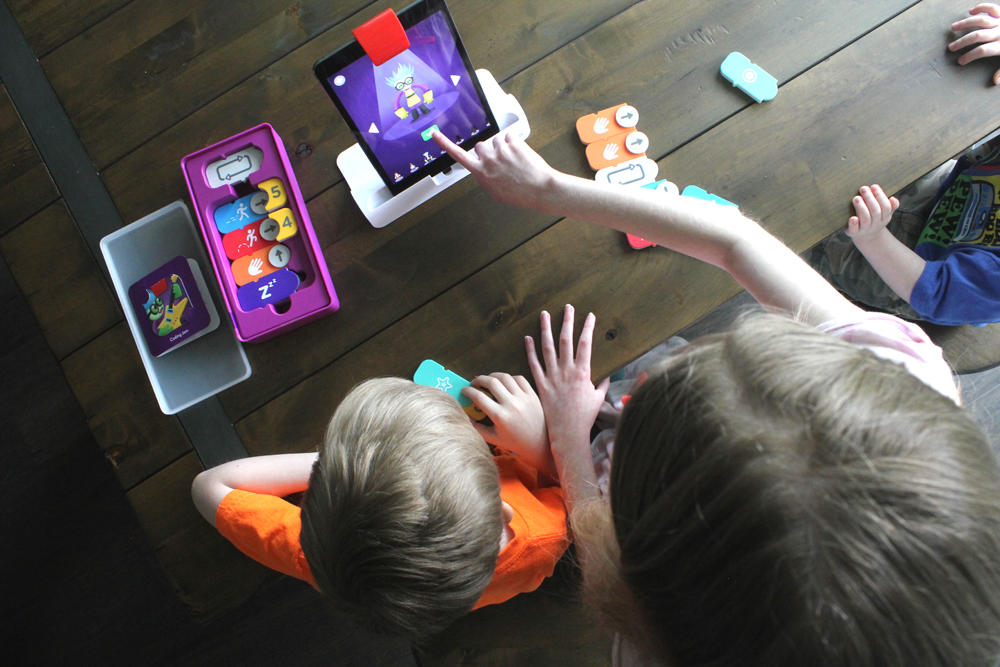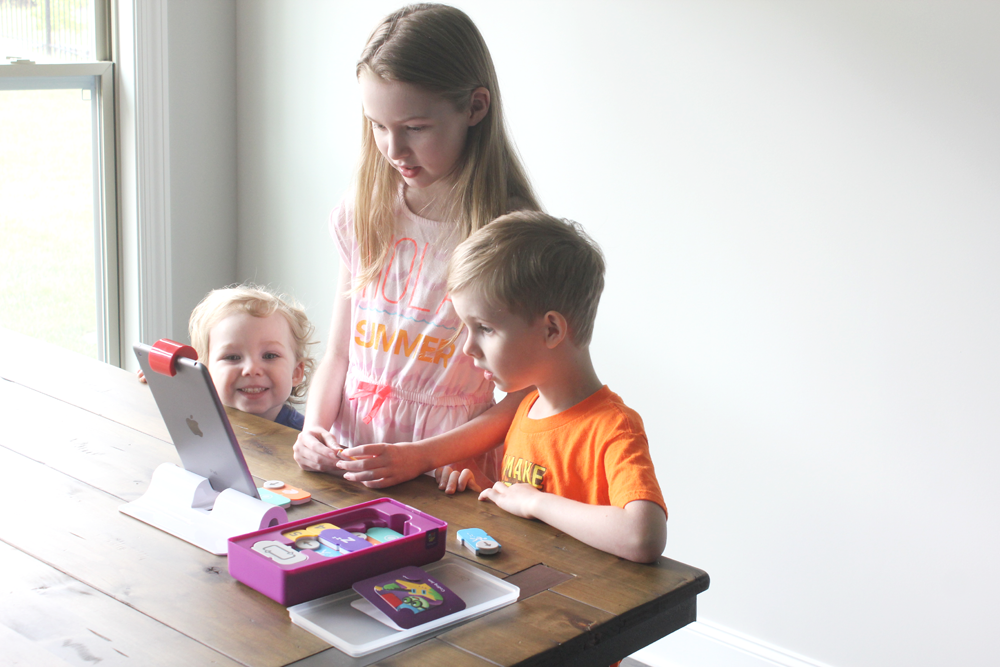 I love how interactive the game is and how my kids were able to experiment with so many different sounds. They were also able to put together those different sounds to compose songs of their very own. They thought it was the coolest thing!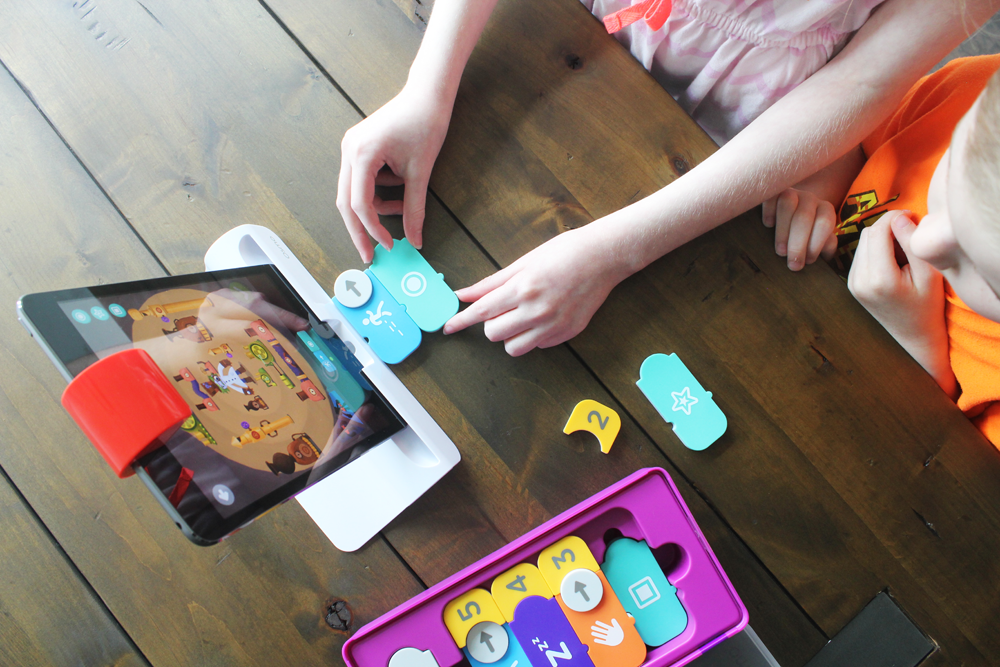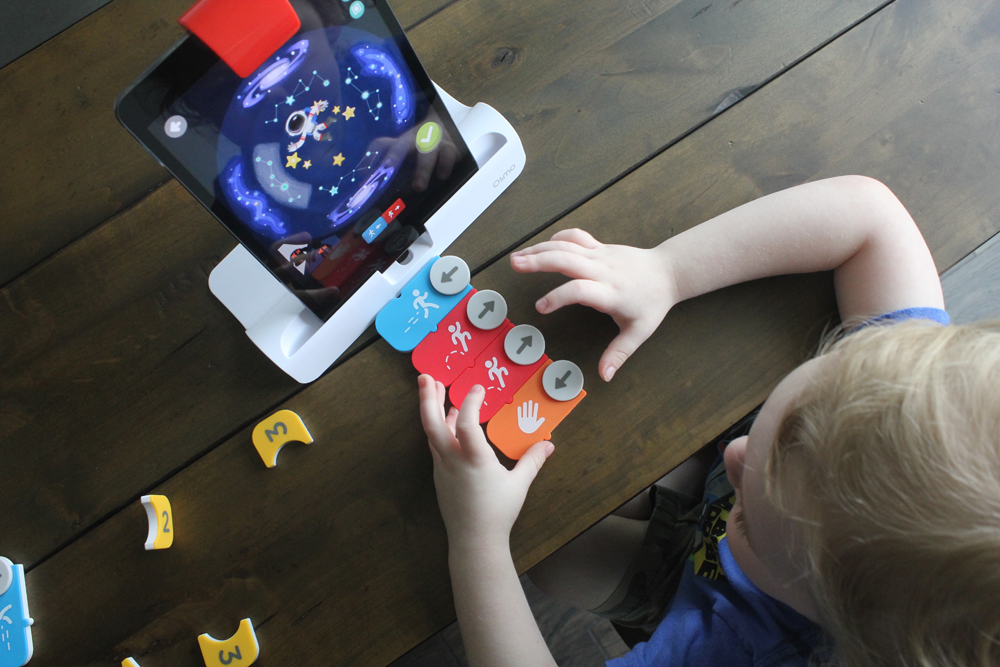 The game is geared toward children ages 5-12, but Luke (who is almost 4) easily played it and loved it. Even I played it and loved it! Ha!
Here are the things that Coding Jam helps kids learn:
• Coding fundamentals
• Pattern recognition
• Sequencing and loops
• Rhythm, harmony and melody
• Creative coding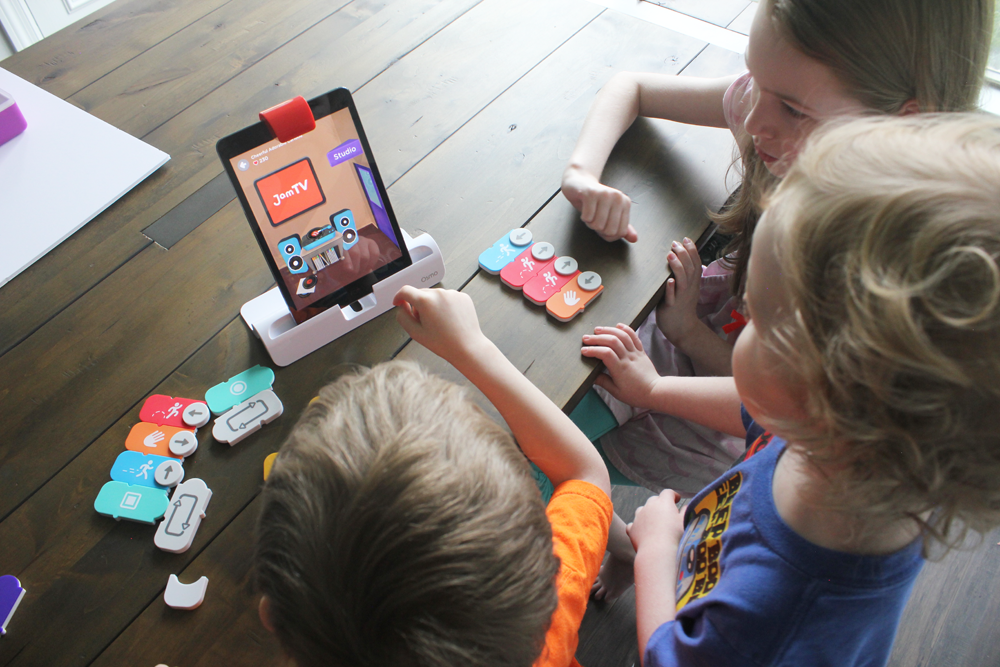 The game was lots of fun and I love how once the kids completed their awesome jams, the game let them save it and stored it away on a "record" in the game. Super cute! The graphics were great, they didn't get bored with it quickly (like I have seen them do before with other games) and of course this game opened up the opportunity for a lot more dance parties, which I'm always in favor of.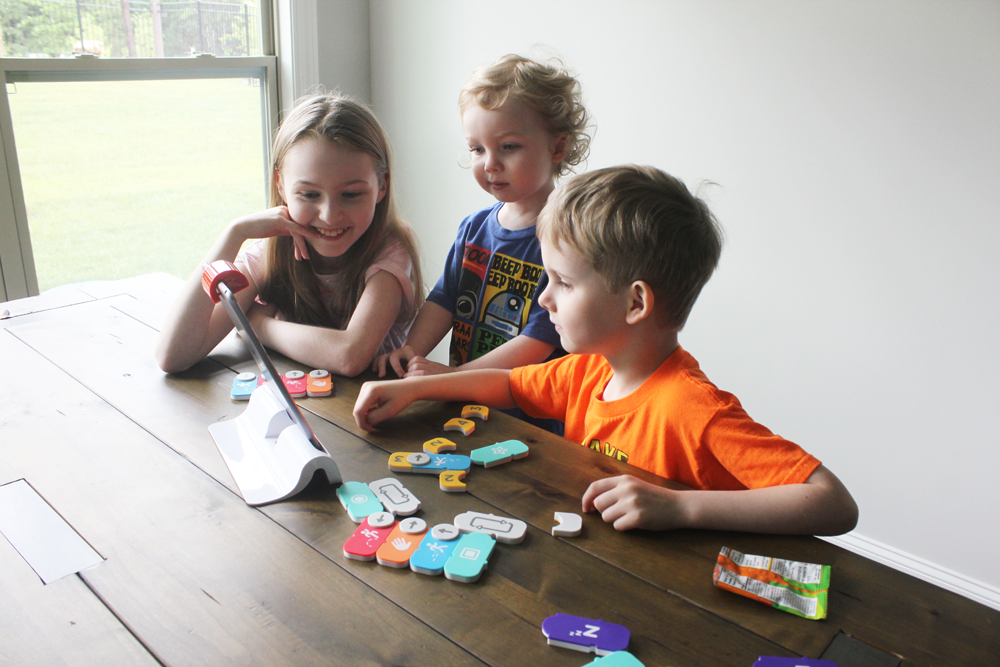 Evidence that lots of dancing (and fun!) was had.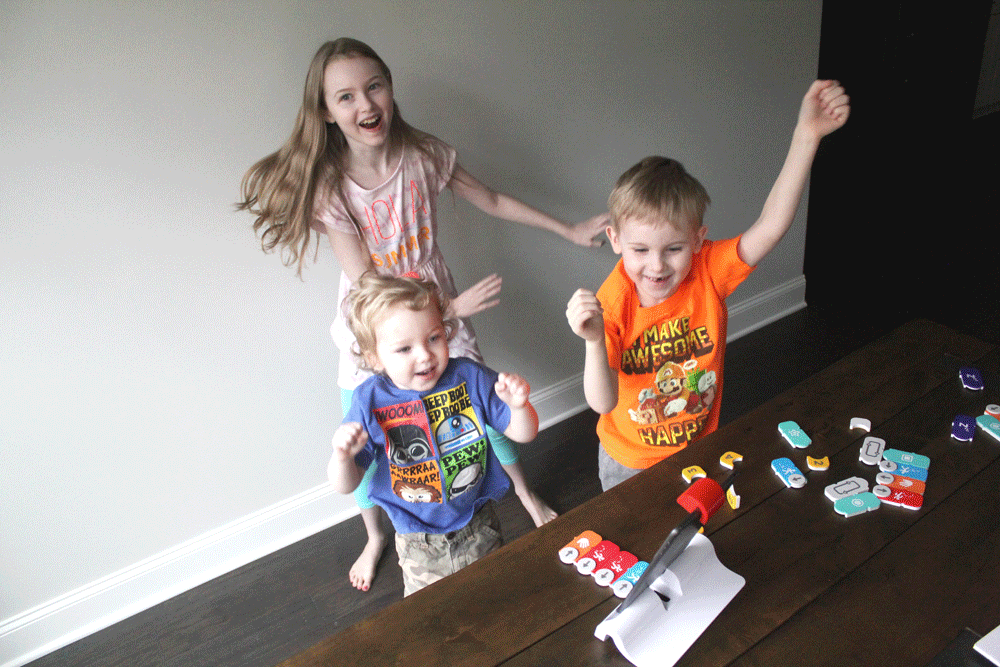 Here's what each kid said about the game:
Caylin: "Creating my own music was awesome and I loved being able to learn more about coding, too. Who knew it was so easy AND fun? It's awesome and I love the Rock n Roll Scientist guy!"
Jack: "The scientist guy was SO funny – he was my favorite!" (a reoccurring theme, it looks like!) "I also love how fun it was to dance to my own tunes!"
Luke: "I love dancing to the music I made!"
So there you have it, friends. Super thankful to have been able to try out Osmo (finally!) and see what it's all about. My kids already have a wish list for the Osmo games they want next and I might even have one on the list that I'd like, too. Ok, ok, it's actually three, so what?! Just wait until you try it – you'll love it, too!
This is going to be a great new tool to use in our homeschooling as well, too, so I'm really excited about incorporating it and some of the new games we'll get!
Osmo's Coding Jam gets a thumbs up from the Proffitt kids! Now I'm off to play Coding Jam, er, I mean, clean the bathrooms. ;)
 You can learn more about Osmo here:
WEBSITE | FACEBOOK | TWITTER | INSTAGRAM | PINTEREST | YOUTUBE
Disclaimer: Osmo sent my children and I the Osmo base and Coding Jam for free to review, but all opinions expressed in this blog post are solely my own. No other compensation was given.