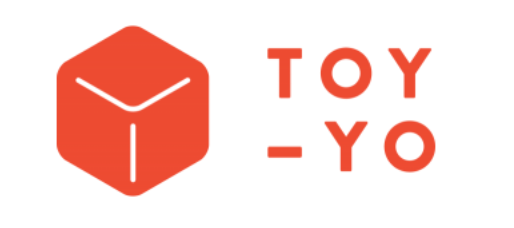 I don't know about you, but when I venture into my kids' rooms – it's like a maze of toys – or an even better description is probably a landmine of Legos or Shopkins (depending on the room you enter). My kids have a lot of toys and this year I'm being really intentional about what we bring into our home and that includes toys. So, I was thrilled when the sweet folks at Toy-Yo contacted me to tell me more about their awesome online toy library service. It's an ingenious idea and I love it even more because it was all started by a Mama who saw a need and did something about it.
Toy-Yo is made by Mamas for Mamas and was launched in Seattle this past July by founder Savitha Swaminathan. She started Toy-Yo because, like many of us parents, she wanted to give her child safe, educational, excellent quality toys to play with, but she didn't want to break the bank. The cost of toys can add up pretty quickly and honestly, most of the time, kids will just play with toys for a couple of weeks  (if that!) and then move onto something else. She had the idea, put it out there and it gained a lot of interest from other parents and so Toy-Yo was born. A couple weeks after the launch, another Mama named Rupa Gurumurthy joined as co-founder. Together they have created a wonderful toy library full of award-winning toys that your child can experience on a monthly-basis.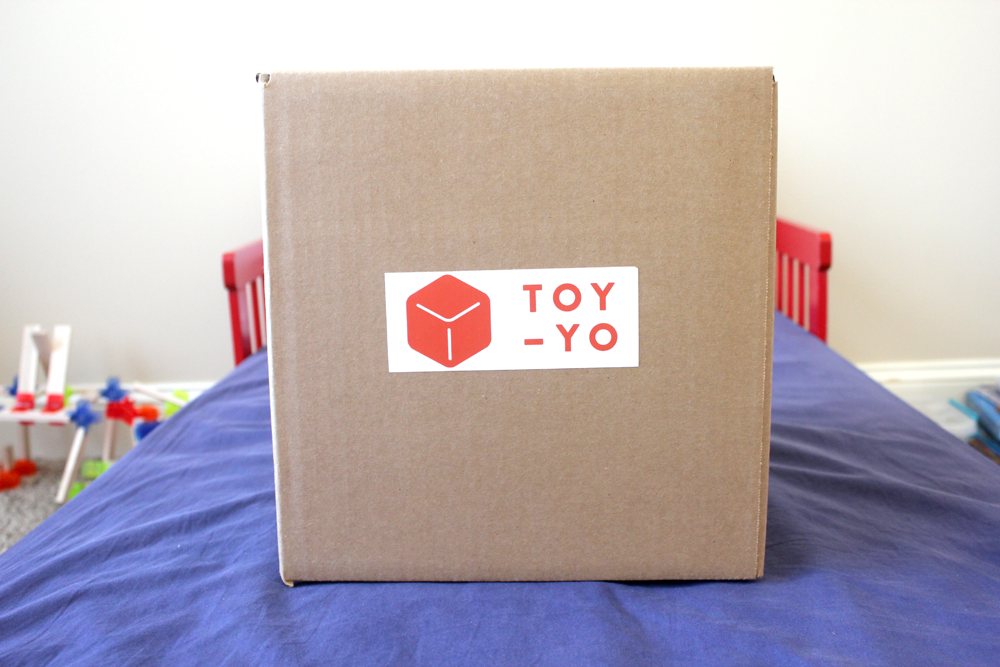 Here's how Toy-Yo works:
• For a monthly membership of $19.99 you get to choose 2 toys from a wide variety of really great, educational and well-known brands for children ages 0-6 years old.
Here's a screenshot capture of just some of the toys you can choose from: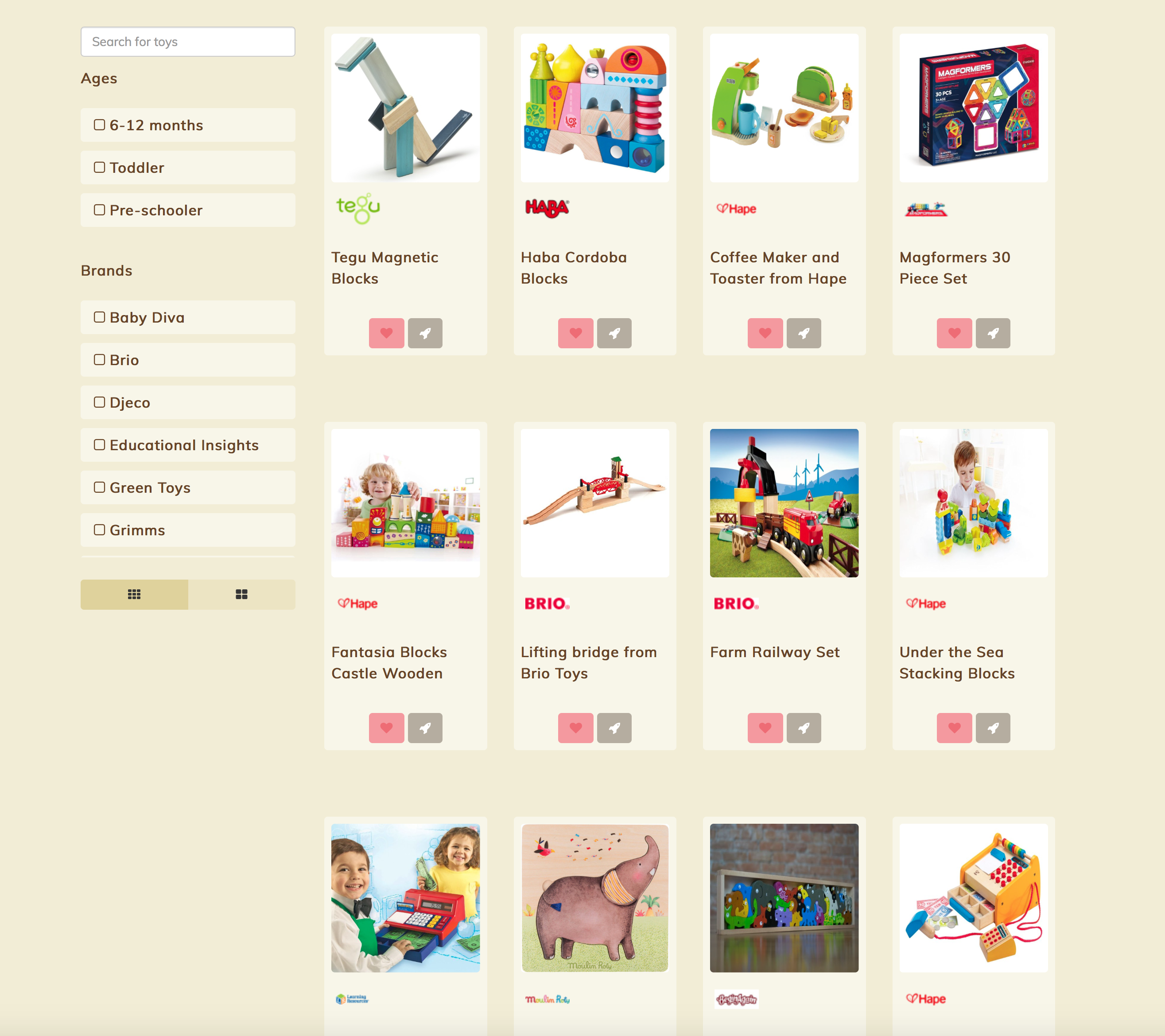 • Then those toys are shipped directly to your home and your child gets to play with them for a minimum of 3 weeks and you can keep the toys as long as you'd like – there is no maximum time limit.

• When you are ready to get some new toys, all you have to do is sign into your account, request a return label and Toy-Yo will email you the return label so that you can return the toys. There are no deadlines and no late fees. You can have a good, steady flow of new-to-your-child educational toys throughout the year and you get FREE shipping both to you and back to Toy-Yo.
• Oh, and if your child falls in love with a toy that you've rented, Toy-Yo does have a "keep the toy" option. The price for purchase is determined by Toy-Yo based on age and use of the toy, but it's neat that they have that option, too!
It's that simple, friends.
As a Mama, one thing that was really important to me was the cleanliness of the toys. I'm not gonna lie, I'm a bit of a germaphobe and so I wanted to know exactly what Toy-Yo does to disinfect each toy after it's been rented out. I was really happy to find out that they have three methods that they use on EVERY toy to make sure that each toy is clean, disinfected and germ-free. First of all, they sanitize the toys with non-toxic child friendly cleaners.  Next, they steam clean the toy with the Steamfast SF 210. Steam is known to kill 99.9% of all bugs on surfaces and is the safest form of cleaning for children's toys. Lastly, they dry the steam cleaned toys with an all-natural plant based hypoallergenic wipe. And just because, like I said, I'm a major germaphobe – I gave both toys I rented a little spray down with some of my favorite Thieves Spray by Young Living. It had to be done, but I will say that both toys looked clean upon arrival and I was really impressed and thankful! Happy that they go the extra mile to ensure that we get clean toys without the germs.
The average retail price per toy that you can rent on Toy-Yo is $30 and so you are renting good quality toys here, friends. Since you get to rent 2 toys each time – that's $60 worth of toys for $19.99.  It was so refreshing and exciting to see that there were so many quality name brands to choose from! It's evident that Toy-Yo honestly cares that you get the best toys for the cost.
The two toys that I chose for Luke were the Magformers 30-piece set and the Number Maze Magnetic Game. We have actually been wanting to try out some magnetic block type toys to see if the kids would enjoy them (they seem popular right now) and since they aren't cheap, one more reason I'm thankful for a toy subscription service like this is because it's also a great way that parents can try out some toys that are more expensive to see if they might actually be worth the investment.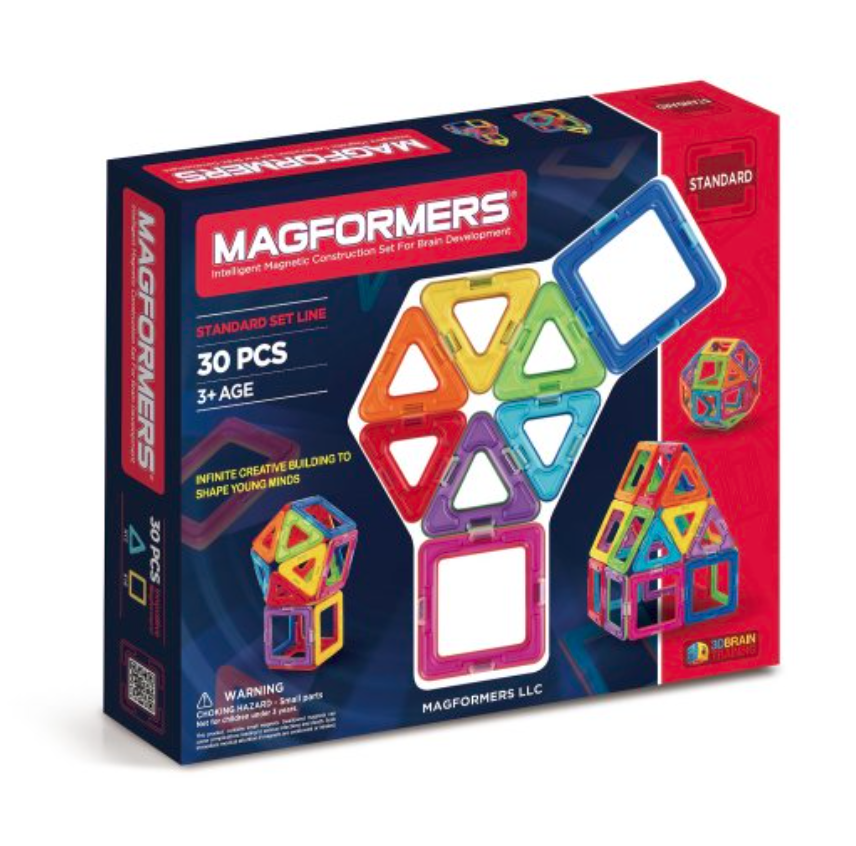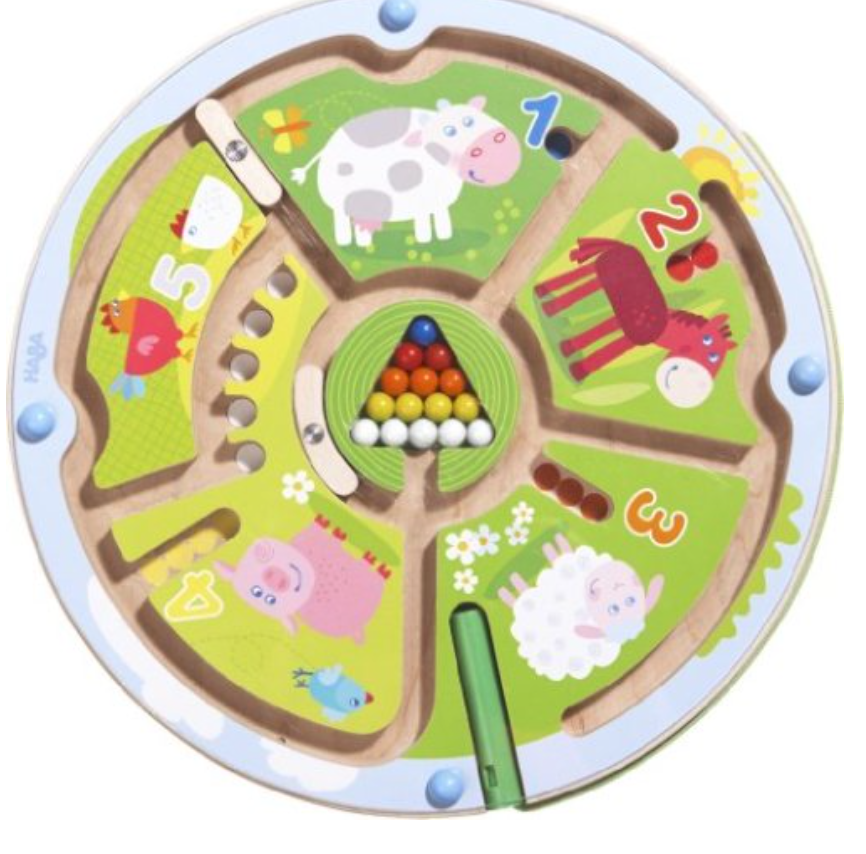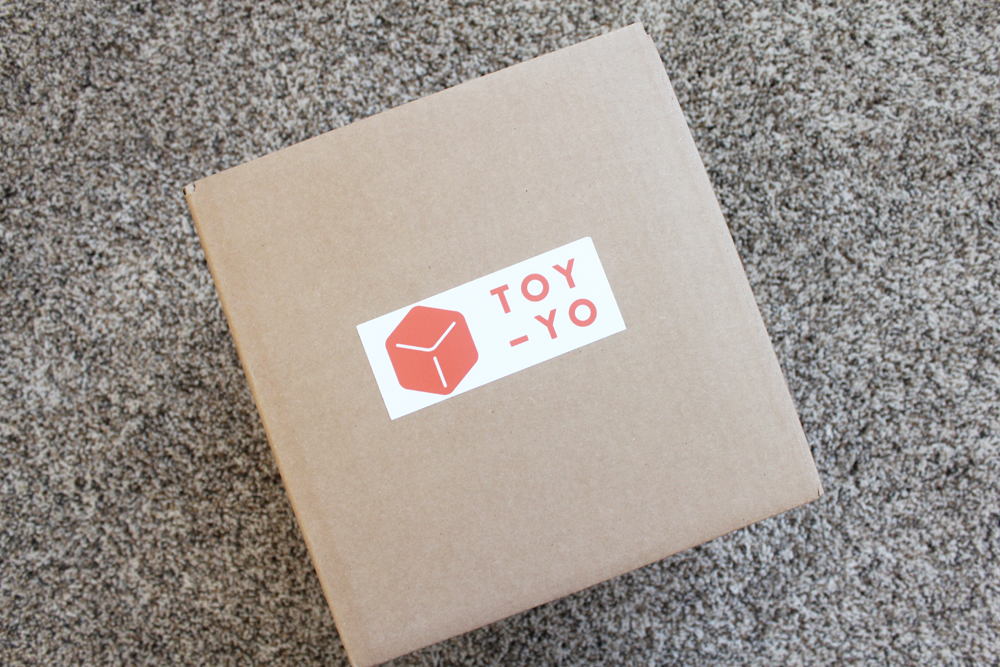 The shipment came really quickly and was packaged neatly with care.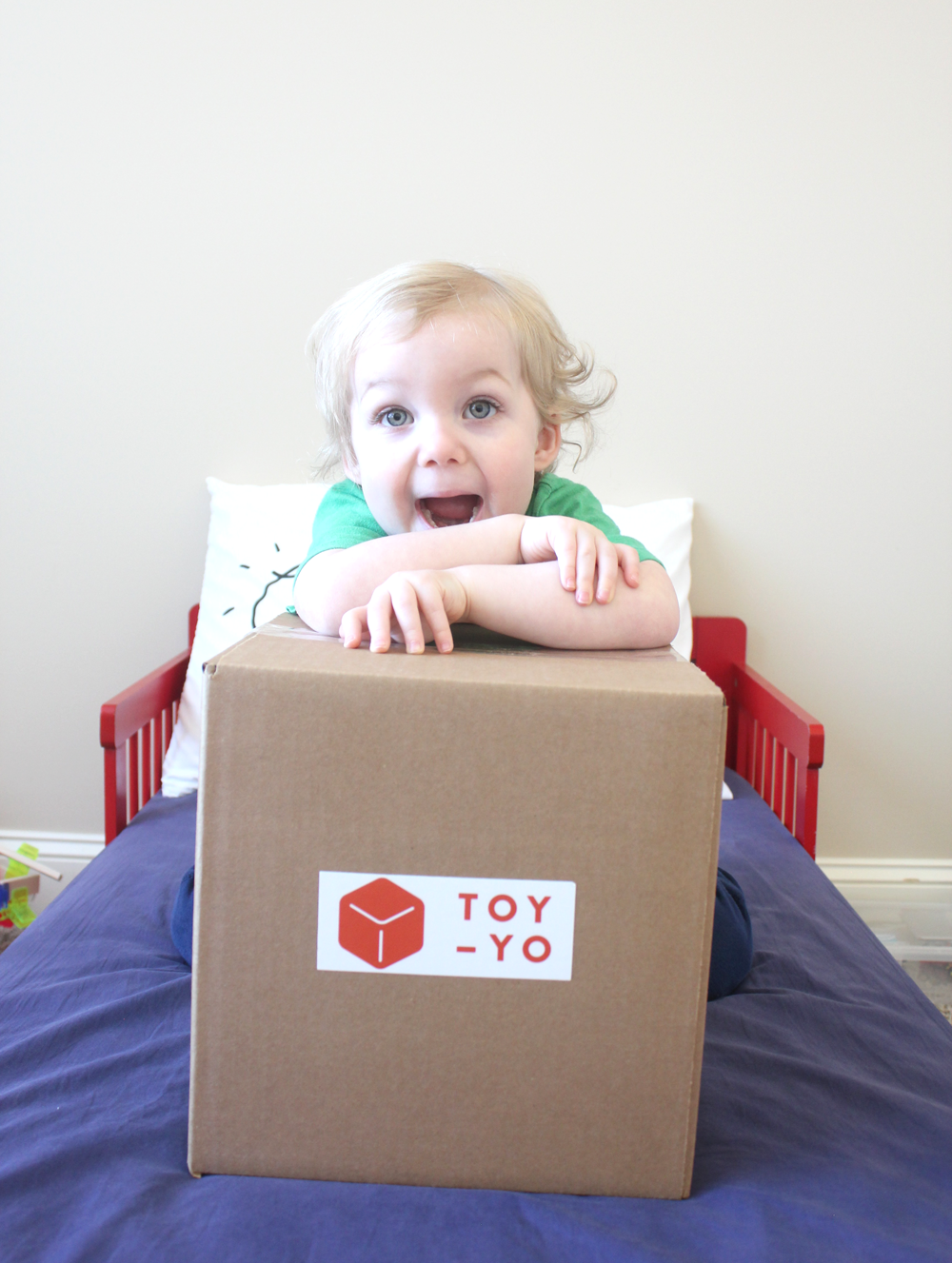 As you can see, Luke was a bit excited to open the box. ;)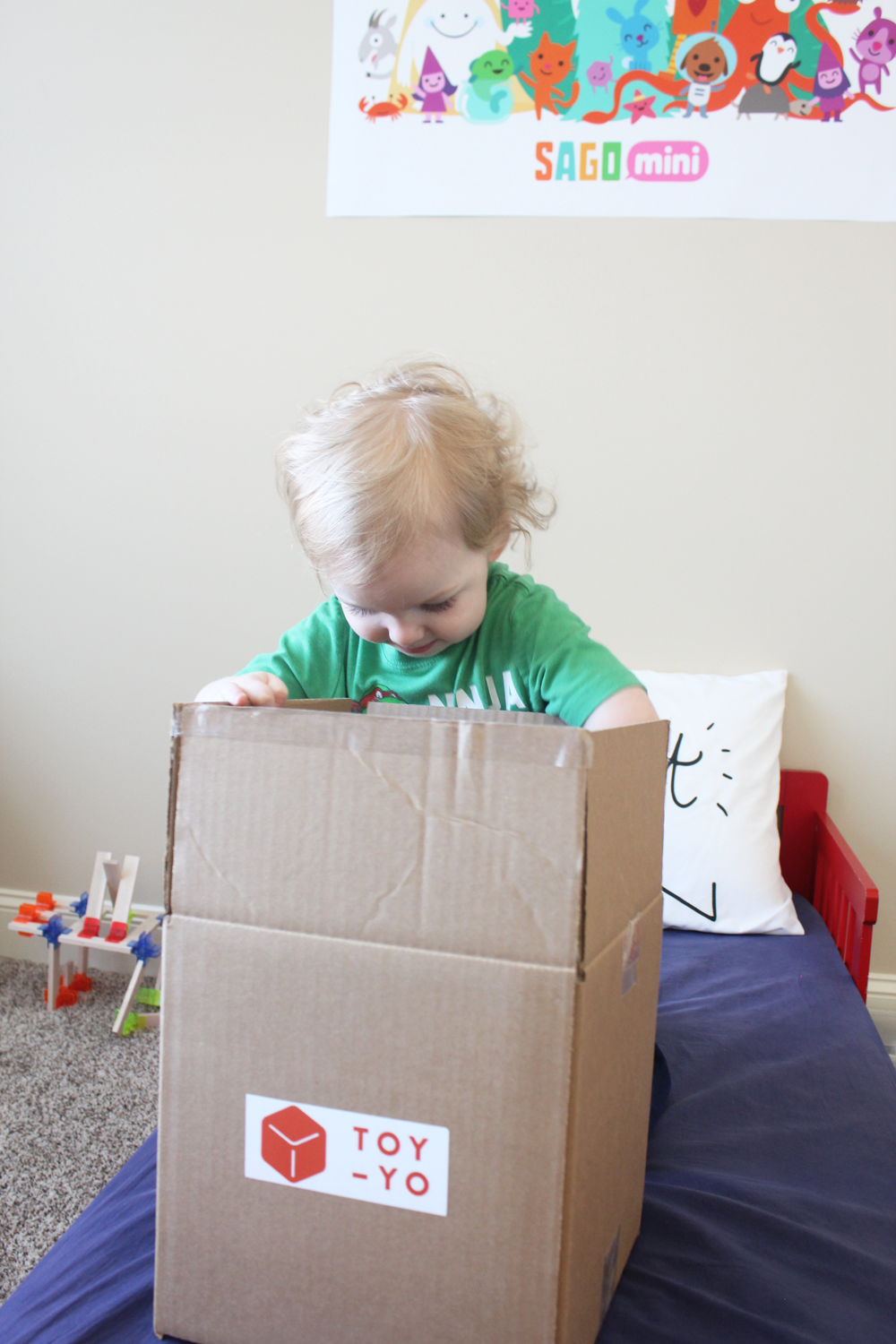 Each of the toys were packaged inside a cloth sack, which I loved. It kept everything together, neat and easily organized.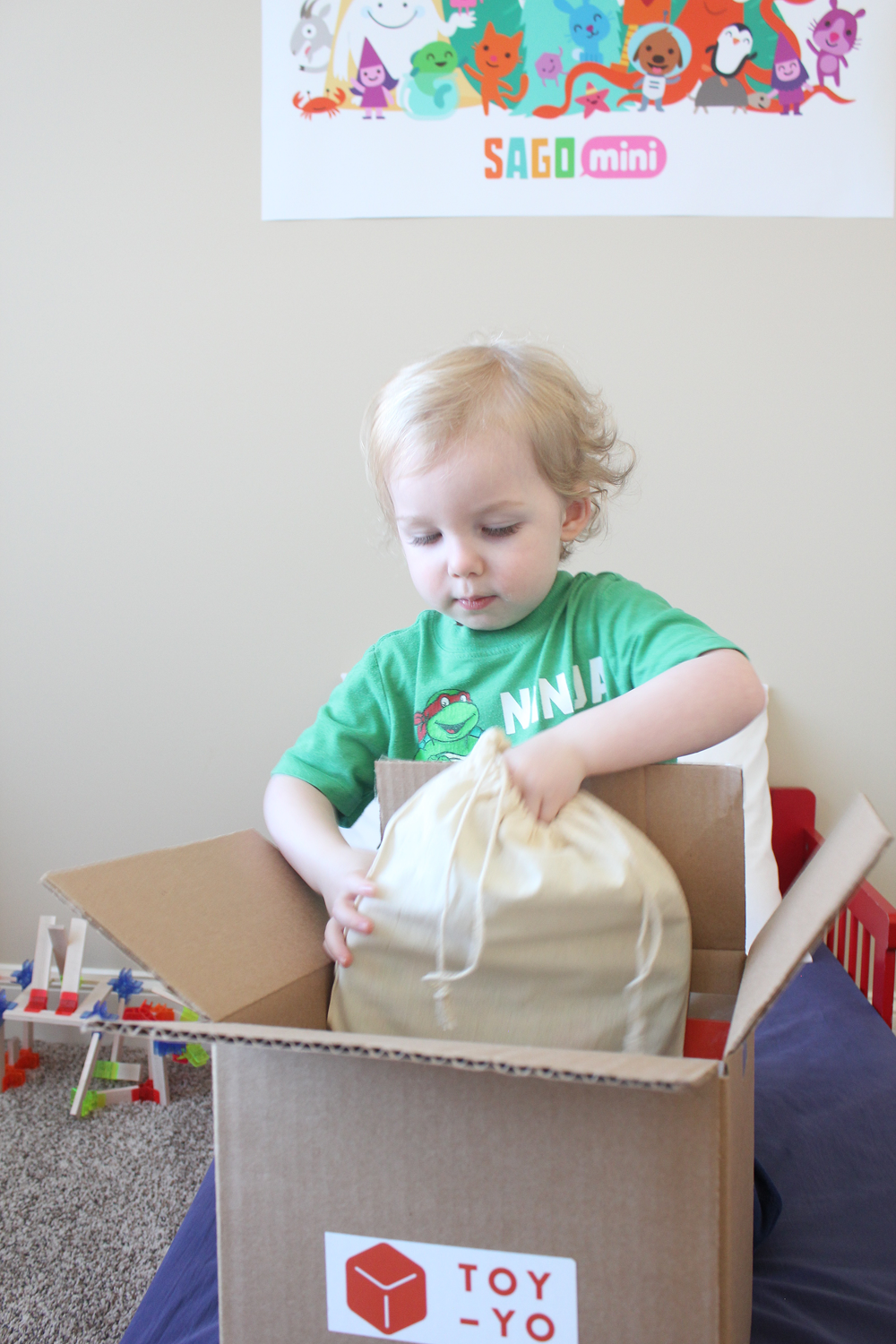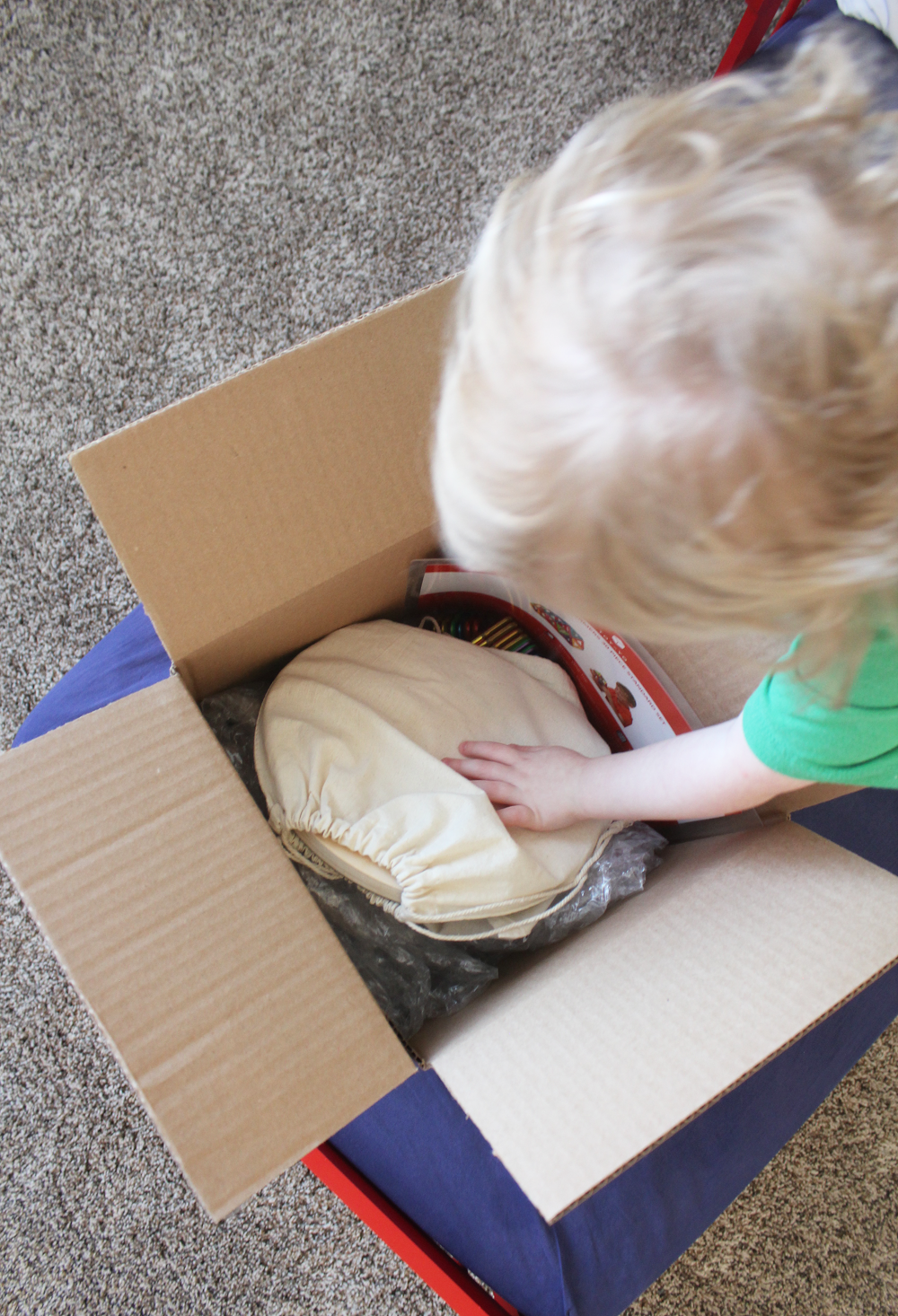 I also love that each toy came with a laminated toy information sheet that talked about the different things that the toy encouraged and taught your child and there was also some information facts about the toy and a toy part checklist that is going to come in super handy when we go to send the toys back in a couple of weeks. I am simply keeping the sheets and the cloth bags in the box the toys came in and will have it all ready to go once it's time to ship it all back. Super simple!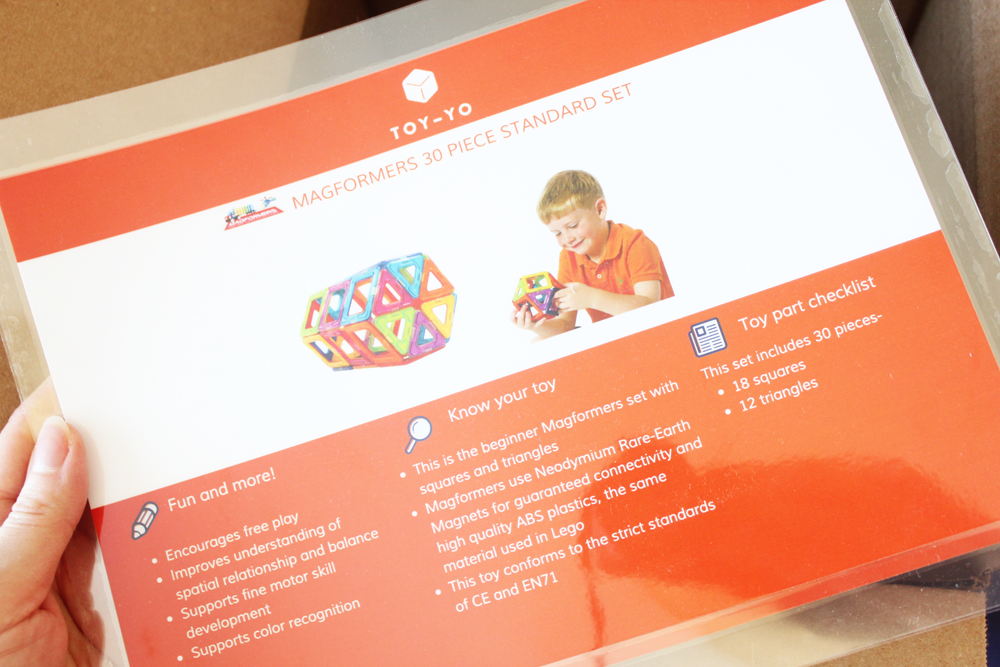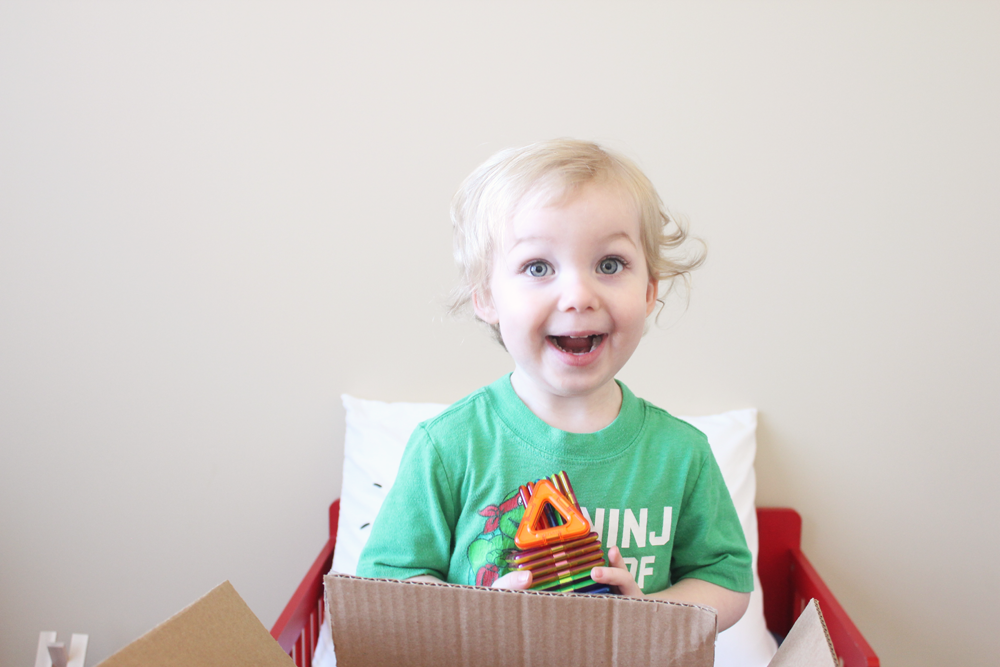 Luke was SO excited about the Magformers! Those came out of the bag right away and he got to playing with them!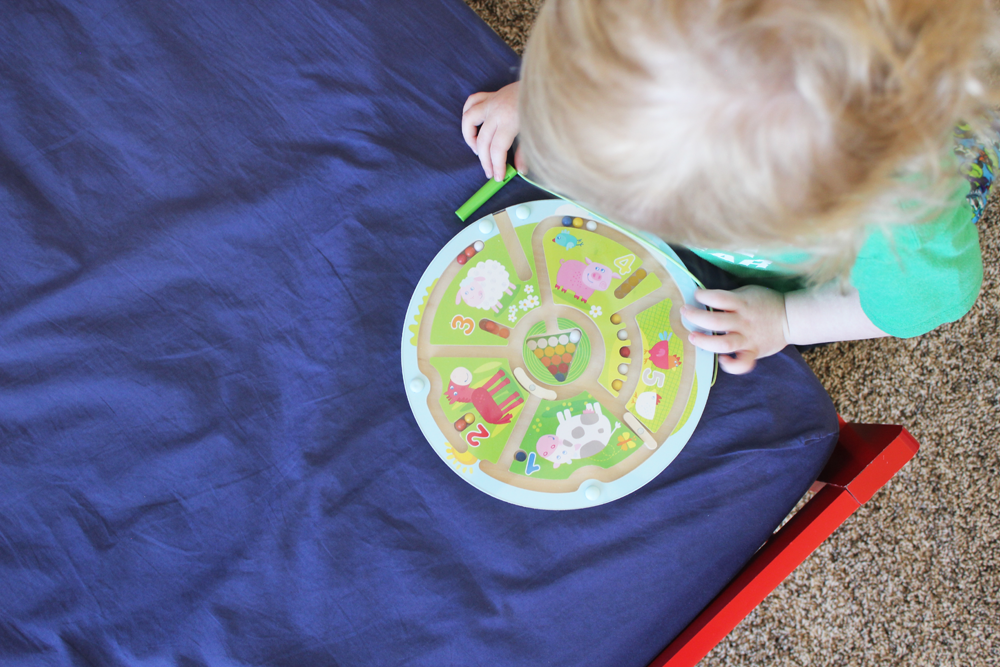 The Number Maze was a really cute, well-built toy that Luke also loved. I haven't seen a toy like this EVER and so it was neat to have a way for him to try it out and it was super different from any other toys that he currently owns. It was educational and fun and I'm happy that I chose it for him. It challenged him, he giggled a lot while playing it and it totally would be something I'd consider as a gift for a younger child in the future. Seems like a lot of toys nowadays are all the same and so it's refreshing to see a more unique variety of toys and puzzles on Toy-Yo.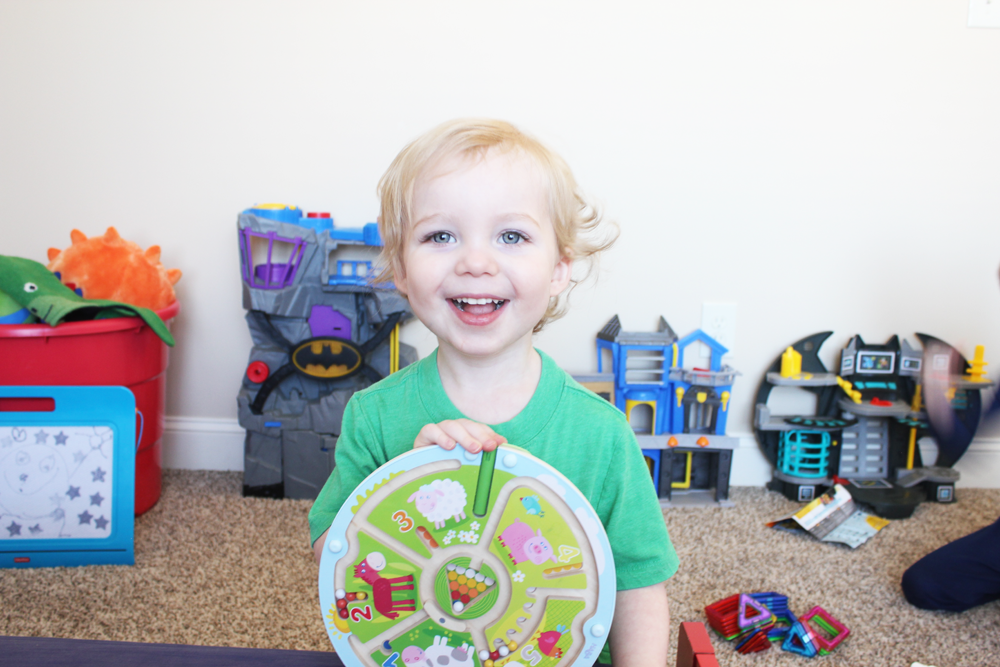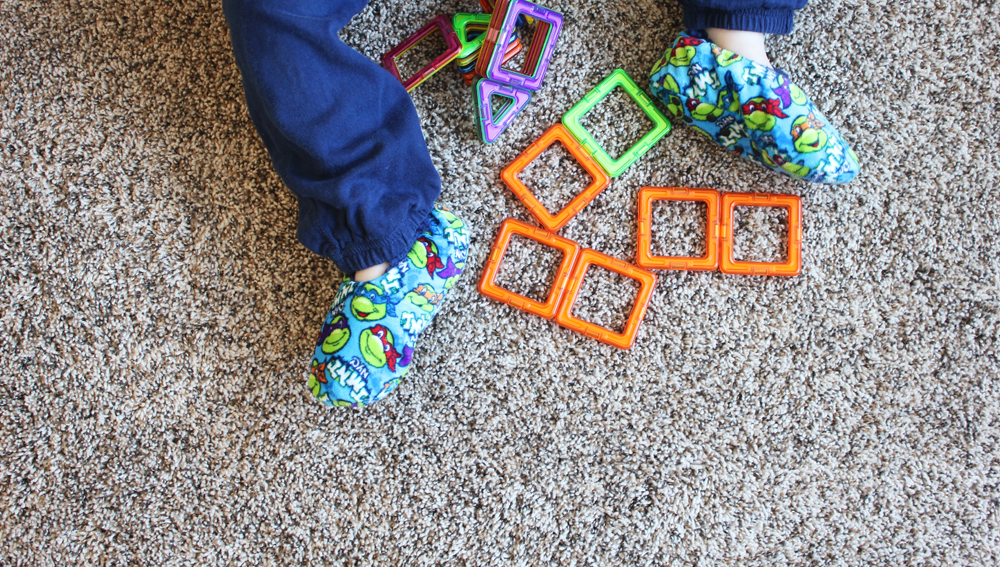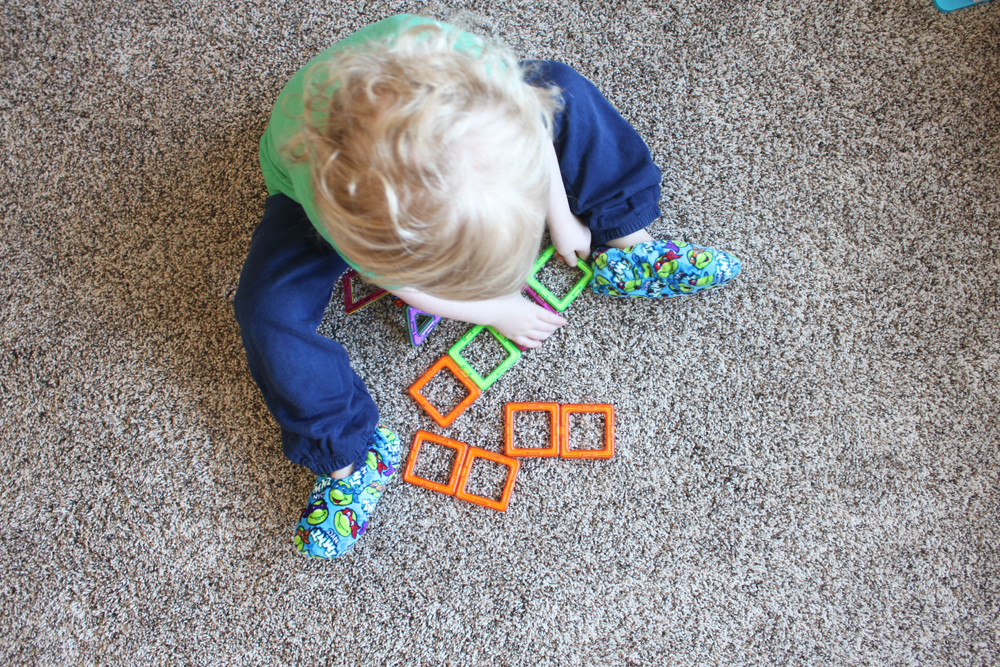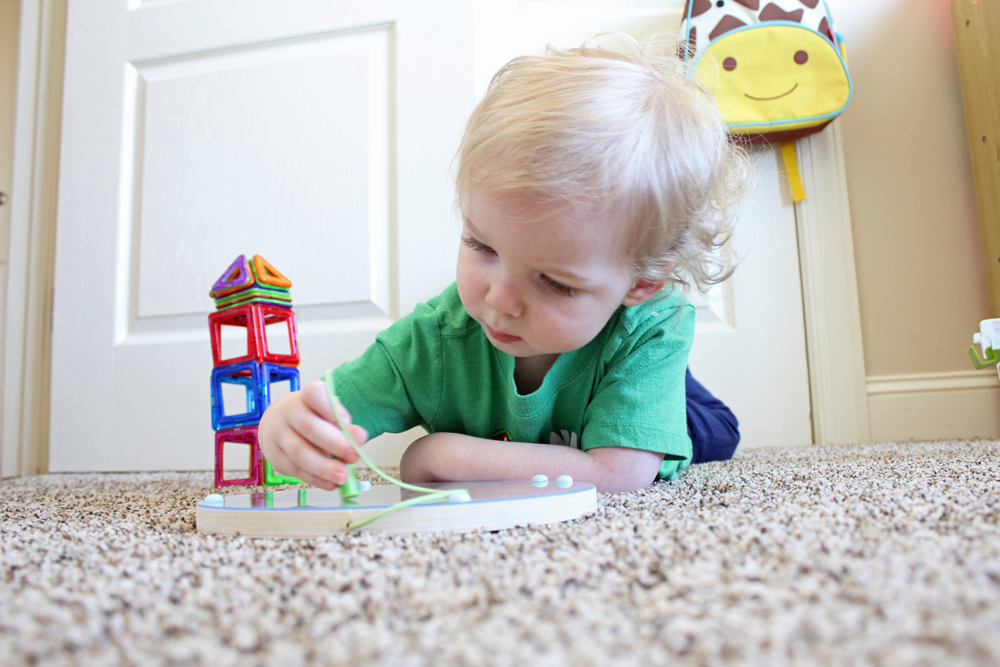 I'm definitely going to a give Toy-Yo a thumbs up. The experience we had was a good one. I think it's such a cool idea and with all of the subscriptions out there – this one is a great one to have if you're spending lots and lots of money on toys that your kids only play with for a little bit. It  would be a fun subscription for a grandparent or aunt/uncle to gift to a child because then the child could pick different toys to play with every few weeks! I will say that I am a big fan of passing toys down to siblings, so that is one way that I do love to extend the life and value of the toys that we purchase, but if you have just one child, would love a chance to try out some new toys you might not otherwise purchase or would just like more variety and less stuff in your home, then this is definitely something you should try out.
I love how Toy-Yo makes it possible for a child to experience a variety of toys that they might not otherwise get to and then those toys continue to make an impact as they go from home to home. It's so important to get lots of great, educational toys in your kids' hands that allow them to use their imagination and be creative, but it's also great to not fill your house with so much "stuff," too. Toy-Yo helps us Mamas keep that good balance and for that, I am SO thankful. Way to go, Mamas!
Be sure to check out Toy-Yo here:   FACEBOOK / TWITTER / INSTAGRAM / WEBSITE
Disclosure: Toy-Yo sent Luke one free month so that we could review the service. All opinions expressed in this blog post are solely my own.