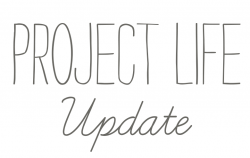 Happy Project Life Tuesday, friends!
I'm back and SUPER happy to be posting some pages again! This Summer I've been hit and miss when it comes to finding time to work on my album. You'd think I'd have MORE time, but my husband took a bit of vacation time last week and so we did things here and there and him and the kids got a cold and well – I have been playing catch up ever since! I've been out of my routine and just trying to find that time every day to be creative! Happy to have had some time the last couple of days! Yay!
Today I'm super excited to show you the really cute June Elle's Studio monthly kit that I was sent to play with! It was so cute and so much fun to use! I purchased the March kit a few months back and loved it! I thought it was perfect to incorporate into my Project Life and so when sweet Elle contacted me and asked me if I wanted to use the kits some more – I jumped at the chance! June is all sold out now already (darnit), but be sure to check Elle's site HERE because tomorrow is July (can you believe that?!) and another kit will be released on the 10th and if you purchase it ON that day – you get it for $9.99 (it's usually $11.99). So you save a couple of bucks and it's super cute!
Here are my page shares for today: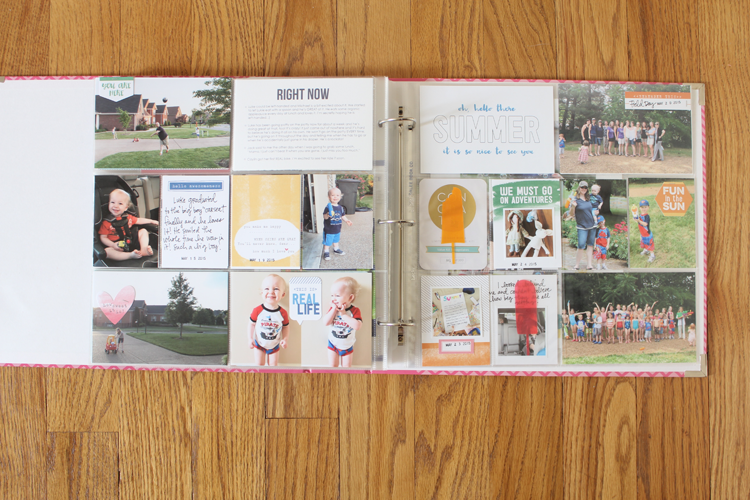 I used DESIGN A page protectors and kept it super simple and only used the cards that came in the June Elle Studio monthly kit! :)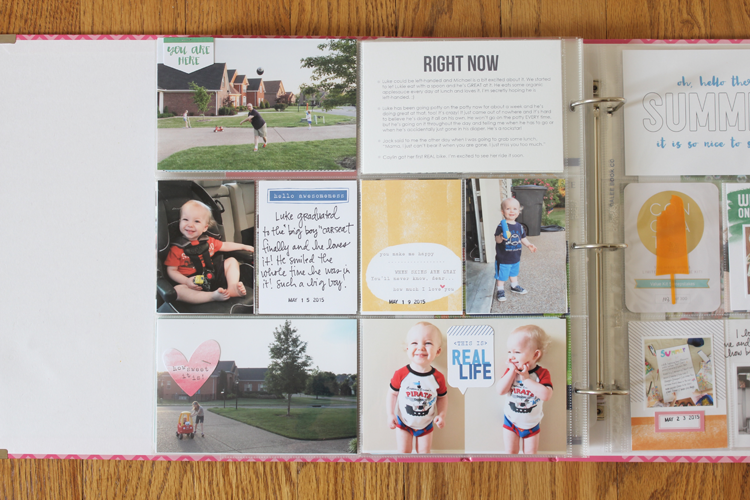 Here's a shot of the left side. :)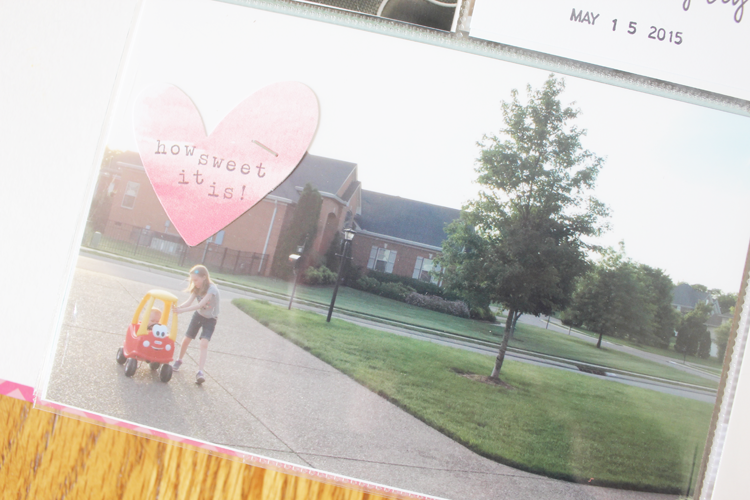 The little heart is from the kit. I thought it was just perfect on the top of this photo of my daughter and son playing together. Of course I had to whip out my tiny attacher. You know – I think last month I accidentally threw away my tiny attacher when I was cleaning up my desk (yes, I'm a dork) and I looked for that sucker for like a week. Never found it so my sweet husband bought me another one. I really am considering getting a back up because I had such a hard time Project Life-ing without it! LOL!
This "hello awesomeness" card is from the kit as well. A bit of journaling and the date stamped and BOOM – done! ;)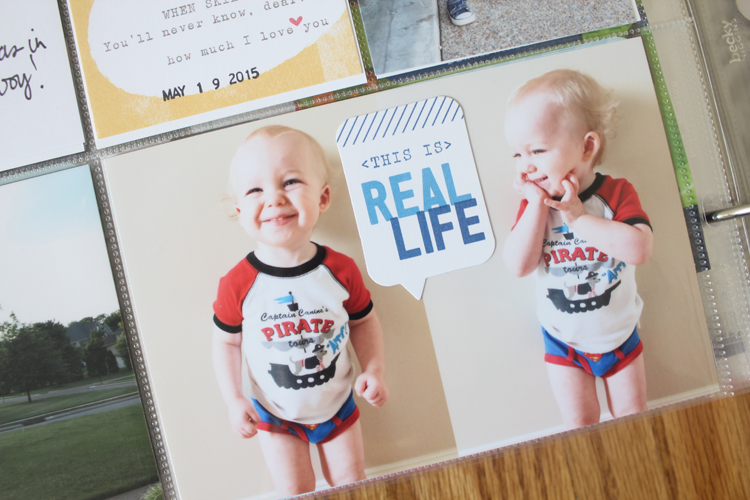 This little talk bubble is a die cut that's in the kit. It's too cute! So are those little boy undies! ;)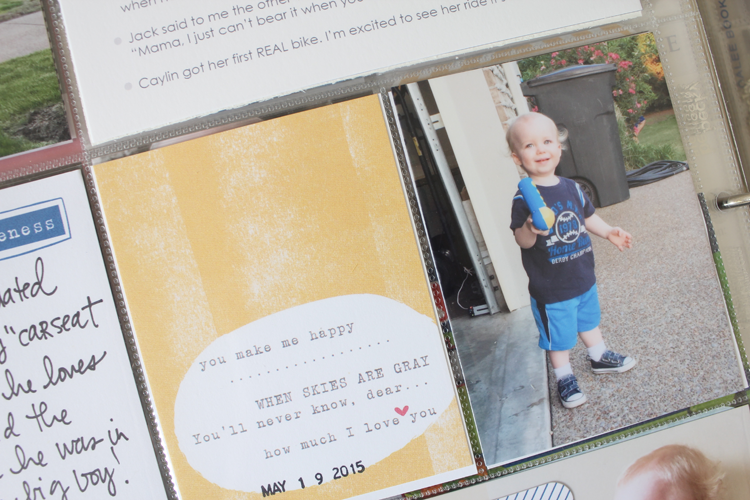 I love the whimsical feel of this 3×4 card that came in the June kit. The yellow makes me happy and so does that sweet saying. :)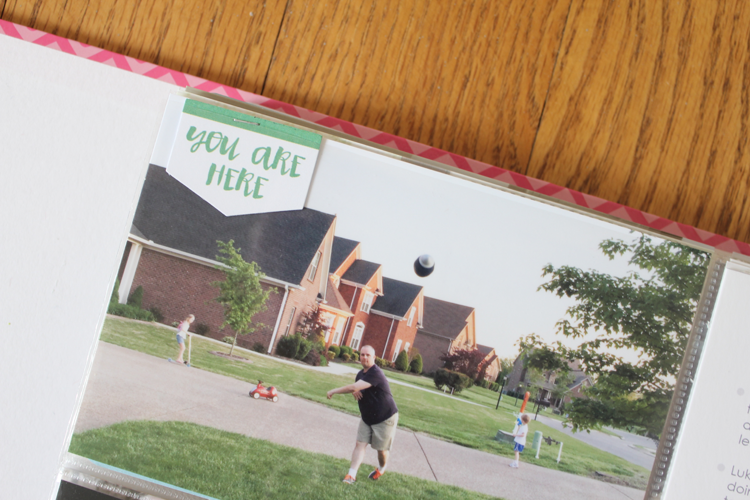 I stapled the little "YOU ARE HERE" die cut to the top of this photo. Love including little bits and pieces to my photos, cards and pages like that. Super simple.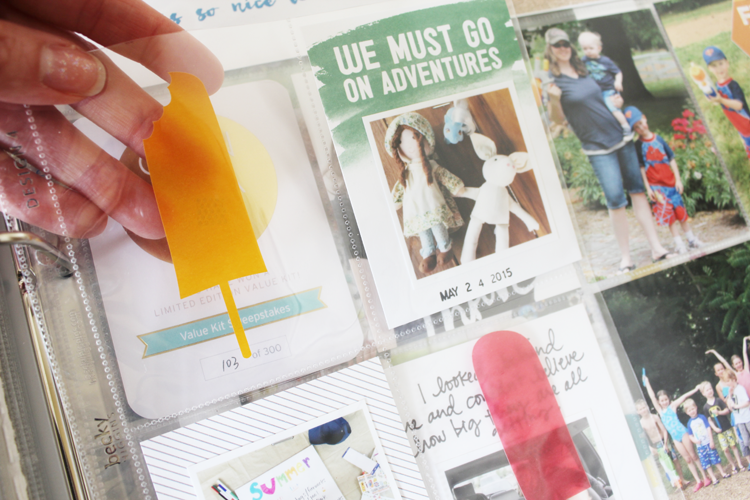 I included a 6×8 page protector with these pages as well this week. In the kit there are a couple of really cute vellum popsicles. I thought they would look perfect just adhere into the inside of the pockets so I did just that and loved how it looked! You can't see the adhesive close up – only when the light is shining through and I'm totally ok with that.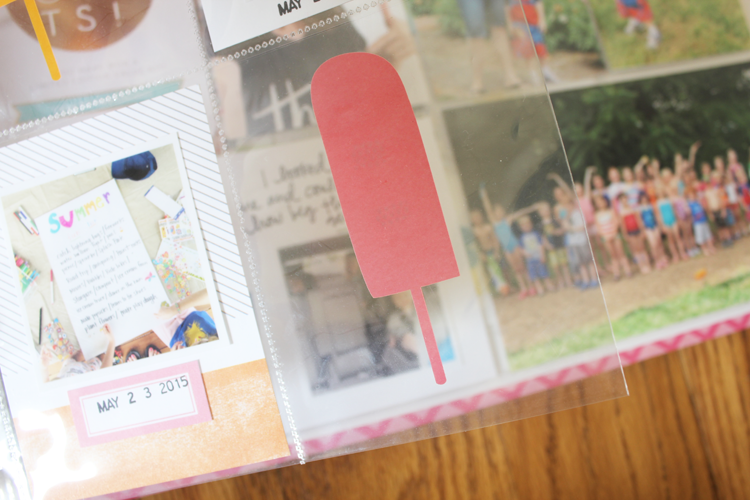 Here's a close up. :)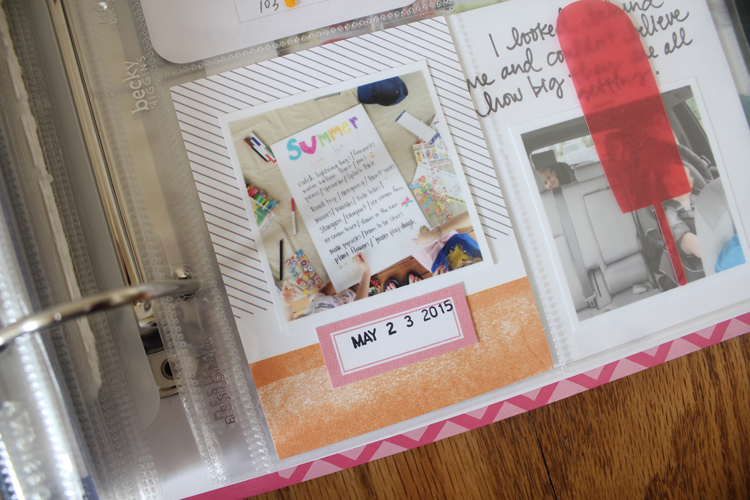 This 3×4 car is in the kit as well and so is the little diecut label. I just cut it out from the strip it came on (there are several other colors as well) and adhered it on the card with the date. Slapped a photo on the card and stapled it and done! ;)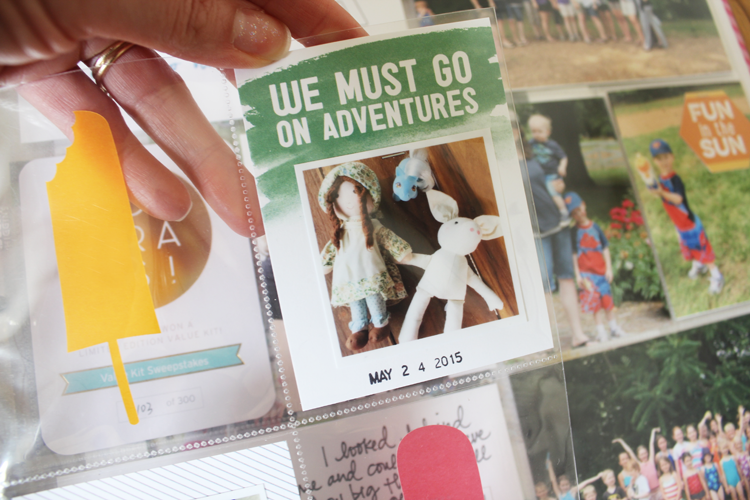 This is a card in in the kit as well. It was perfect for the little 2×2 photos that I use a lot in my albums and it was the perfect little spot to put a photo of the sweet finds that Caylin found when we were on an antiquing adventure. ;)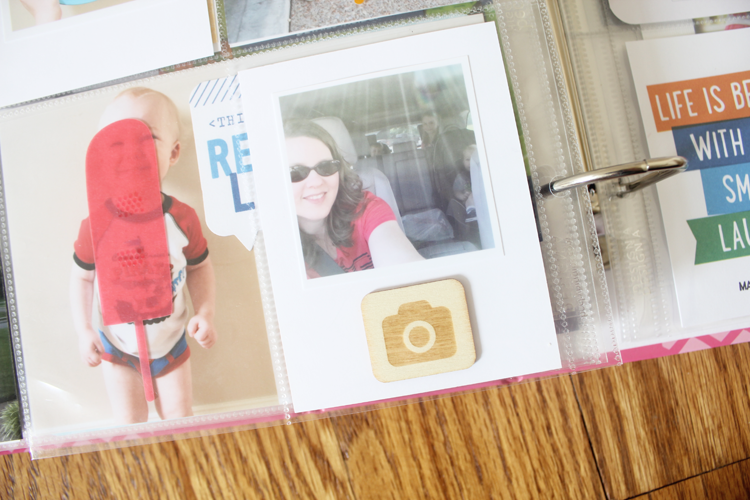 The back of the insert has the backside of both popsicles and then this photo with this wooden chipboard piece from Cathy Z's mini kit and a little photo of basket shenanigans.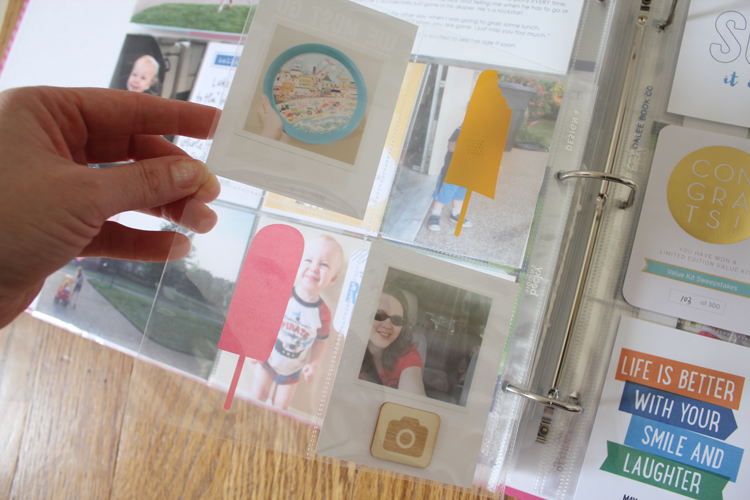 The top left photo is just a little photo of the antique treasure that I found on our little trip. ;)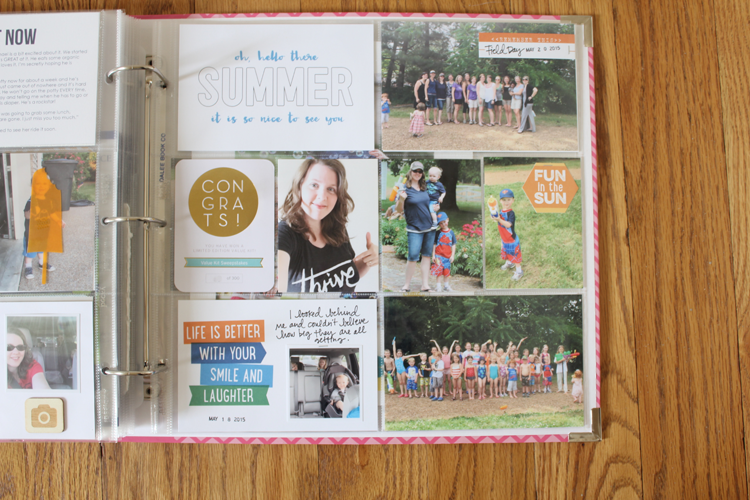 Here's the right side. :)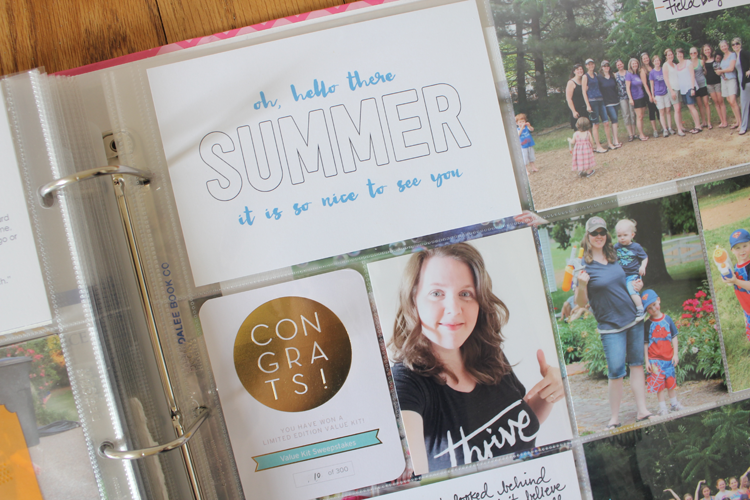 The "oh hello there Summer" 4×6 card is in the June Elle's Studio kit as well. I was sure to include the little prize card that I found in one of my Project Life kits! SUPER excited about that and I have a really awesome plan with it in the future – so be sure to keep an eye on out on my blog for news about that one day soon! ;)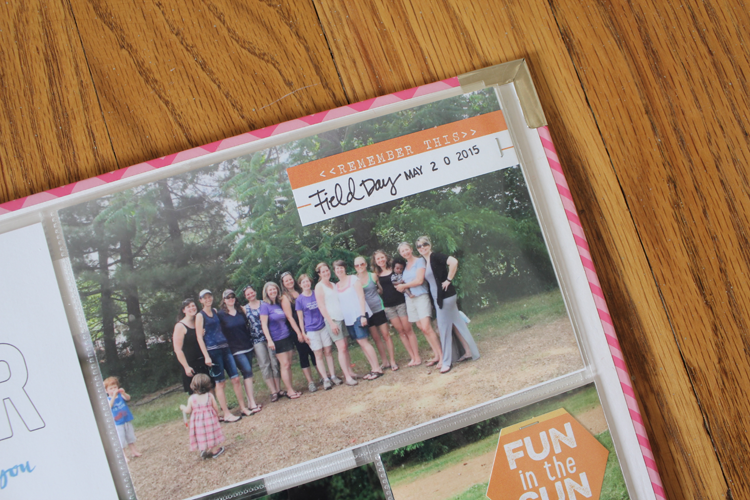 This is a group photo of all of us homeschooling Mamas in our group. It's not every day that we're ALL at one of our fun things and this was Field Day and so a photo was a must! So blessed by all of these sweet, beautiful women. The "remember this" die cut is in the kit as well as the "fun in the sun" die cut that I included on the photo of Jack below. Perfect for the photo! ;)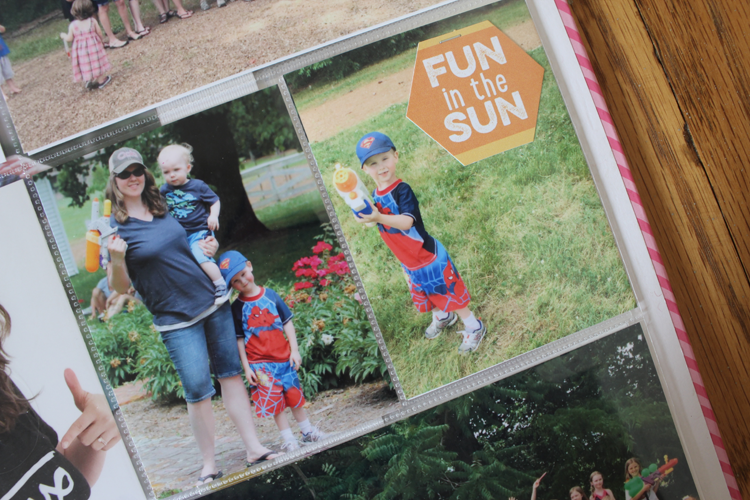 Don't I look so fierce with that water gun? Hahahaha! There's no shame in my game! ;)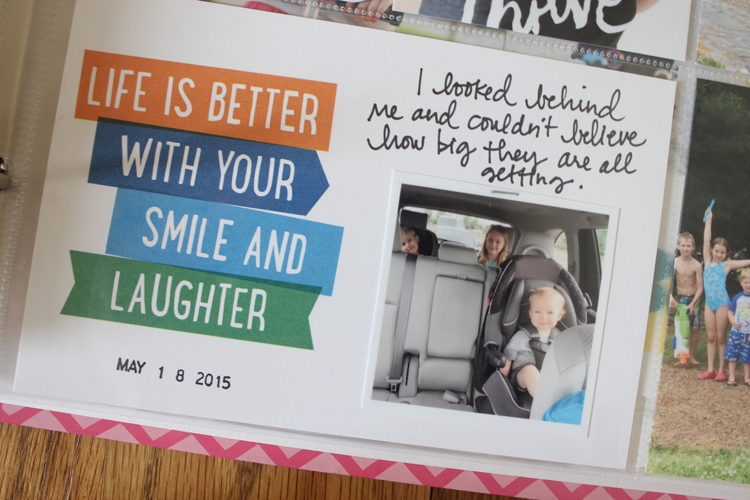 Lastly, this 4×6 card is also in the kit and it's just super simple and sweet. Loved the sentiment and once again – it had the perfect spot for one of my 2×2 photos. :)
So there you have it! My page shares for this Tuesday! I hope you are all having a great week! Be sure to check out all of Elle's wonderful products HERE on her website and if you want to snag yourself a July monthly kit – be sure to head on over there on the 10th of this month and get that bit of a discount! They're so much fun to incorporate on your pages and perfect for cardmaking and traditional scrapbooking, too! Oh, and Elle's blog is great, too! So much inspiration! You can find it HERE!
Have a great rest of the day!