Have you seen these cute little TeenyMates yet? These little guys are relatively new in our home, but they have multiplied lightning FAST. You'd think they were bunnies or something. Ha! My son Jack is a bit obsessed with them right now and the first couple of packs have turned into collecting the ENTIRE collection. How does that happen, anyway? Good thing we're all football fans in this house because we're all totally loving them, too! I'm a little embarrassed to admit that when he got an extra Packer I jumped for joy (I'm a big Cheesehead) and the little guy is now sitting on my desk. ;)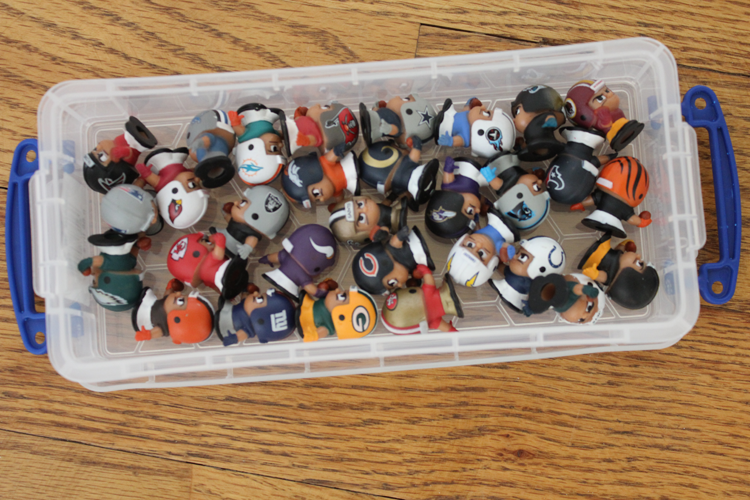 These TeenyMates guys are one-inch pocket players and they are stinkin' adorable. Jack is just collecting the NFL ones right now (these are all Series 3) – but I'm sure he'll try to expand that in the near future once he gets the other two that he's needing to finish his collection – it's the Ravens and Seahawks in case you're wondering. ;)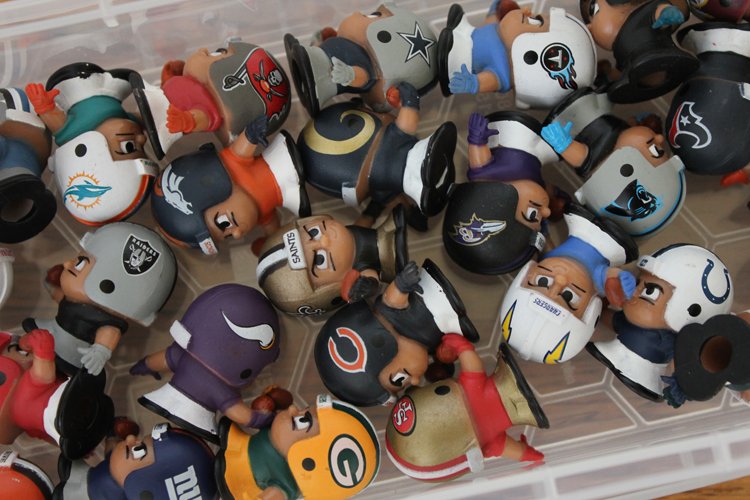 A couple of weeks ago, I contacted the makers of TeenyMates to inquire about the collectors tin that I was wanting to purchase for Jack to keep his little guys in. Unfortunately they were sold out of the tin, but when they heard that Jack loved them, they sent him a couple packs of the NFL and MLB guys as well as their newest little figures – TeenyFreaks.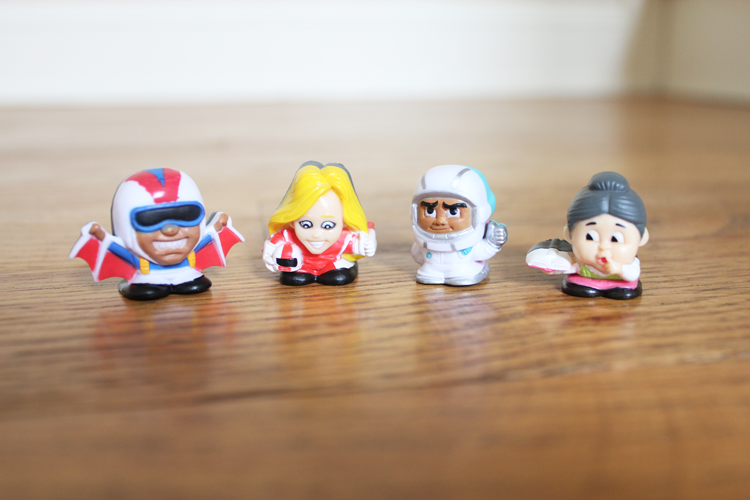 One side of the TeenyFreaks are normal looking folks, but when you turn them around …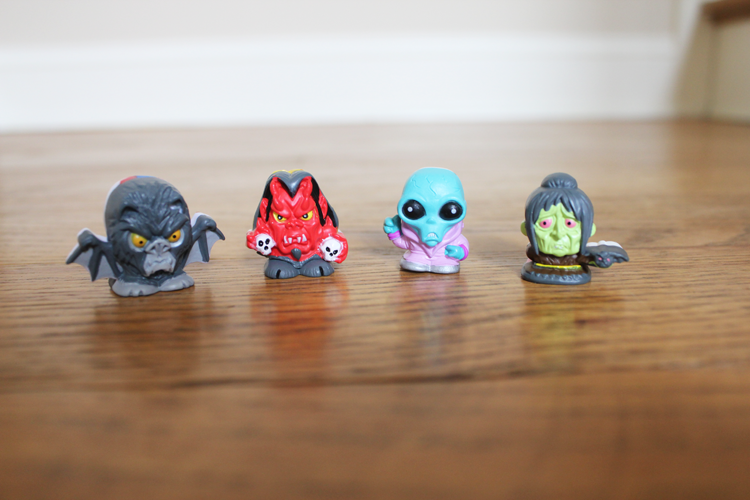 … they are totally freaky and they are a BIG hit with Jack and even Caylin. ;)
You can find these little guys in Target, Toys R Us, Walgreens and Dick's Sporting Goods stores around you. We've gotten the majority of Jack's collection at Target (sorry folks who live near us that have kids that love them, too. I think we've bought them all up, LOL)! Oh, and heads up – there is even a Cartwheel coupon right now on them! ;) They retail from anywhere from $2.59 to about $3.99. You can find the TeenyMates website HERE.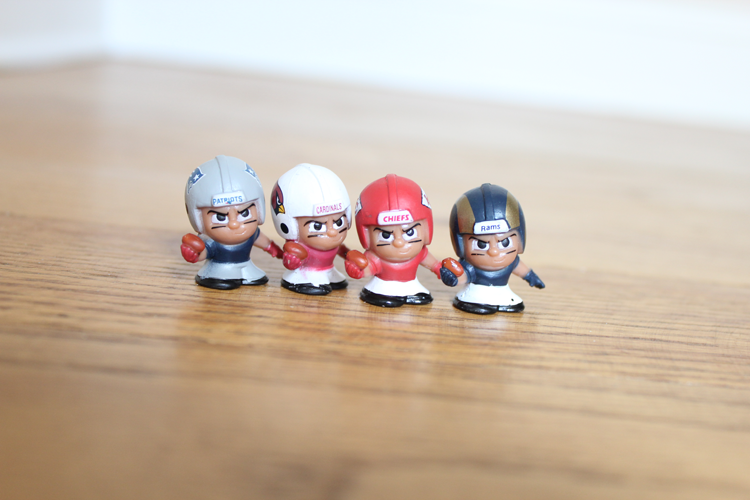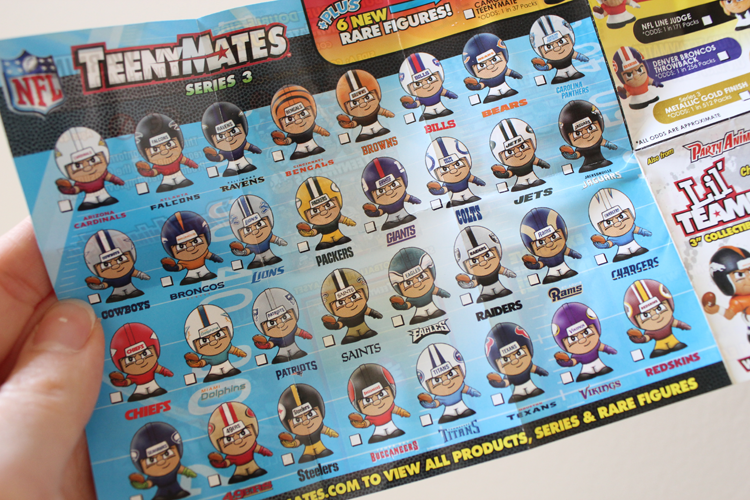 Every little package comes with 2 TeenyMates, a check off sheet (see above) and a couple of puzzle pieces (when you get all of the guys you have a complete puzzle that has the little players on one side and a football field on the other that you can use to play a game of football with).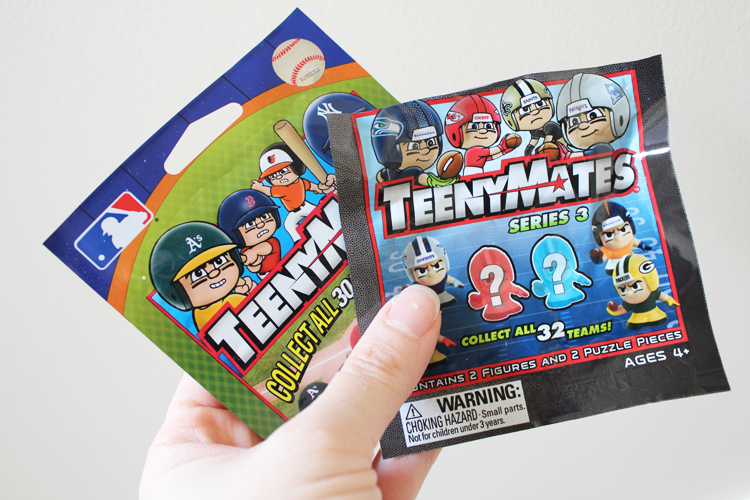 I think part of the fun of these is that the contents are a surprise! There are even some rare ones that you can get which is super fun! ;)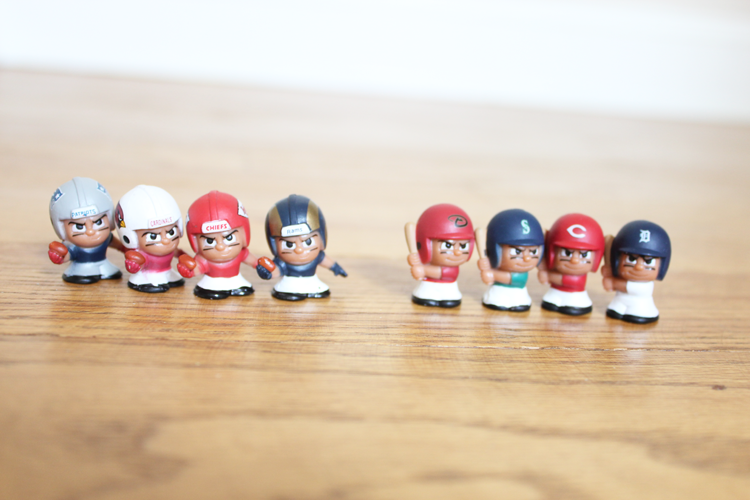 Needless to say that if you venture over to our home anytime soon you will see these cute TeenyMate guys scattered about our house causing lots of fun and giggles. I mean, come on – they are SO cute!
Guess what? How would YOU like to win some packs for your kid(s) to play with? Well, the sweet folks at Party Animal, Inc. said that I could give away a 4-pack bundle of the TeenyMates of your choice (they have NFL, MLB, NHL and NBA) and a 4-pack bundle of the TeenyFreaks, too! How cool is that?!
All you have to do is venture on over to the TeenyMates website HERE and come back and comment which TeenyMates your kid would love to have! You can post another comment telling me that you liked their Facebook page HERE as well and you can get another entry! I will pick a winner this Friday evening, February 13th.
Have a great Monday, friends!
Disclosure: I was sent two packs of NFL TeenyMates, two packs of MLB TeenyMates and two packs of TeenyFreaks, but all opinions and comments expressed in this blog post are solely my own. We have been loving these little guys for awhile now and have bought A LOT of them. I'm super excited to get to share them with you!