Hi friends!
Just popping in to share this simple and quick layout that I created using the November Freckled Fawn kit called, "Together is Best."

I loved everything about this kit – from the versatile embellishments that it included down to the color palette! It's all so cute!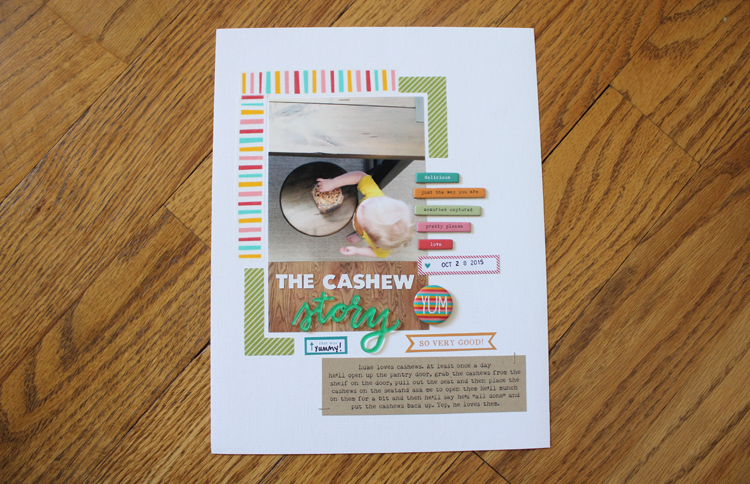 I put all of the bright embellishments on white cardstock so that the colors popped. I love to use white (and kraft) cardstock. Keeps it all simple and goes with everything!
I printed the photo out 4×6 and then just simply placed it on my cardstock off to the left side a bit. The funny thing that happened is that I was looking through the vellum alphabet pieces to see what I could spell that would fit on my layout and when I decided that the words were all really too big, I thought about using an "L" for Luke and one of the L's simply landed near the corner of the photo and I thought it looked SO cool as sort of a corner piece and so I used another L at the opposite corner. Loved the way it looked! Total accident! Ha!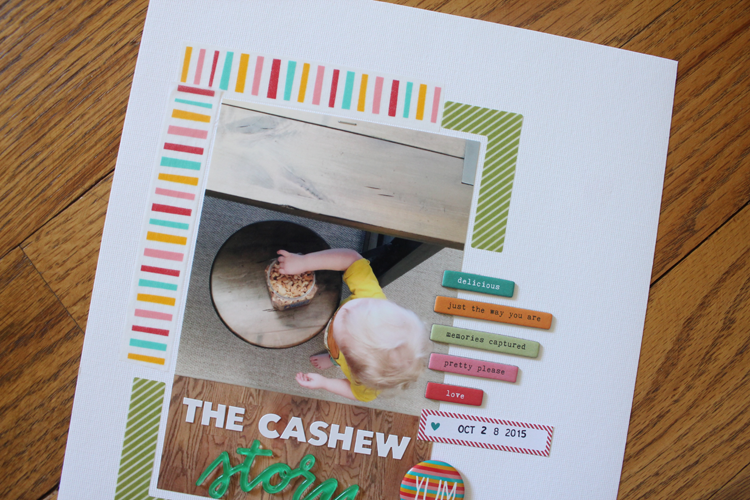 I knew I wanted to use some of the chipboard pieces along the photo and so I stacked them in a staggered way for visual interest and then used a label sticker below them for the date. The title was easy to get on my photo because it had some white space in it and I love using smaller alphabet stickers for that and then the "story" acrylic piece from the kit was just PERFECT on the photo to finish off the title. I then added the "YUM" flair (it went with the story and photo perfectly). Super easy! Oh, and I wanted a bit more visual interest and so I took two strips of the super cute washi tape and layered them a bit to make a longer corner accent to keep it flowing around the photograph. I wasn't sure if I liked it at first, but then it grew on me and now I really love it. It's fun and whimsical and I love the colors and stripes. I think it ties it all together nicely.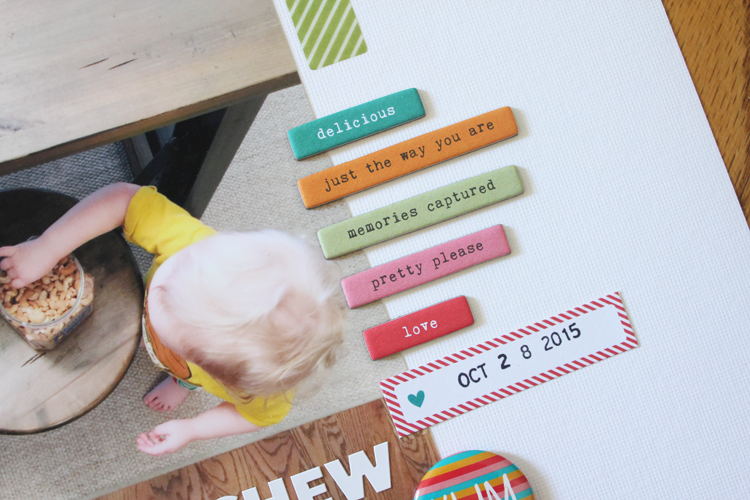 The last thing I did was print my journaling on a piece of kraft paper and added it on the bottom of the layout to tell the cashew story. ;) It's a cute little memory that I wanted to get down and I love how I'm able to use these awesome Freckled Fawn kits not only in my Project Life, but to create super cute and easy layouts that I can slip into a page protector and THEN slip into my Project Life. The best of both worlds, I tell ya! :-D
Thanks so much for stopping by! Be sure to check out Freckled Fawn HERE to learn more about their kits and see the other awesome and cute products they carry!