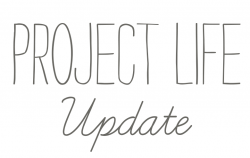 Happy Project Life Tuesday!
For this week's page spread I went back a week just because I wanted to share my pages with the OHDEERME embellishment kit last week. These are the pages that come before the ones I shared last week. :)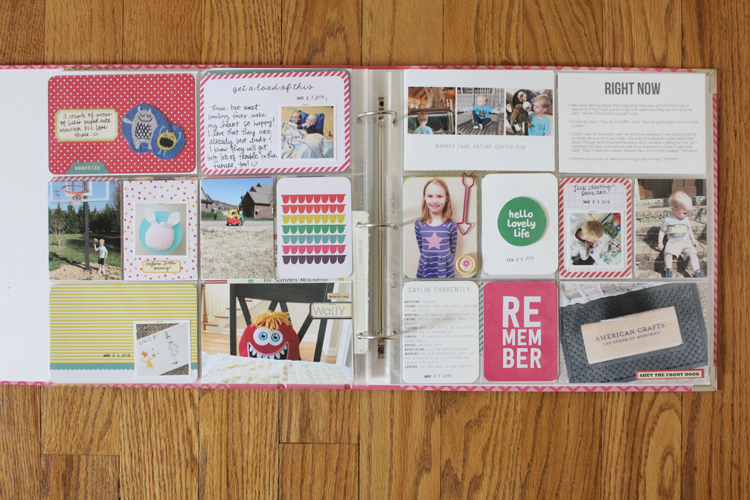 Here's a shot of both pages. I used DESIGN A page protectors (my go-to page protectors) and also I used the super cute 6×8 DESIGN 4 page protector, too for a little insert that I'm going to talk to you about in just a bit! ;)
I used the Confetti Edition that I designed as well. Also scattered throughout the cards you'll see some older scrapbook label stickers from October Afternoon (I can't get enough of those – they are PERFECT for Project Life!) and of course my Project Life date stamp and my Tim Hotlz tiny attacher. :)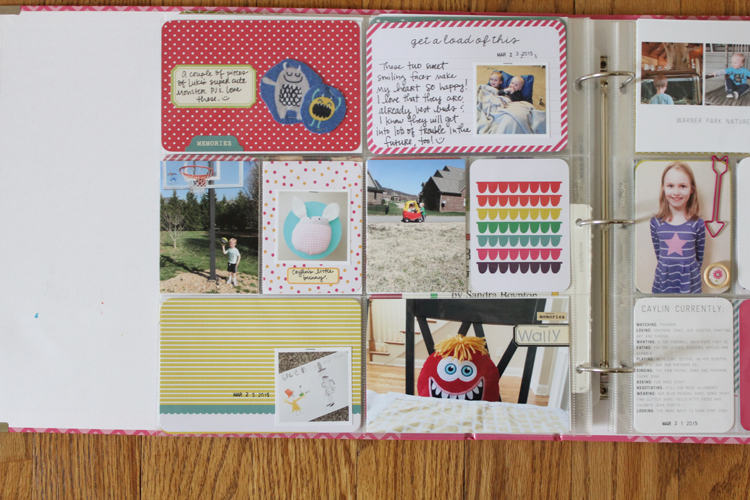 Here's the left side. :)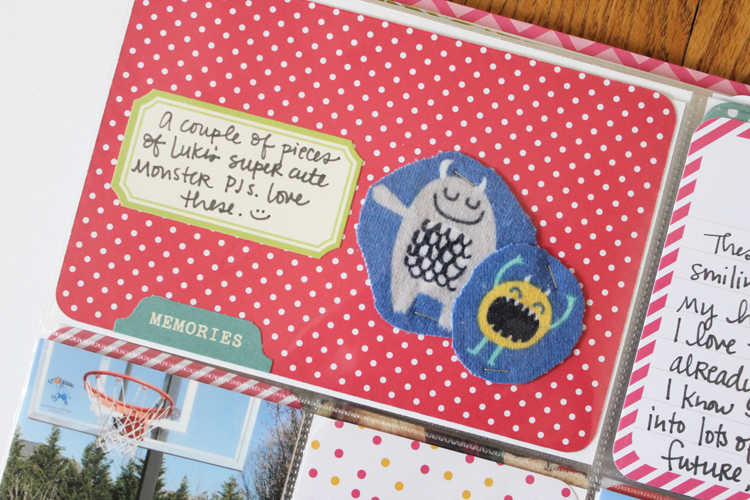 Here's a close up of this 4×6 card. Luke had these SUPER adorable monster PJs that I got him late last year. He LOVED them and wore them ALL of the time (at his request) and well when he outgrew them I was so torn. I wanted to keep them in his little baby box that I have for each of my kids, but then he got this big chocolate stain on the top and I thought hmmm … I could totally just cut out a couple of these monsters and put them on a 4×6 card and so that's what I did. Honestly, his baby box is a bit full (can we say I have a hard time letting go of my babies things?) and so this was the perfect way to incorporate this sweet memory and these sweet jammies. ;)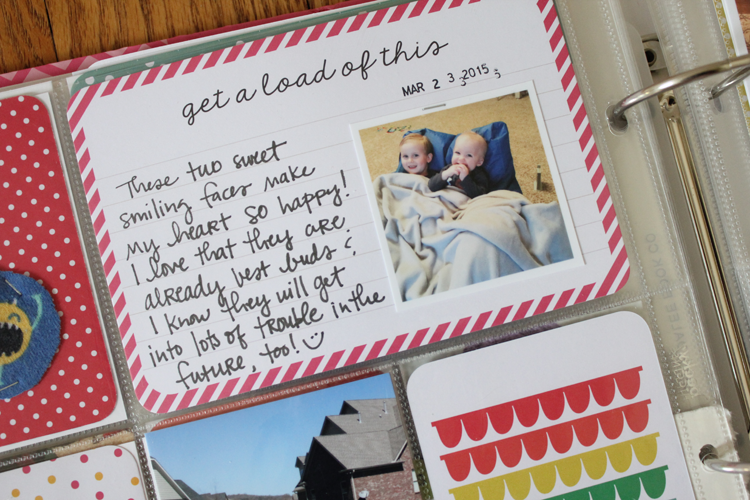 I ALMOST thought about redoing this 4×6 card because I was a bit too energetic when I stamped the date and so it's messed up a bit, but that's REAL life and so I just left it. I can't stare at it too long though! Hahaha! Moving on! ;)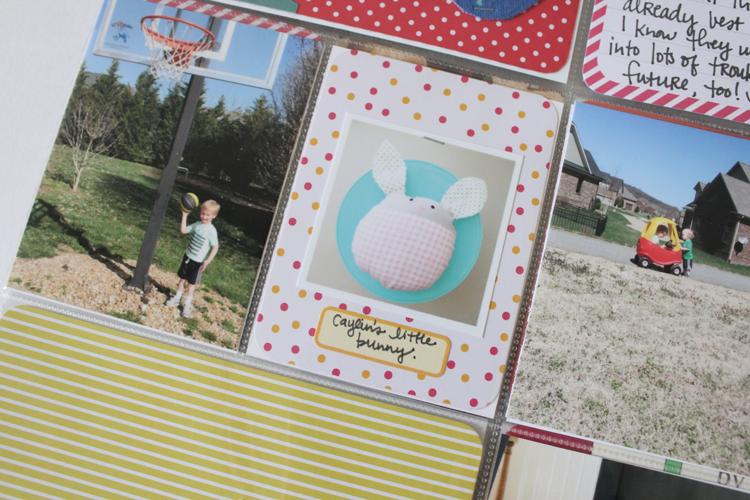 Another close up of the left side. :)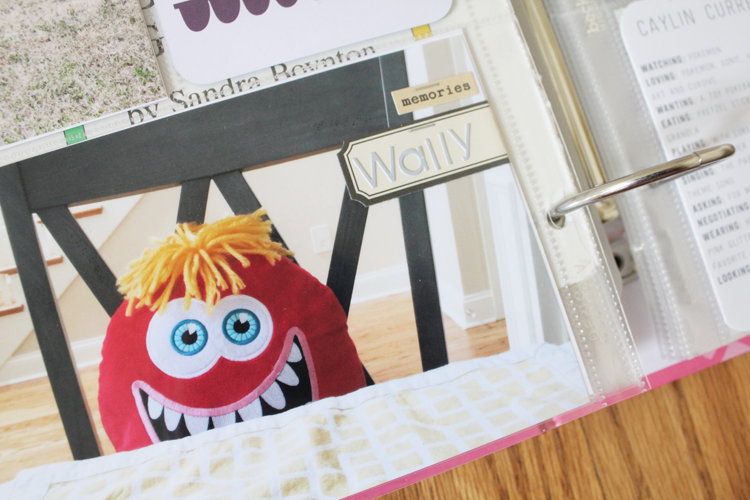 This is a 4×6 photo that I just put some stickers on and some alphabet stickers from a Studio Calico Project Life kit a month or so ago back. Yep, that guy's name is "Wally." Wanted to remember that. That's Jack's little friend. ;)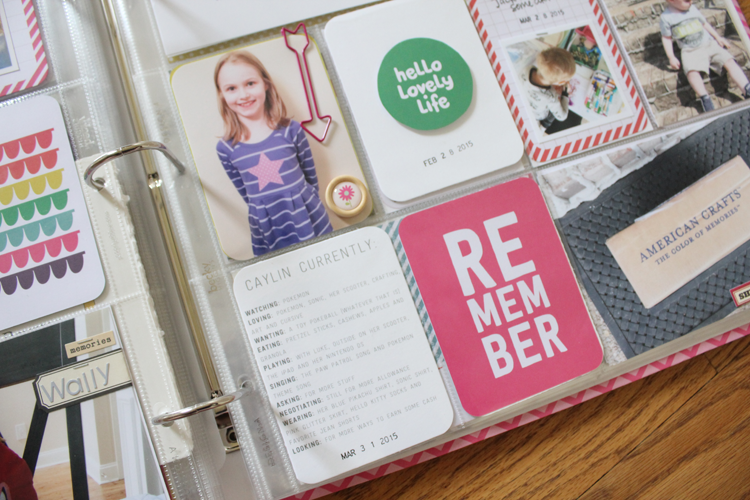 This is the front of the insert that I included this week. Once every year I love to do a little "currently" type thing for my kids and I ask them the same questions. So for Caylin, I thought it would be a neat idea to use this little 6×8 page protector and include a "currently" card, a recent photo of her and a few other little goodies about her.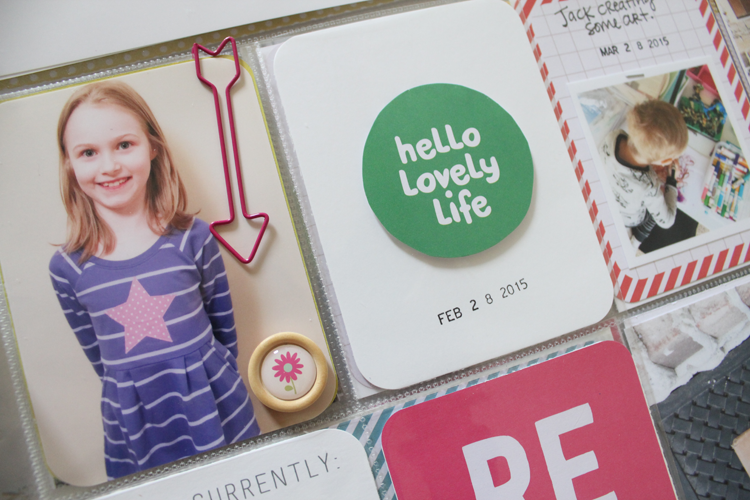 The green "hello lovely life" is from my Confetti Edition. I actually just cut it out from a 3×4 card and then paced it on a plain 3×4 card using some foam squares for a bit of dimension. All little embellishments are from Freckled Fawn. :)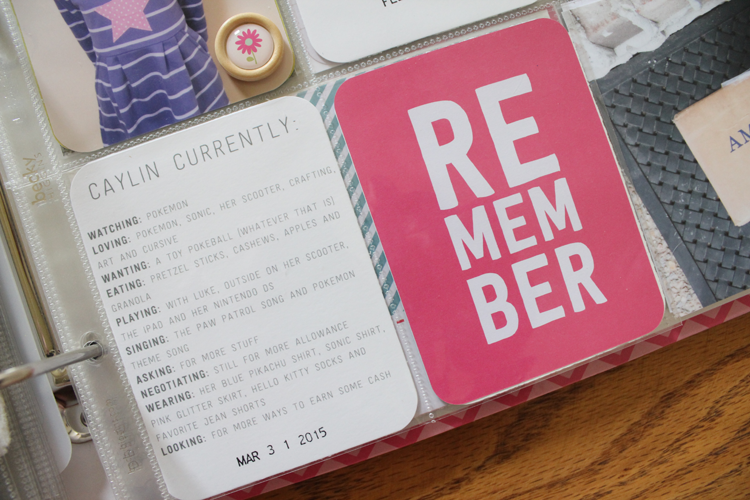 Here's a close up of the little "currently" card and the "REMEMBER" card is from my edition as well. :)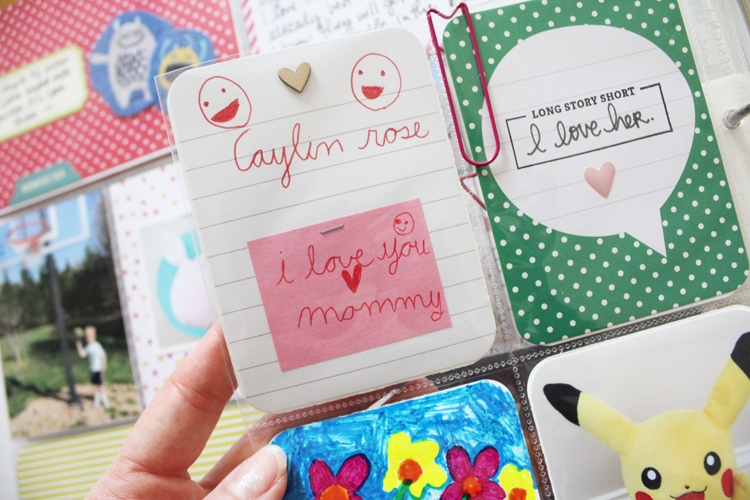 Here's the back of the insert. She wrote her name on one of the lined 3×4 Project Life cards and then I included this sweet little post-it note to me on it as well. The little wooden heart is from Lawn Fawn and the epoxy heart and stamp are from Freckled Fawn.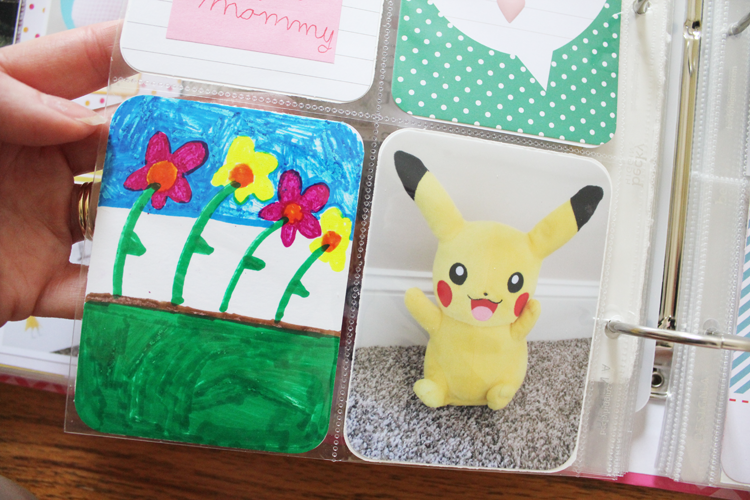 She also drew this little piece of art for me to slip in and then I included a picture of something she is loving right now – Pikachu! ;) I'm thinking I'll do the same for both Jack and Luke, but mix it up a bit with what I include since they can't really write their names just yet. It'll be a sweet way to look back on them this year though, I think! :)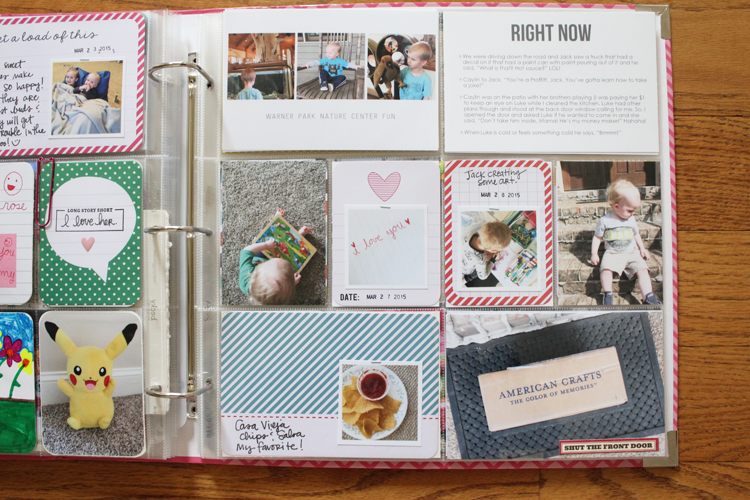 Right side. :)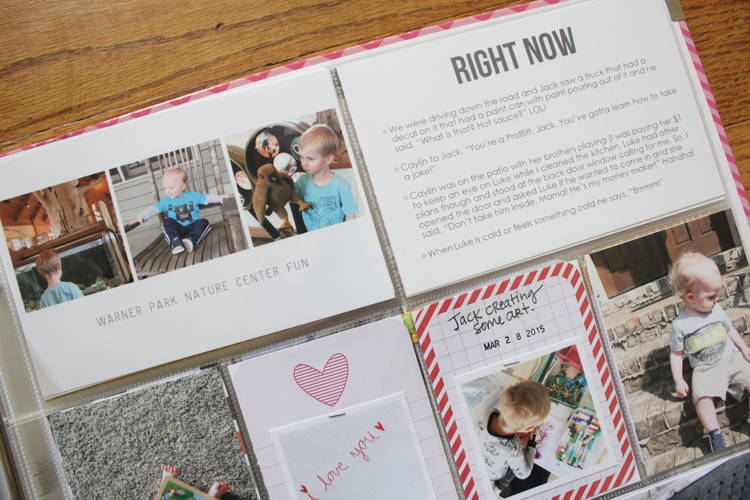 I was sure to get that RIGHT NOW card in there and also, of course, I used a photo template from my friend Tracy to get those three pictures on that 4×6 photo. :) Love how you can add a little title or caption, too!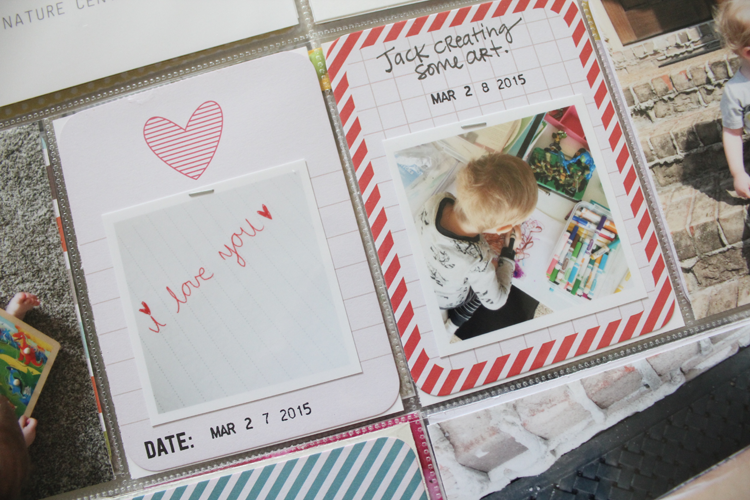 I took a picture of a sweet note Caylin wrote to me on some of her school work and included it on this card. I have a thing for printing my Instagram photos out 2×2 and then putting them on 3×4 journaling cards. I just love it. :)
Of course I had to take a picture when my Confetti Edition arrived at my doorstep for the first time! Eeeeek! I thought that sticker was appropriate for more than one reason! Ha!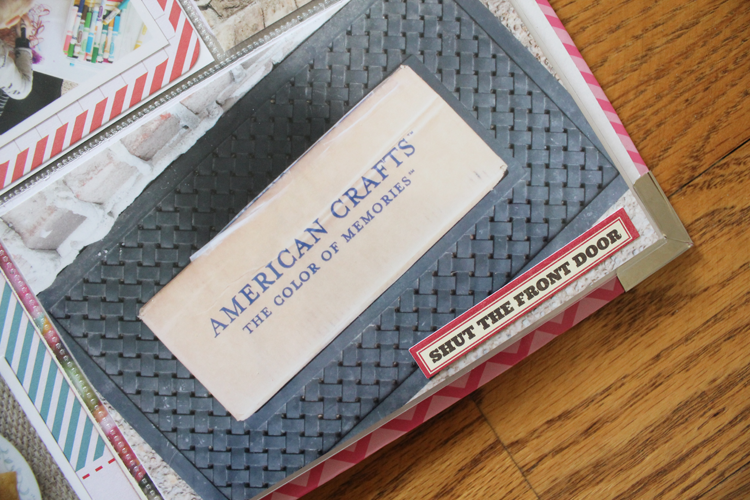 Well, that'll do it for today's Project Life Tuesday! Thanks so much for stopping by today! I hope you have a blessed day!
XOXO!