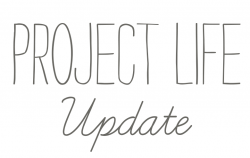 Hey friends!
I know it's been awhile, OK … a REALLY long time … since I did a Project Life update for ya. My poor Project Life Tuesdays have become more like,"Project Life Whenever I Can Get Around to it" hahahaha, so I'm happy that I have some more pages to share with y'all since it has been a bit. The funny thing is that now in this season of my super busy life, it's not that I'm NOT doing any Project Life-ing, it's that I'm doing it all in batches now and so I don't have as much to share AS often as I used to, but I'm honestly still doing a lot of memory keeping during the week, if that makes any sense. Anyone else do their Project Life in batches? Surely I'm not alone in this! ;)
Basically this is what I've been doing, so you can get a sense of this new "batch Project Life-ing" that I'm all about nowadays:
• Continue to take photos. LOTS of photos. Like ALL OF THE TIME.
• Every week or so, be sure to move all photos off of my phone and my DSLR (ok, they're mostly on my phone, so sue me, LOL) and then put them on my computer.
• Weed through the photographs, delete all duplicates and horrible ones
• Print out photos
• Write dates on the back of the photos
• Slip photos into page protectors in chronological (or mostly chronological order)
• Use post-it notes (my favorite little friend) and add them to the pockets of the page protector to remind myself of stories, what cards I want to use and any other tidbits.
• Slip in journaling cards and other cards into the pockets
• And finally add journaling to the cards
See … I'm totally doing something memory keeping related during the week (some days more than other). I'm finding that right now this is working great for me and I love how simple Project Life is and how I can fit it in here and there and still scratch that creative itch that I have!
Here are some pages that I have to share today and I used the awesome September Freckled Fawn monthly kit to add some super cute embellishments to the pages! That's another thing that I love to do!
For this spread that I'm sharing, you are going to see A LOT of inserts. It just happened to be a time frame that had a lot of things to include and well, so I did. Ha! That's not always the case, but when I have some extra inserts, traditional layouts and artwork from my kids – I include them and don't worry about how they are filling up my album. I just go with the flow, friends.
For the base of this spread I used my go-to page protectors – DESIGN A. I also used a DESIGN 4 6×8 page protector, 3 traditional 8.5×11 page protectors and a DESIGN C page protector as well. I was rockin' the inserts, friends. Ha!
This spread is pretty photo heavy, which I am finding myself doing more of lately. I just love photos. I do love sharing notes about the photos, but need to be better at telling stories. Ali always inspires me, but I just admire from afar and I really need to DIG DEEP into my OWN stories and tell them. I plan on it, just not there yet. I have though been getting Ali's Story Kit every month and can't wait to actually use them and not just drool over how awesome they are. Hahahaha! That's a whole nother blog post, friends.
Ok, so back to what I was saying … so for this spread I'm sharing, I used a card from the Kiwi Edition (one of my favorites), a 4×6 card from the Seafoam Edition (kickin' it old school), a 3×4 card from an older Studio Calico Project Life kit and lots of goodies, like I said, from the September Freckled Fawn embellishment kit. This kit is beautiful and this month it's mostly in the classic black & white, which is so versatile and cool to use. You can't go wrong with it!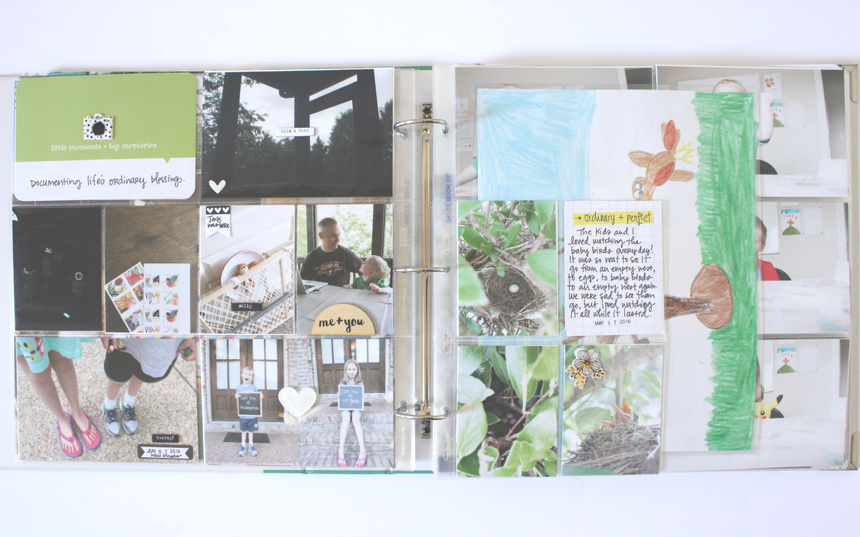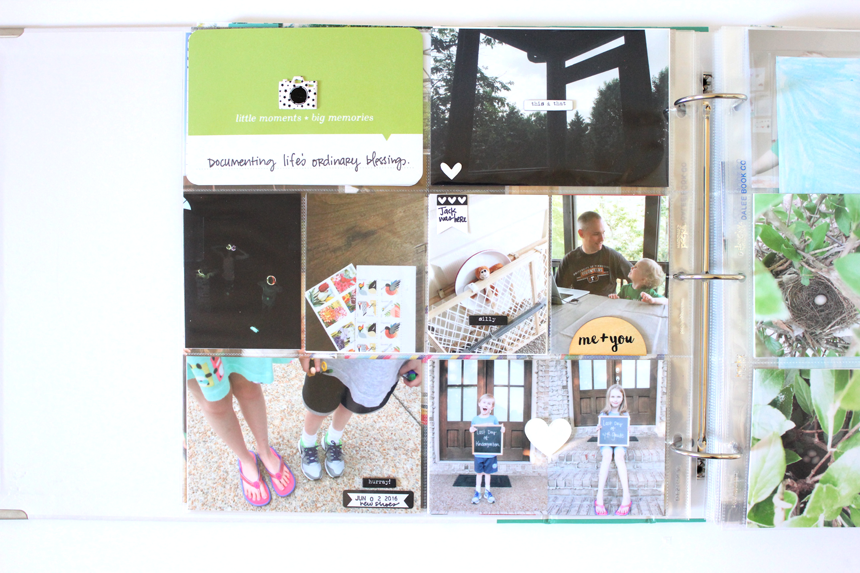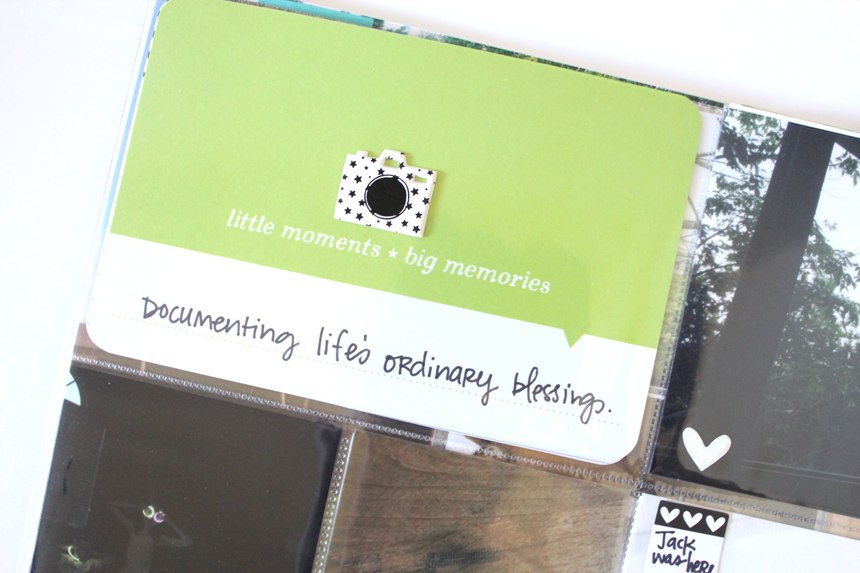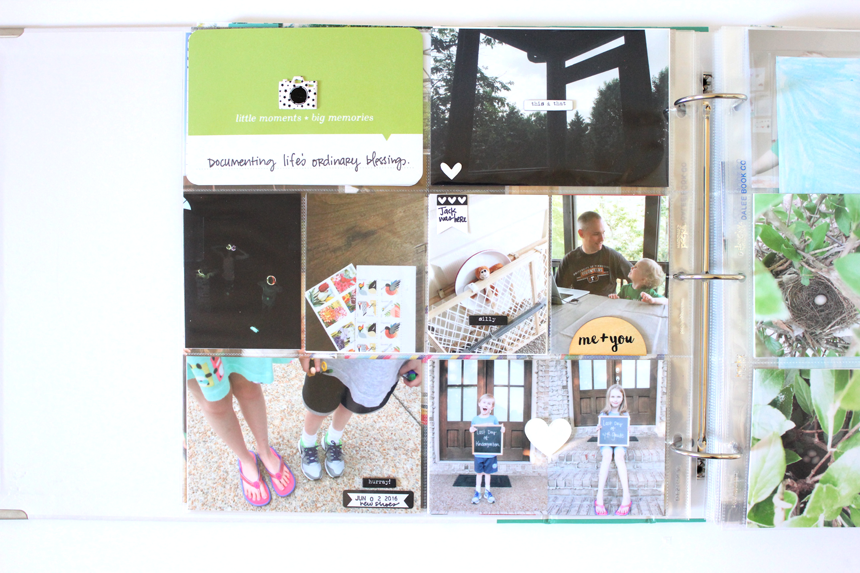 So on this side I have the one 4×6 card in the top left corner and I just simply used a pretty camera puffy sticker from the September Freckled Fawn kit to embellish the card a bit and then wrote a bit of journaling on the card as well. I do love using my handwriting when I can and the card needed something more.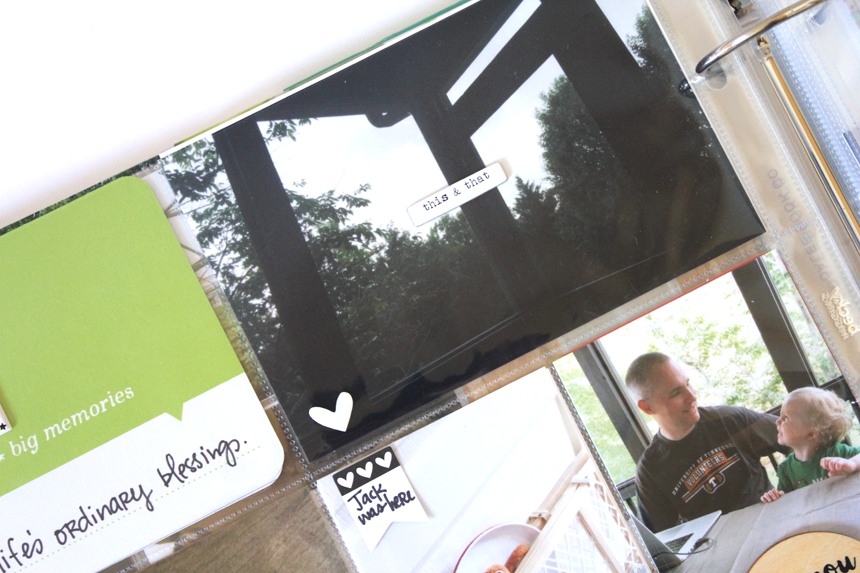 I love how solemn this photo feels (I took this shot during a thunderstorm on our back screened-in porch) and love the pop that the white epoxy heart and chipboard piece from the FF kit gives the photo. It's so simple, yet eye-catching.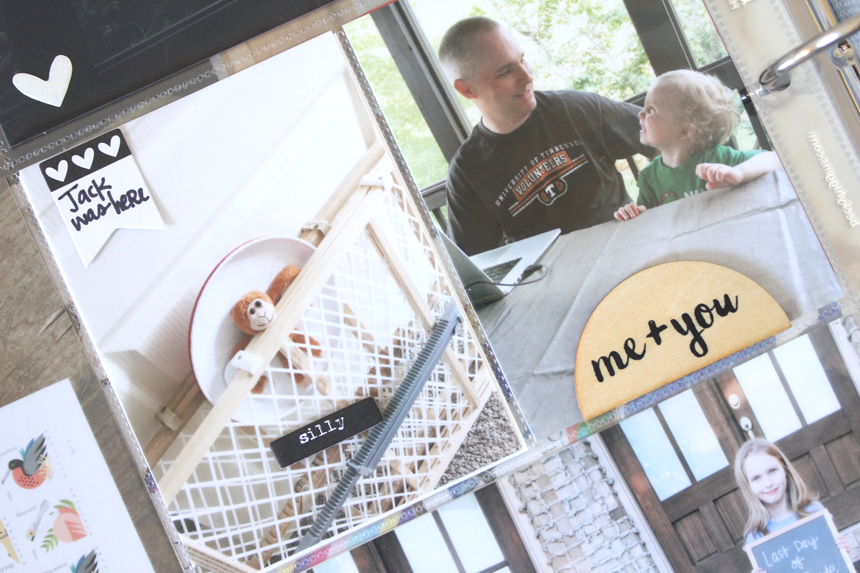 I love when there are labels in the kit and this month there were some cute ones! I used the heart banner label at the top of this photo and put "Jack was here" in my handwriting. Poor monkey. Ha! This half circle wooden piece is also in the kit and was perfect to put along the bottom of this sweet photo of my husband and our youngest son, Luke. I just love how Luke is looking up at Michael. So sweet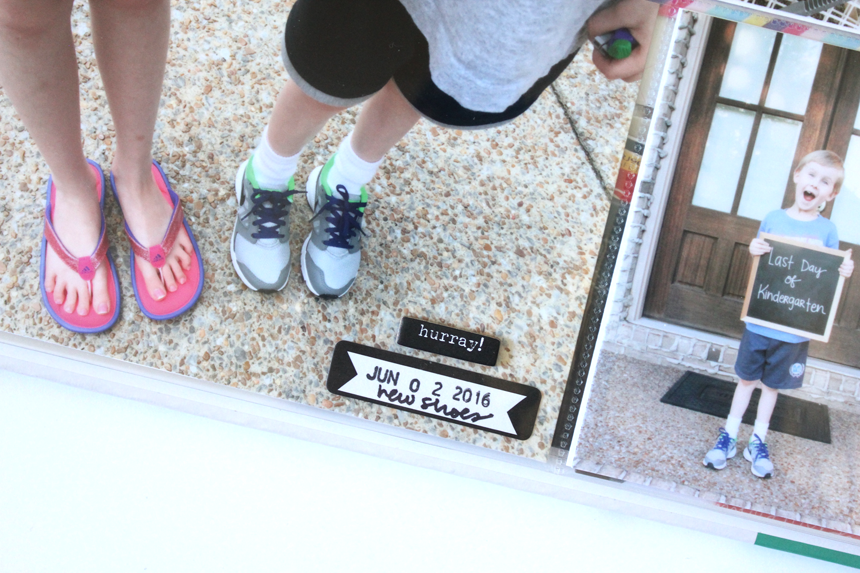 I added another label on this bottom left photo and then above that put a simple black chipboard piece. I love added the date to journaling cards and photos and so I do it at every opportunity. LOL! Every photo is actually dated on the BACK as well. I'm crazy like that. ;)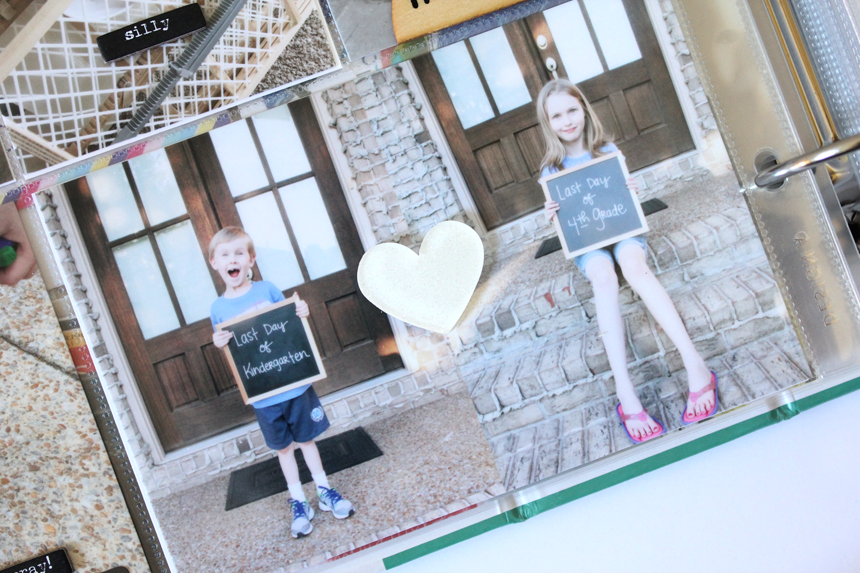 Then in the last 4×6 photo slot, I just slipped in 2 3×4 photos of my kids last day of school and printed it out as one 4×6 and left it that way. Super simple. I added the acrylic glitter heart to the middle.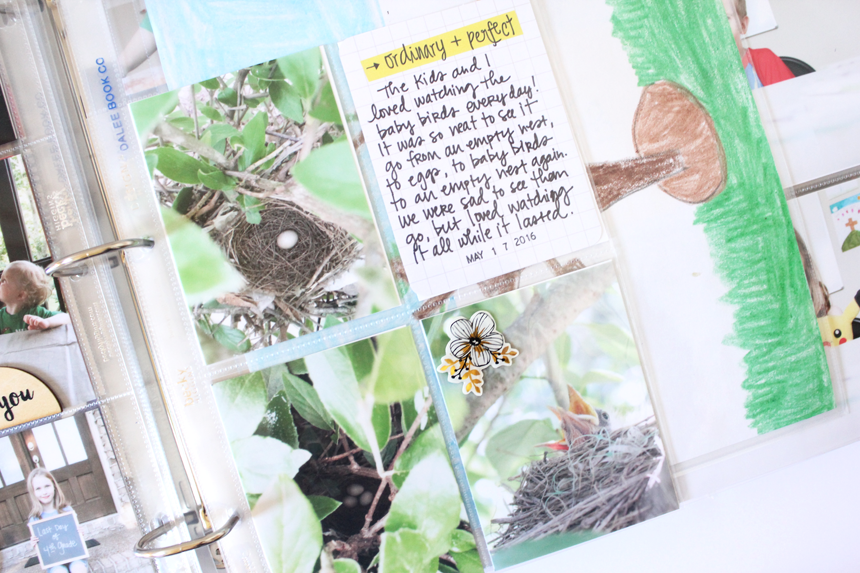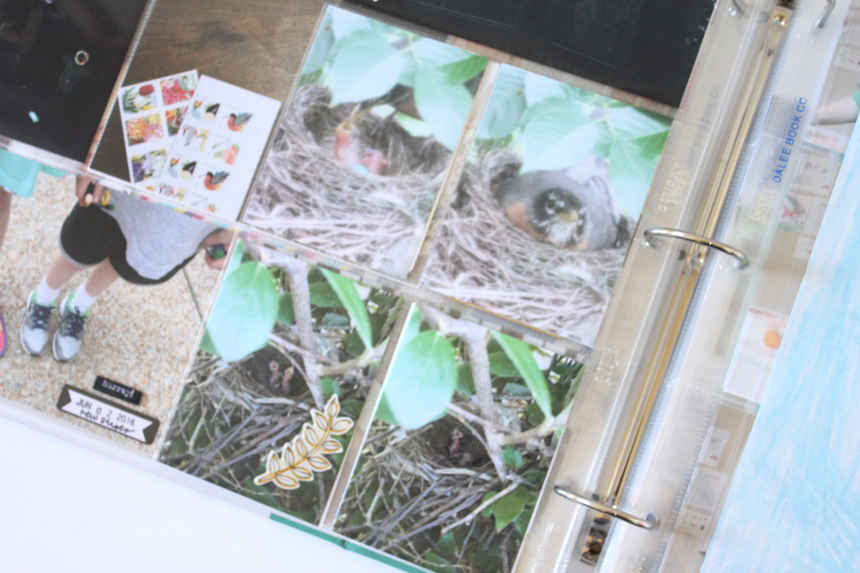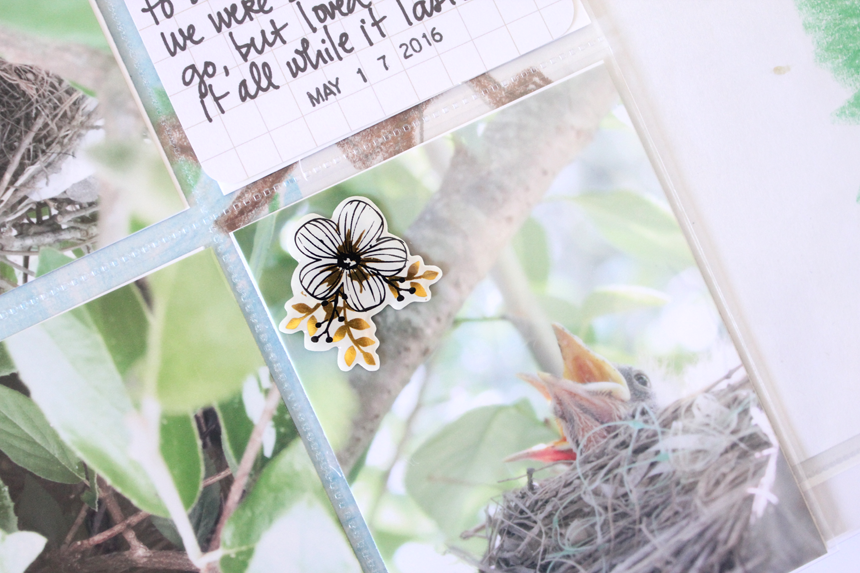 The DESIGN 4 6×8 insert has photos in it from when the kids and I were obsessed with watching the Mama bird, her nest and then the eggs and baby birdies that followed. We could sit in our screened-in porch and just watch them for HOURS. We loved it! It was such a sweet time with the kids and I wanted to be sure that I included a little insert in this timeframe to document it. Oh, and I did use a 3×4 card from, I think, the High Five Edition to do some journaling about it. I also added one of the pretty floral stickers to the front (it's from the Freckled Fawn kit) and then on the back there is one, too!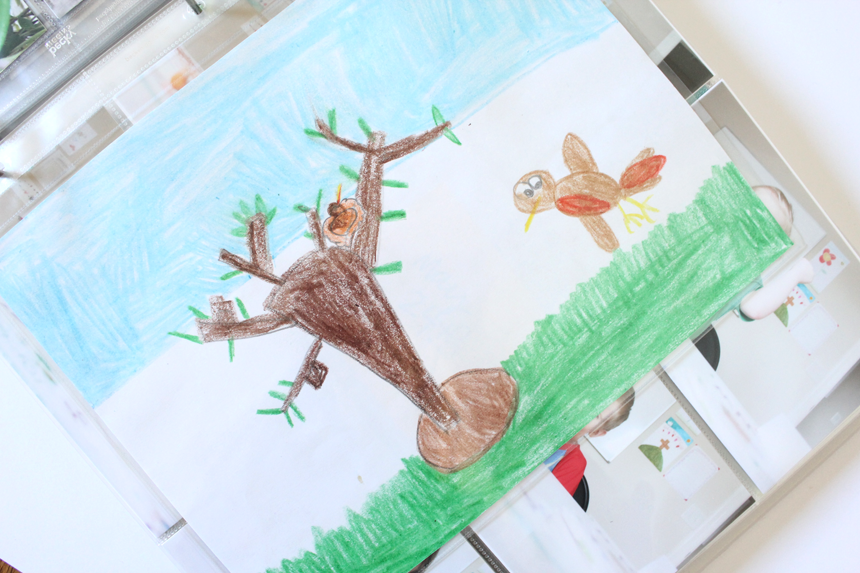 Along with the baby bird theme, Caylin drew this super adorable and sweet photo of the tree, nest, baby bird and Mama bird that I knew I just had to keep, so I slipped it in a traditional 8.5×11 page protector. I got her permission to keep it in there, of course. It's so darling.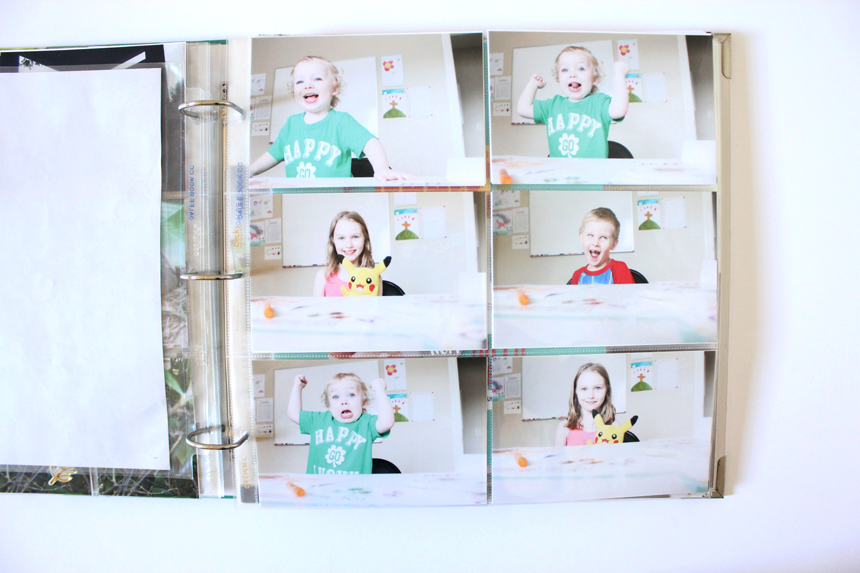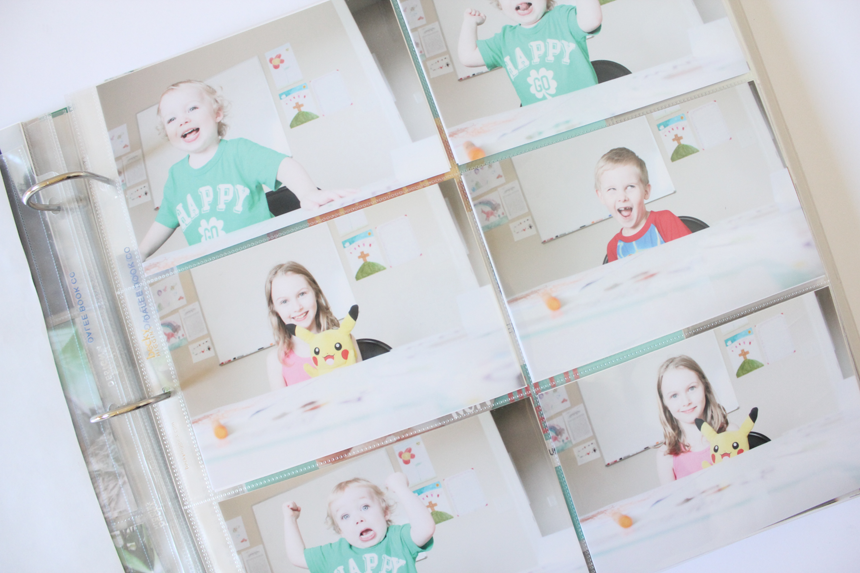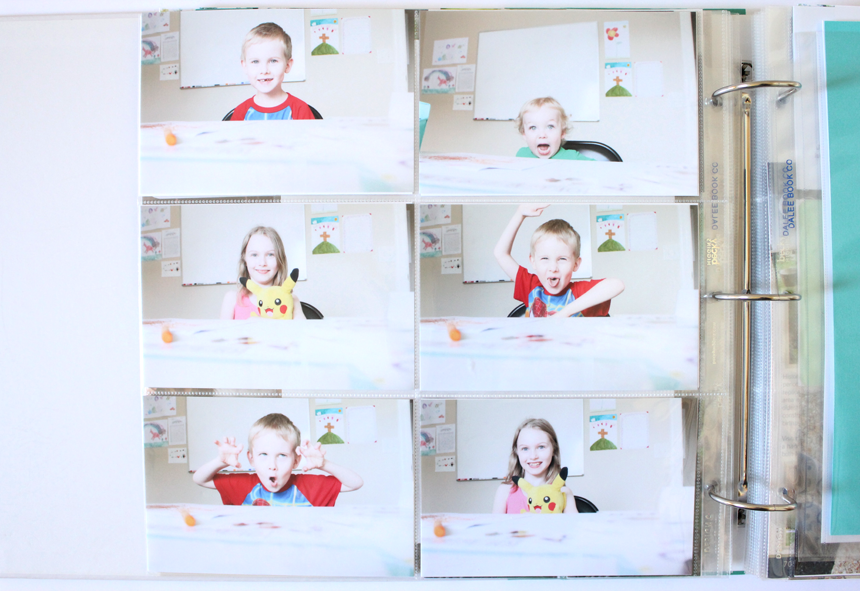 Then, you might remember THIS post I did a bit back about pulling out your BIG camera to get some shots of your kids. Well, I had SO many of the pictures that I wanted to keep and so I printed them all out and it just happened to be the perfect amount for the DESIGN C page protector and so I slipped them all in there. Simple. :)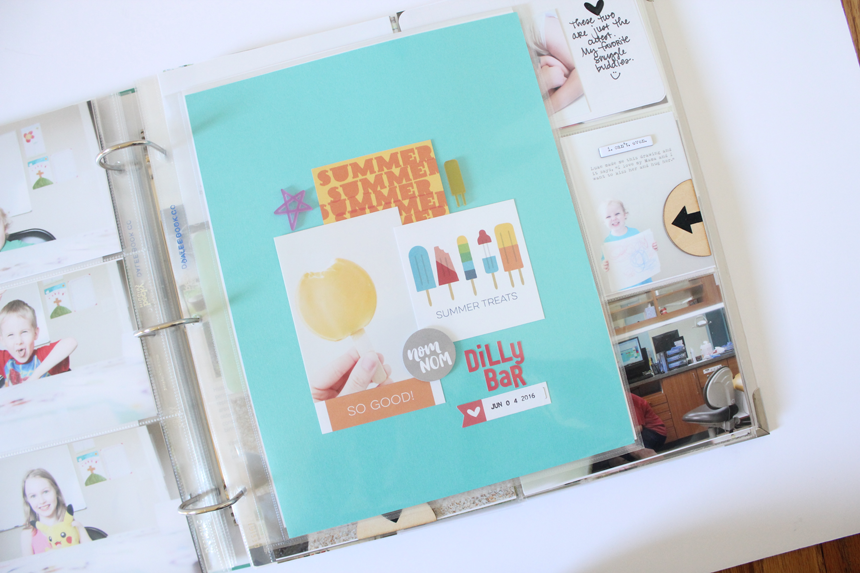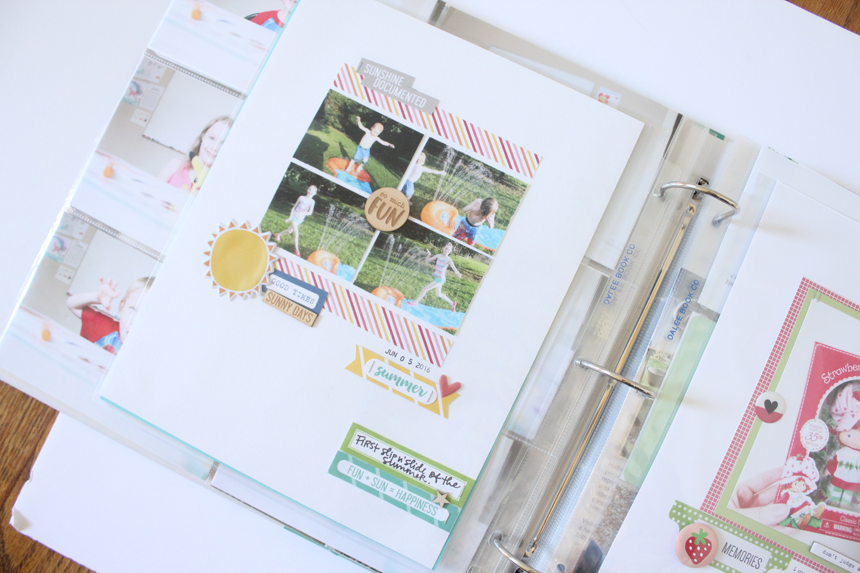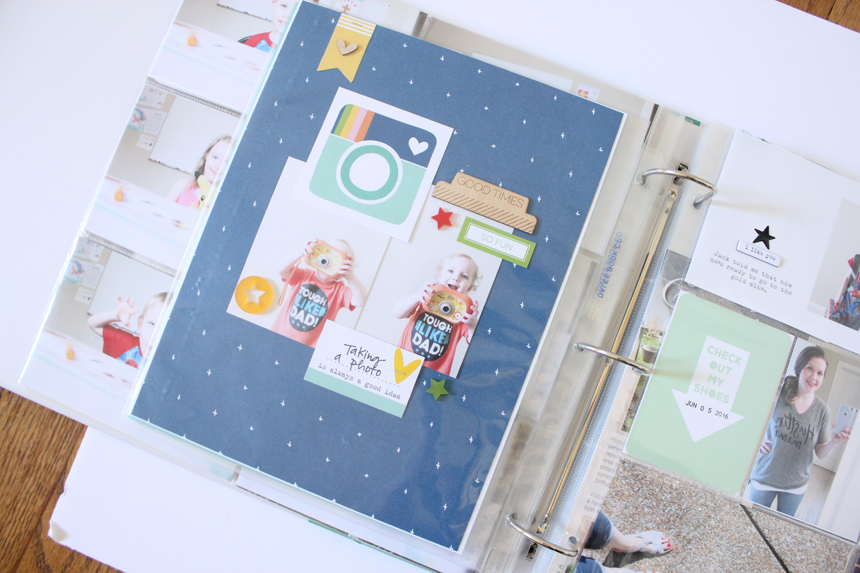 Also included in the middle of this is 4 traditional 8.5×11 layouts that I did using Freckled Fawn & Elle's Studio goodies. Sometimes I just feel like doing a traditional layout and so I do! Ha! I want to be sure to include them in my Project Life album so that's why I just slip them into page protectors and I'm good to go! I've shared these on the blog so you can find more about them HERE, HERE, HERE and HERE.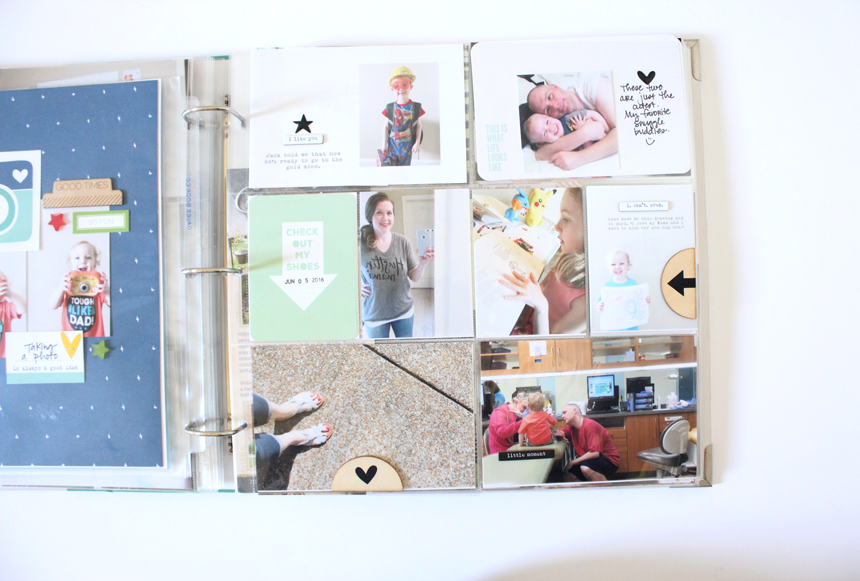 The last page in this spread is once again the DESIGN A page protector and once again, photo heavy. Ha!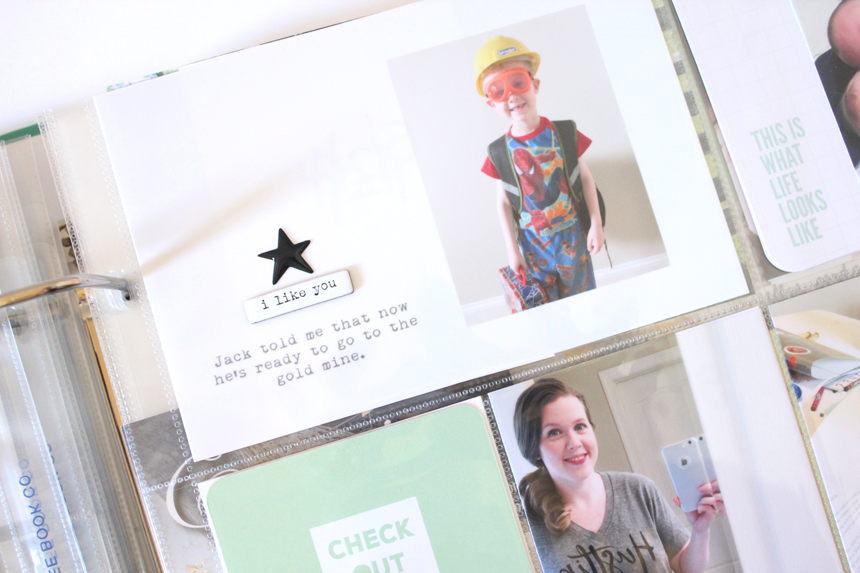 I used a template by my friend Tracy for this top left photo of Jack.
I just love it and that white space was perfect to add a black star and chipboard piece from the kit.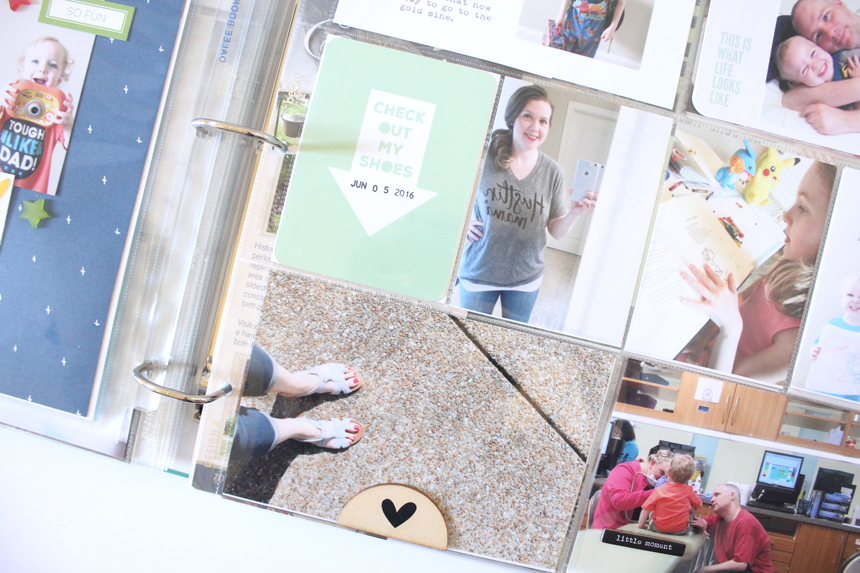 Below that I used the Studio Calico 3×4 card to point to the 4×6 photo of my super cute sandals. Ha! Those were $12 at Shoe Carnival, people! Get ya some! ;) I did put another half-circle wooden embellishment on the bottom of that photo. I love those.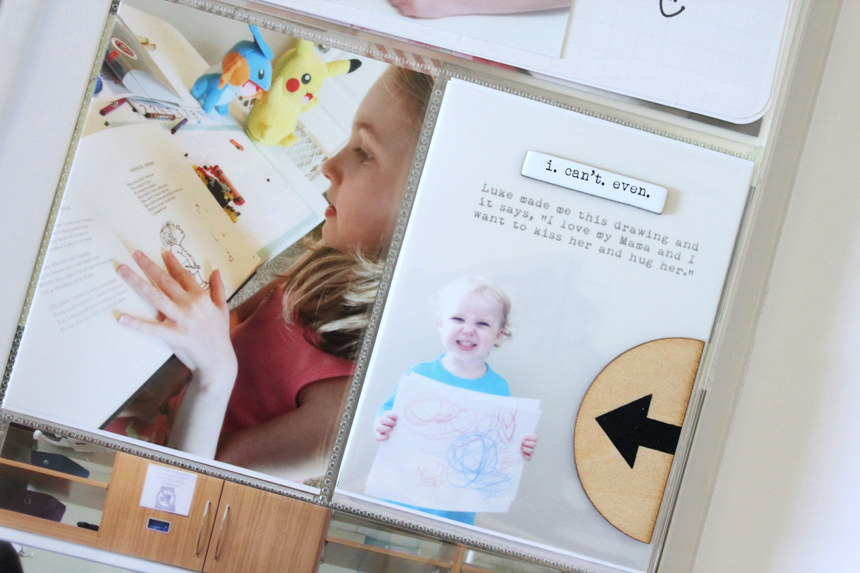 Then there are some other 3×4 photos, a 4×6 photo with another chipboard piece on it and then I added text directly on this photo of Luke. I sometimes do that, too. I put the "I can't even" chipboard on it because it's just SO adorable and then thought it would be cool to add one of the half-circle wooden pieces to the side of that photo to point at Luke. So many ways to use embellishments! That's what I love about getting these monthly kits – so many uses and you can use them on so many projects!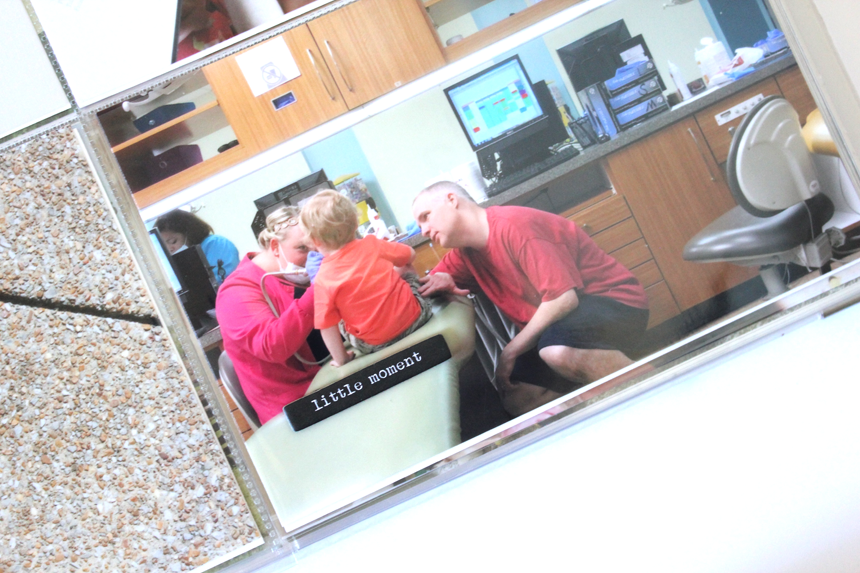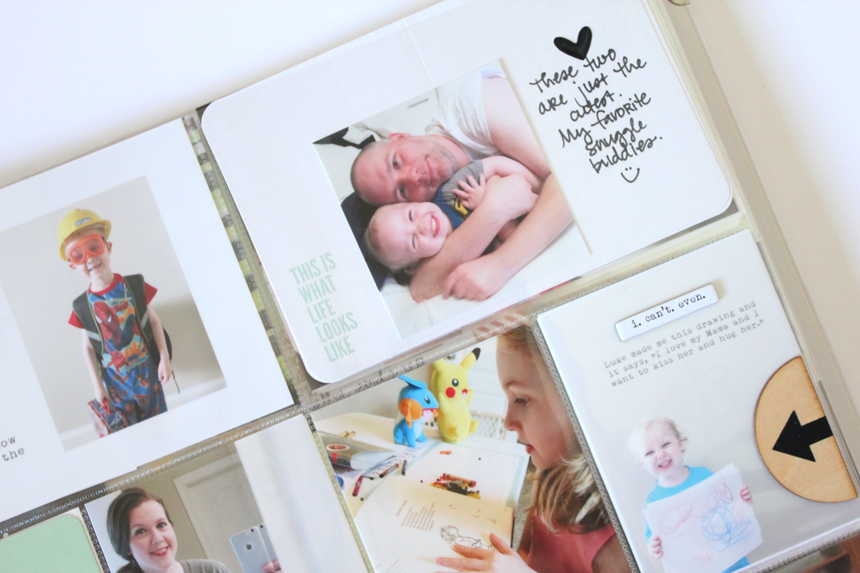 Then the last photo is just a square photo printed and stapled to the 4×6 Seafoam edition card with some journaling and a black heart epoxy sticker. See. Totally simple, friends.
Shew. That was A LOT. What a way to jump back into it all, eh? You're welcome. ;) If you have any questions about anything you've seen here or about Project Life in general, leave me a comment or email me and I'm happy to answer them.
I think I'm going to have some more pages to share later in the week of the sweet and simple spread I did to document Luke's 3rd birthday. Yep, I'm going post crazy, y'all!
I hope you all have a beautiful and blessed day!
I'll be back soon!
XO!