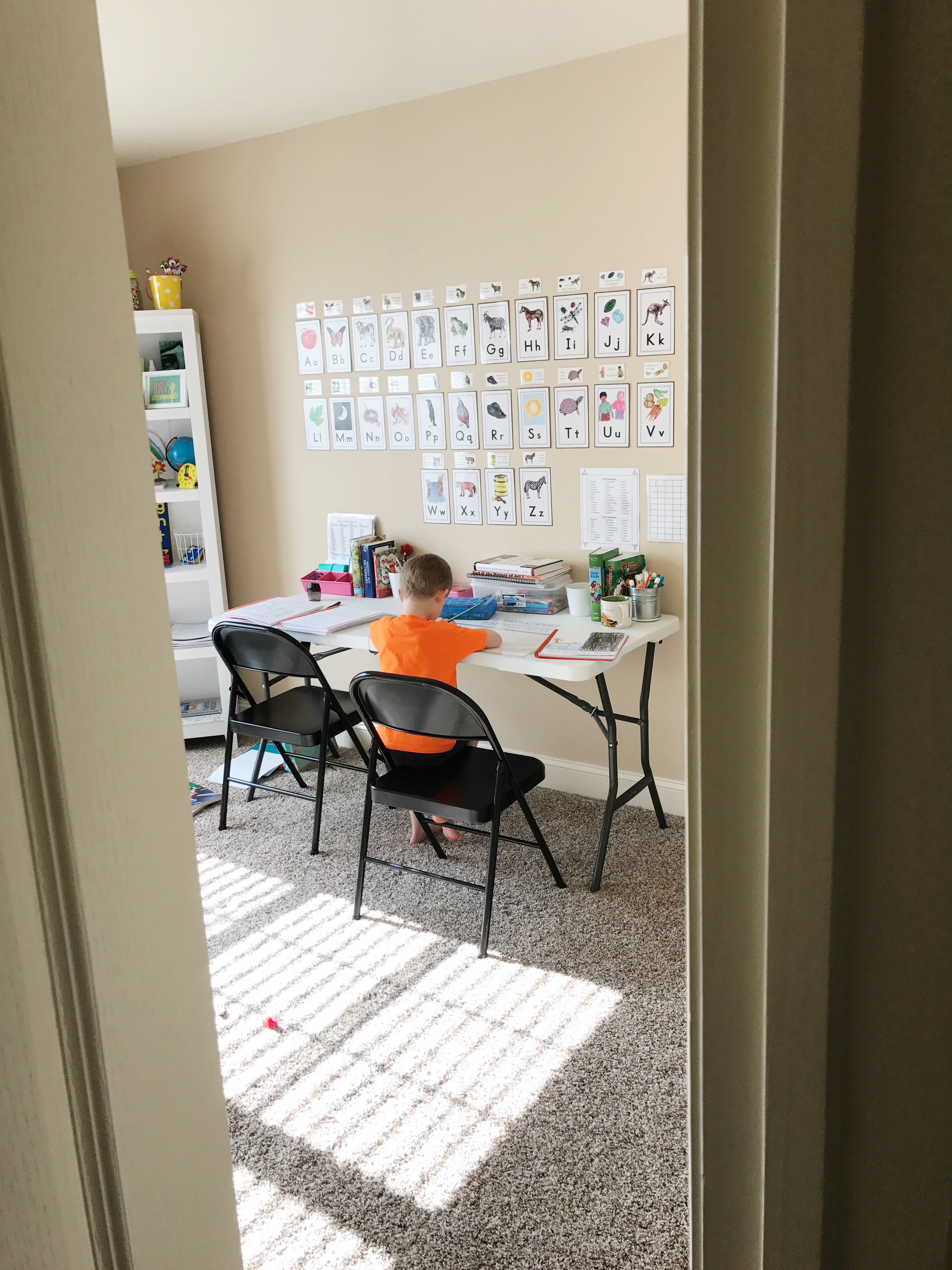 The other day when I was walking down the hall of our bonus room I stopped for just a brief second and saw my sweet Jack sitting at the homeschool table working away on the math assignment that I gave to him a bit earlier. It was a worksheet full of subtraction problems, something new he's learning, and as I stood there I saw him sweetly counting on his fingers, giving himself a sweet "you can do this Jack" pep talk and getting SO excited when he subtracted 7-2.
My heart felt so full at the moment. I'm realizing that in THIS season of my life, I need MORE of that. Y'all, homeschooling children is crazy hard. If you homeschool then you already know that and experience it on a, I'm pretty sure DAILY basis, but if you don't then yeah – it's hard.
Every day I find myself saying a little prayer for the Lord to give me the: patience, willpower, wisdom and just plain JOY to do it. I'm not gonna lie – it's not always done pretty. It's not always done before other things that are less important. There can be arguing, some hurt feelings and honestly some bribery (did I just say that?!), but every day it gets done and at the end of the day I take that deep breath in and remind myself that I am doing good work. It might not be perfect, it might not be how I want it to be exactly or how I thought it would look, but it's good, good work. Stopping and snapping this shot reminded me of just how blessed I am to be able to teach my children.
Yeah, it's a super important responsibility and sometimes the weight of that responsibility paralyzes me with fear, but I am doing it and they are growing and learning and well – we haven't killed one another yet and we are continuing on and good work is being done. I oftentimes feel the Lord with me as I guide my children and share with them important lessons from the Bible and values that we, as a family have, and hold onto. To see their eyes light up when they learn something new or master a new craft is amazing. It fills me up SO much.
It's one of those feelings that I wish I could bottle up and replay when we're having a hard day or I'm struggling to find the strength to teach at all. That's why it's important to stop and truly SEE what is going on during our day. That's what this picture reminded me of on this day – good things ARE happening despite me feeling inadequate at times. Good things are happening despite how the kids would rather continue to play instead of doing math. Good things are happening amidst the craziness, the loudness and the messiness of it all.
Good things are happening and God sees it.
It's time that I see it more.