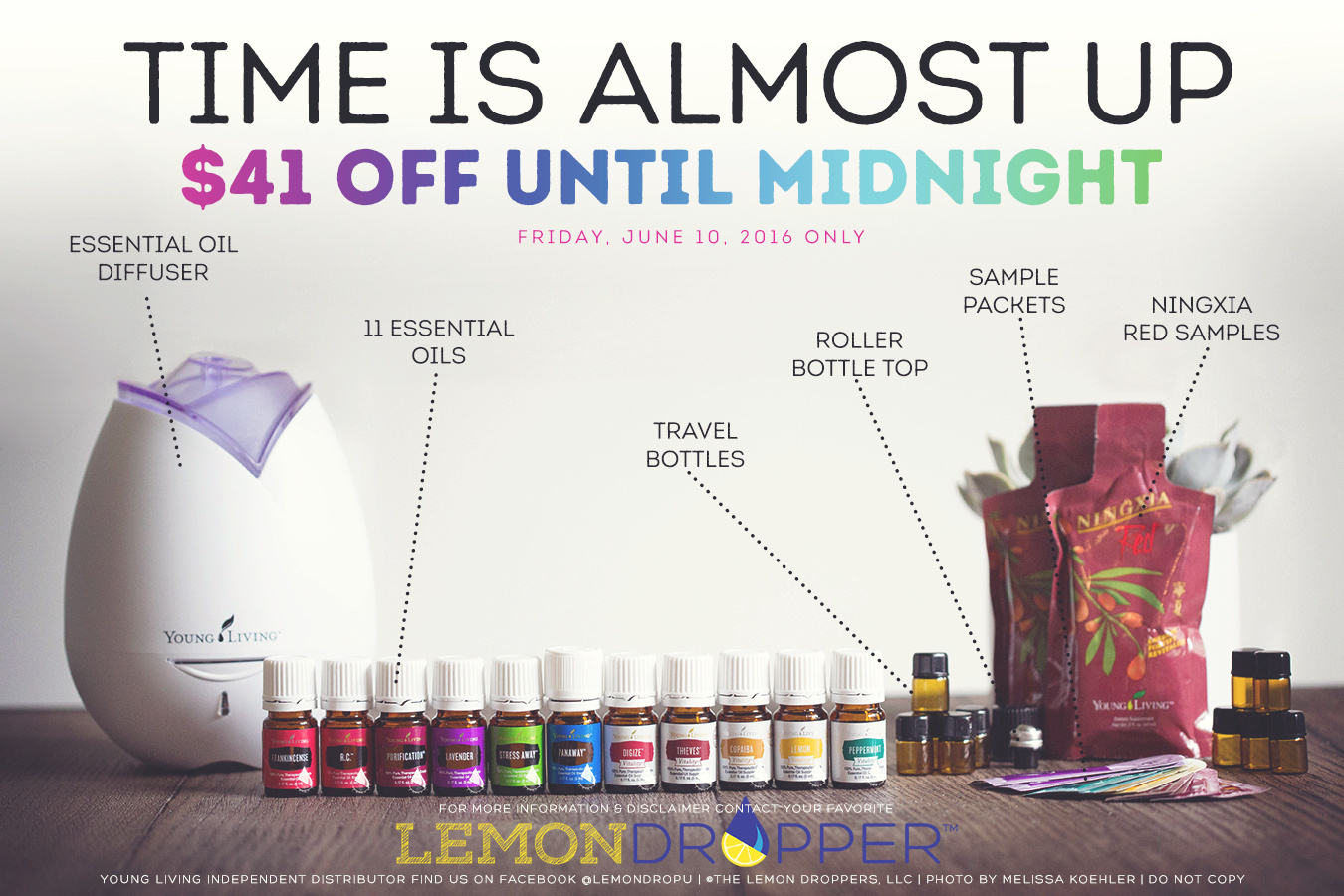 Hey friends! Happy Friday!
I haven't posted anything oily in a bit on my personal blog, but this is WAY too good not to share, so I wanted to give y'all a heads up. TODAY, Friday the 10th, Young Living is having a sale for 10% off of their Premium Starter kits. This is not only a big deal, but an AMAZING deal because it was already an amazing value to begin with (hello over $300 worth of stuff for $160), but now you get 10% off of that AND since June is my anniversary month (it's been 3 years since I bought my kit – seriously life-changing in so many ways) – I am going to give all new customers $25 back as well – so that makes it a $41 savings for you!! Um, YES PLEASE!
You get SO much in the kit:
• A great diffuser – which I love and have 5 of LOL
• 11 amazing oils that can be used for SO many different things (you name it – there's an oil for it)
• 2 Ningxia Red packets – which my family proudly calls "Ninja Juice"
• Samples and other goodies
The other thing you get besides the amazing products with the Seed to Seal guarantee is ME! I will be with you every step of the way and we've got a great private oil education group that you get to be a part of plus I send you all sorts of great resources and you'll always have me there to ask questions to and help you out. I'm seriously at your beckon call. I don't leave my people stranded without any help or education! I'm a bit in love with these oils if you didn't already know it. ;)
So if you've been thinking about finally trying some, now is the time, friends. This kind of sale doesn't come around that often and it just so happens to be my anniversary month, too! Win-win! Young Living oils & products have changed me and my family's lives in so many ways. We've been able to rid our home of SO many toxic chemicals (from the cleaners we used to the personal care products like deodorant, shampoo, lotion and more) and the oils have been a natural and healthier alternative for us to reach for instead of a medicine cabinet full toxic stuff and y'all these oils are NO JOKE. They work. They're legit.
Here's how I used the oils for yesterday:
Frankincense on my face and in a capsule (I'll put Frank in my face in a bit before I go to bed, too. I use it with my Sandalwood Moisture Cream that Young Living makes)
Allergy trio roll on on myself and Luke
Peppermint for a headache and then diffused it with Lemon to get my butt into gear
I had a Ningxia Red packet between breakfast and lunch.
Diffused some Purification in Jack's room after I cleaned it (along with some Citrus Fresh)
Thieves on Luke's feet (his nose was a bit stuffy)
Stress Away on my wrists around 3. Mama needed some help.
I've also used the Thieves cleaner numerous times today (I LOVE that stuff), put Rose Ointment on my feet and elbows, took the MultiGreens supplement with my vitamins and applied my Happy Mama roll on twice today.
Oh, and I'll put Dream Catcher on my feet tonight (and Caylin's feet). I also diffuse Thieves and Orange in the kids' rooms at night. They love it.
So see – I use them often and every day.
Anyway, enough gushing about them (I could seriously talk for DAYS about the oils) – just let me know if you want in on this and I'll hook you up. Get ya some, friends! Fridays are already awesome – so make today even awesomer and get started on your oily journey! If you're a Mama you NEEEEEEED these in your life.
XO! I'll be back soon sharing some more pages from my Week in the Life album! ;)