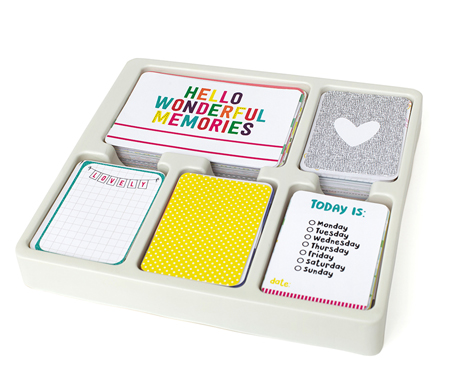 It has been SUPER hard to keep this a secret for the past 5 months so I am SO excited to finally be able to share this with all of my awesome blog readers. One of my biggest dreams has come true. Ack, I seriously tear up every time I think about it! Back in August, I got an email from Becky Higgins asking me if I wanted to design a Project Life edition. Yep, you read that right! Trust me, I had to read the email a few times myself just to be sure I wasn't seeing things! Ha! I also might have screamed a bit! Did you folks in California hear me screaming here in Tennessee? I would not be surprised if you did! ;)
Of course I quickly emailed her back (after telling my husband and screaming some more) and told her that I would LOVE to and then continued to pinch myself for the next few months.
Speaking of the next few months, it was a bit crazy to say the least. Not only was I designing my first ever Project Life edition, but we were MOVING, too. Yep, can you say I'm a bit nuts? Ok, I'm more than a bit nuts! Ha! It was a dream of mine though and despite how crazy I knew the next few months were going to be, I was bound and determined to get it all done and I was SO grateful for the opportunity. I knew it would be worth it all in the end and it was!
I poured my heart and soul into this kit. I worked MANY hours on it. Let's just say I have a new-found appreciation for these awesome Project Life designers because I know what all goes into designing one. Sometimes I felt like I had NO idea what I was doing, but I've always been the type to – say yes first and figure it out later! Ha! I think you HAVE to be that way in life, especially when it comes to fulfilling a dream, ya know? I am SO glad that I took the leap and am so thankful that Becky gave me the opportunity to fulfill this dream of  mine. This Project Life edition is kind of like my 4th baby.  I can't wait to have it in my hands and put it to use. It's going to be a bit surreal and I'm sure some tears will be shed, but I can't wait and I really, really, really hope you all love it. I just want people to want to use it and I can't wait to see it in YOUR Project Life albums next to YOUR family photos and memories. That is going to make my heart SUPER happy. I just can't wait.
So thank you SO much to Becky and her amazing team. They were so wonderful to work with and for. It was such a great experience. One that I will never forget. An opportunity of a lifetime for me, really. I want to thank my sweet, awesome, amazing husband as well because he put in A LOT of hours helping me with the kids and with packing and with moving and with keeping me sane throughout it all. He is my biggest supporter and encourager and I couldn't do life without him (or want to do life without him)! He actually even gave me some ideas for my designs which I loved and used! Ha! I love you, Michael! Thanks also to my sweet kids who were my inspiration for this edition. It's a kit full of bold color, happiness, sweetness, delight and a bit of real life thrown in, too! That's why I knew CONFETTI was the perfect name for it. Life is really a mish-mash of happiness and joy and craziness and messiness – just like confetti.  Confetti can be super messy, but it just makes folks smile and is joyful and worth the mess in the end.
Thanks for sharing in this sweet, exciting news with me. I hope you love the edition as much as I loved putting my heart into it.
I'll be sharing more about this edition on my blog soon (as well as some more photos, etc). You can head on over to Becky's blog HERE to see the announcement and get a glimpse of a bit more of it and if you're going to CHA – be sure to stop by Becky's booth and see it in person! I SO wish I could! Yippeeeeeeeee!!!! Time to throw around some confetti now and celebrate! ;)
XOXO!