Happy Friday, friends!
You know last week when I popped on in HERE and shared with y'all my Christmas cards from Minted.com? Well, today I've got another holiday post for you thanks to my friends at Minted.com. Did you know that Minted also has holiday artwork that you can buy? Yep, they sure do and there are so many beautiful pieces to choose from and you can even customize some of them with some of your favorite photos, too!
Minted sent me two holiday artwork pieces to review and display in my home this Christmas season. I had never before purchased any prints from Minted.com, but I have gotten some beautiful journals and planners from them in the past and knowing the quality of those and seeing the beautiful quality of their Christmas cards, I had super high hopes that these artwork pieces would be just as amazing.
I wasn't disappointed, y'all.
The two that I chose were THIS ONE and THIS ONE.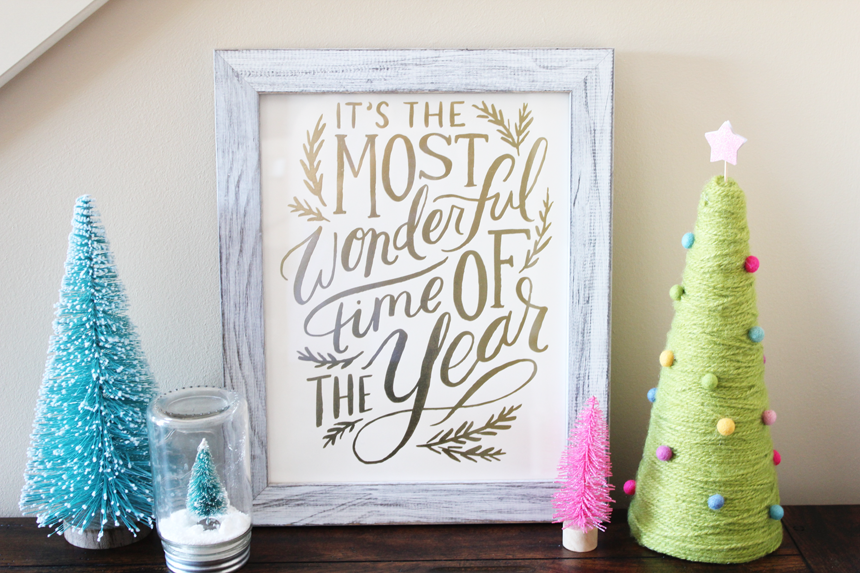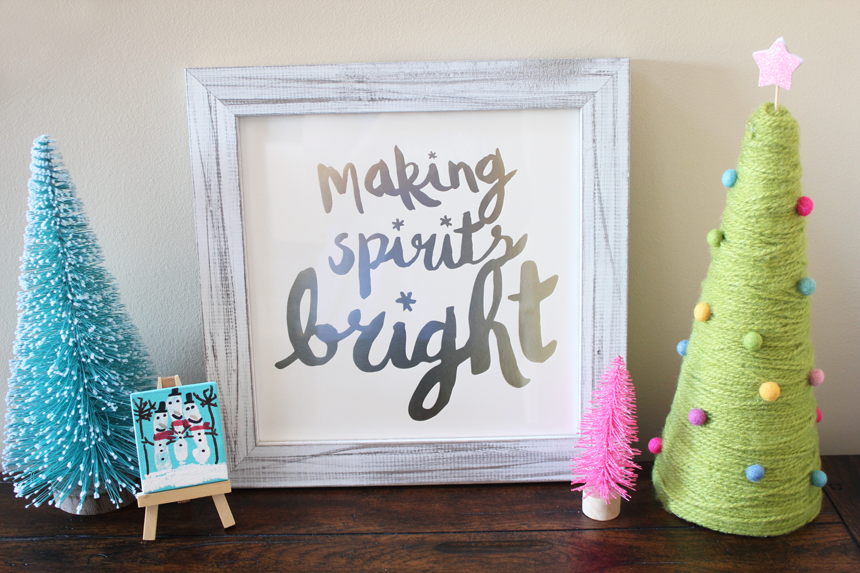 Confession: I am all about foil lately and handwritten type. These prints had BOTH and I fell in love with them in a major way. Aren't they so beautiful?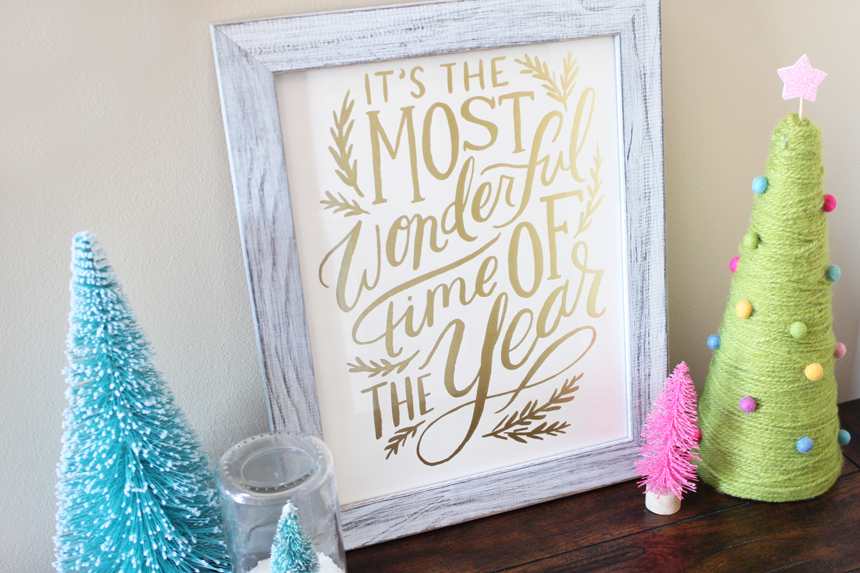 I really love the farmhouse feel (I'm working on slowly incorporating MORE of that into my home) and so I knew the gold-foiled prints would be the perfect addition to our home for the holidays. The cool thing about the artwork at Minted is that they come in a wide variety of sizes (this one is 11×14) AND you can also purchase them framed, too. That made me supper giddy, because shopping for frames always seems like such a hassle for me and around here, I can never find just what I'm looking for. Minted does all of that work for you and so these would make a perfect gift, too!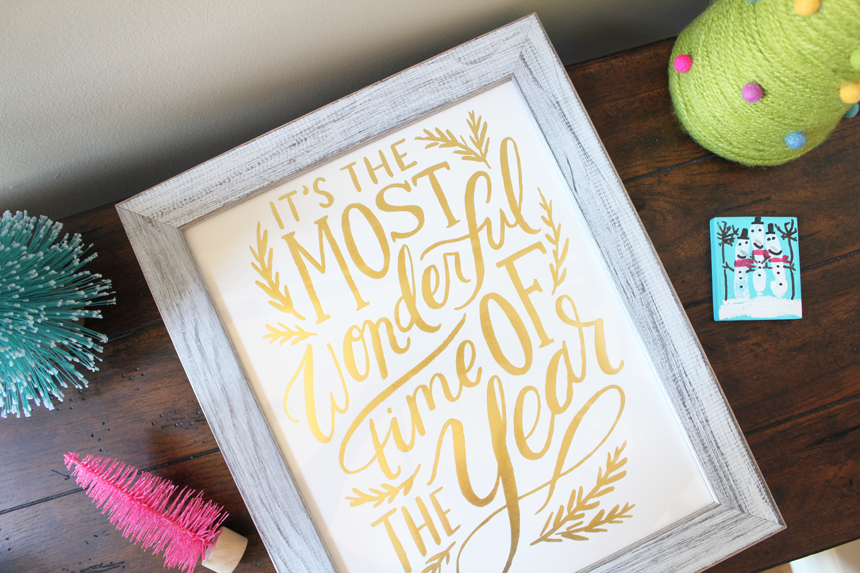 The frames I chose for both prints also have that distressed farmhouse feel to them – it's the Distressed Cottage White frame. Here's a bit of a closer look at them: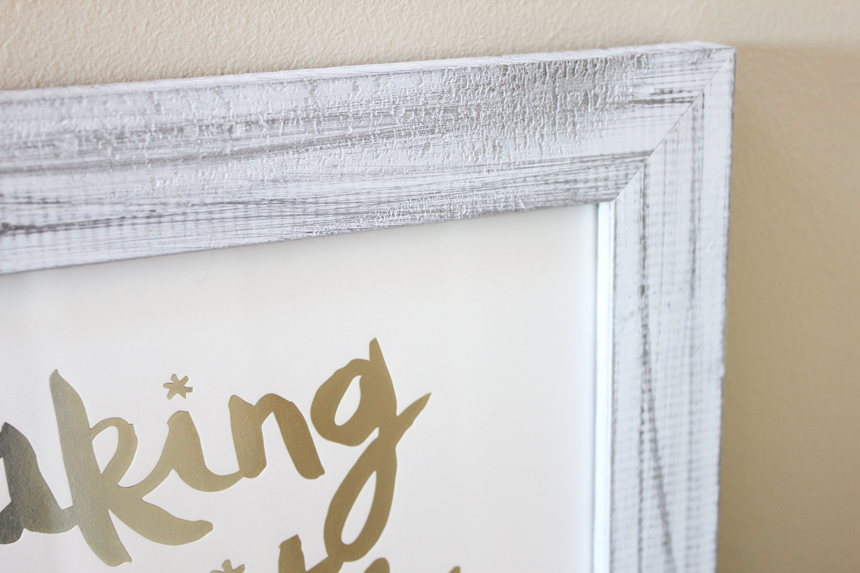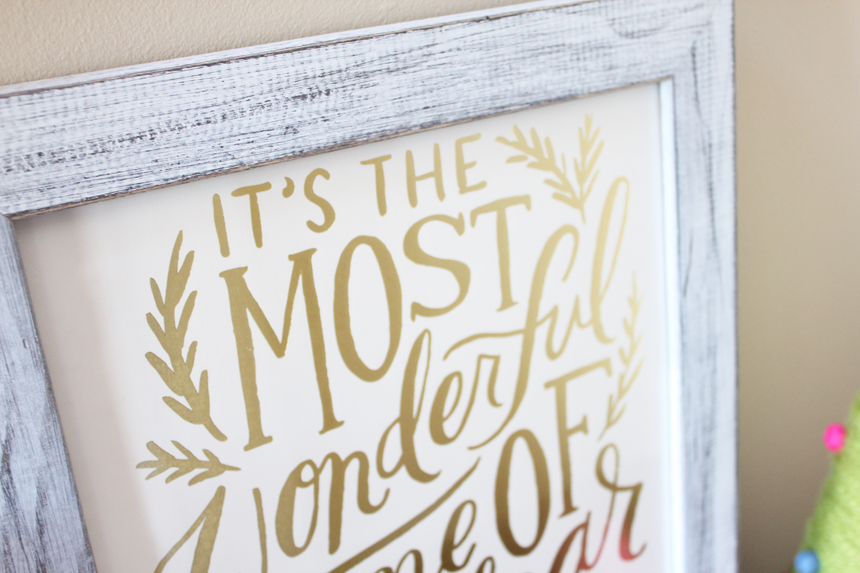 I really do love the frames and I think they look really pretty with the artwork, only wished they were a bit more white and didn't have as much of the dark wood poking through. They did look more white on the website, but nonetheless, they are still so pretty. They also have a Reclaimed Barnwood frame that looked beautiful and so next time I might upgrade to a specialty frame and get that one.
Once again though – Minted.com gives you so many different options to choose from and ways that you can customize the products that you purchase – I love that! There is even some artwork that you can purchase where you can add your own photographs to, which is so cool!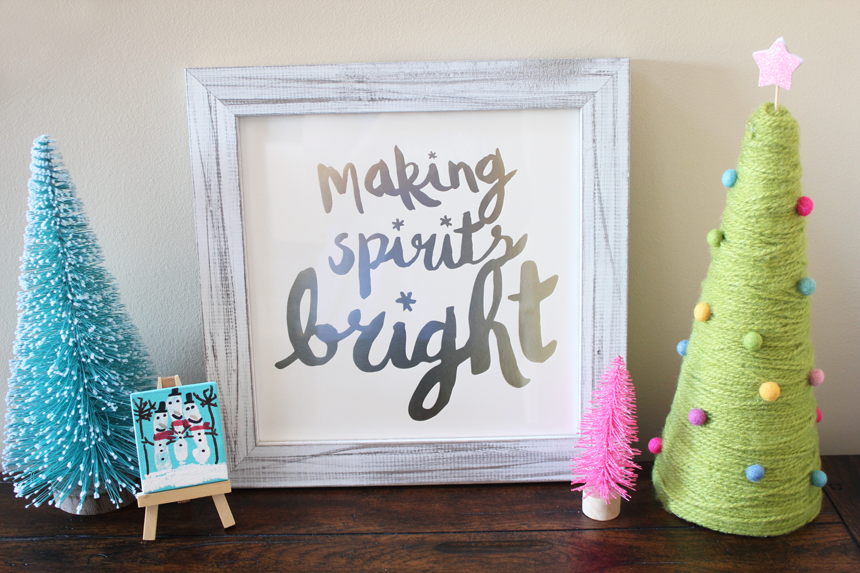 This artwork print is 6×6 and I just love this sweet, size. I think it's great to get artwork of different size variations because then you can create a wonderful collage with them or even stack them to create some visual interest like on your mantle or another space.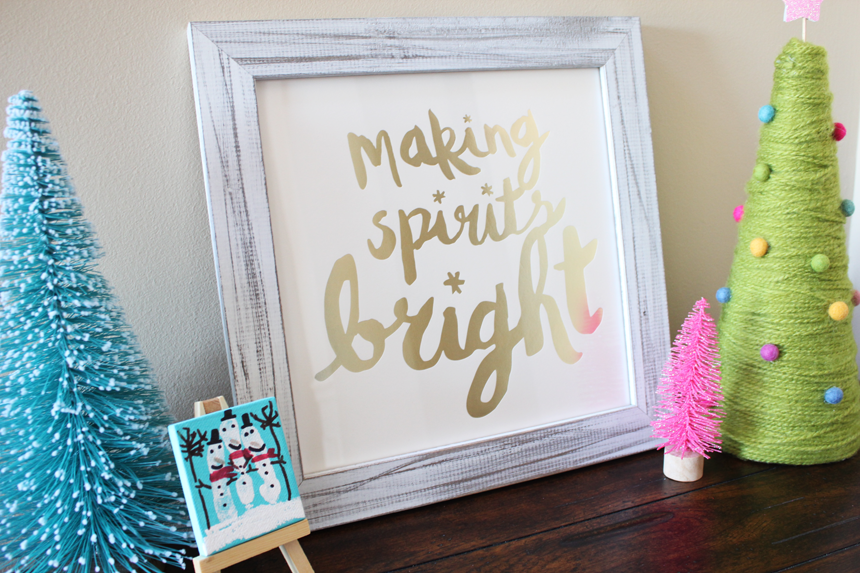 Here's a little shot sideways so you can see the foil a bit better and a couple of shots from above as well.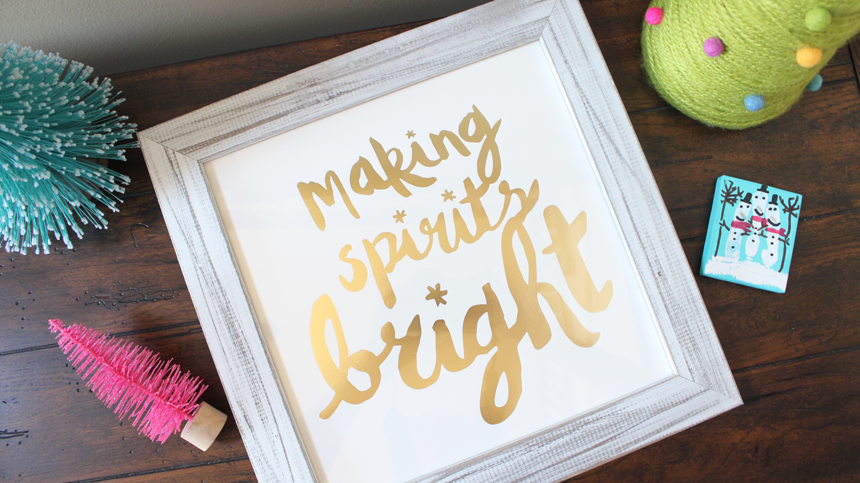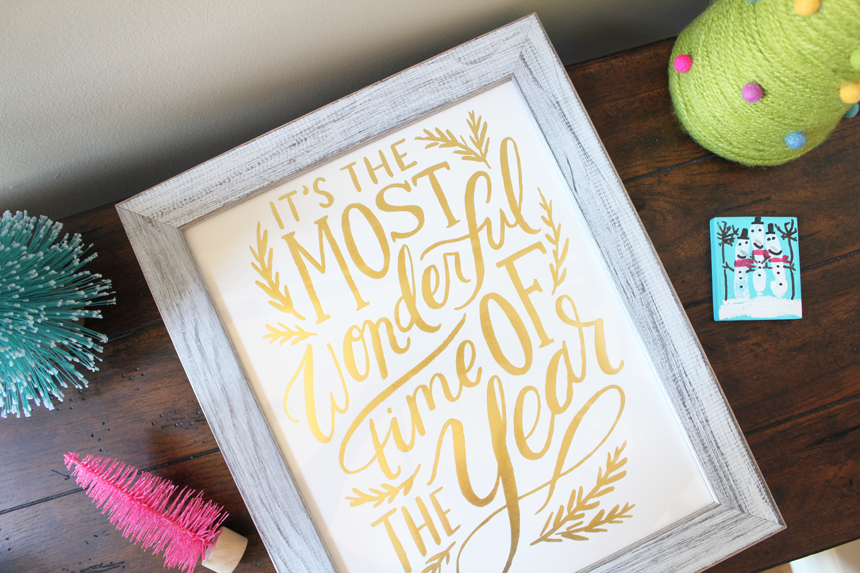 These photos really don't do these framed art pieces justice – they are just beautiful and again – the quality is just WAY above anything I've purchased online before. Even the way the pieces were shipped was meticulous. They were wrapped SO nicely and shipping was very fast as well. I loved how each artwork piece came with a note that talked about each artist who created it, gave a little background information and shared where you can see more of that artist's work. Very cool. I love supporting creative people. Minted always keeps the focus on the designers and their work and so for that – I definitely give Minted a virtual high-five!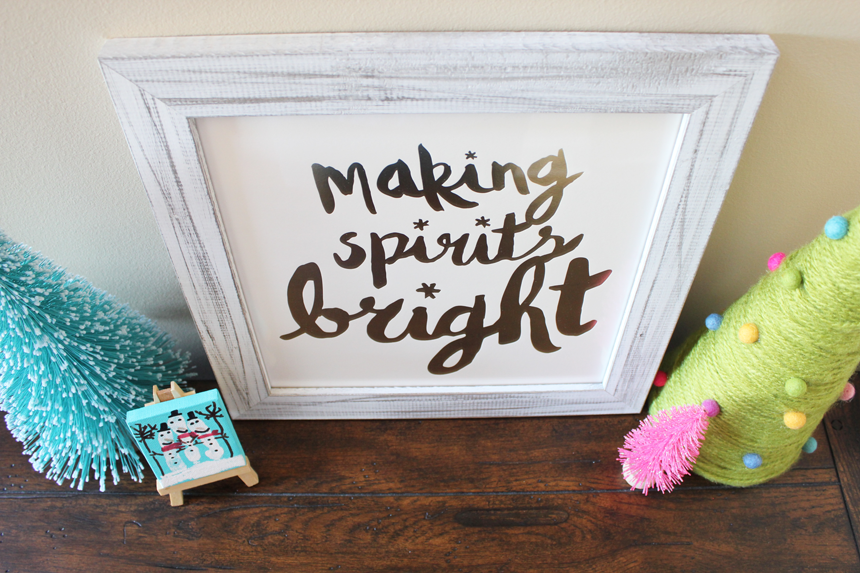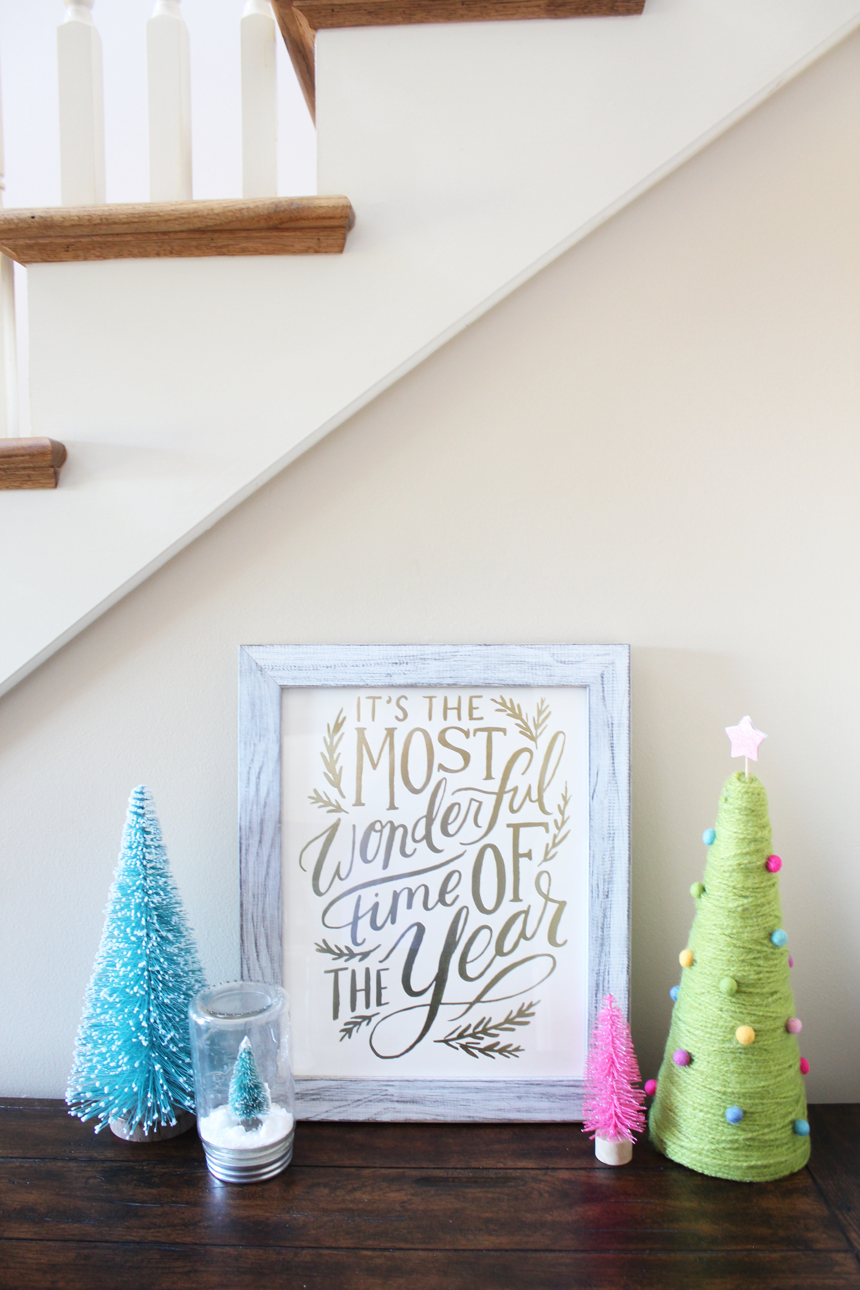 So definitely check out the wide variety of products (including the amazing holiday artwork) that Minted offers. You will NOT be disappointed and it'll be a staple in your holiday decor for years to come.
Also, don't forget to enter the Minted giveaway that I have going on HERE. You could be one of THREE people that win's a $100 gift certificate to Minted. You don't want to miss it and it ends later today, friends so get those entries in! It only takes a few seconds to enter!
Disclaimer: This post is sponsored by Minted, but all opinions and thoughts expressed in this blog post are solely my own. No other compensation was given. Post contains affiliate links.