Happy Project Life® Tuesday! :)
I hope you all are having a great week so far!
Today I'm excited because I'm using the AWESOME December OHDEERMEKIT on my pages! If you've been reading my blog, you know how much I just LOVE these kits and how excited I am that I actually get to work with them every month. Well, December's kit is just so, so cute! I just love everything in the kit. You can see more about December's OHDEERME kit from Freckled Fawn HERE and also get more information on how you can sign up to get this kit every month! It's one you DON'T want to miss! So if you are wanting to be a part of a super great kit club every month for the new year – this is the one. Seriously! Ack! SO cute! ;)
Here are my pages for this week: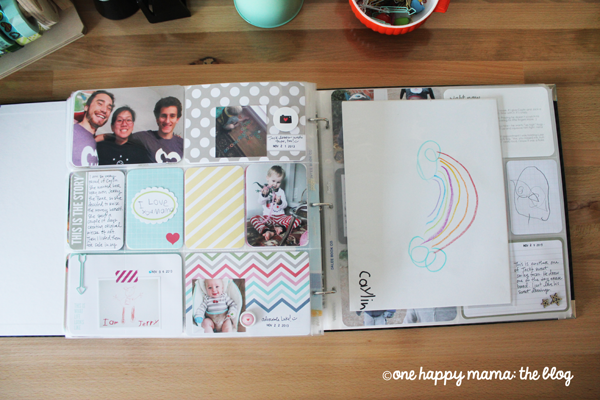 Here's a shot of the entire Project Life® spread.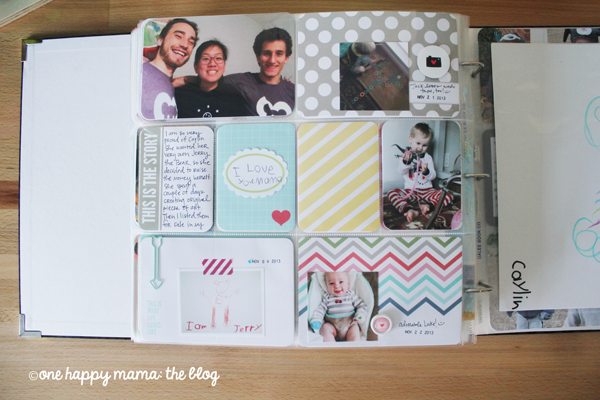 Closeup of the left side. For these pages I used DESIGN A page protectors and an 8.5×11 page protector for an insert that was by Dalee. It was just an old page protector leftover from my traditional scrapbooking days. So happy I kept them all and can use them as inserts throughout my album here and there. :)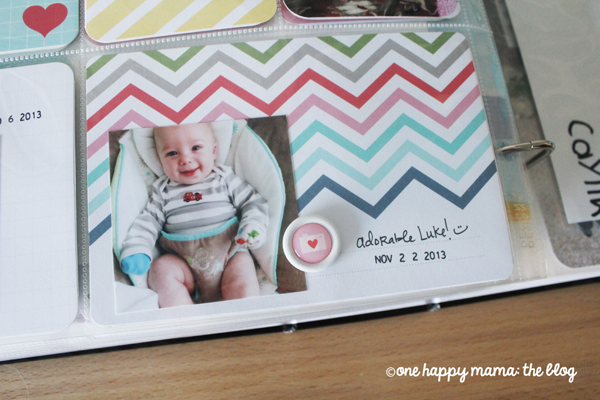 Here's my sweet Luke! 4×6 card is from the HONEY kit and the date stamp is Project Life® and that sweet epoxy sticker is in the OHDEERME kit for December! I love that camera with the heart in it. So sweet!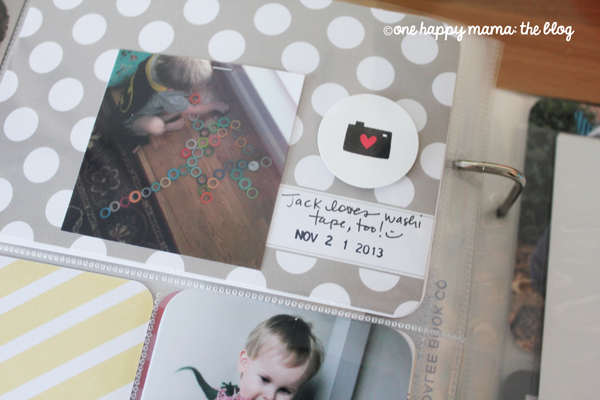 Speaking of that camera with the heart in it that I love – it's actually also in the stamp set that comes in the kit! Yippeeeeee! I took a pink copic marker and just colored that heart in. I think I could stamp a hundred of those little cameras and still not be sick of them. Too cute! Oh, and can you tell Jack likes my washi tape, too? ;) I think that 4×6 card is from the Seafoam kit.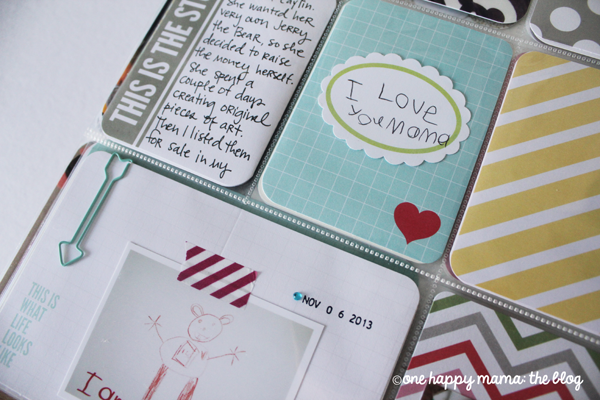 I wanted to put that little "I love you Mommy" that Caylin wrote to me in my pages this week. SO sweet. She's got the biggest heart and left this for me on my desk. I stuck it on a 3×4 card from the HONEY kit. The 4×6 card below that is from the SEAFOAM kit and the super-de-duper cute arrow paperclip is in the December OHDEERME kit, too! Ack! I LOVE those! I have so many in all of the colors and I just get giddy looking at them! You can buy them HERE. You need some. No, I'm serious. You do. Ask for some in your stocking or something. ;) The washi tape was in the kit too and so was that little blue gem next to the date. :)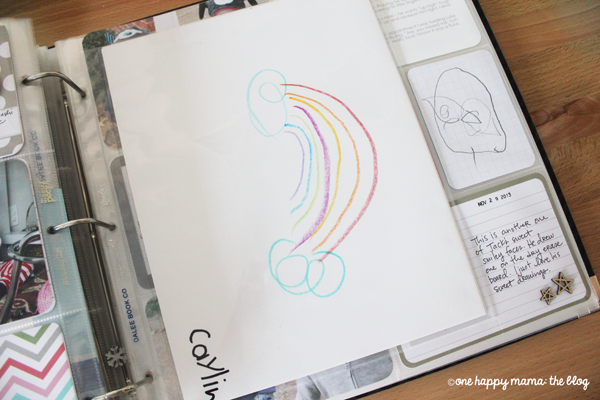 This is the front of the 8.5×11 insert. This is one of Caylin's original artwork pieces that she was selling to raise money for the diabetes bear she wanted. A sweet lady purchased a print, but asked if Caylin could make her a rainbow that was portrait instead of landscape so Caylin did and I was happy to be able to keep this one in my album. So happy I have one. I just love this rainbow. Makes me so happy and it's a great addition to the story that I told on the left side of these pages about what she did to raise money on her own. :)
Here's the back of the insert. This is from a video we made together for Diabetes Awareness Month in November. She made a video saying that she wanted to be a dancer and an artist and "diabetes won't stop me!" She made this "I CAN DO THIS" sign and I love it. Get a bit choked up when I see it and knew I wanted to keep it. She CAN do it and she IS. Proud of my girl. ;)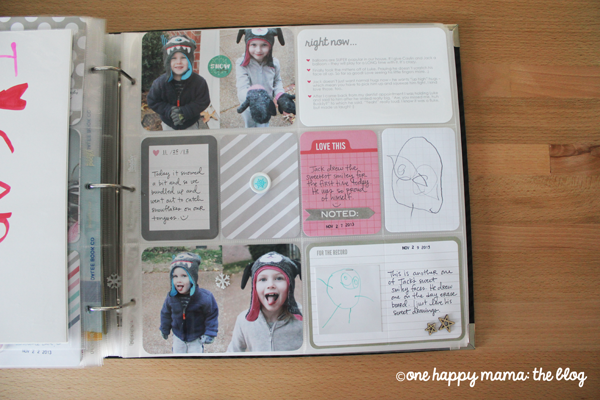 Here's the right side. :) Definitely included my Right Now card for the week!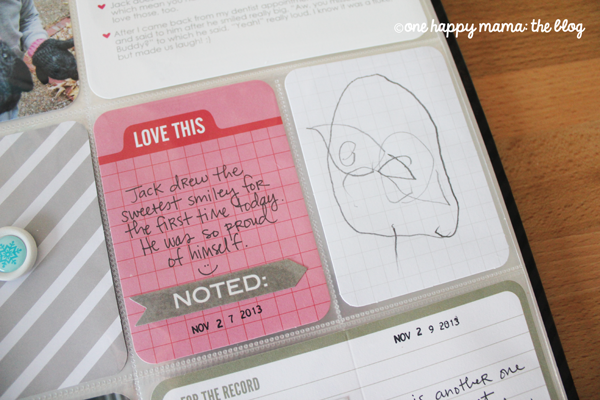 Jack had been doodling here and there on my dry erase board I use for school and on this day I gave him a 3×4 grid card to draw on and he drew the CUTEST smiley! It was his first one and I was so glad he drew it on the card! LOL! It was perfect! A Project Life® miracle! Ha! ;) Then he proceeded to draw another one on the dry erase board and I took a photo of it. I'm a dork like that! ;)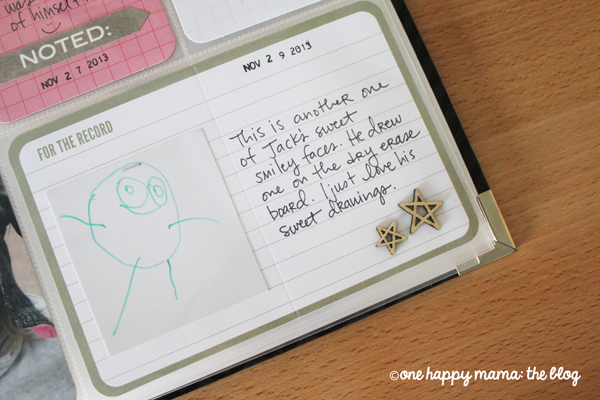 See. Told you I did! LOL! Isn't it just the cutest? Sigh. LOVE it. Those cute wooden stars are the from OHDEERME kit, too!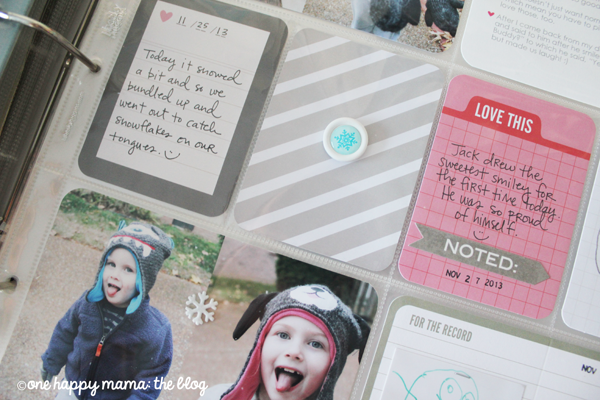 That sweet snowflake epoxy sticker is from the OHDEERME Kit and that snowflake in the middle of the photos – well that is also from the kit. It's a beautiful flocked snowflake brad! I just cut off the brad prongs and adhered it to the photo. Voila!
Well, that does it for today! I just LOVE getting these kits every month and I love how they can be used in so many ways – whether you're a cardmaker – Project Lifer or a traditional scrapbooker – there are tons of things in every kit that are so cute and fun to use! The other cool thing is I always have a lot left over so I can make some cards and decorate some Christmas gifts, too! Score! ;)
I hope you have a great Tuesday! Sending you all BIG hugs!   
Linking up at The Mom Creative's blog HERE!

If you're visiting One Happy Mama for the first time, I'd love for you to subscribe via email for the latest updates. You can also find One Happy Mama on Facebook, Twitter and Instagram.