Hello friends!
Happy Monday! I recently had the pleasure of working with the sweet (and amazingly creative and talented) folks at Thimblepress. If you have never heard of Thimblepress before, well, you need to change that because you are seriously missing out. I have been a fan of Thimblepress for awhile now. I'm constantly "ooooohing" and "ahhhhhhing" at things in their shop and adding more to my wishlist (just check out their IG feed for SO much inspiration!) and so it was such a nice surprise to get an email from them a bit ago asking if I'd like to receive a few of their products and review them.
I, of course, jumped at the opportunity and am excited to share that with you here today on the blog! Yay!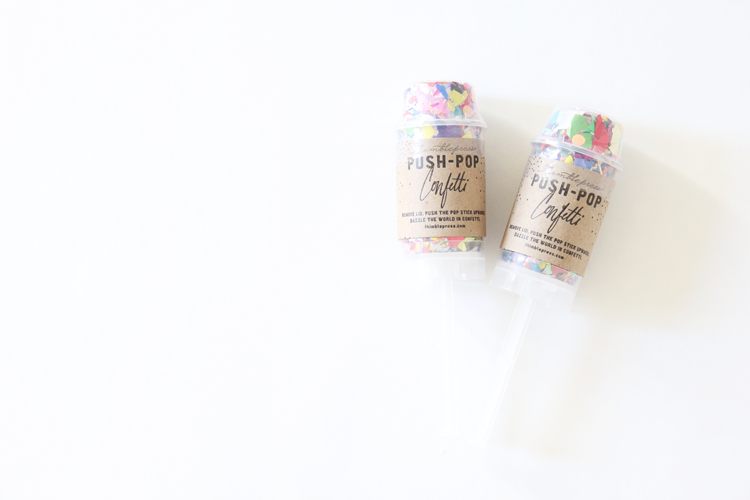 First up, these confetti push-pops. These were TOO much fun! I thought it would be a fun thing to use with the kids one day as a reward! They have been doing SO great in school lately that one day I just spontaneously said – "Kids, – let's celebrate!" and when they saw me reach for one of the confetti push-pops they screamed and were so excited!
Sidenote: They've been trying to get me to use them ever since they saw that I had them.
We spent the next 30 minutes laughing and smiling and well, making a mess in our bonus room, but it was so worth it! I've honestly secretly been wanting one of these push-pops since I saw them way back in the day and they totally lived up to what I thought they would be! I love how you can reuse the container, it's eco-friendly and well – the confetti is so bright, colorful and fun! It was easy to clean up, too which is a plus, especially when kids are involved. I totally think EVERYONE should have a confetti party a few times a year for no good reason. Just DO it. Your kids will thank you. ;)
Even though this photo is NOT the best quality (we didn't have any sun all of last week), I love the joy on their faces and I was happy I snapped it.
You can see part of Luke's head at the bottom of the photo. He was too busy picking up as much as he could to throw onto his brother and sister. Yep, lots of fun! :-D
Speaking of confetti, I loved this Confetti in the Air card.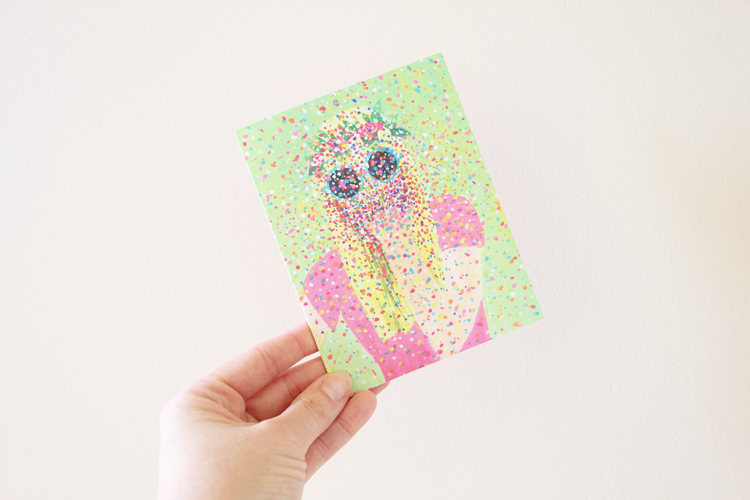 When I saw this card, I totally thought of my daughter, Caylin. She loves confetti (just like her Mama) and well, it just looks like her. She loves pink. :) I thought it would be perfect for a little love note to her and so I wrote her a sweet note, put it on her dresser when she wasn't looking and she loved it.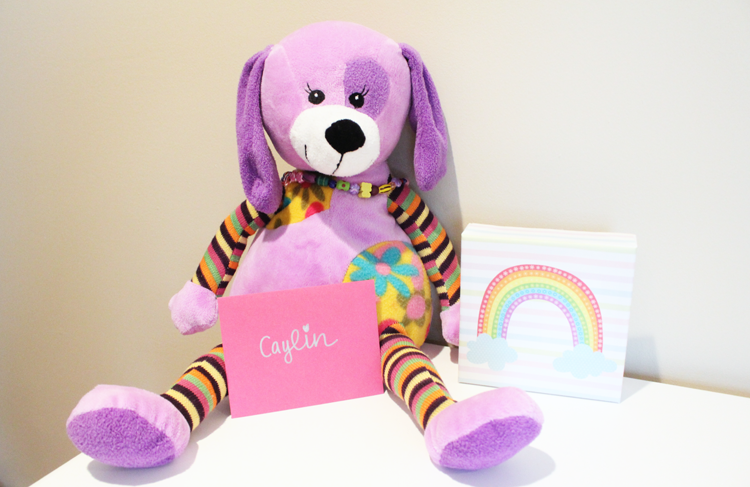 I need to remember to do little things like that more with my kids. It was a truly priceless moment and the card was perfect for it. Thimblepress has so many amazing cards in their shop that you can choose from. I love that and they even have bundles of cards that you can buy.
The next thing was one of my most favorite things that I received. It's the Small Squares with Mighty Words. It's a beautiful, simple wooden stand along with 100 Bible verses.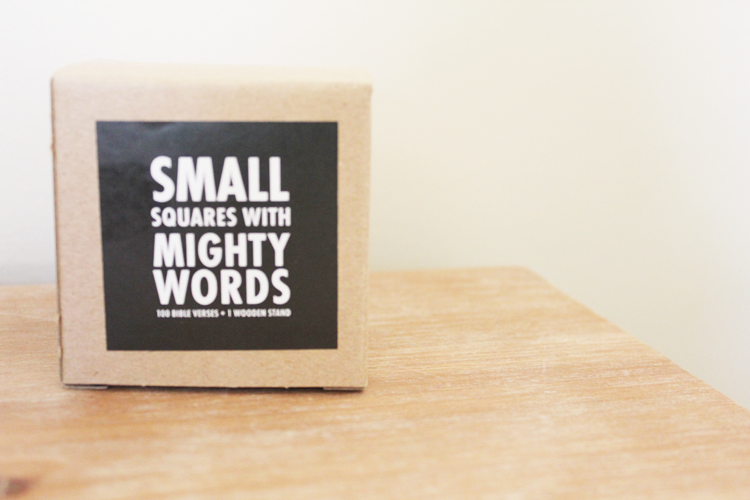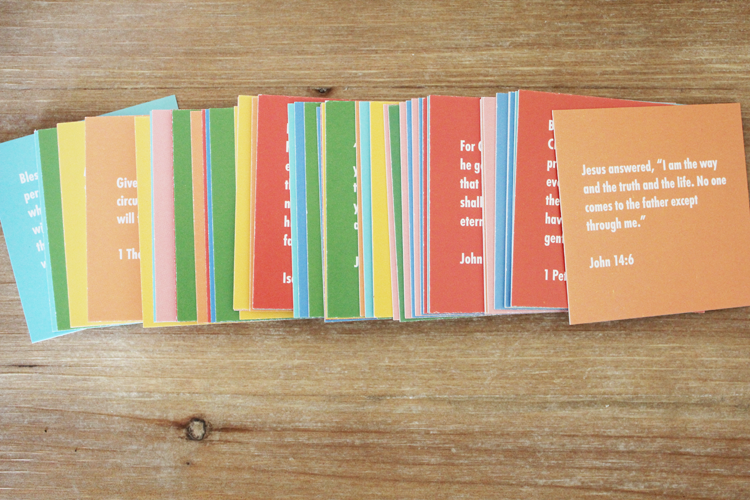 It's sitting on my desk right now and I glance at it multiple times a day. The cards are bright, the stand is hand-stained and it's beauty and simplicity is what gets me every time I see it. My husband is actually wanting one for his desk at work now, so I may need to order him one so he doesn't take mine. ;) It would really make a sweet gift for a friend, family member or teacher even. I was super excited to see that one of my most favorite verses (1 Peter 5:7) was included on a card. Perfection. We all could use more of God's word in our lives, I believe, especially in between the hustle and bustle of all that we do. I think it really grounds us and reminds us about what truly matters. It helps also to remind us of God's grace that He gives to us. I know us Mamas need that grace often, at least I do. ;)
The Good & Lovely balloons were just too adorable.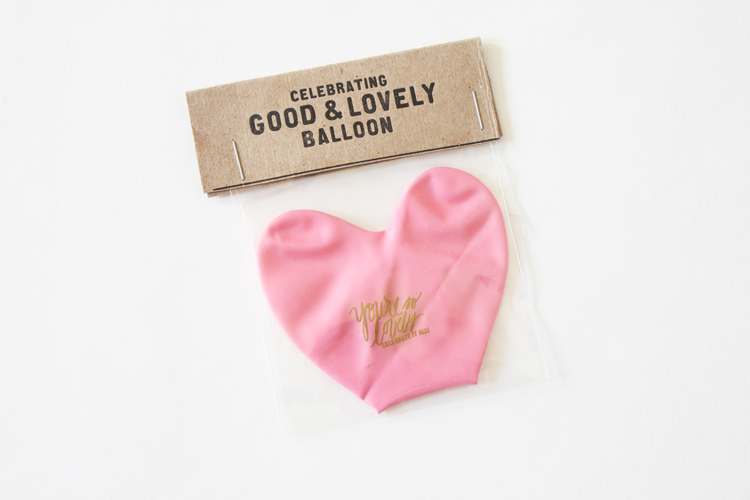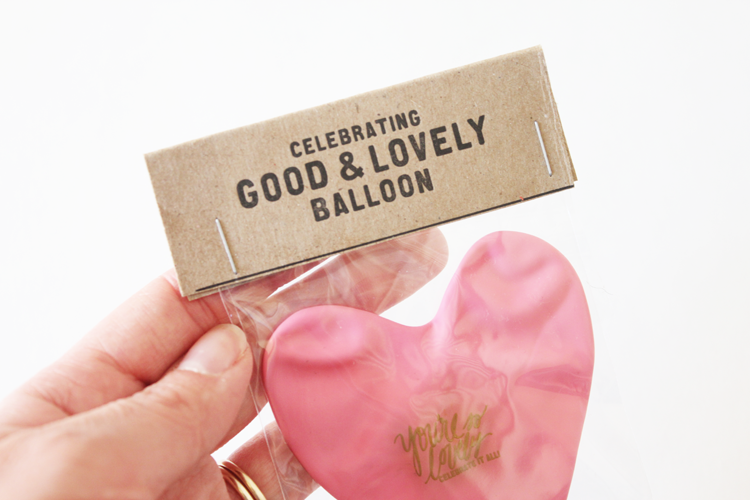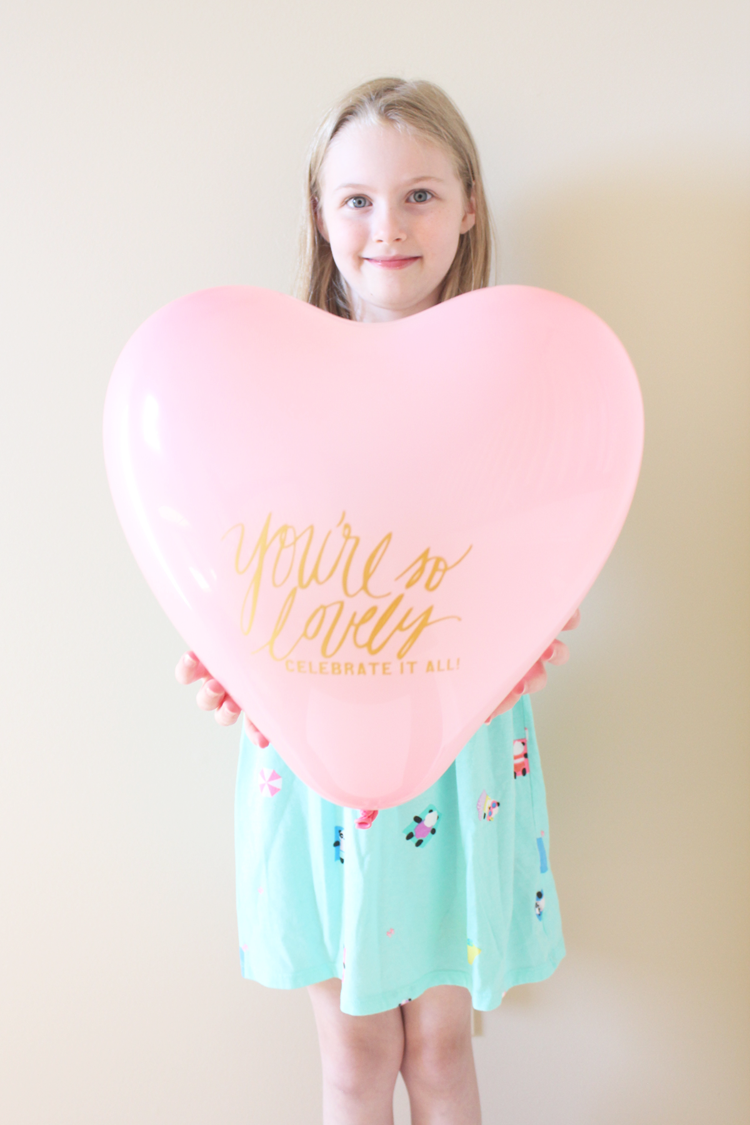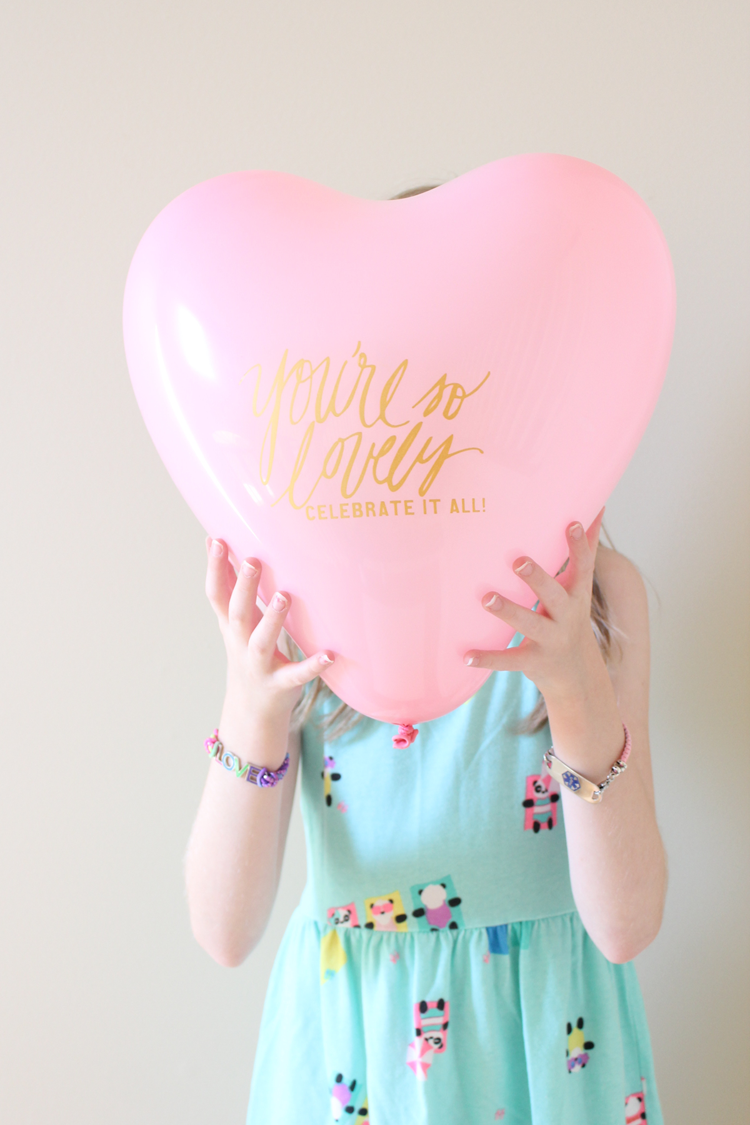 See, Thimblepress really has such an assortment of colorful, happy and unique products. I love the sweet message on this balloon, "You're so lovely. Celebrate it all!" Special thanks to my daughter for helping me show just how cute this balloon is! Oh, and her payment for the help was to keep the balloon. Thankfully I had one more for myself. ;) I could see these balloons used for a bridal shower. How cute would that be? Pair these up with some confetti push-pops and you're good to go!
This donut love card was calling my name! Ha! How cute is this?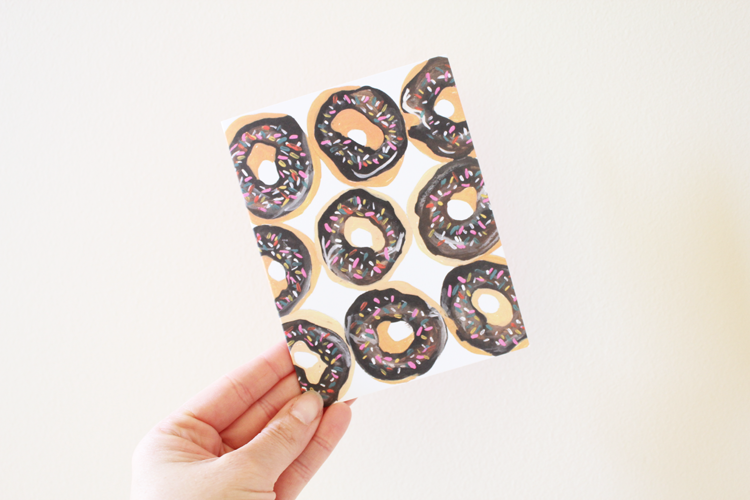 I love the hand drawn illustrations and it comes with a hot pink envelope! Perfect just to send a bit of happy mail to a friend! The only downside to this card … now I want a donut. ;)
Another card that I got was the High-Fives All Around card.
I'm a big fan of giving high-fives. Just ask my kids! ;) I thought it would be cute to take this card, frame it and place it on the bookshelf of our homeschool room, instead of filling it out and sending it to someone. So that's just what I did.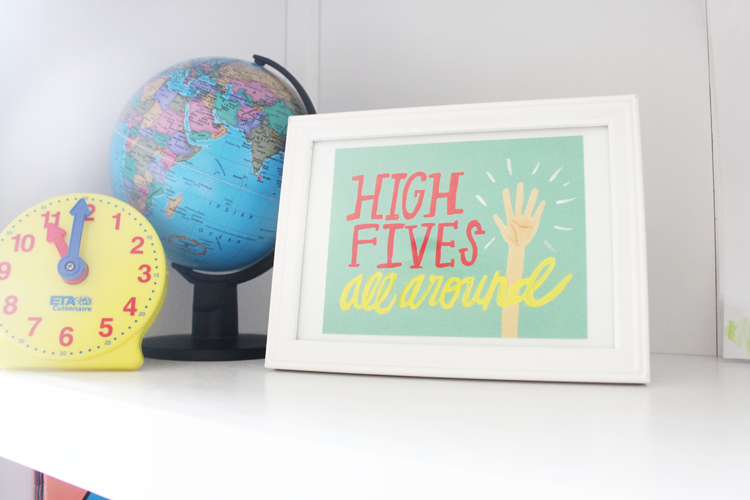 That's the cool thing about the variety of things you can find at Thimblepress  – you can be creative and use things in other ways. I definitely love the cute, encouraging message of this card and so now we'll all be able to see it as the kids get their schoolwork done every day. So much fun! High-five to ME! :)
This "You are Really Awesome" card is another one that I got in the little card assortment that I was sent and it's just so gorgeous! It's a letterpress card and just so beautifully done. I love the handwritten sentiment on it and once again – it's just a great, encouraging card to give to someone. I've already got this one filled out and sent on it's way to a friend. I know it'll make her day and it's SUPER important to remind people just how awesome they are. Too many times we forget, right? By the way, YOU are awesome! Yep, I'm talking to YOU. ;)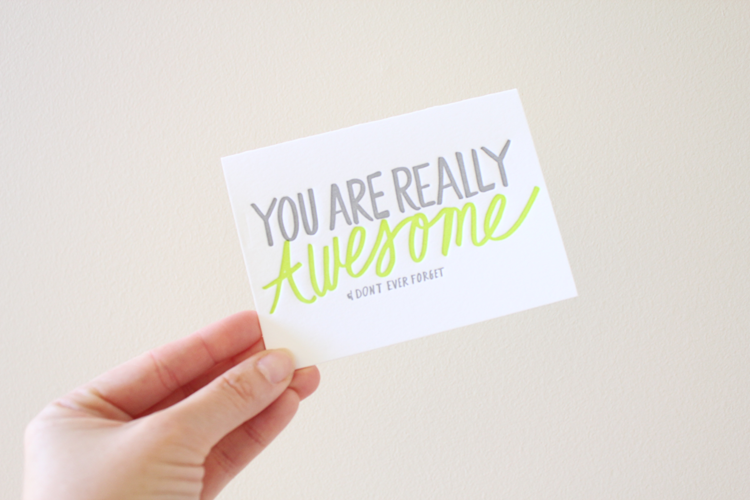 The other letterpress card that I got, and the last card in my bunch, was this "That's So Cray Cray" card.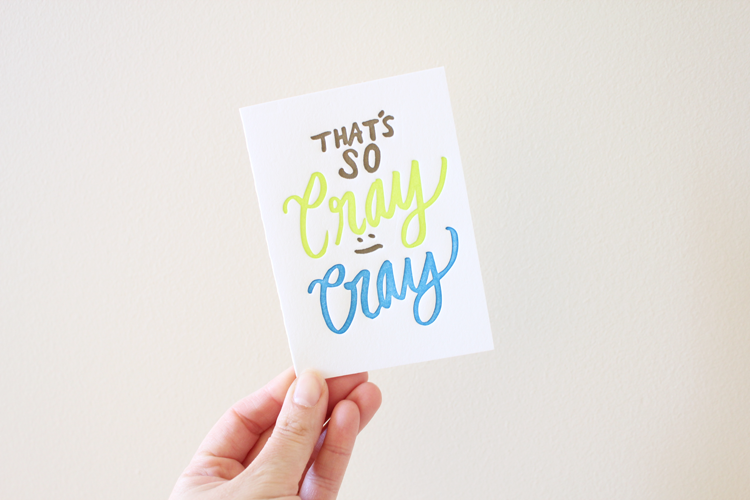 I laughed out loud when I saw it because I totally say "cray cray" a lot. There. I admitted it. It drives my husband SO crazy (or should I say, "cray cray?! Ha!), but I do. I just like it. So this card was totally up my alley and it's so "cray cray" that they had this card at Thimblepress. I love that about them!
Once again, I love the letterpress and it's printed on really nice, sturdy thick paper. Really good quality. Super cool handwritten script, too.
I honestly couldn't bear to part with this card and so instead of filling it out and sending it off to someone, I decided to use it in my Project Life album. I mean, why not, right? You can totally use cards in your scrapbooking and Project Life albums. SO much fun to stick some goodies in our pages and in our albums. I love the variety of shapes, textures and sizes that it gives!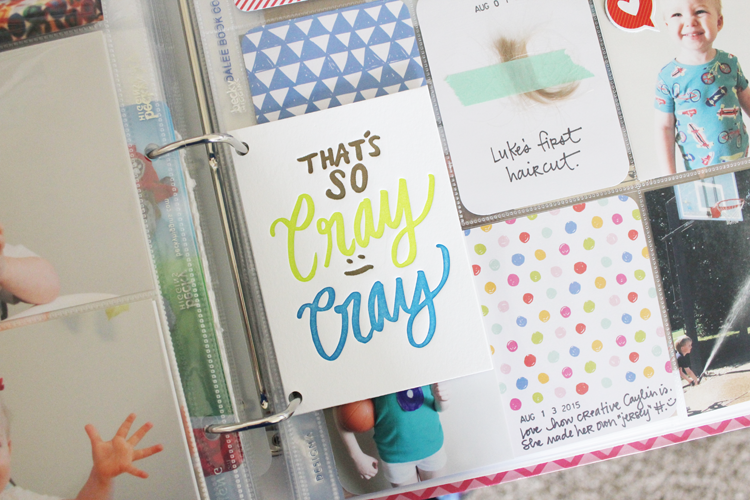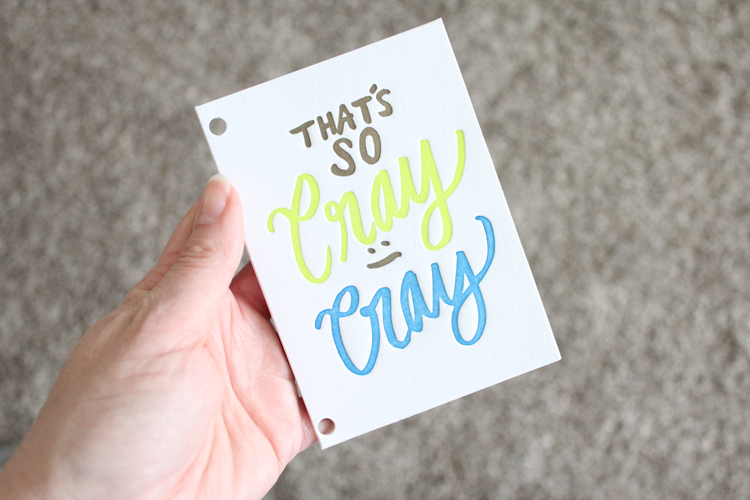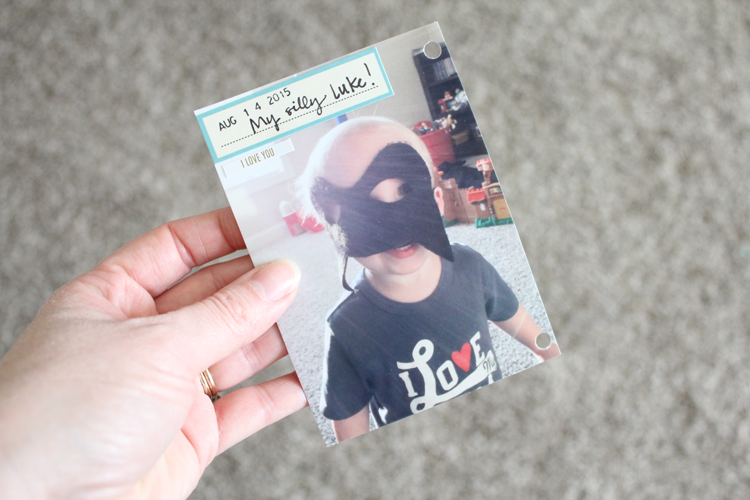 I decided to trim out the card so that it was about 3.5×5. I printed out a photo that I thought was super "cray cray" which I decided was this one of Luke sportin' his Batman mask upside down. Ha! I just printed the photo to the same size and adhered it to the back of the card. I then lined up the card to where the binder is on my album, marked the 2 spots and then used a hole-punch to punch the holes in it. I just stuck it in my album and now I've got a cute little card in my Project Life album with a fun photo on the back. I even added a little label to the photo with the date and a simple, "I LOVE YOU" sticker. Easy cheesy and I didn't have to let go of that cute card. See what I did there? ;)
The next thing I wanted to share was this super cute Dots To-Do notepad. If you know me, you know I'm a list-maker and LOVE to make lists. Like A LOT. So I squealed with delight when I got my hands on this. First of all, I love the design. The black and white is lovely and I love the whimsical feel of the black brush script.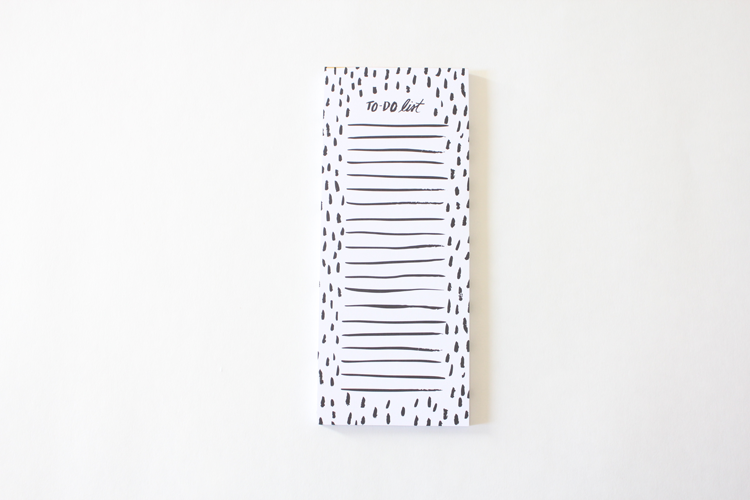 It contains 50 sheets and is backed by cardboard. It's just one of those must-have things for your desk. I'm serious. Get you one. Here's a close up of it: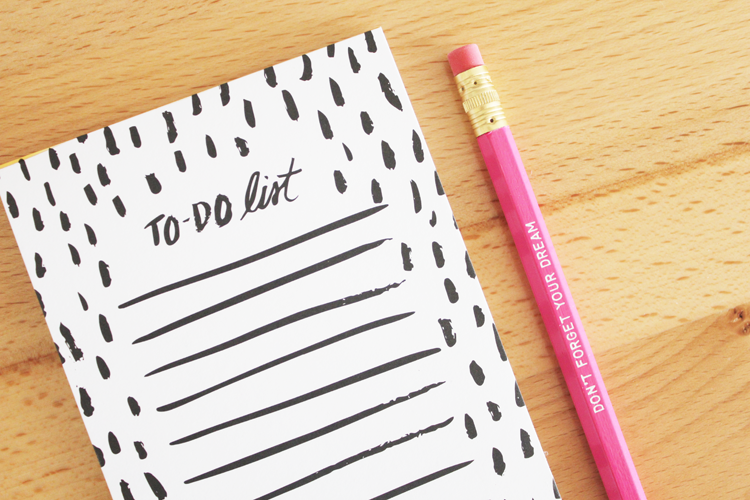 And the final thing that I got that I wanted to show you all was this super cute tote that says, "DREAM BIG and HUSTLE SMART."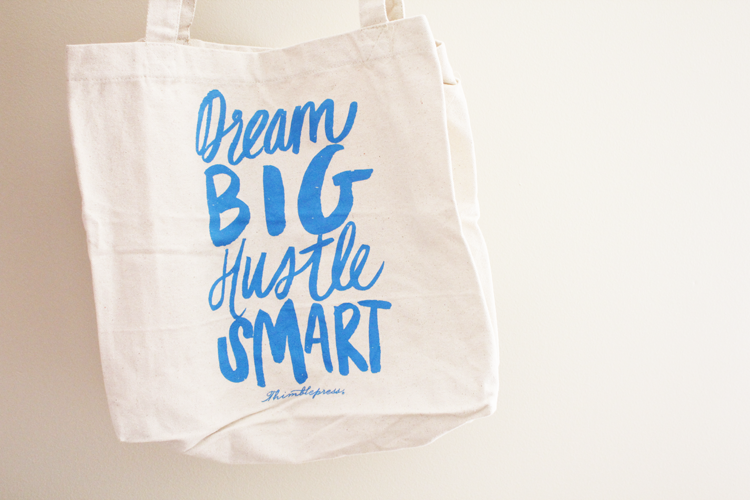 How cute and how true is that? Being a, what I like to call, Mamapreneur, I think it's SO important for us to always dream BIG, but along with that dream comes the hustle that we have to have to make those dreams a reality, so this tote was perfect. Such a great, simple sentiment and once again – love the whimsical script and the neon blue on the tote is great and not a color you see all of the time. It's durable and one that I'm going to carry around a lot to not only share the great message, but because it's super spacious and I can get a lot of goodies in it like groceries, library books, notebooks and more.
So there you have it, friends. I was definitely NOT disappointed by the variety, quality and super cuteness of every single thing that I got from Thimblepress.
I definitely recommend that you hop on over to the Thimblepress website HERE.

If you're not following me over on Instagram, today is a great day to head on over there and follow me. You can find me HERE.  The sweet folks at Thimblepress have put together a very cool and generous giveaway for one of my awesome readers and so you need to be sure you follow me and check out the details of it! Yay!!!! Now THAT is how you do a Monday! ;)
Be sure to also check out Thimblepress on Facebook HERE, Twitter HERE, Instagram HERE, Pinterest HERE and well – a few other places, too – just check their website and scroll down to the bottom. They're everywhere and it's awesome!
Thanks so much to the folks at Thimblepress! I loved getting to know a bit more about your company and seeing some of your super cute products firsthand! I will definitely be spreading the Thimblepress awesomeness around!
Disclaimer: I was some the above goodies for free, but all thoughts and opinions regarding the products are solely my own.