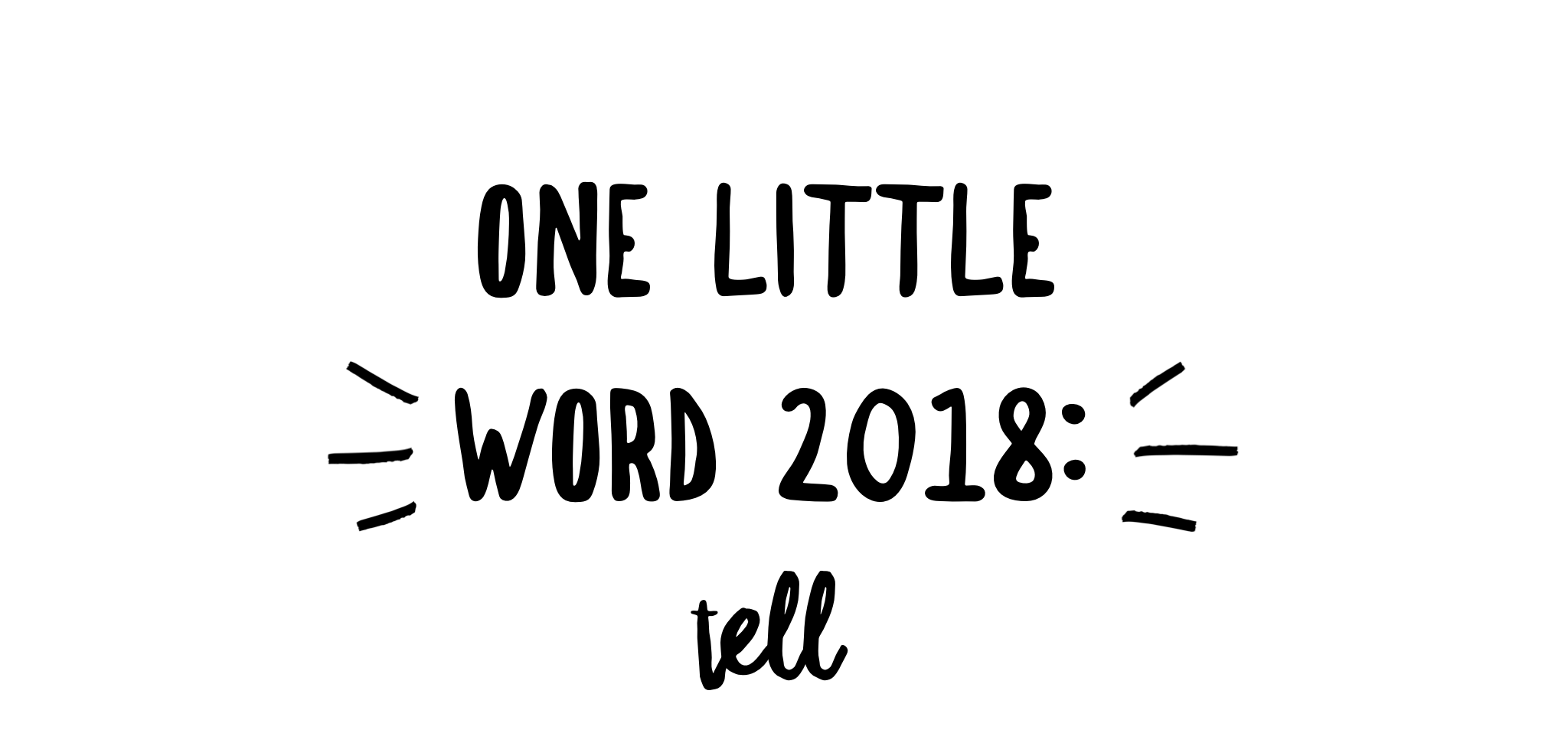 Happy 2018, friends! 
You're probably super surprised to even see a blog post from me. I know they've been few and far between in 2017. Trust me, I plan on doing MUCH more blogging in the New Year. I'm actually excited about it. I've missed it. So if you're still here, thank you for sticking around. I appreciate you. Even if no one reads this, I am still thankful for this spot to tell & share some bits and pieces of my life. 
Speaking of "TELL," that's my One Little Word for 2018.
"Tell" was put on my heart about 2 weeks ago as I contemplated just what word I was going to choose. It just came to me out of the blue one day and left me wondering about it. I decided to pray about it (like I do every word that I choose each year) and even when I thought of other words, "tell" kept coming to the forefront and so knew it was the right one.
The more I thought about the word, "tell," the more I realized that it was the perfect word for me to focus on in this new year. 
I already can see the word working in my life and it's only half of the way through the first day of 2018. 
Here's the definition of "tell":
verb (used with object), told, telling.
1. to give an account or narrative of; narrate; relate (a story, tale, etc.):
to tell the story of Lincoln's childhood.
2. to make known by speech or writing (a fact, news, information, etc.);communicate.
3. to announce or proclaim.
4. to utter (the truth, a lie, etc.).
5. to express in words (thoughts, feelings, etc.).
6. to reveal or divulge (something secret or private).
7. to say plainly or positively
This year, I want to use the word "tell" to remind me to:
• Tell more people about Jesus and His love for them. I want to be sure that I am more vocal about my faith, share my testimony more and show others the light and peace that comes with knowing the Lord. I know that I share my faith a lot, but I feel like I can always do more and this year, I want to. I also want this year to be the year that I'm baptized. 
• Tell more people that I love that I love them. I'm pretty good about this, too, but sometimes I do leave words unsaid and I want to tell people how I feel more. About them, about our relationship, etc. I want to speak the truth and speak the beautiful things out loud that I see in them. I don't want things to go unsaid. 
• On the same note, I do want to be sure that those that tell me things that disappointment me or are hurtful that they know how I am feeling. I'm not one for conflict, but it's necessary to share our feelings, both when they are good and when they're not so good. 
• Tell more people about these oils & products that I love. Sure, some folks think they're too hippie for them or that they don't work and it's all some pyramid scheme, (LOL), but they're NOT and they do amazing, life-changing things, friends. The fear of what people might think is going OUT THE WINDOW and I need to tell more people about it and do a better job sharing them and what they have done for me and my family. That includes the business side of the oils, too. If it helps ONE person this year, then it's worth it. How can I hold something back like that when it has all done so much for me and my family? I can't. It's time I do more and tell more people about it all.
• I want to listen (I mean REALLY listen and be still) to hear what God is telling me. I think all too often last year, my life was so busy and crazy that I didn't just rest and sit in silence and listen to what He is telling me. Here's my heart, Lord. Speak what is true. 
• Tell more stories in my scrapbooks. I'm SO great about taking photos and yes, those photos can tell a story, but I want to do WAY better when it comes to writing down stories and sharing WORDS about those stories. I'm doing more of that this year. Going to bust into all of the Story Kits that I purchased last year and start telling stories more. I'm excited.
• And lastly, I want to tell more and share more here on my blog. I hate that it was neglected so much last year, but with us moving in April and then how busy homeschooling and my business has been (which both are HUGE blessings) something had to take a bit of a backseat, but the neat thing is that even though I probably lost a lot of readers, this blog isn't FOR other people, necessarily. I mean, I'm so glad that it connects me with so many wonderful people like YOU reading this now, but when it comes down to it – this blog is my outlet. A place for me to share what I'm loving, share my scrapbook pages, share the things I'm doing in my life and to show you that I'm just like you. I'm just a hot mess Mama who is passionate about a lot and who dreams big, but I'm full of flaws and just trying to do some GOOD in this world. It comes down to community and whether there's one person reading this or 100,000 – sharing is good. Connecting is good. Telling is good. 
So that's what I'm going to do, friends. 
TELL. 
Do you choose a word every year? If so, I'd love to hear what your word is and why you chose it or how it chose you. 
Happy 2018, friends. 
Praying this year is a blessed one for you full of love, joy and hope. 
XO!