My sweet friends at Minted provided me with the three products below that I used to style my shelves.  All opinions expressed in this blog post are solely my own. Some affiliate links are included in this post as well. 
When we moved this past April I was SO excited because I finally got the office I've been wanting – you know the kind of room that is just ALL yours and you can decorate it, fill it with things that inspire you and you can get work done in it, sometimes uninterrupted? Yep, THAT room. It also has french doors which I was super giddy about. Anyway, the past few months I have been decorating it and buying pieces here and there for the room. About 2 months ago I purchased two super long white floating shelves to go on the back wall of my office. This wall is pretty high and wide open and well – I knew I needed some statement pieces to go on the shelves, but honestly, I'm not the best at styling shelves AT ALL. 
I finally started to tackle the styling of the shelves a couple of weeks ago and y'all, I was so excited to be able to get a few things from one of my favorite online places, Minted.com, for some pieces that not only have purpose, but meaning behind them, too. I wanted to share with you what all I got and how I used them to make the space just right. 
The first piece that I got from Minted has to be one of my favorite things. Not only does Minted offer beautiful stationery and art, but they are growing and expanding to so many other great areas and these Heart Snapshot Mix personalized art pieces are some of my most favorite! I knew when I saw them that I just had to do one full of sweet photos of my beloved Maggie that we lost just a couple short months ago. You guys, I was in TEARS when I got this in the mail last week. It's seriously such a sweet keepsake that I will cherish forever and I love how they're all little polaroids and in the shape of a heart. SO sweet.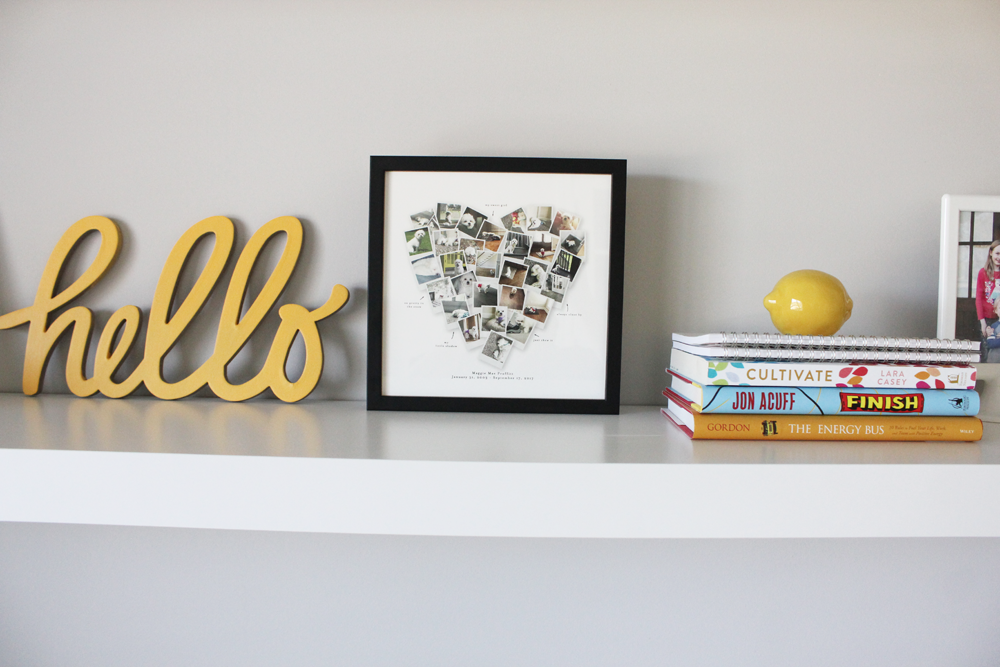 I love how the print has sweet little notes that I could customize. Some of the notes on it say, "my sweet girl," "always close by" and "just chew it." I also included her name and her birthday and date of death on it. I knew that I didn't want anything that was sad looking to remind me of my sweet girl and I'm telling you, every time I look at this I smile. So many sweet memories captured in such a creative, beautiful way. This print means a lot to me. So thankful it has a spot on this shelf.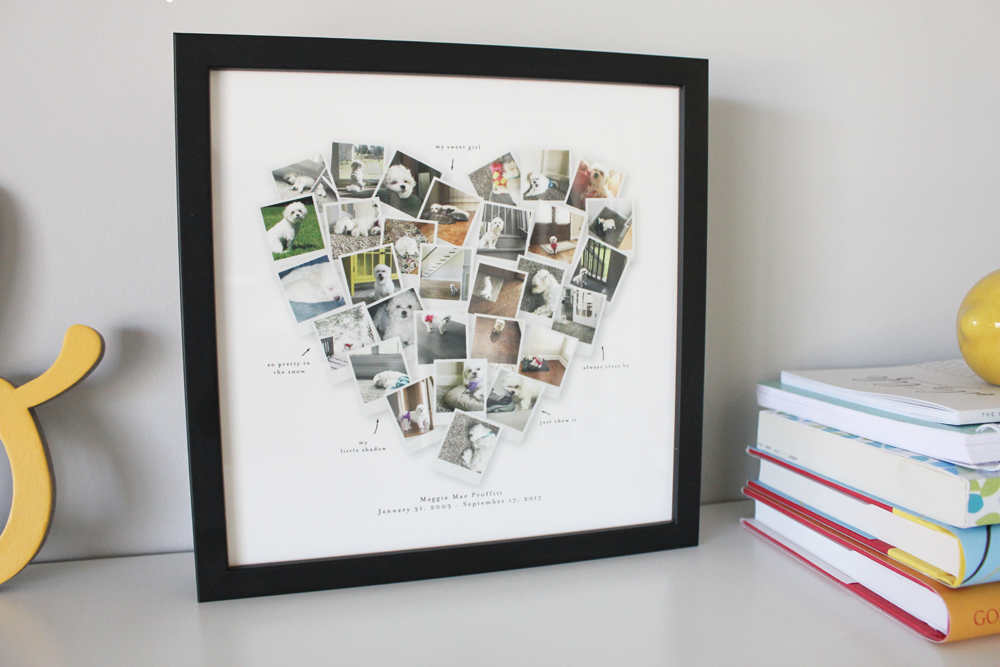 I also can't have enough notebooks. Granted I have like a bajillion notebooks, but I'm a dreamer and well – I like lists! Ha! So I knew that I had to snag some more of the super cute, custom notebooks that Minted offers. I love how you can make them either a notebook, address book or even day planner. So many different, cool designs to choose from and so many options for customization. Minted knocks customization out of the park, friends.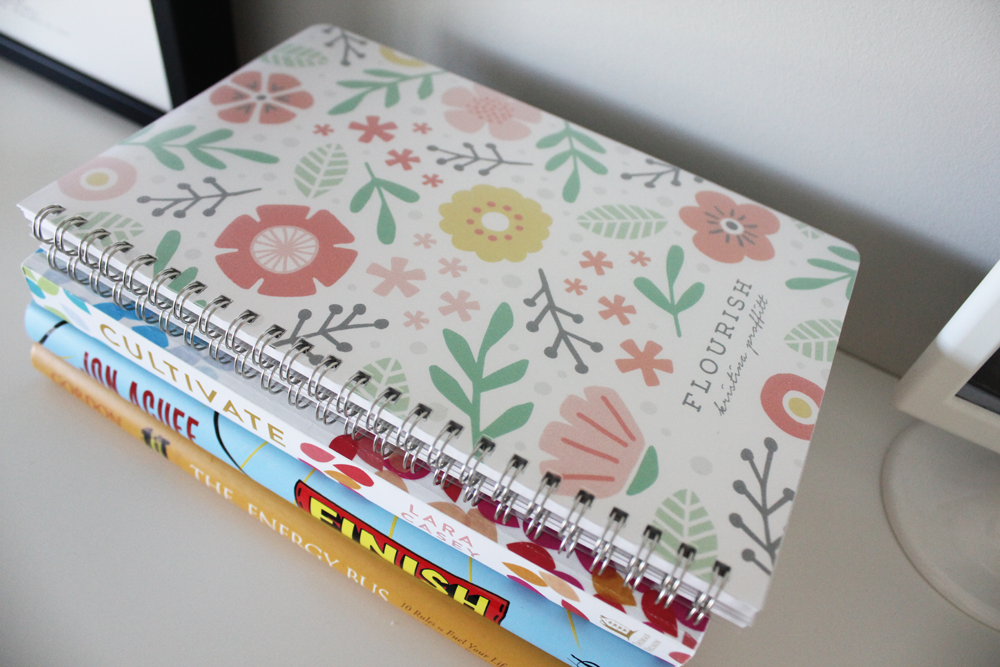 I got this notebook to jot down some of the plans I have for my business in the upcoming New Year. Flourish is going to be my word for 2018 and it's also the vision that I have for my business. It's been an important word for me for about a year now and I loved that it's now a constant reminder for the goals and dreams that I have. I knew the florals on it would be perfect for my Flourish notebook.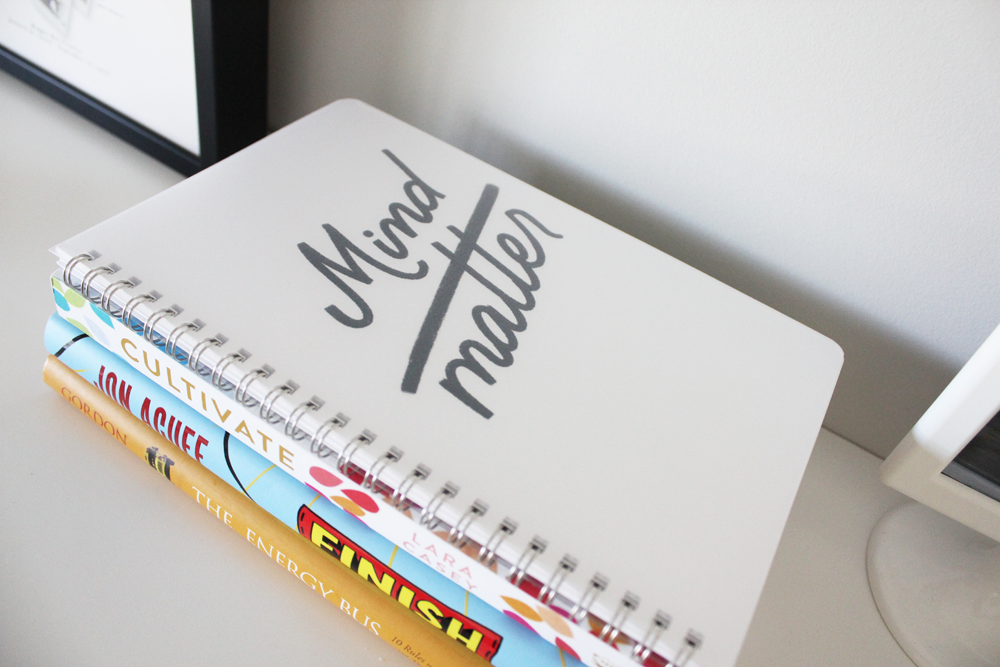 The second notebook that I got was this one. The design is not only simple (which I love), but it's message is a good one. It'll be a good reminder for me in my office. I love having notebooks handy all over the place to jot down notes, dreams, goals and things I want to remember. Having CUTE notebooks all over the place is a bonus. Minted has nothing but cute notebooks. You can't go wrong with any of them. They would make a great gift this holiday season. Perfect to tuck in a stocking.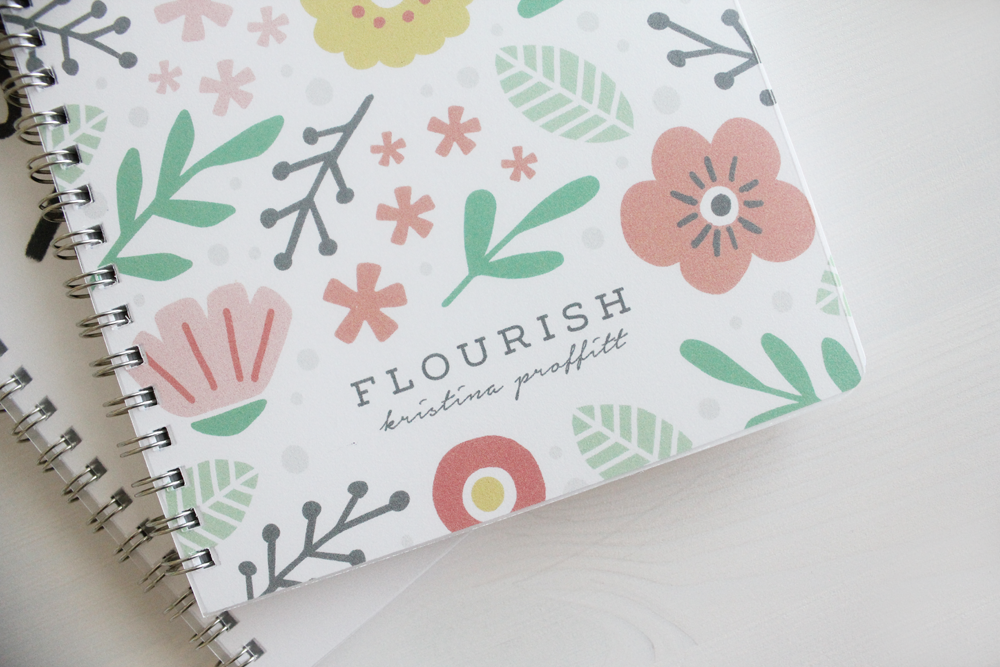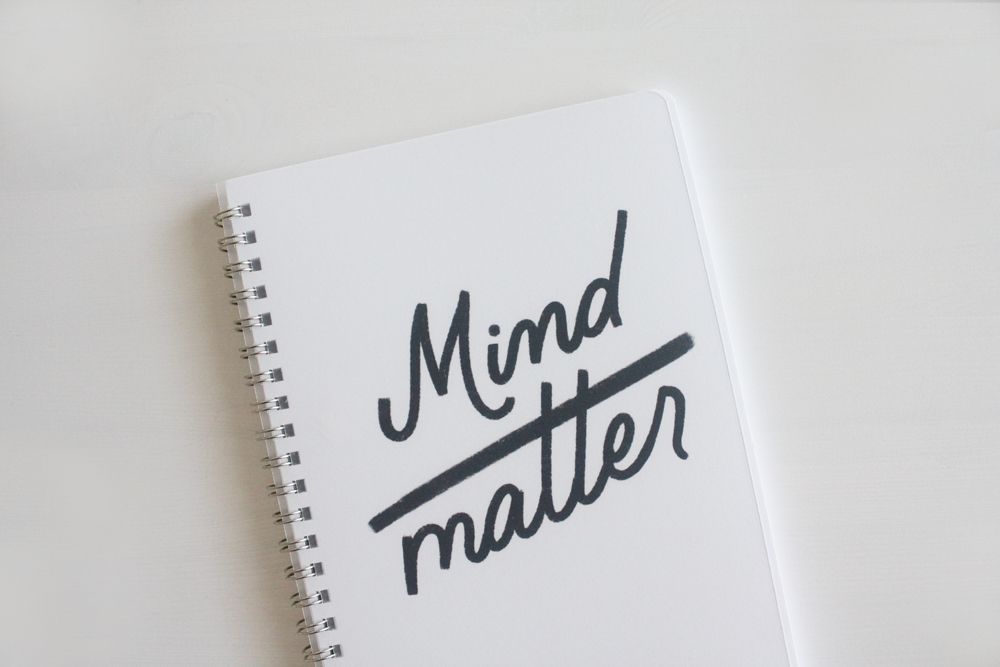 The last thing I wanted to share with y'all is this super sweet fine art print from Minted. One of my MOST favorite thing that Minted offers is their fine art. There is such a wide range of designers at Minted – so many different styles and every time I browse the fine art, I usually favorite like 30 things. I kid you not. While I was browsing this time, this sweet little birdie art print was calling my name. I'm not sure why honestly, but it's colors stood out to me and I just knew that I had to have it. It's just the sweetest and I love the pop of pink on it. I opted to slip this print into a little wooden photo stand that I had, but you can even order the art prints framed if you'd like. Once again – so many options and customizations you can make.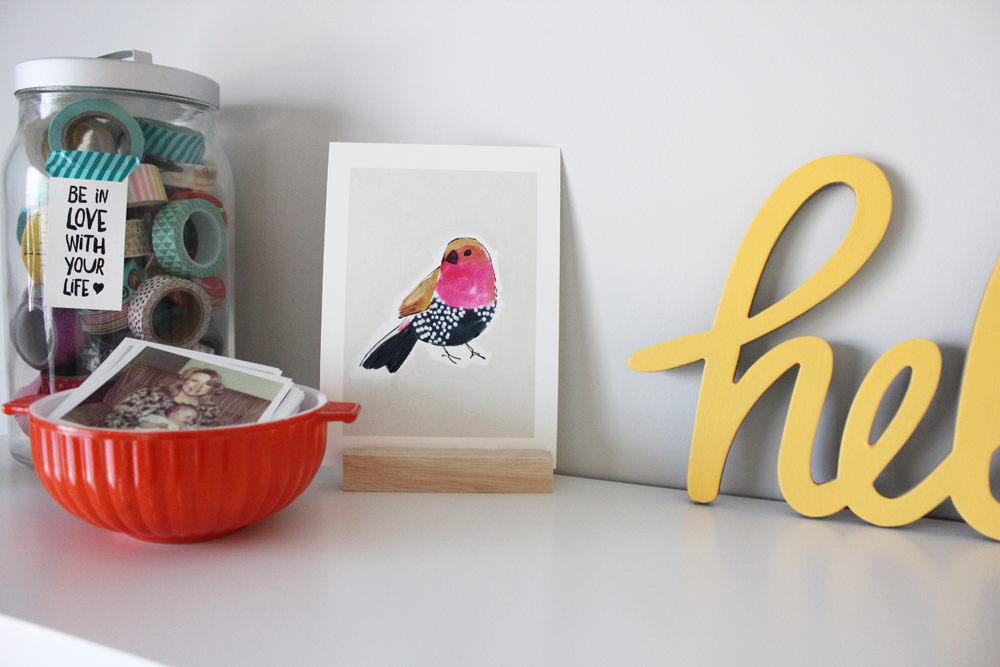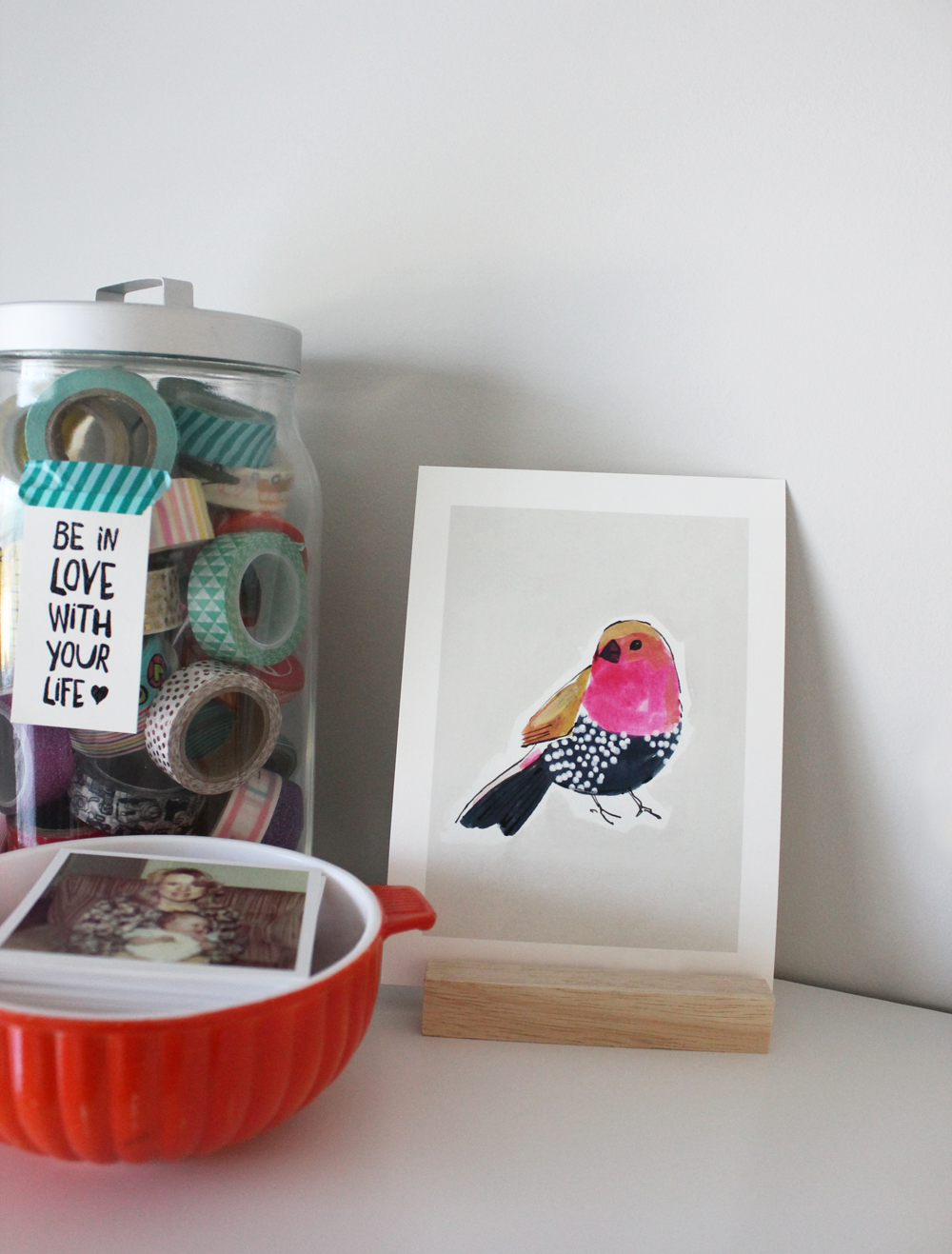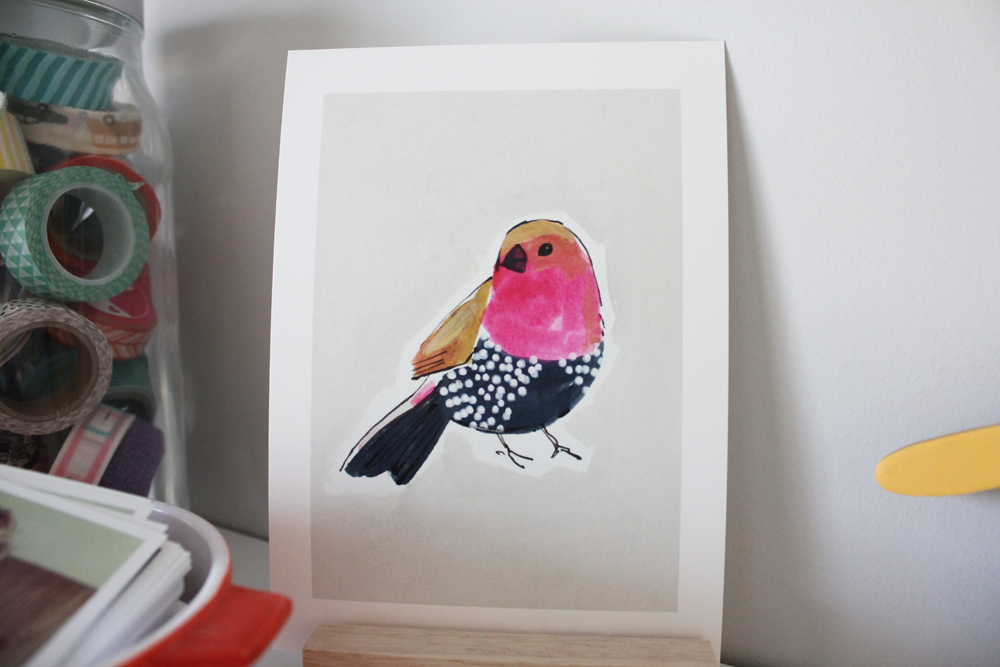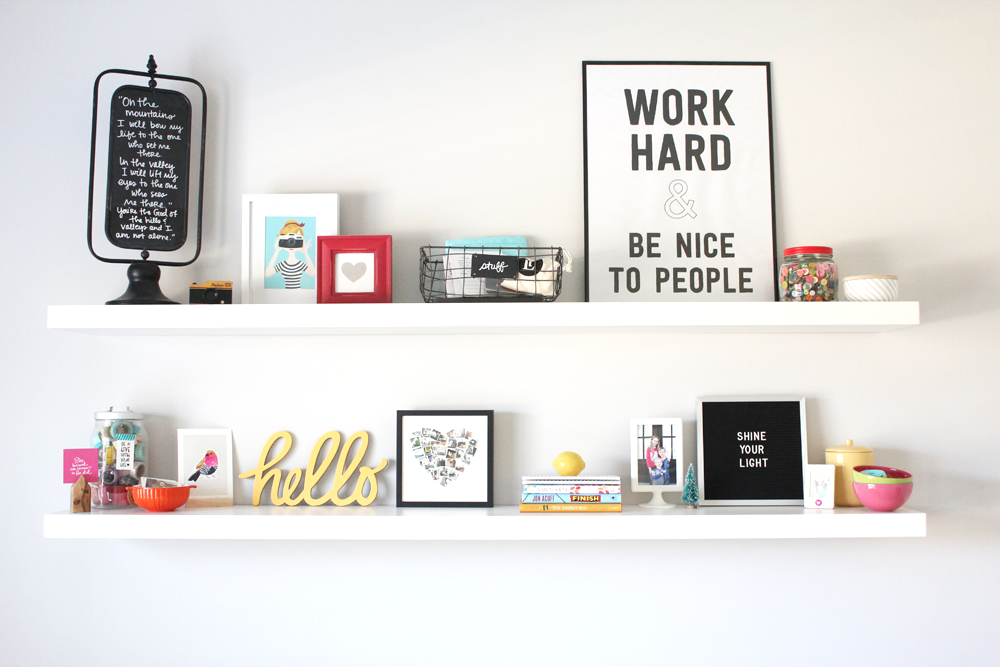 So there you go, friends. I'm super happy how the shelving came out and I'm patting myself on a the back at bit, too. Ha! Looking at all of the things on them makes me smile and I love how there is not only purpose for some of the items, but that there is intention and inspiration behind them as well. Perfect for this space where I work. Fill your home with things that you love, my friends.
Thank you for the help, Minted. Not only can you find tons of great products at Minted to style & decorate your home with (or your office!), but you can find such great, thoughtful gift ideas, too so if you still have some gifts to buy, I highly recommend you head on over to Minted.com and pick some things up. Get yourself a little something, too while you're at it. Even if you don't have a shelf you're needing to style, I know you'll find something cute for somewhere perfect in your home. ;) 
Check out Minted.com to see more great products and check out just some of the reasons why I love Minted HERE.