What could be better than Osmo releasing a brand new game? How about Osmo teaming up with Hot Wheels and releasing a brand new game? Well, guess what, friends? They have and it's awesome! The new game is called, Osmo Hot Wheels™ MindRacers and my kids have been playing it nonstop since it showed up at our house last week. This game is as cool as it sounds and if you are familiar with Osmo, you already know that they are the best when it comes to providing children with awesome, interactive game systems that our kids can use on the iPad or iPhone. This one is no exception. It's SO fun and if you have any Osmo OR Hot Wheels lovers in your house, then this game is a must!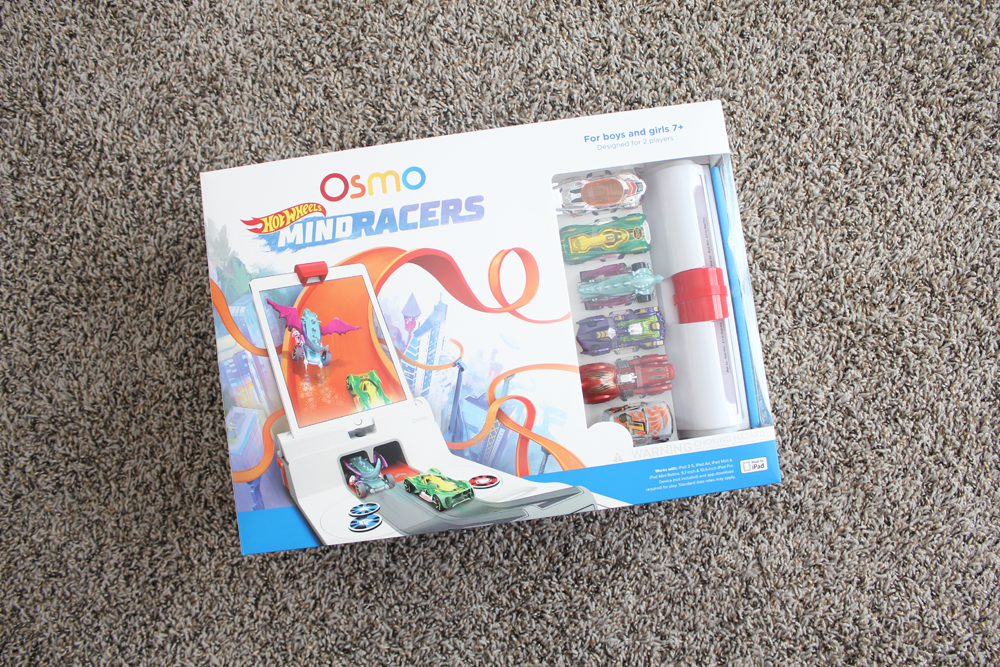 My kids and I are huge Osmo fans and we were excited to try this game out, especially because we've also been a Hot Wheels lovin' family for quite a long time, too. Caylin was our first Hot Wheels lovin' child and we actually used to get her Hot Wheels when she was learning to potty train. ;) It totally worked and thankfully it didn't take her too long at all to get the hang of it. Needless to say though, our Hot Wheels collection is big and so is our Osmo collection. We're happy about both.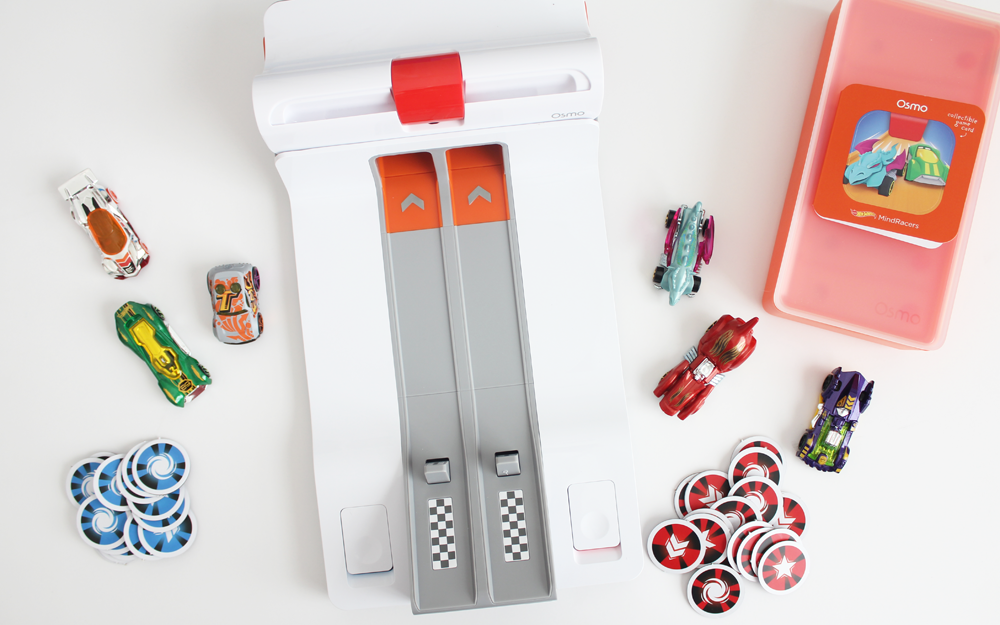 Let's chat about what comes with the game. 
With every Osmo game, you'll need to have either the iPad base or now they even have an iPhone base (how cool is that?)! We have the iPad base and so that what we used for this game. If you already have the base, the game is $59, but if you need a base, it'll be $88. The app is free. 
When you purchase Osmo Hot Wheels™ MindRacers you'll get:
• MindRacers LaunchPad
• 6 Hot Wheels™ cars
• 32 game tokens
• Stackable storage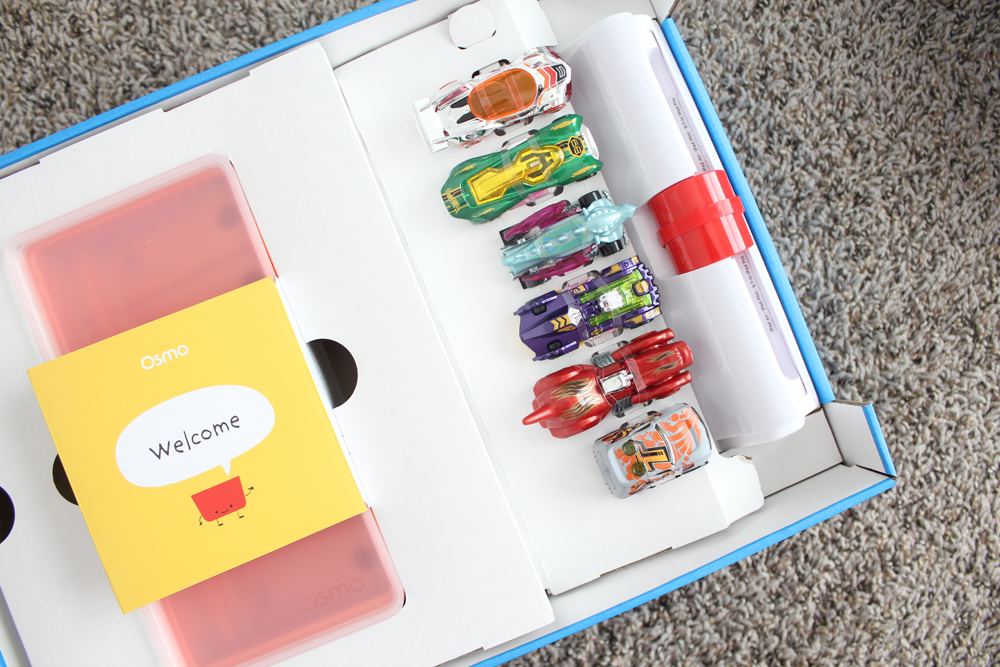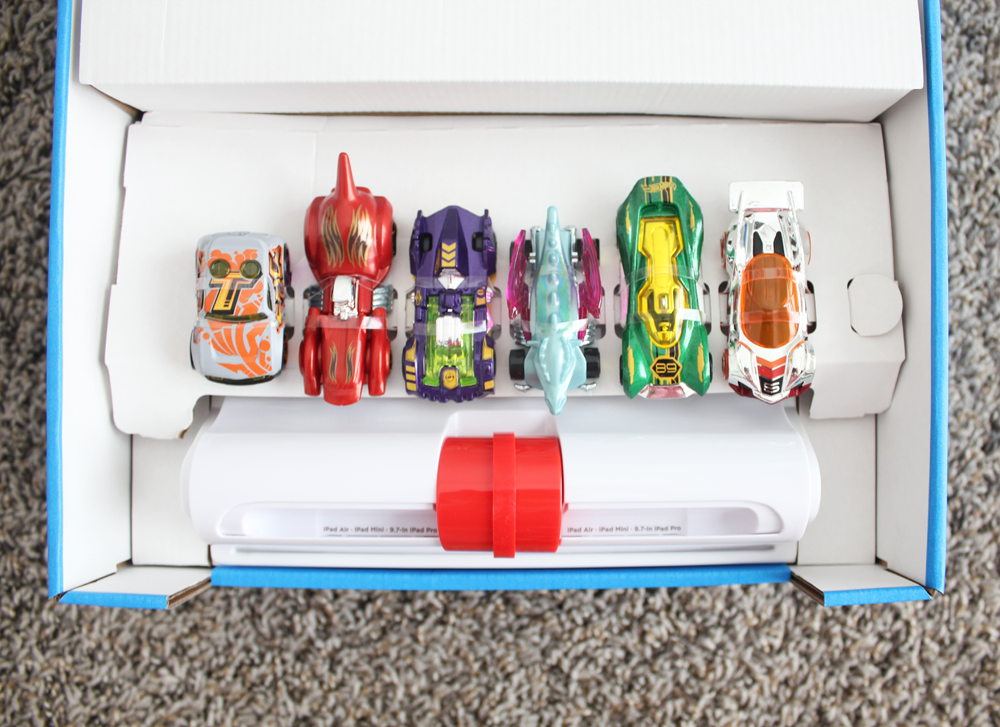 The kids wasted no time at all setting up the game and getting it ready to play. I love how easy the game set up is – my kids have never had a problem trying to figure out how to play any of the Osmo games, which is great. They just jump right on in and start having fun right away. 
In Osmo Hot Wheels™ MindRacers, kids get to launch real Hot Wheels™ cars, send them down the ramp and watch them ZOOM into the digital world of the game. They race on a virtual race track and it's seriously the coolest technology! My boys thought it was "SO COOL!" Those were their exact words. Ha! There are 8 different worlds that you can race through and each one has unique challenges that you face along the way. Get this – there are 6 Hot Wheels™ cars that are exclusive to the Osmo Hot Wheels™ MindRacers game – how cool is that?  And each of them have their own unique personality and super automotive powers – so the kids had fun picking which one they were  going to use. 
During the game, you have to strategize, anticipate and react for real-time results. You have to throw down tokens to control your race car's actions. This was the part of the game that my boys especially loved. It got a little wild, but it was so much fun to hear them giggling and racing! 
Here are what the tokens look like: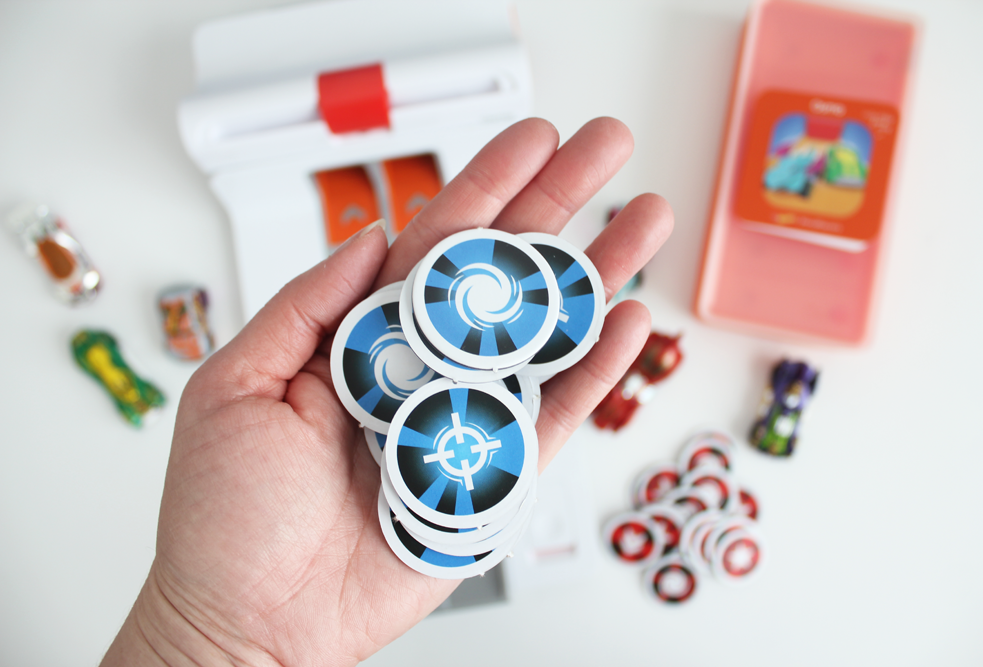 There's a blue set and a red set and  I just LOVE that Osmo incorporated a storage place for these tokens when the game is not in use (see below). Good job, Osmo! You know what? My kids thought putting the coins in the coin holder was even fun! Ha! Score! ;)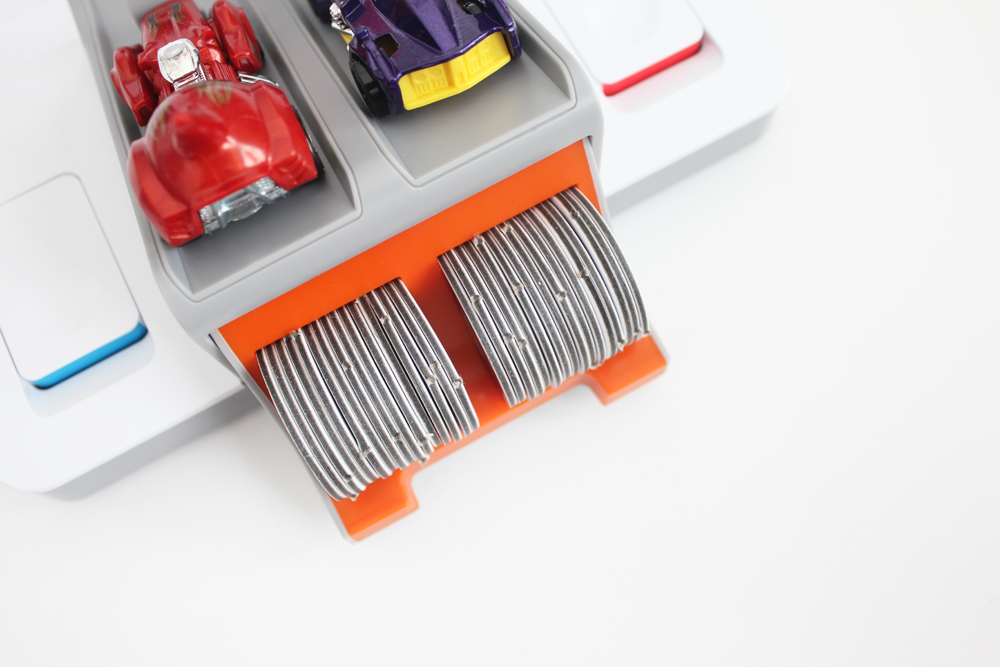 Just like with every other Osmo game, kids will learn some key things as they play this fun and interactive game. 
Those being:
•  Real-world dexterity
• Quick decision-making
• Sportmanship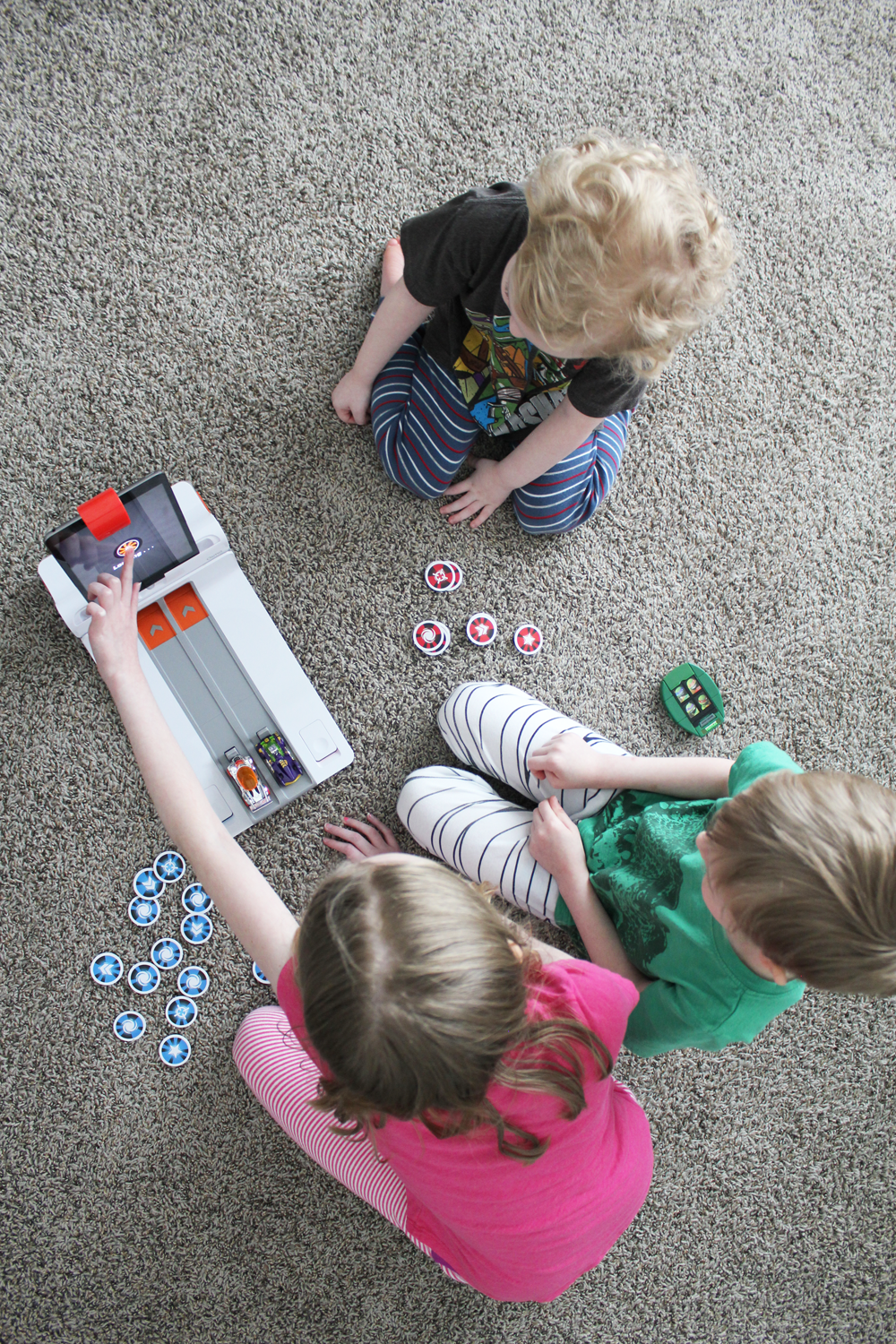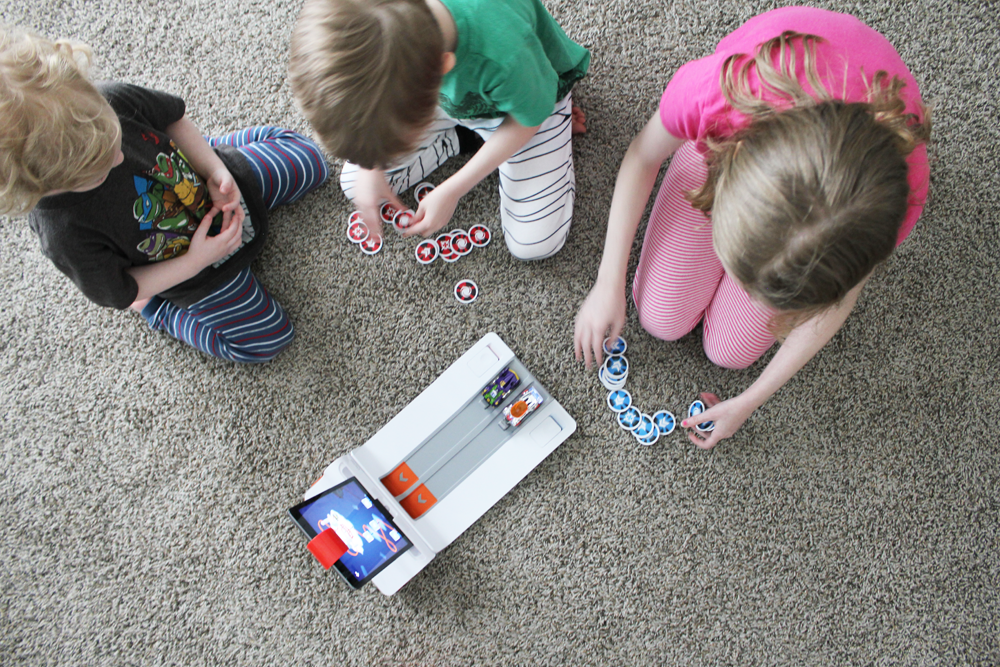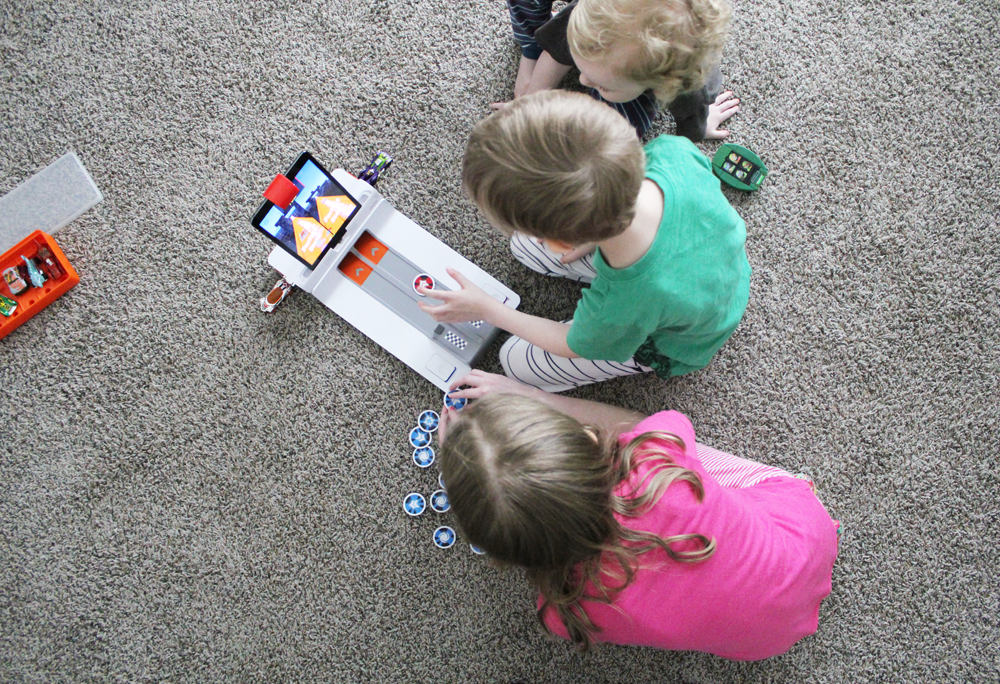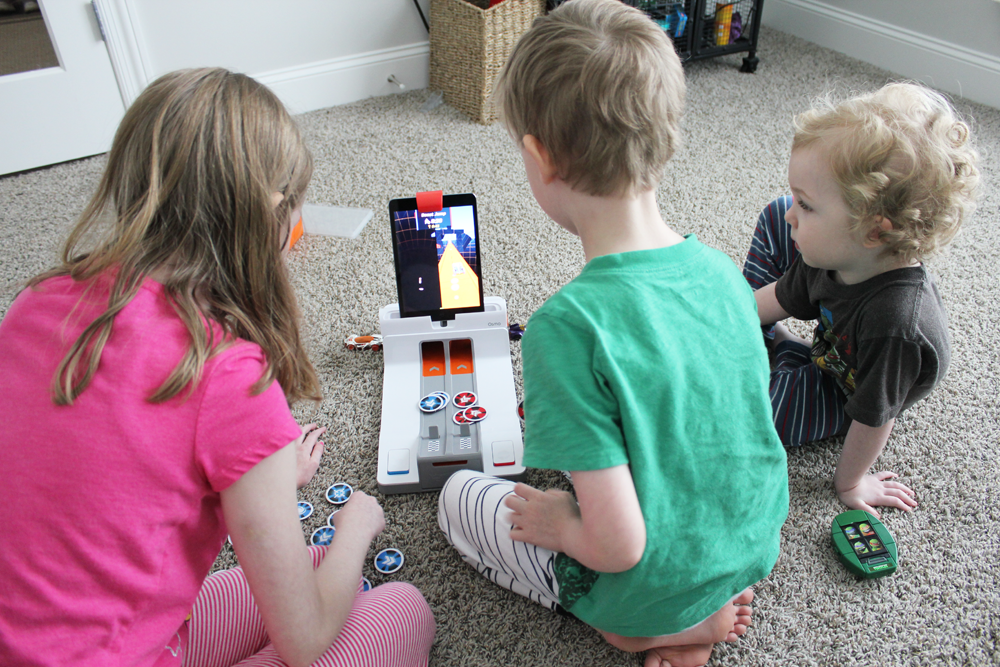 Not only will they be learning, but they'll be having lots of fun, too! Your child can play against someone, they can play against the game itself or they can even work with someone to win challenges together. I really loved how my kids could work together during the game. It was neat to see them focus, strategize and work as a TEAM, not against one another at times. Such a really cool skill to build and work upon, I think, especially when the big kids helped sweet Luke. 
I love that every Osmo game comes with a stackable storage box. Having a place to keep these cars together and with the other Osmo games makes this Mama's organizational heart super happy. I'm telling you – your kids will love putting these cars back into the container! It comes in handy so the pieces stay together and they're easy to store.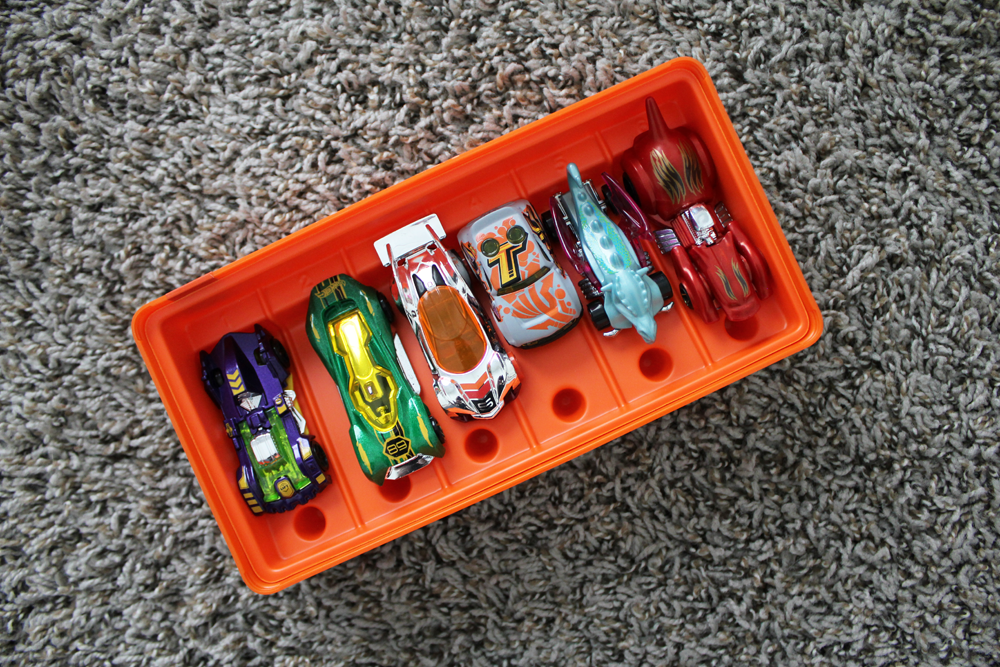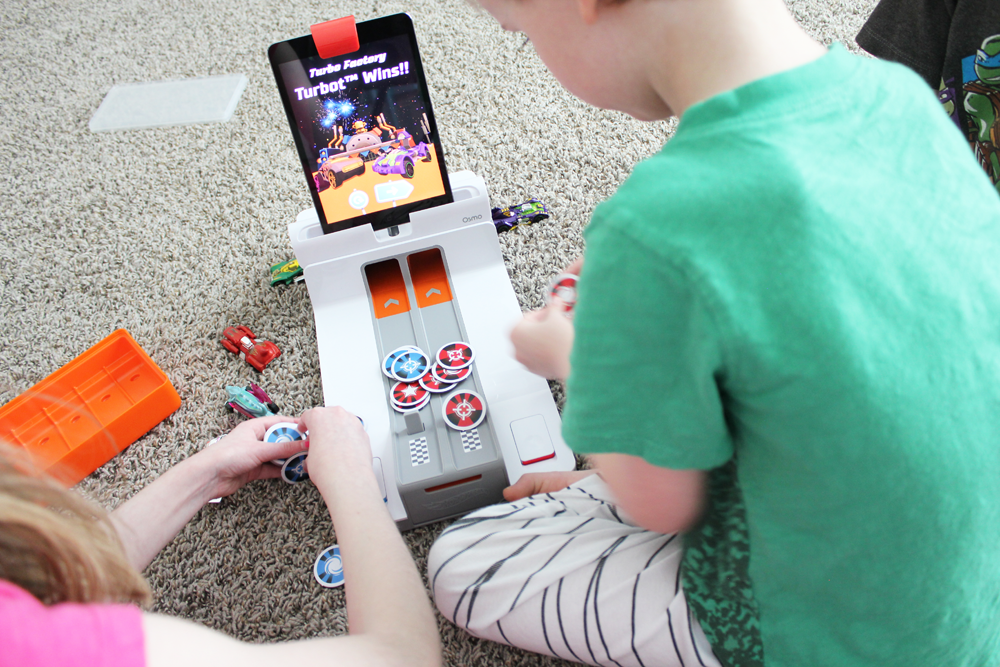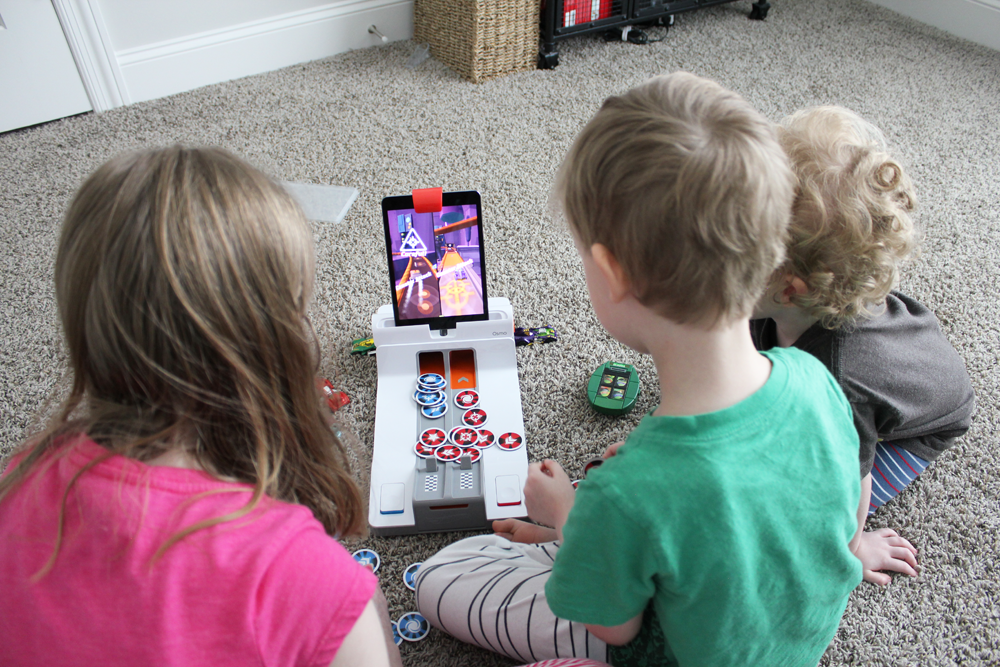 Here's a great video you can watch to see it in action, too:
So what did we think of Osmo Hot Wheels™ MindRacers overall? My kids loved it (even Caylin!). It's a game both boys & girls would love! Oh and trust me, parents can play, too. I bet you'll be challenged to a race just like I was. Needless to say, I got whooped, but had a lot of fun. ;)  
Cool sidenote: my boys loved playing with the cars by themselves, too, which is another cool aspect of the game. They were excited to have some exclusive Hot Wheels cars to add to their collection. What boy wouldn't be excited about that, too?! A really cool bonus, I have to say. 
So bottom line – this game is fun, a hit with the kids and if your kids love Hot Wheels then they are going to flip out over it all. 
You can zoom on over to the Osmo website HERE to read more about the game and to order your very own Osmo Hot Wheels™ MindRacers.
Your kids will think you are the coolest and let's face it – you ARE … well, at least until they challenge you to a race and beat you. ;) 
Disclosure: The sweet folks at Osmo sent me an Osmo Hot Wheels™ MindRacers game for my kids and I to review, but all opinions expressed in this blog post are solely my own. No other compensation was given. Osmo's games are super cool, friends. I don't recommend anything that my kids and I don't love.