I've got a confession to make, friends. Blank walls intimidate me. There. I said it.
So, as you can imagine, moving into a brand new home with a lot of blank walls and trying to figure out just what to put where and all of that mess was a bit overwhelming to me. I LOVE having art & photographs on my walls, but I'm not a fan of the entire process of deciding on what goes where or what looks best.
When I found out that Minted offered beautiful fine art prints that you could purchase (matted, framed and all!) I was super excited because there was this huge wall next to our fireplace that was taunting me. Nothing we currently own would work there and every time I walked past it I would sigh and I'm pretty sure it was laughing at me. Ha!
That's where Minted came to the rescue. Y'all, the amount of fine art prints that they have on their website is unreal and SO beautiful. No mater what your style, they offer SO much and one of the things that blows my mind that Minted does, is they offer so many ways that you can customize what you're purchasing so that you get exactly what you want.
So that's when I went to work and started browsing their fine art section on their website.
When I first clicked on it, this really cool pop-up came up telling me that there were three easy steps that I could follow that would help me find the most perfect piece of art that I needed for my home. I mean, seriously?! Minted is going to help me hand-pick my art? Um, YES PLEASE!
So the first step is to take a quick and easy quiz so that your style is defined. Then you get actual recommendations from one of their talented stylists to find just the right art piece for your home (how cool is that?!). Then you can easily pick what you'd like, customize the frame and more AND you get an exclusive discount to order. I'm telling y'all – it is SO much better than having to go out to a bajillion stores to find something that you love and you know what – when you purchase something from Minted you are supporting a large community of independent artists and designers. It's just the coolest thing and you can do it from the comfort of your home. Score!
So after doing all of the above, I stumbled upon THE most beautiful print that I knew would be PERFECT for the wall in my living room (take THAT wall)!
I ended up choosing a fine art print called, "Mornings Away" by Emily Jeffords. You may have recognized the artist's name because she is a pretty well-known artist that does the most beautiful work! I actually have admired her art for such a long time and always wanted to own one of her pieces and so to have one come up as a recommendation for me was just perfect!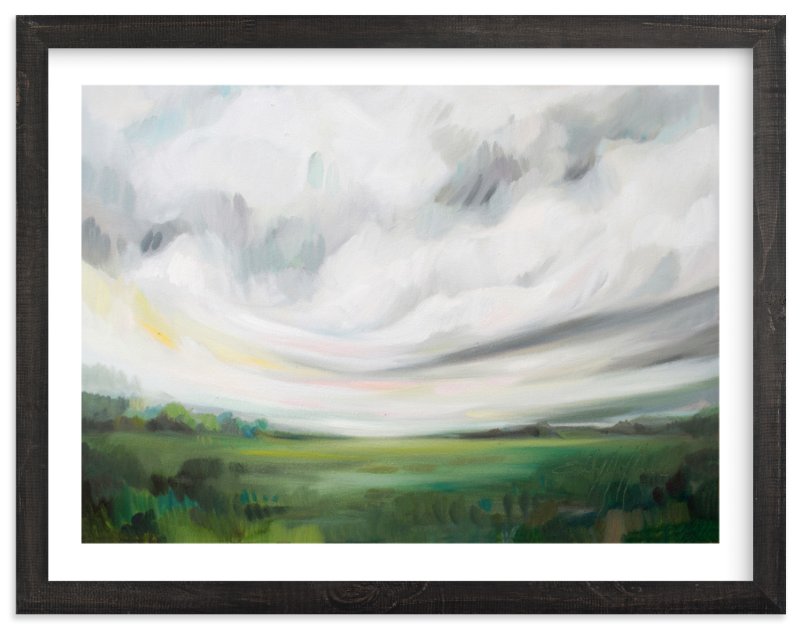 I ordered the largest size that was offered (54×40) because this wall is really big and I needed something substantial there. I also ended up customizing it with the Distressed Charcoal Stain frame (since our floors are on the darker wood side) and got it with the small, white border frame around the artwork (it provides a self-matting or faux matted look). I love the way the colors pop with the frame and I just love the print itself.
I have this love of the sky – I always find myself looking at it, taking pictures of it (especially clouds) – and the sky in this print just makes me so happy – so does all of the land. Reminds me of my family's dream to one day own acres and acres of land in East Tennessee. That is what a print is supposed to do – make you think good things, feel happy when you see it and remind you of something that brings you joy. I think that's one of the reasons why I love to fill my home with not only beautiful art prints, but photographs and canvases, too. Makes me happy and truly makes a house a home.
So after ordering I could not have been more excited to get it in the mail!
It was just about a week until it arrived and once again (just like all past times that I've ordered from Minted) it was shipped impeccably and with so much care. I have to say that I was a bit worried about it, just because our FedEx and UPS deliveries lately have ended up pretty damaged (especially any larger packages) and I knew this was going to be a big one. When it arrived, the box was slightly dinged up, but y'all – look at how amazing Minted packaged my print: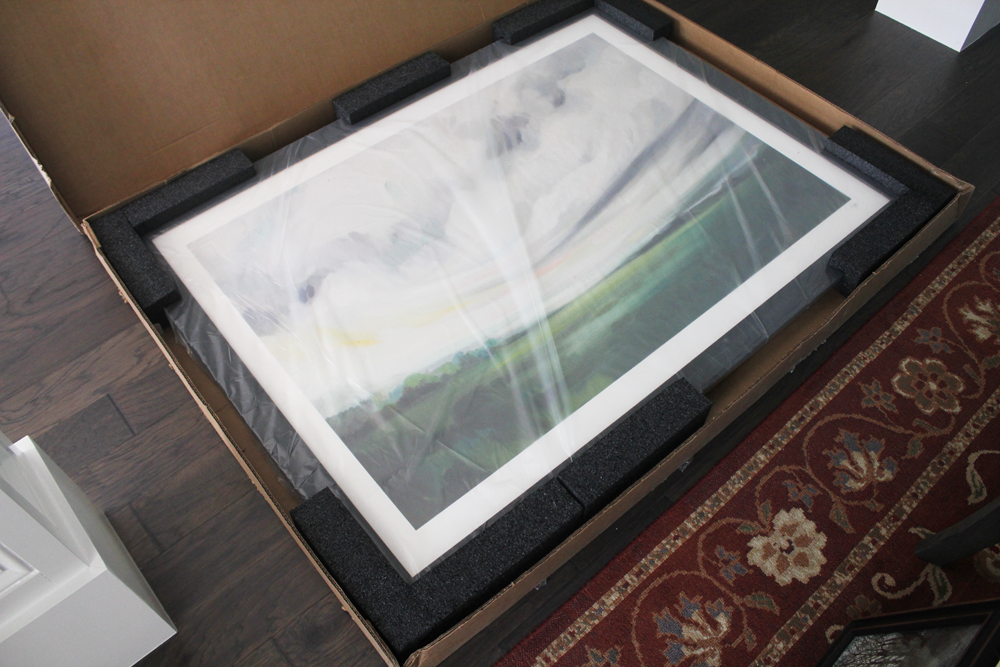 The print was wrapped SO nicely. I'm talking – wrapped with plastic and then had these really big, durable foam corners on it – the form actually extended a bit across the bottom and there was more on the top, too!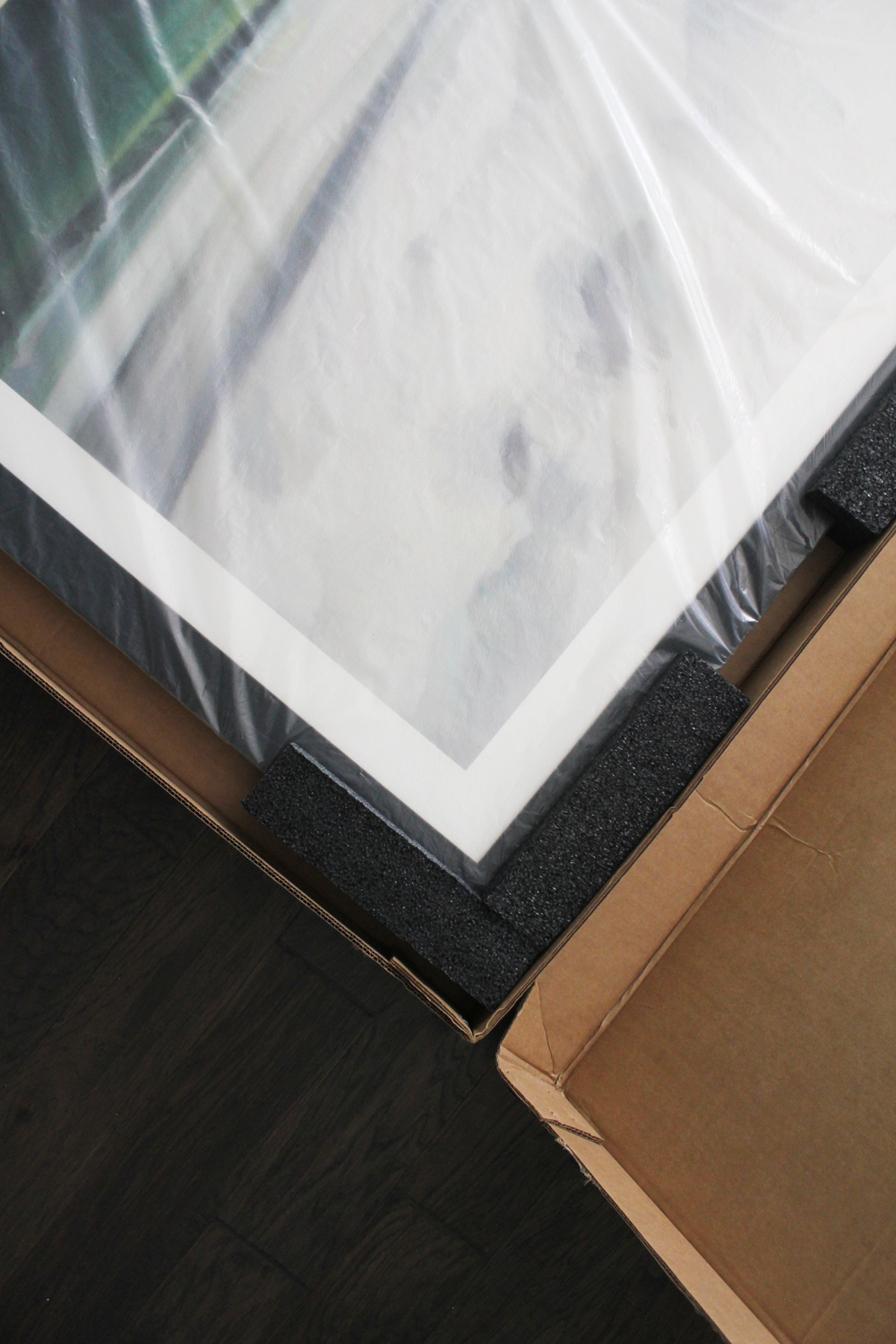 Then behind the print there was another large foam piece that was protecting the print as well.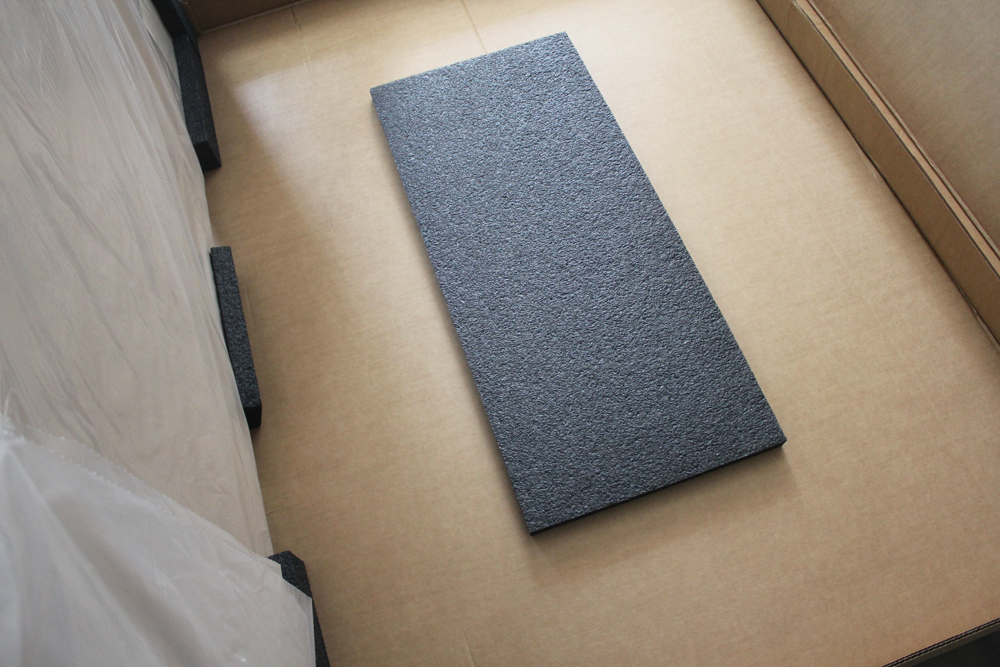 One thing that makes me SUPER happy is that Minted knows how to ship things and ship them well. We all want to invest our money into something beautiful and ALSO have it make it's way to us in one piece, so I'm really thankful for the way that Minted packages their products when they ship them. Everything I've ever received from them has been packaged above and beyond what other companies have done and I appreciate it so much! You DO get what you pay for, friends!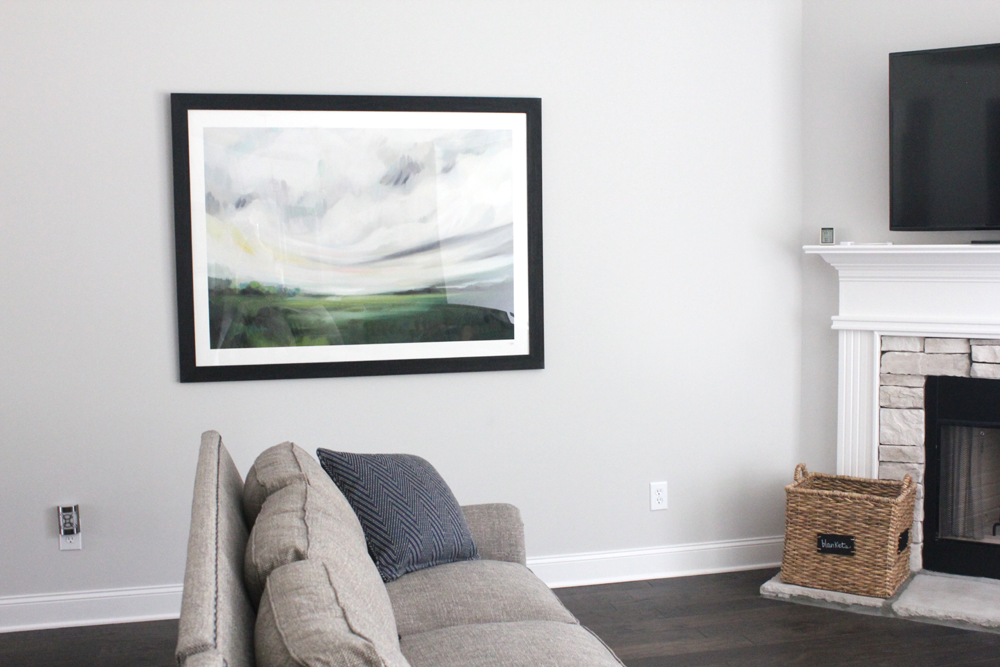 Here's the print hung on the wall. It fits the space perfectly and just is the most gorgeous print! I wish there wasn't any glare in my photograph, but with the size of this print and the large wall of windows along the backside of my home – it made taking a picture without glare, practically impossible. Trust me – I took a lot of photographs! ;) You can still see how big and beautiful it is though! That shines through, despite the glare!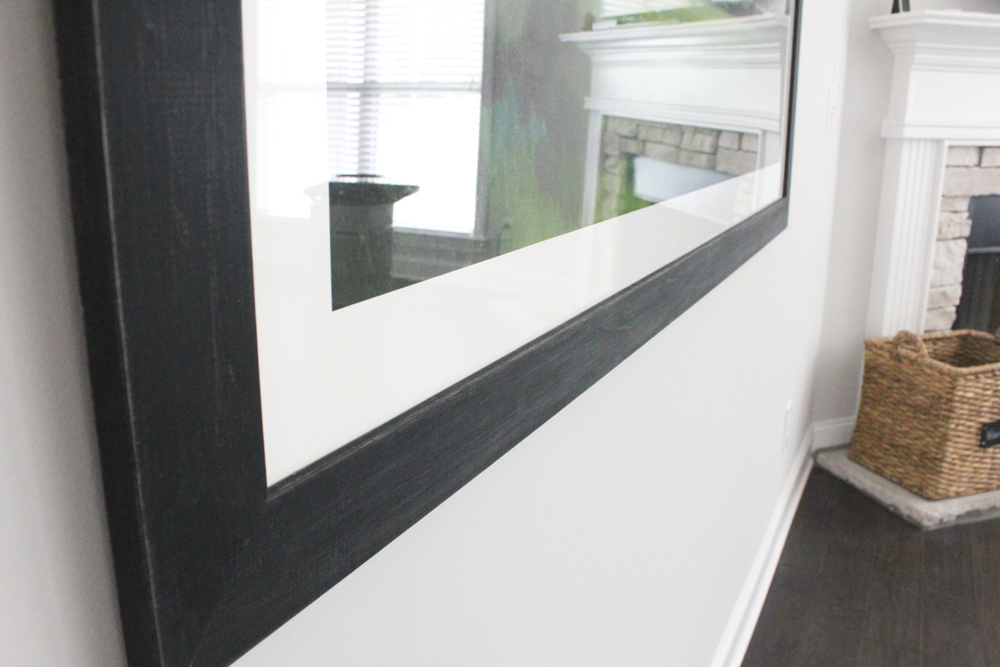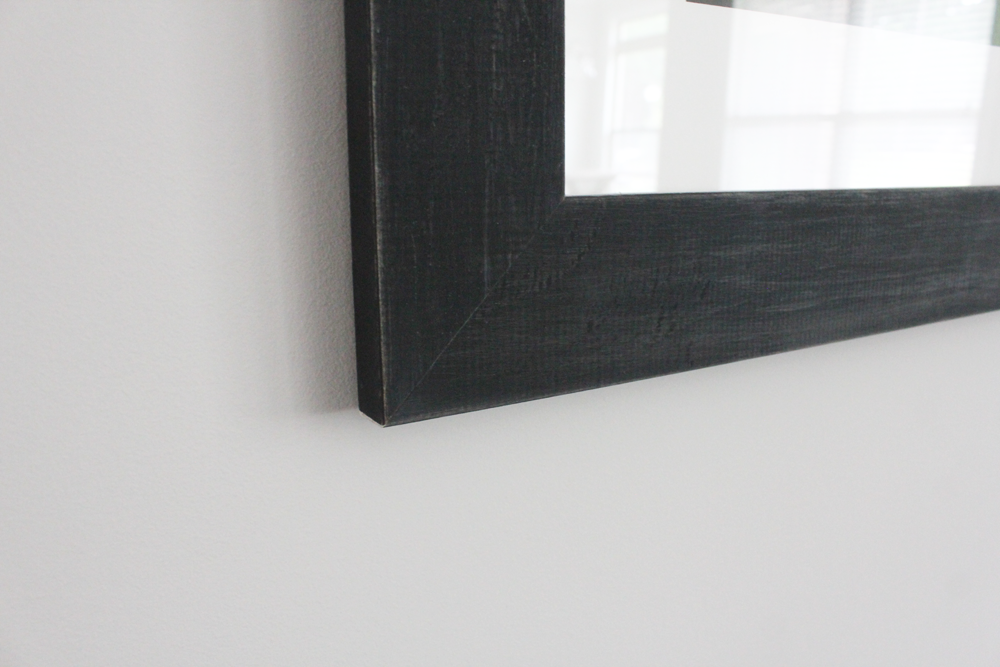 The frame we picked was perfect. It's a distressed wood it looks like a mix of charcoal and dark brown! Perfection!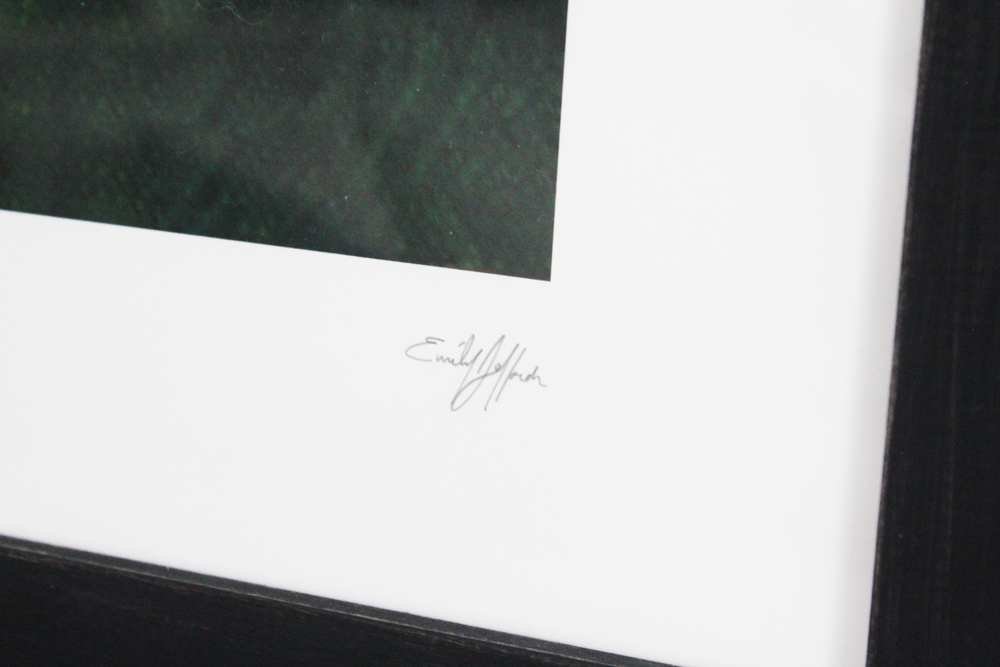 I love how you can even get the print with the artist's signature on it! Yep, I'm in love.
The description of this print on Minted's website says, "Cool and lush, this swirling landscape feels energetic and yet, peaceful." I couldn't agree more. This was the perfect art print for this wall in my home. I could stare at it all day.
NOW when I walk by that wall, all you see me doing is smiling, friends. 
Oh, and how cool is this – you can get FREE shipping and returns on fine art with the code SHIPFREE. That is seriously such a great deal because you know shipping a super huge framed art print like this (or any framed print for that matter) can be costly. Just one more way Minted will always be top-notch in my eyes.
And I just got an email the other day talking about their Children's Art Prints. Oh my word, friends. I think it's time to get a wish list going for the kids' bathroom and our homeschool room. 
Here are just some of my favorites:
This bird is just the cutest.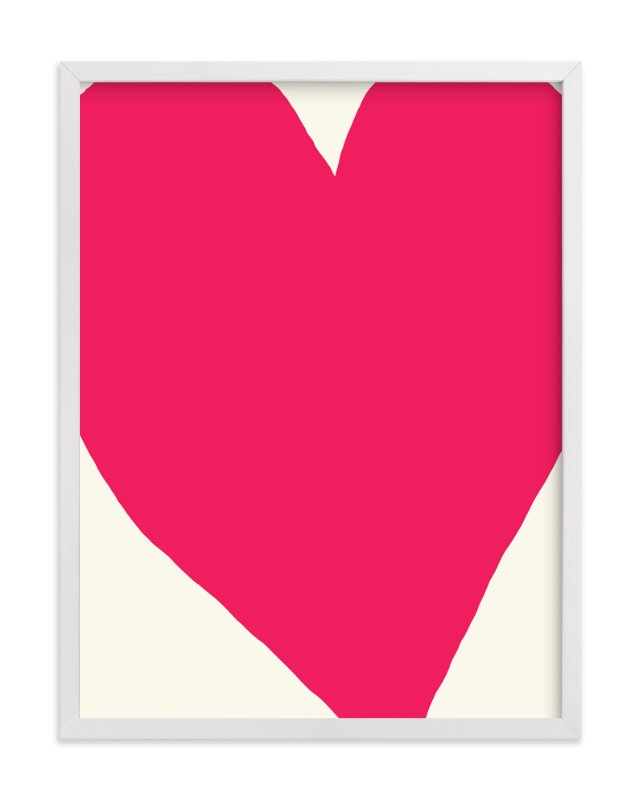 I love how this heart extends off of the print. So cute!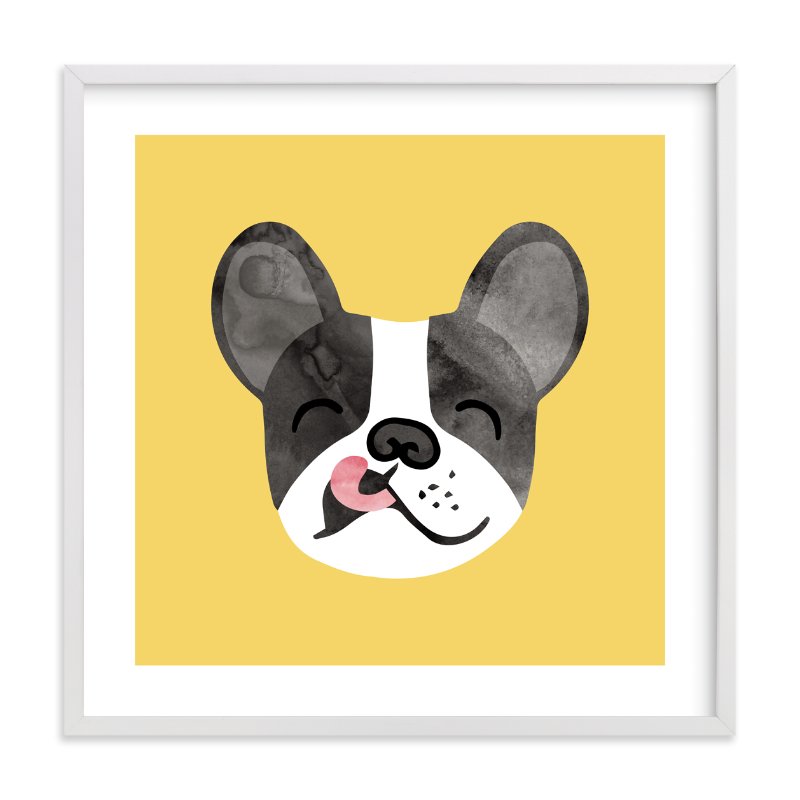 How can you NOT smile when you look at this sweet dog? SO adorable!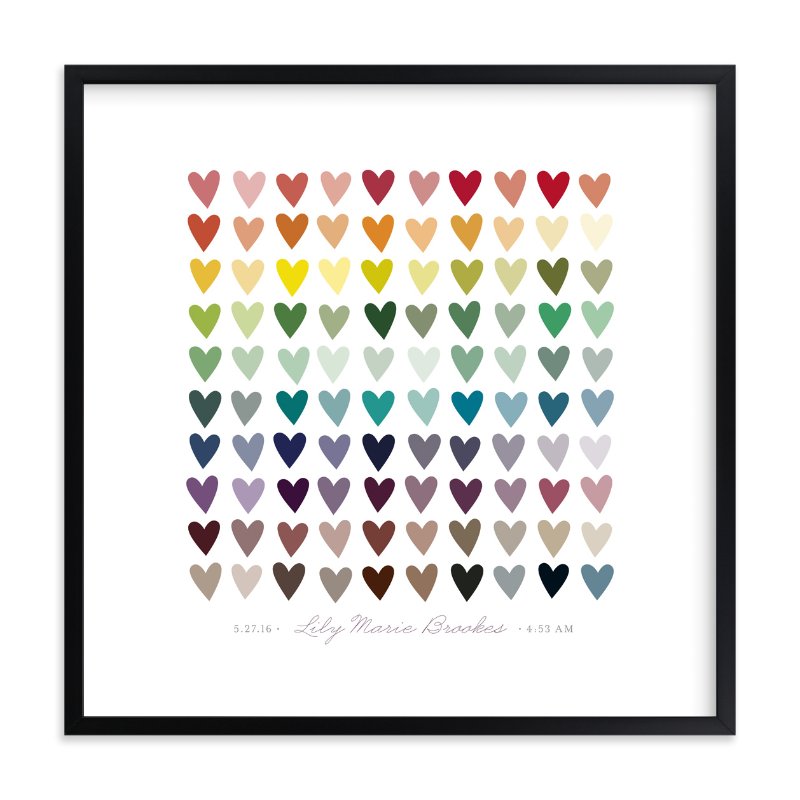 And this heart print is just the sweetest, too. Love how you can customize it with a name and birth information. So lovely.
Whether it's fine art prints or even children's art prints, Minted has got you covered, friends.
Well, If you need me, I'll be standing in front of my beautiful new art print, smiling away and dreaming of those acres of land that will be ours one day. Oh, and of course looking at the sky. ❤️
Disclaimer: Minted gifted me this art print in exchange for an honest review of it. No other compensation was given, although some affiliate links are included in this post. All opinions expressed in this blog post are solely my own. I've been a huge Minted fan for a long time and love sharing what I am loving with all of you. Thank you for clicking on the affiliate links and for your support of One Happy Mama, friends.