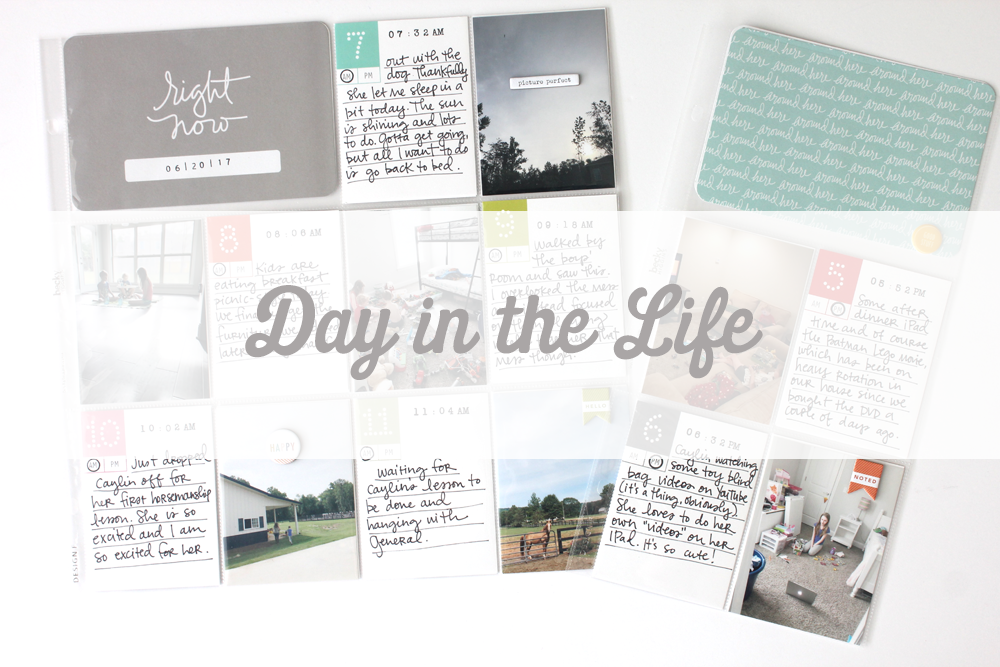 Hi friends!
Today I'm sharing with you my completed June Day in the Life™ pages. This project, along with Week in the Life™, always makes me SO appreciative of this hobby we call memory keeping. You see, it's WAY more than a hobby, friends. What we're doing is holding onto these precious memories that we're living. They fly by us so quickly and well, I think this sums it all up best:
"We take photos as a return ticket to a moment otherwise gone."
YES! Can I get an AMEN?!
Once again, I kept it simple, used the Day in the Life™ mini kit and just had fun.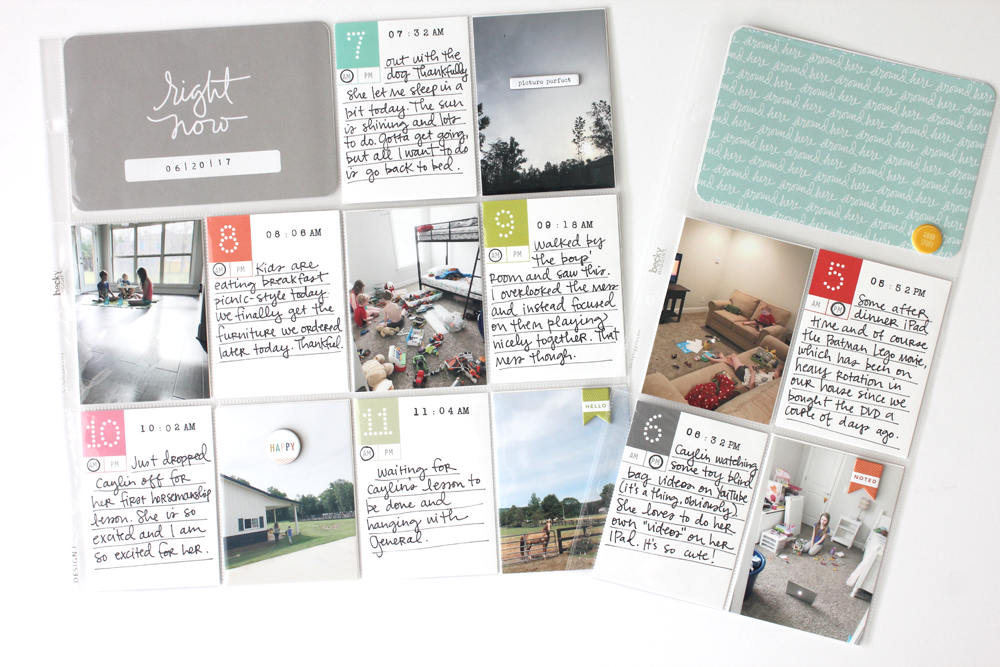 For my day, I ended up using 2 DESIGN F page protectors – one of them I cut a bit off of so that I wouldn't have any remaining pockets and nothing to go in them. I improvised, friends. Ha!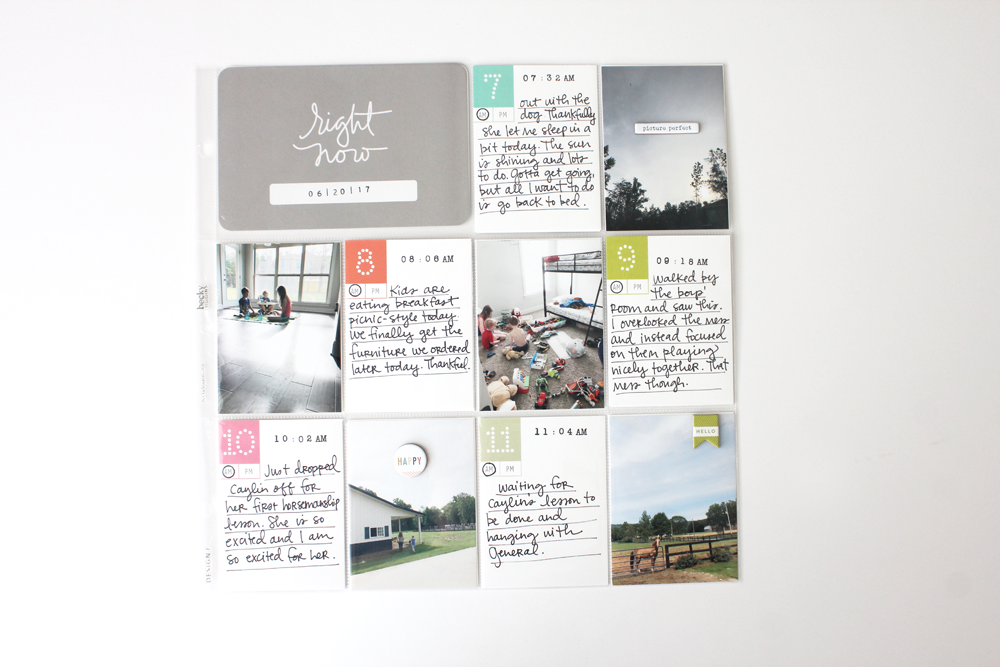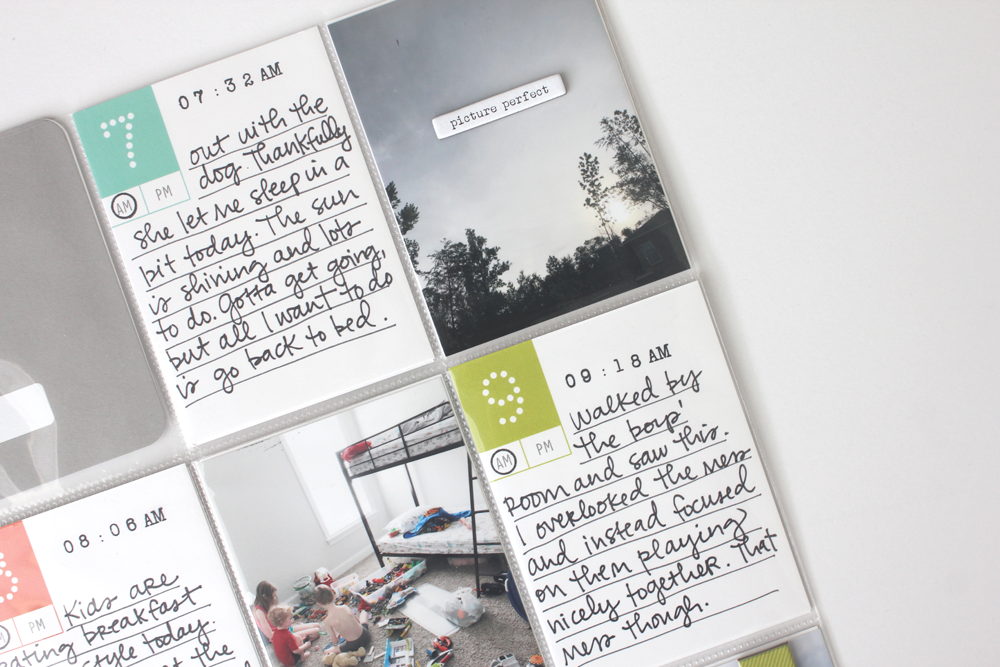 I stamped the time on each card from when the photo was taken (I used Ali's time roller stamp) and then used a stamp that I had with a circle outline to circle the "AM" or "PM" on each card. For day 11 I actually just circled it with a pen because I messed up on the first card, had to do another one and well – couldn't find that stamp when I needed it! ;)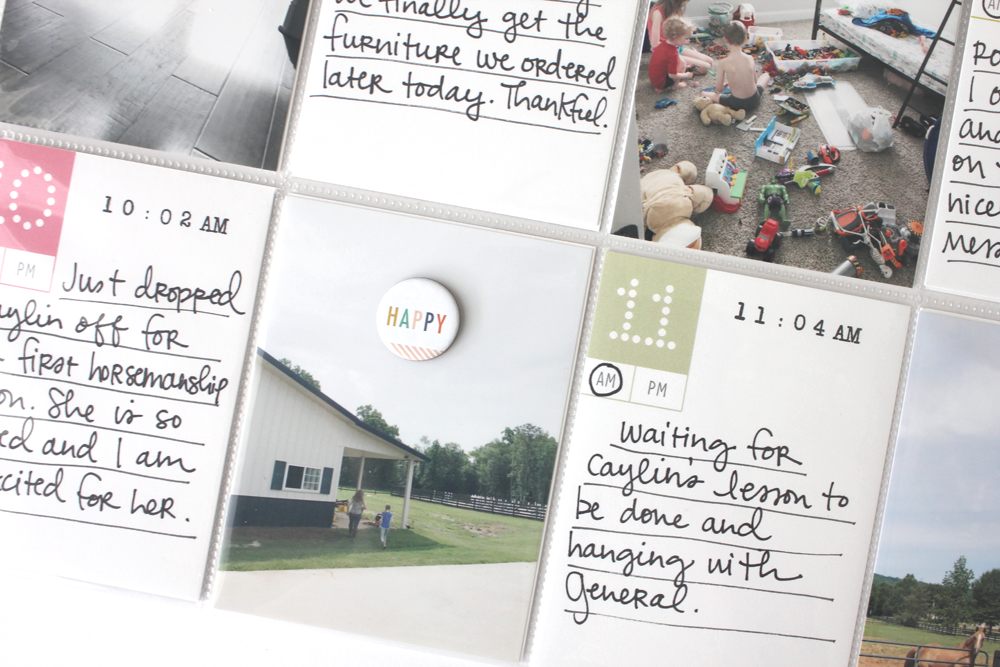 I added just a few embellishments here and there on the page spreads. They are mostly from Gossamer Blue and Freckled Fawn.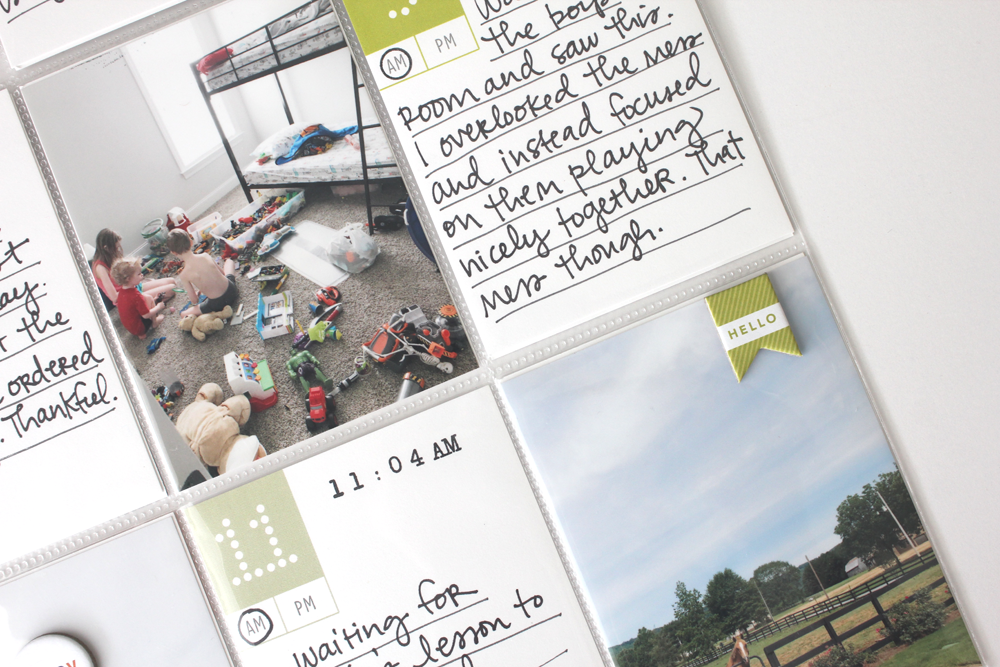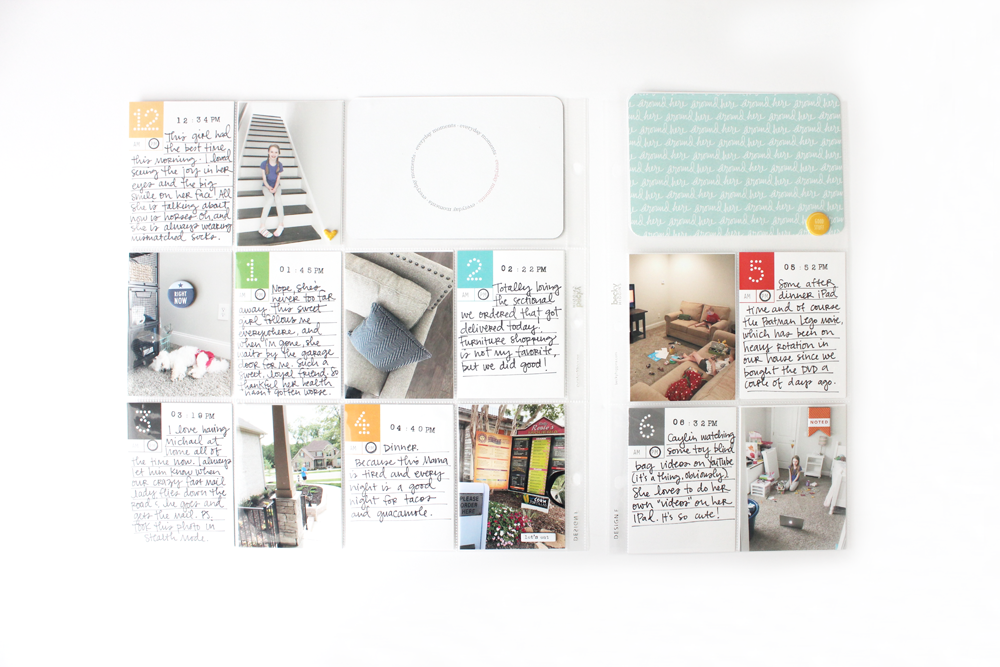 Here's how the back of the first page spread looks and the front of the cut off page protector for the second page worth of photos/stories from the day.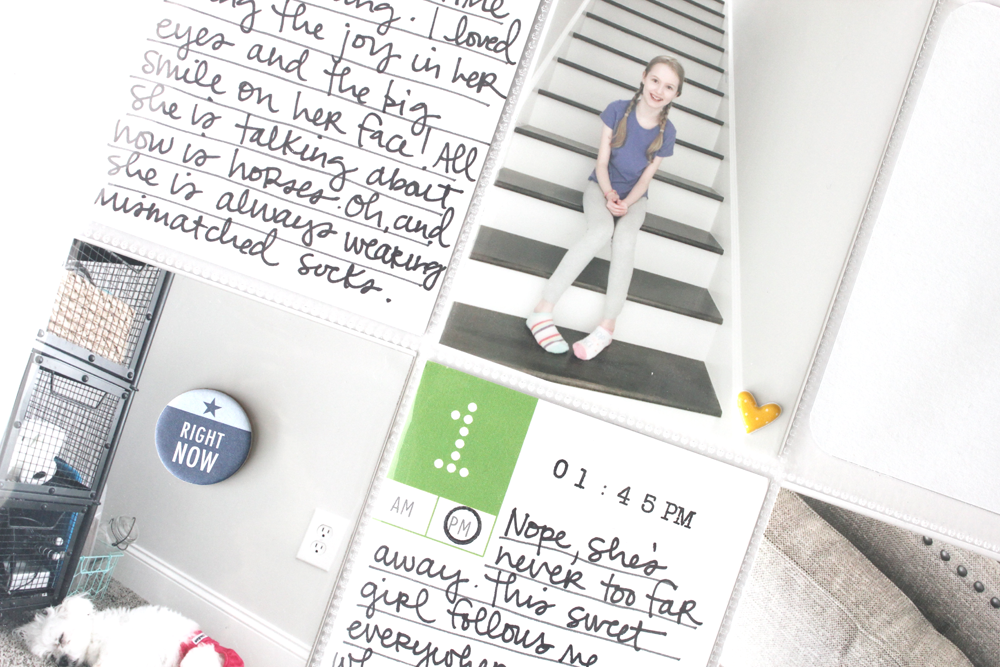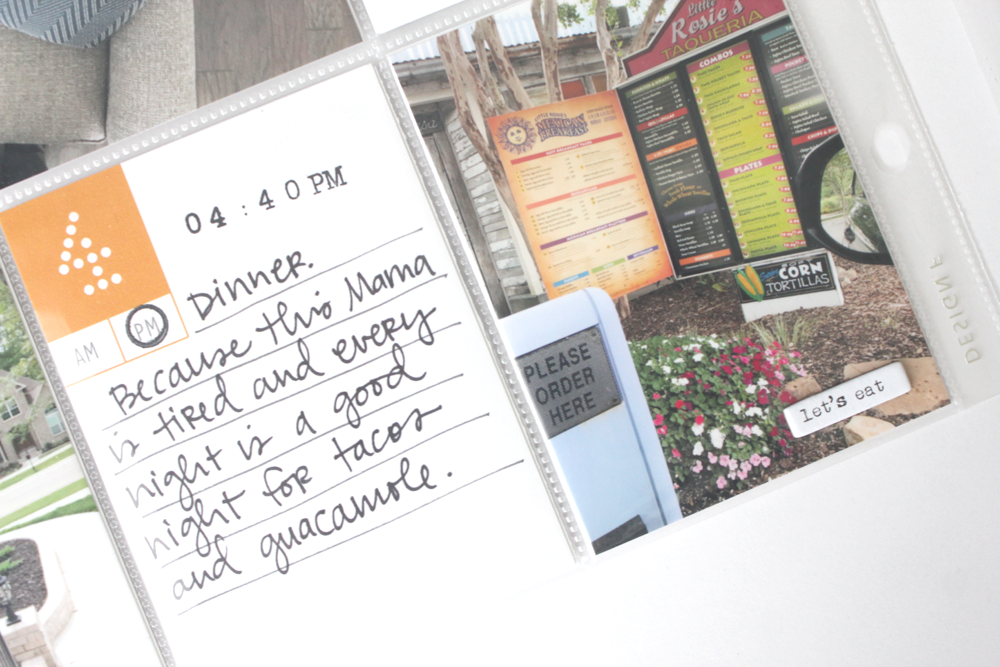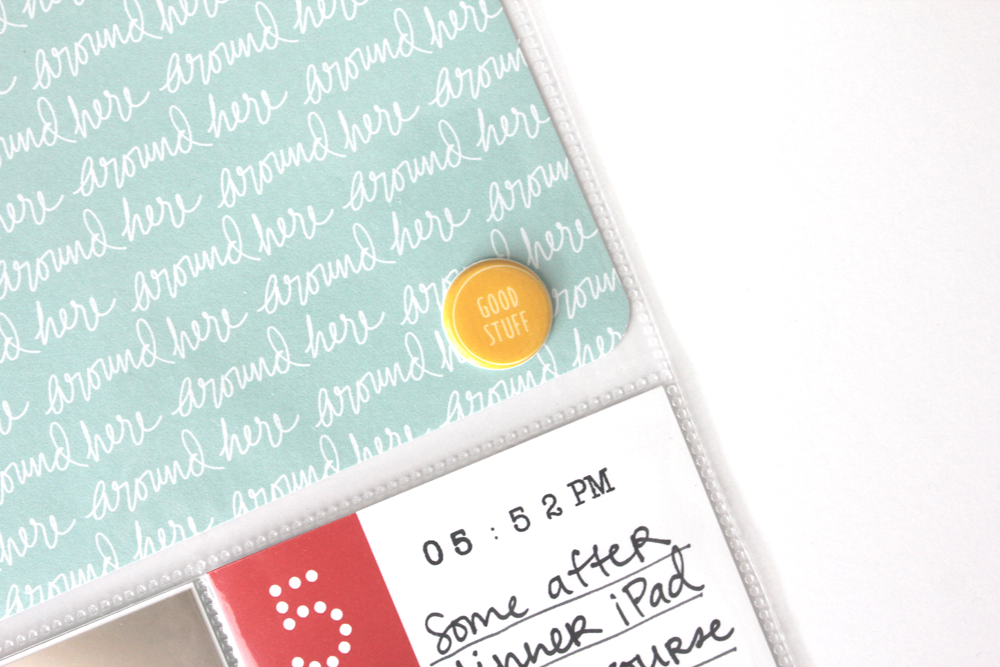 I really love how simple it was to document the day (I just set an alarm on my phone for every hour and then if I was able to snap a photo, I turned the alarm off – if I wasn't (like if I was driving or in the middle of something else, I snoozed the alarm). It worked out perfectly and this was the second year in a row that I documented DITL that way. It's going to be how I always do it – I love it THAT much.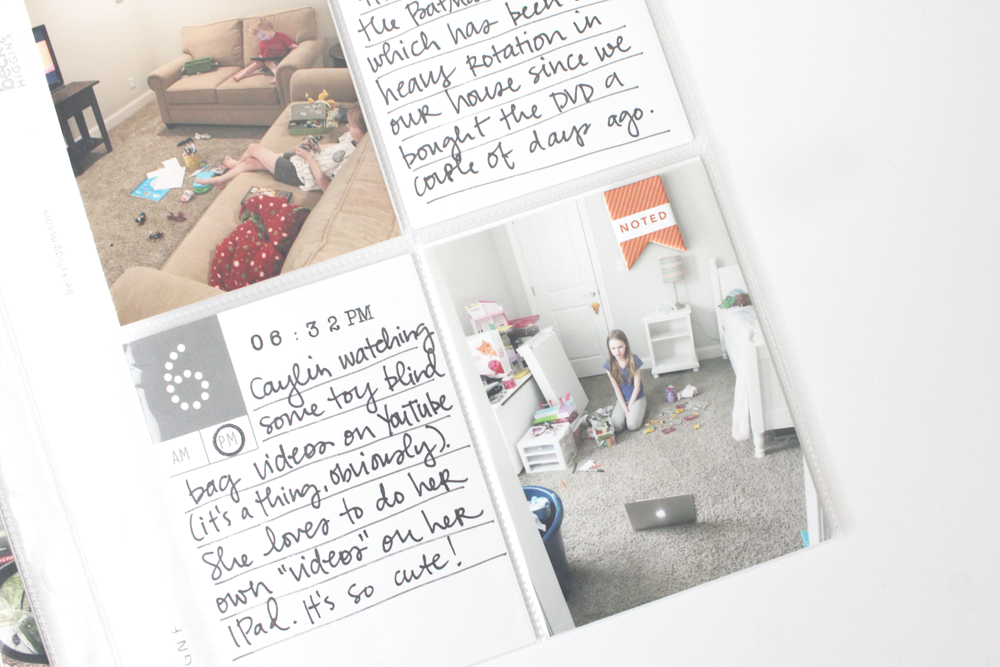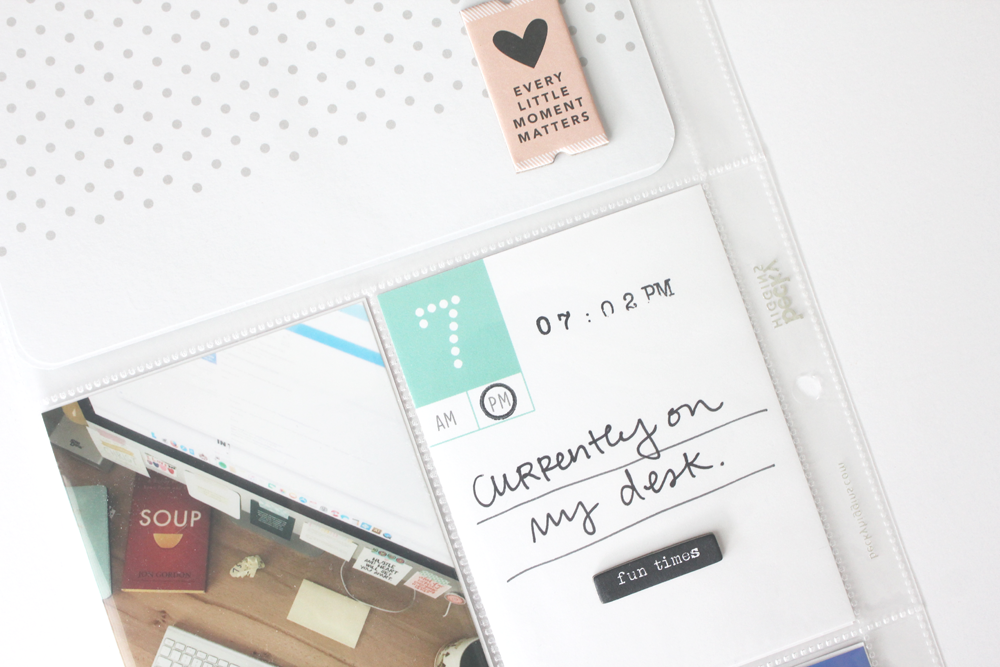 This project always comes together so easily and naturally. It's really a no-fuss project that isn't stressful at all. I hand wrote all of the journaling (even though I wished it looked a bit neater), but it's done, I'm going to stick this directly into my Project Life album and I'm on to the next project!
I love it! If you've never documented a Day in your Life – you totally should. It's a great place to start when it comes to documenting your life and what's going on all around you and it's not overwhelming at all.
Just keep it simple, set your alarm and use the mini kit so everything is right there ready for you to DO IT.
If you did DITL this year, I would love for you to leave me a comment with a link so I can check it out! I love to see what other people do!
Have a great weekend, friends!
You can find out more information about Day in the Life HERE.