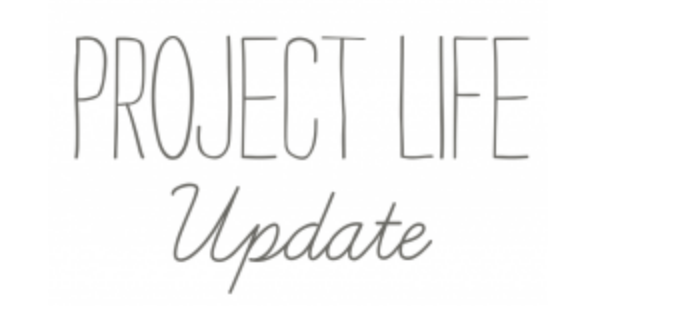 Morning, friends.
Whoa. It's been like a bajillion years since I posted a Project Life update here on the good ol' blog and honestly – it's been a bit since I actually worked on my Project Life. Gasp, I know. But you know what – even though I stopped putting the photos, words + other pieces together in the album, I have still been taking photos, documenting stories and well, I'll get them in the album. I'm working on it and you know what? I have like 3 months worth of pages from the end of LAST YEAR that I've yet to share and so while I get caught up on THIS year, I'm going to share some Project Life spreads from last year. My 2017 is still empty. I'm such a rebel, I know. Ha! Between getting our home ready to sell, being in the middle of all of the house stuff with showings, etc., and then selling our house, having to pack it all up and then moving – I'm just now feeling like I've got my feet back under me and back at it I will go.
Life doesn't wait for us to be caught up on our albums, friends. Ha! Those moments keep on happening and we have to remember not to be focused on how "behind" we might get on our albums, but instead are we living life and really, truly living in the moment and continuing to capture bits and pieces of our lives as we go along.
Am I worried about being a bit behind? Nope. Honestly, it takes really no time at all to get "caught up" when using Project Life and I'm just super thankful for such a great and easy system to document life and I love that I've done Day in the Life and Week in the Life as well – between all of that – it's good. I'm cool with it.
Just wanted to let anyone else out there know who might feel overwhelmed by the amount of "catching up" that they need to do – that you're not alone and not to worry. Take it a bit at a time. Do it in batches. Use Project Life if you don't already and it'll be good. Just be present in your life as you live it and you'll get back to your memory keeping when this season of your life isn't so crazy. ;)
So, let's get to it. Here are some spreads that I've already finished that I have yet to share here!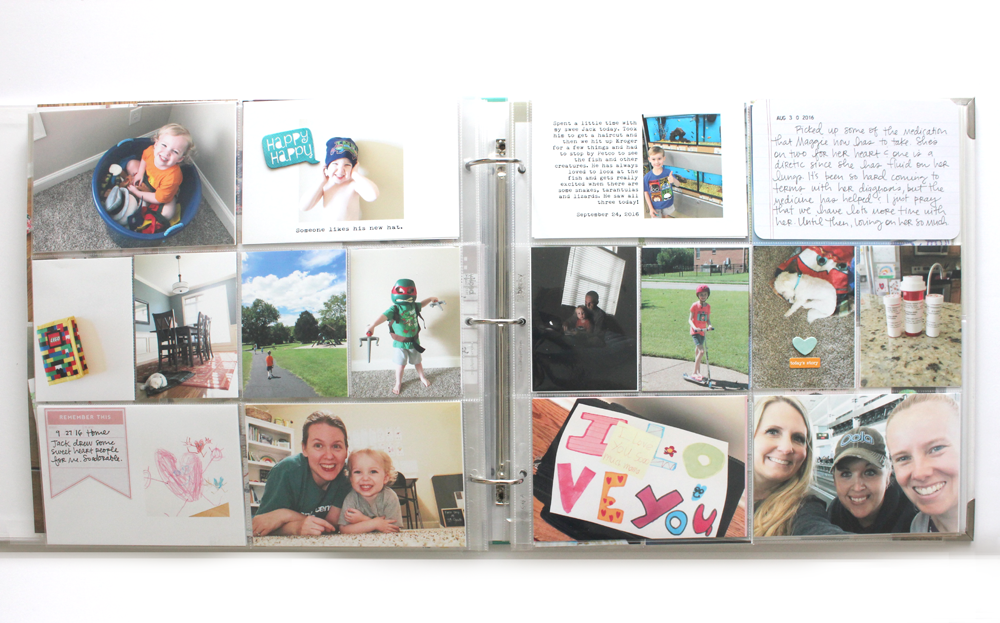 Like usual, I'm still using and loving the DESIGN A page protectors. Those are my go-to page protectors and that's what the majority of my album contains. This spread has a few odds and ends of embellishments, but overall, I keep things pretty simple when I document things.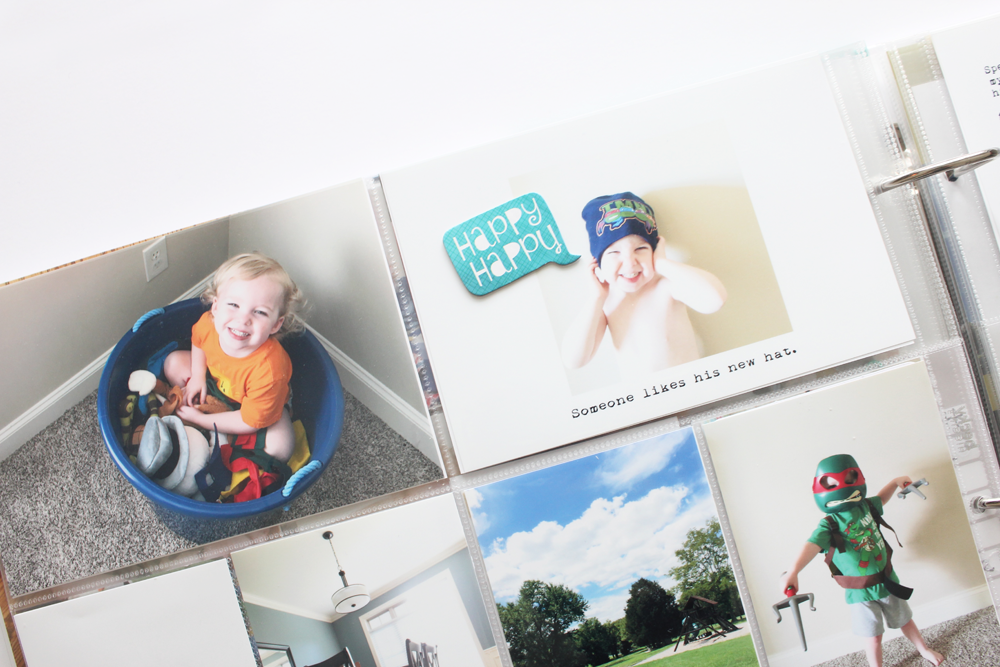 I love adding chipboard pieces to photos like I did above. I also used one of my favorite photo templates from my friend, Tracy. She has a great shop HERE that I love. It's a great way to mix up the photos in your album and you can use them over and over again.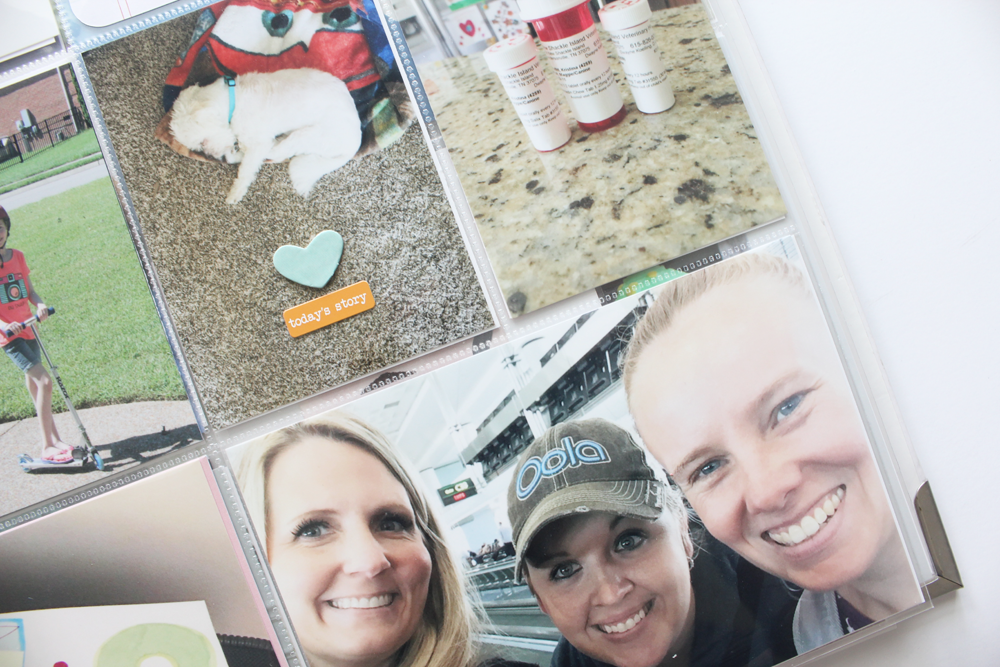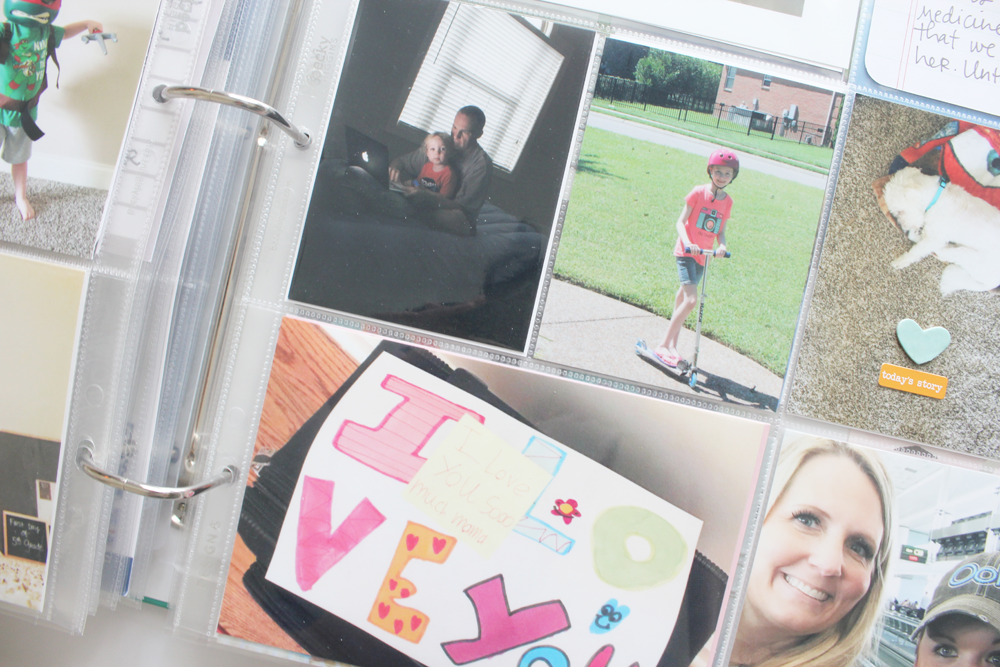 My daughter left me that sweet note on my suitcase (bottom left) right before a trip that I was taking. LOVED it, but it also broke my heart at the same time because I hate being away from them for too long. I took a picture of it and actually still do have the actual note, but even if I throw away the actual art. I'll still have this photo of it in my album and I love that about scrapbooking. You don't have to keep EVERYTHING and let it pile up and consume you. Just snap a photo of it, tell the story and get it in your album.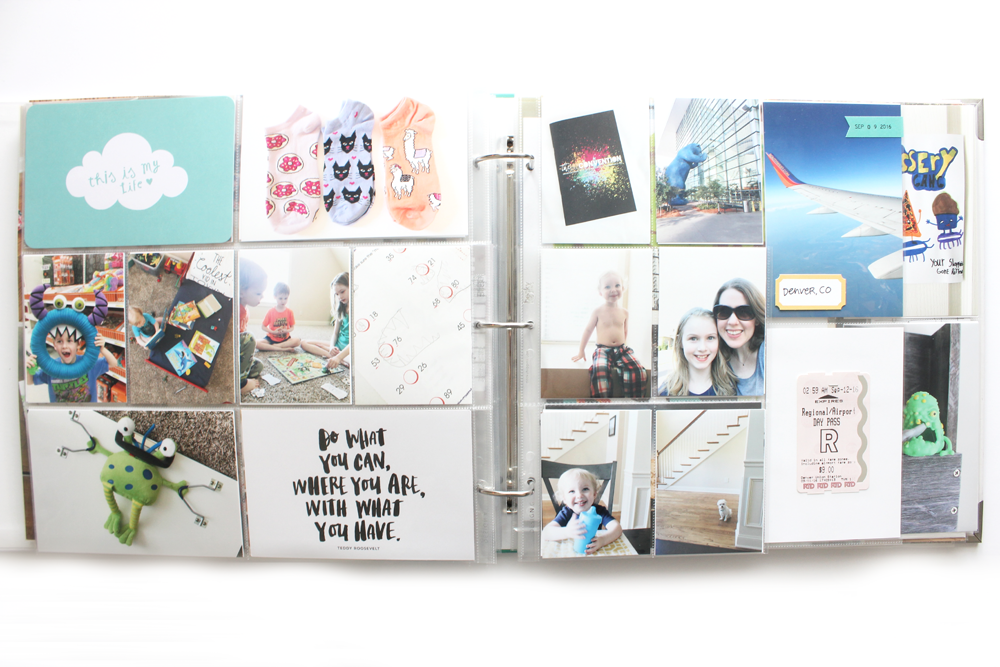 The next spread has a few different page protectors in the middle of it all. I decided to use a 6×8 page protector with 4 3×4 slots on the front and the back just to add some additional photos I had for that time frame. Nothing fancy about it, didn't even journal or embellish it, but got them in there and I like it. You'll see some more about it a bit further down.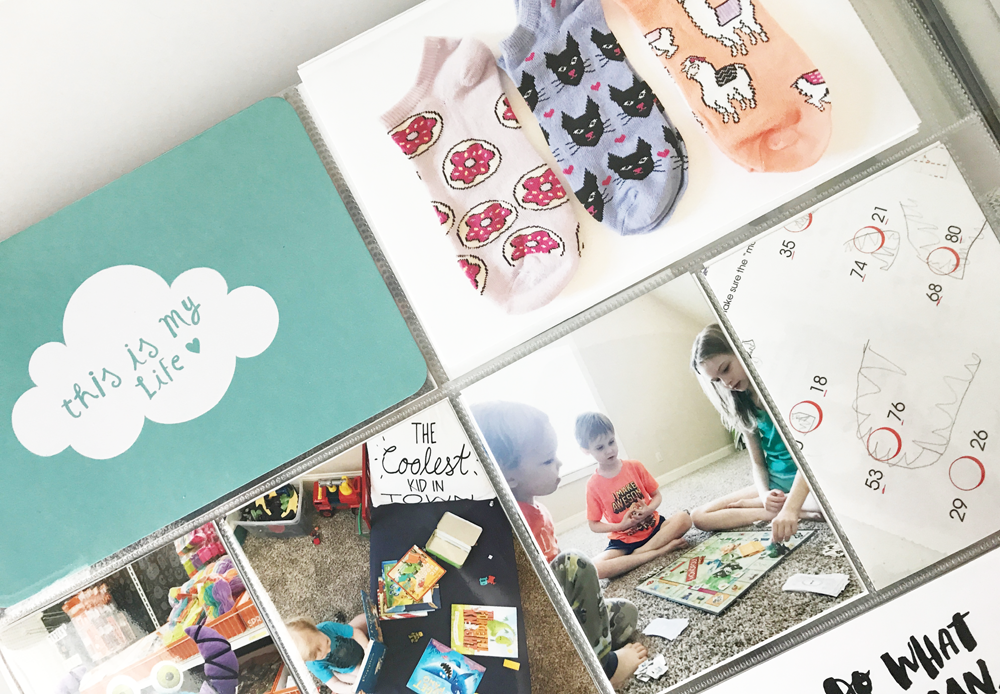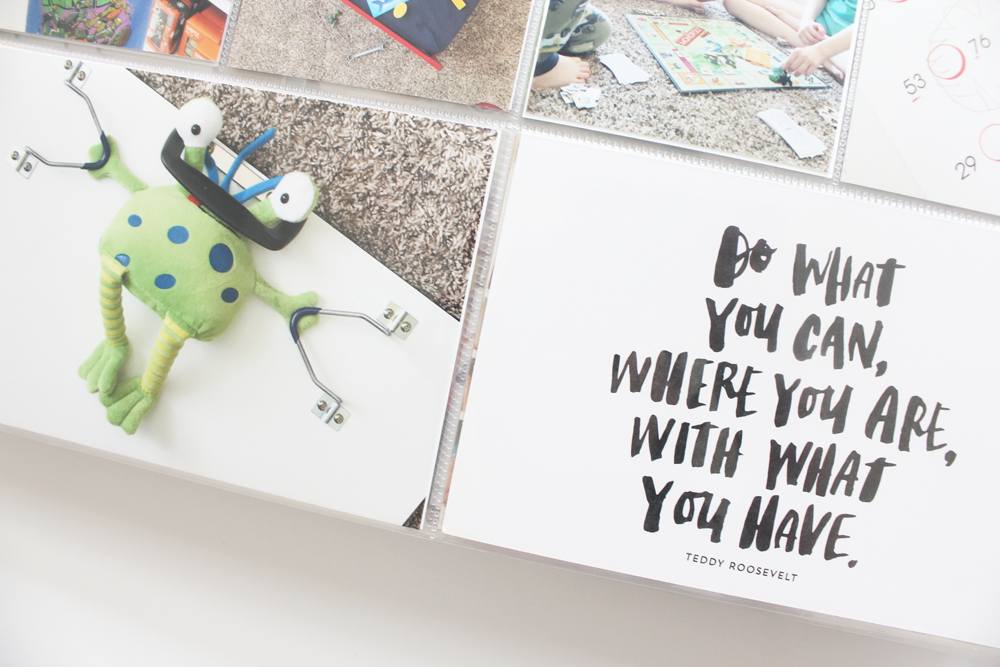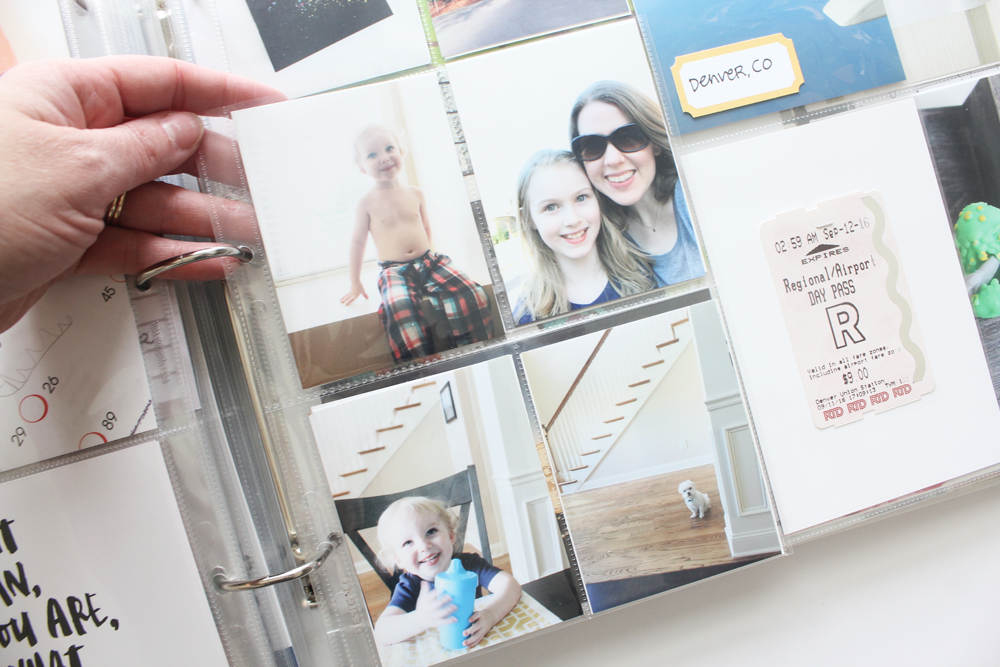 Here's the front of that 6×8 page protector with the 4 3×4 photos on the front.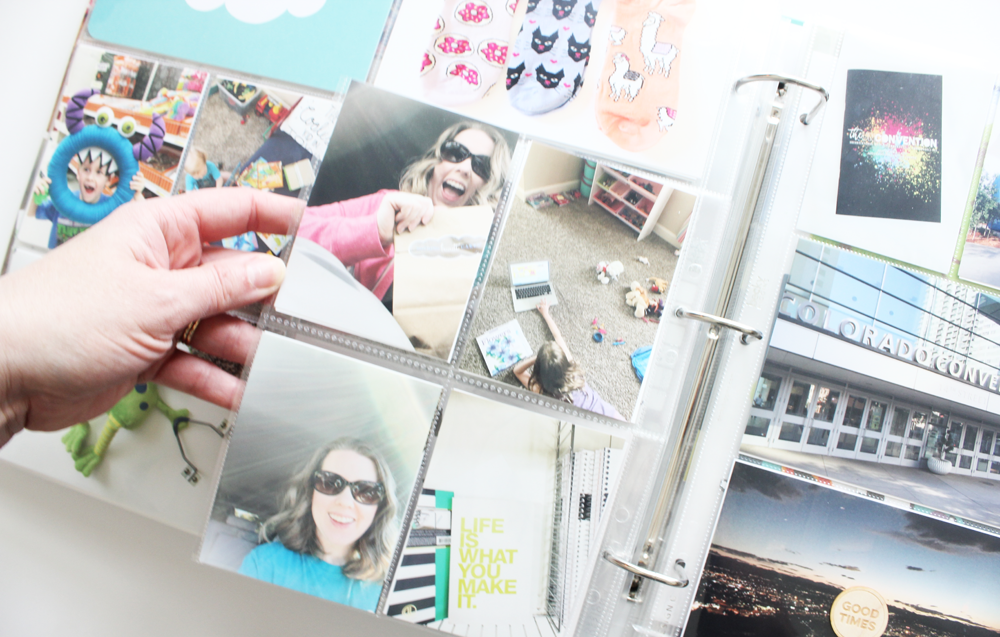 This is the back of it. See. Super simple.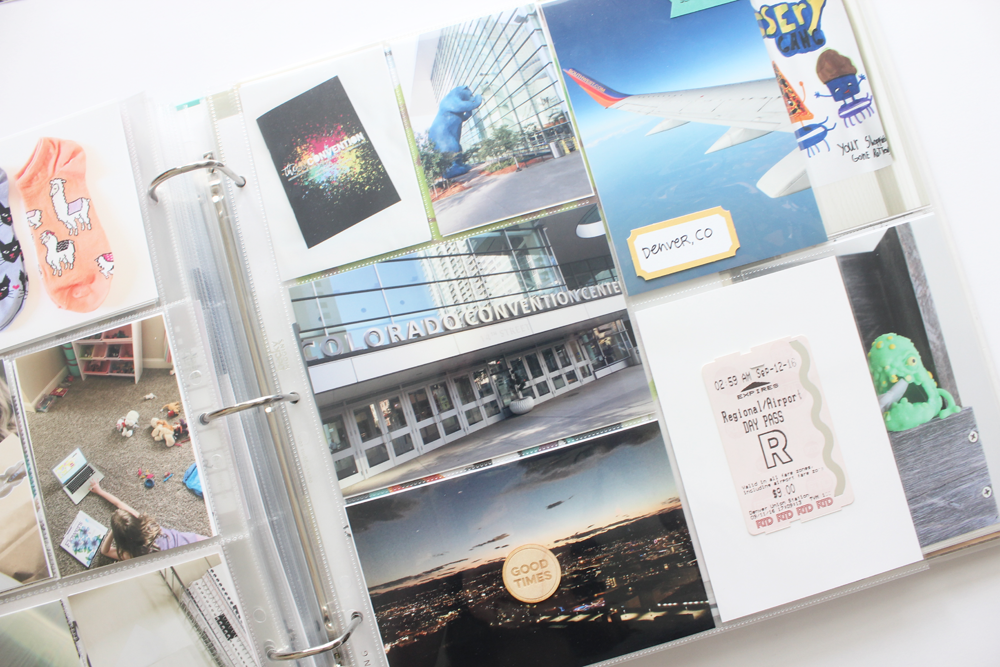 I also included a DESIGN G page protector to document a little trip I took to Denver. I love using different page protectors in my album to make a trip stand out more.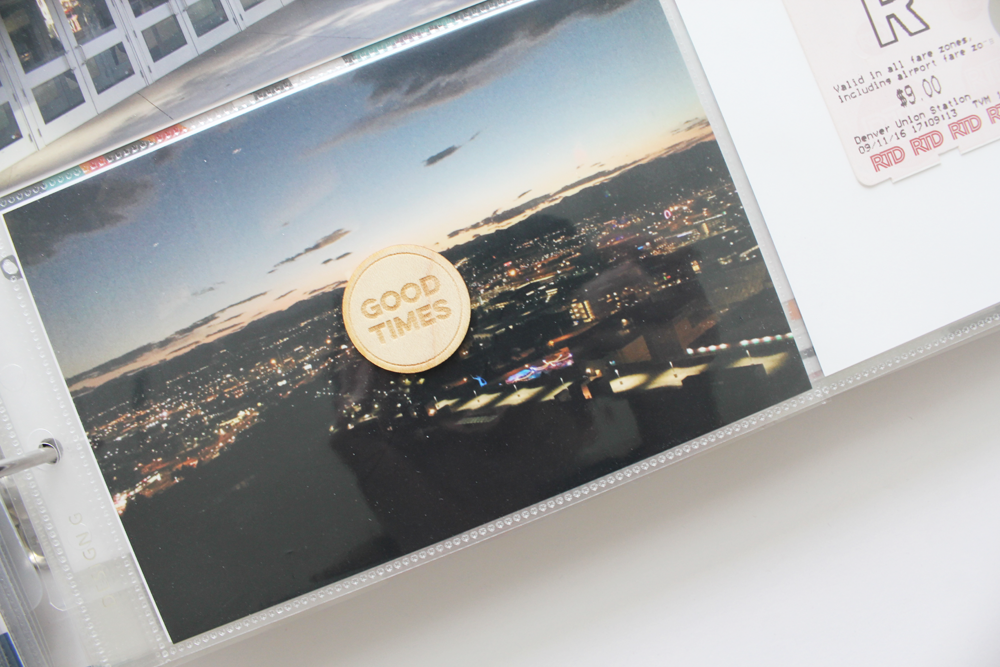 I used a few wooden embellishments (this one is from Elle's Studio).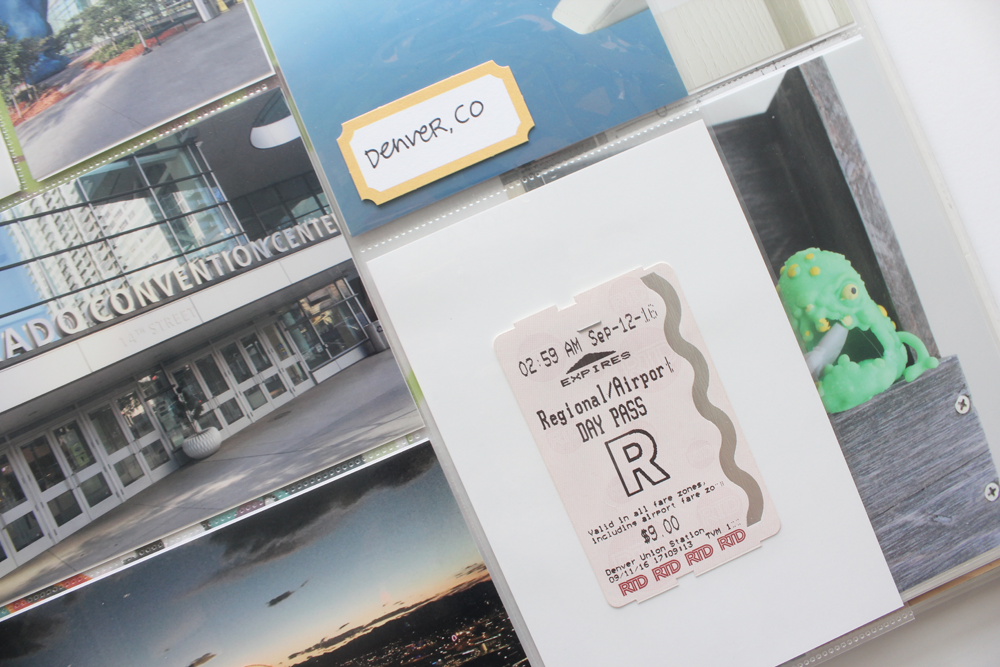 I decided to just staple my light rail pass directly onto my card to get it in there and put a little label on the photo above it – that's from Elle's Studio, too. Those label diecuts come in super handy. Love them!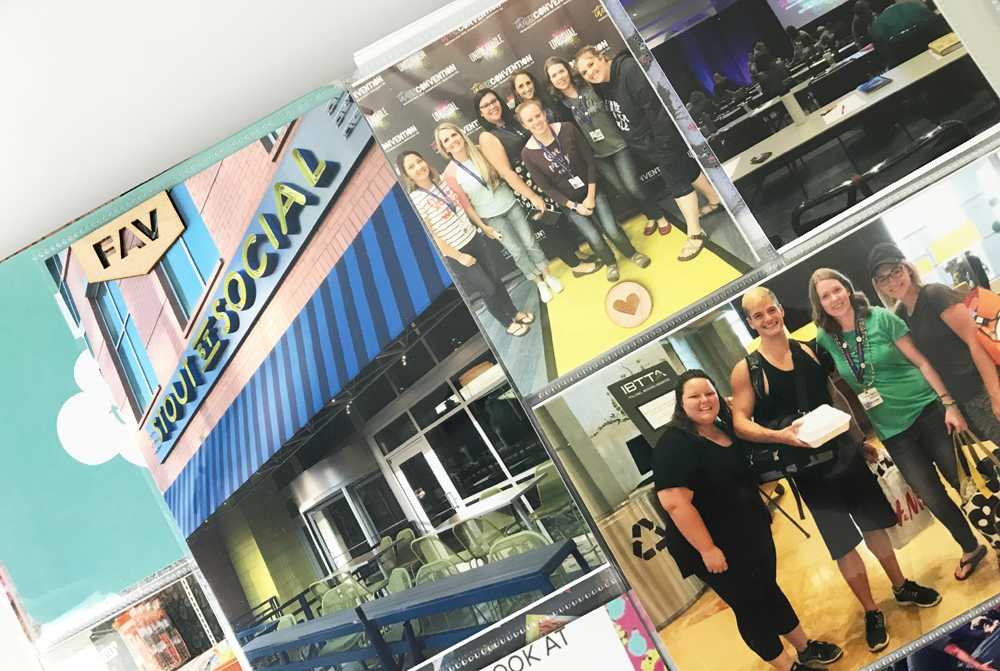 This is part of the back of that DESIGN G page. More wooden embellishments and of course I had to document hanging with my oil tribe that I love and the time I met the Fitness Marshall in the hotel lobby. Anyone else know who he is? I love his workout dances! He's a hoot and although I think him and his "backup booty dancers" were in a rush, they graciously stopped to take a photo with me. Ha!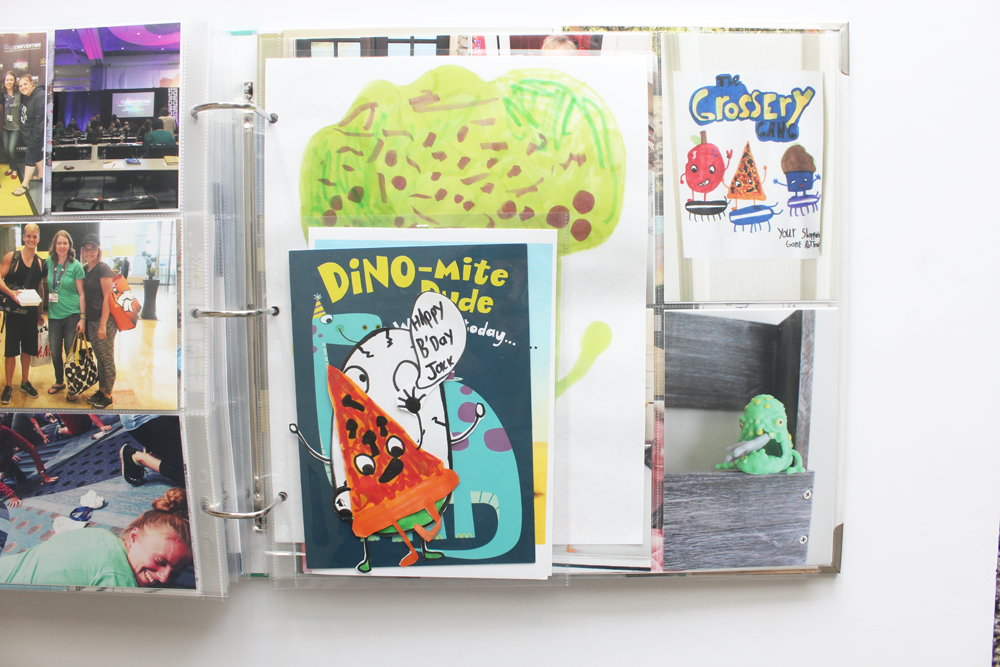 The next part of this spread is how I documented my son, Jack's, 6th birthday last year. Once again I used a few different combinations of page protectors.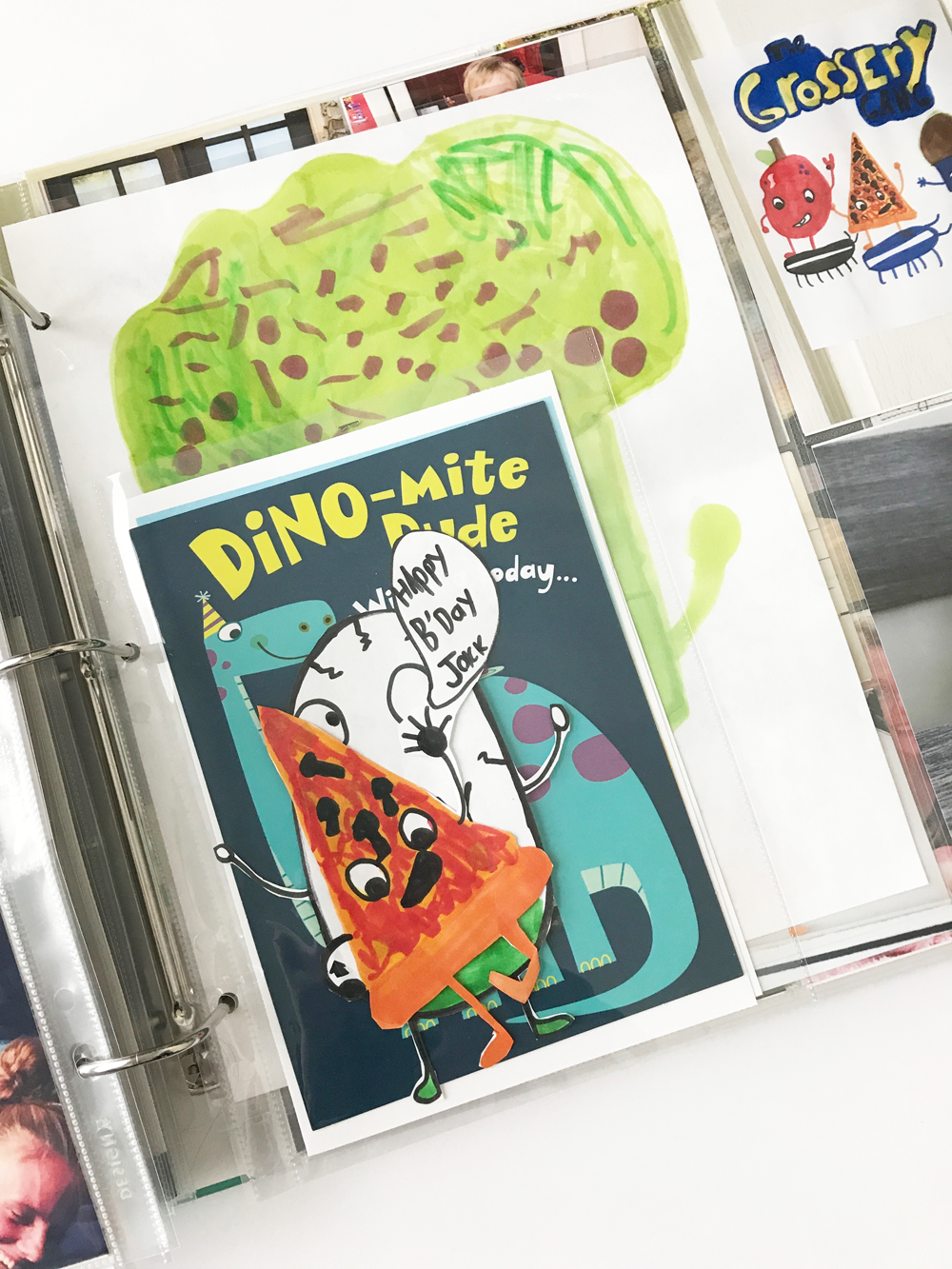 The first is a 6×8 page protector that I put in some birthday cards that he received from family and also some of the cute drawings that Caylin made for his decorations. He wanted a Grossery Gang party, but those decorations didn't exist and so Caylin sweetly created all of his decorations. TOO cute, huh? Love how sweet she is.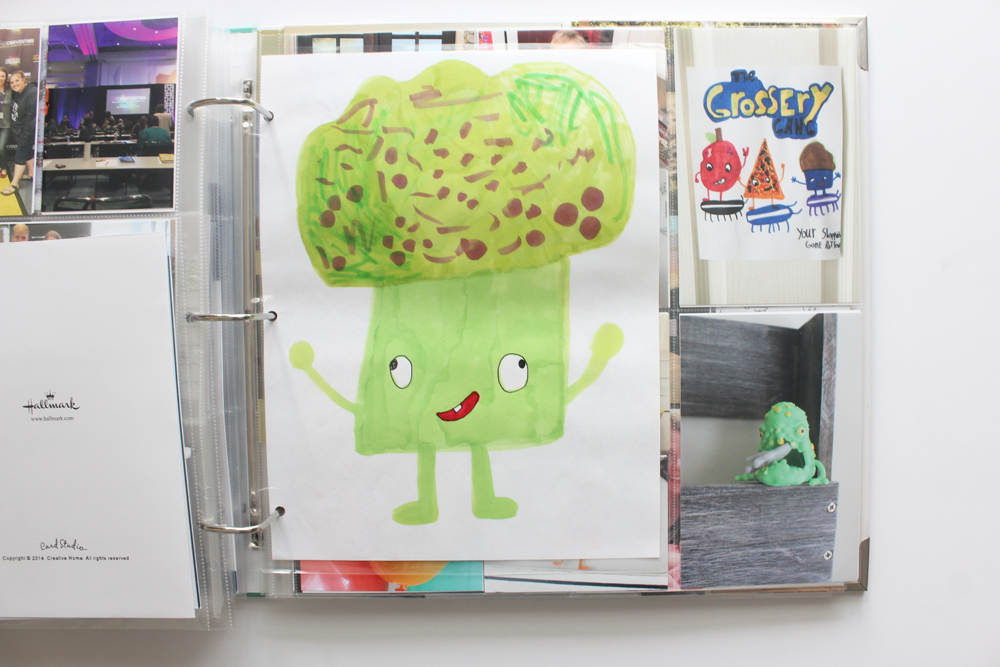 This drawing was laminated and then I just punched holes in the side to put it in the album.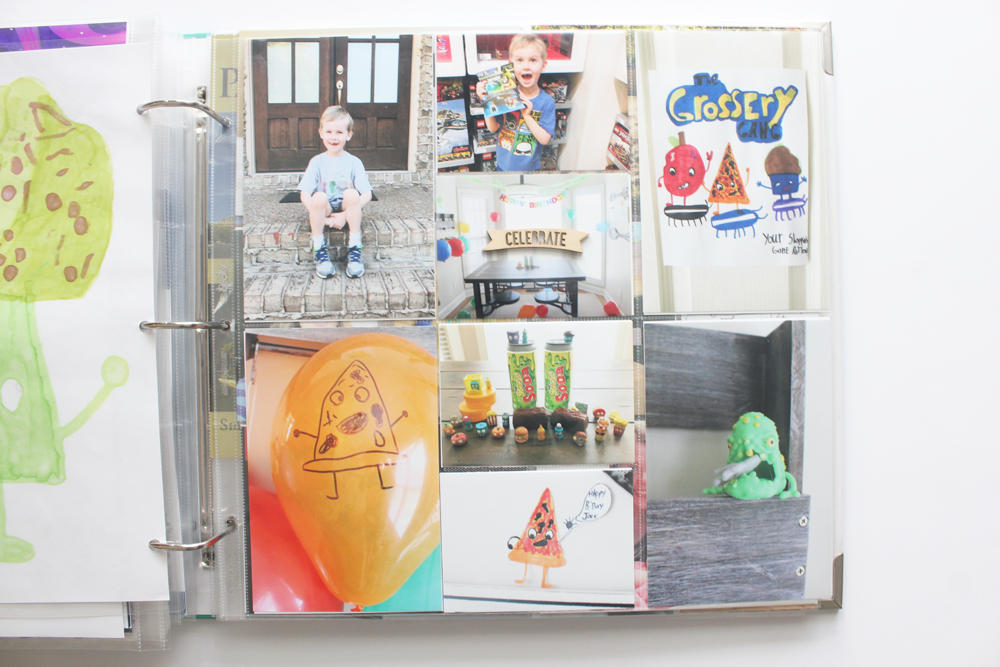 For the birthday party photos, I decided to use a DESIGN D page protector. I love how it has a variety of smaller and larger photos AND vertical and horizontal photos.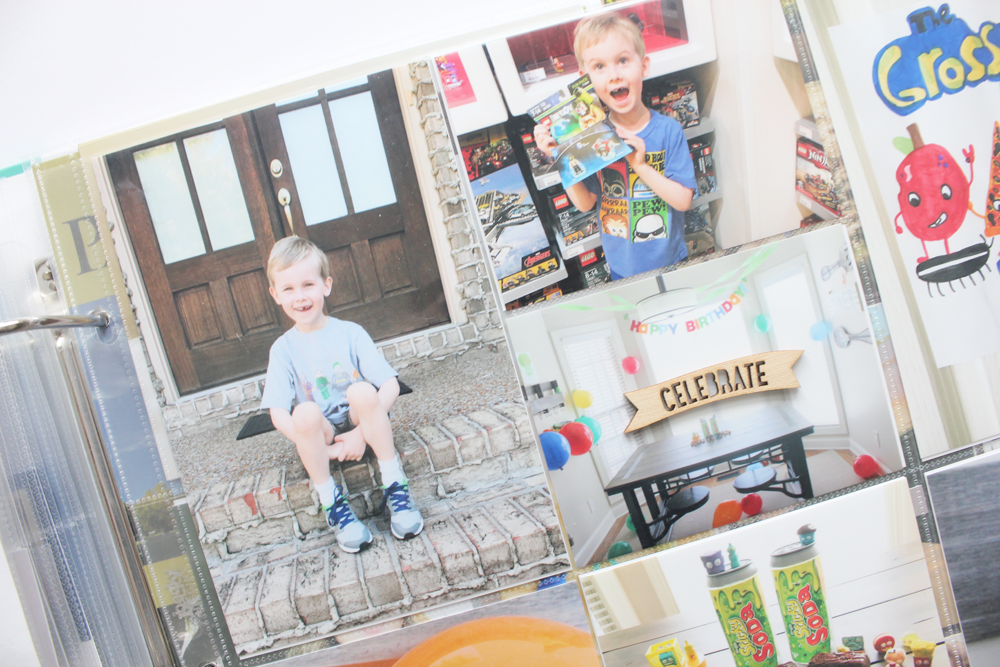 I always make sure to snap photos of the birthday kid, their decorations, their presents and just some of those other sweet must-have photos on their birthday.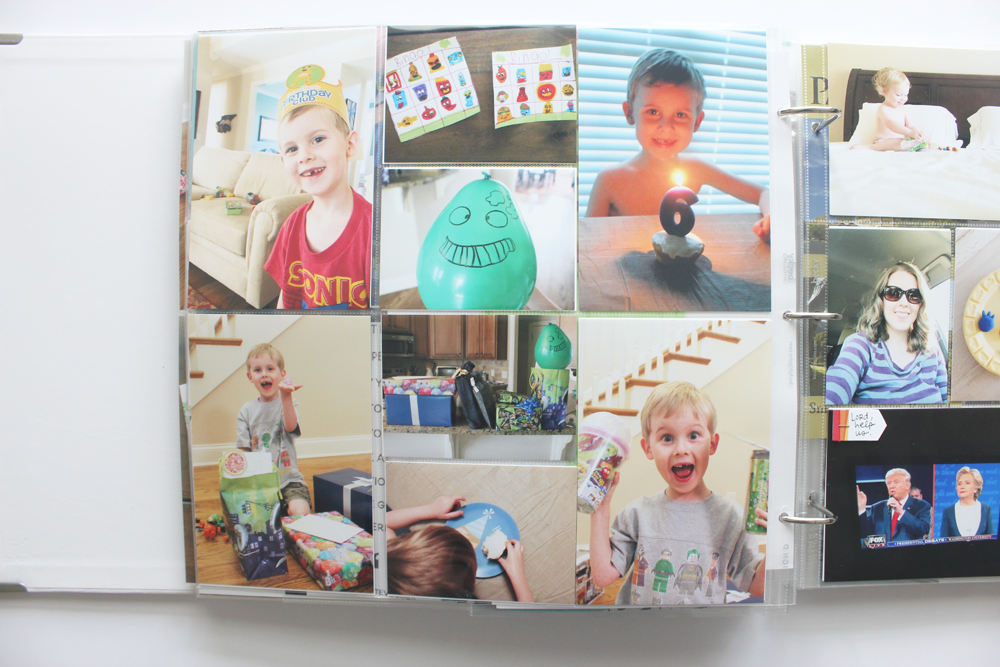 Documenting a birthday like this is super easy and simple. You might have seen my process before, but I just basically place little post-it notes on the slots and plan out which pictures go where, size them, print them, stick them in the slots and add some embellishments.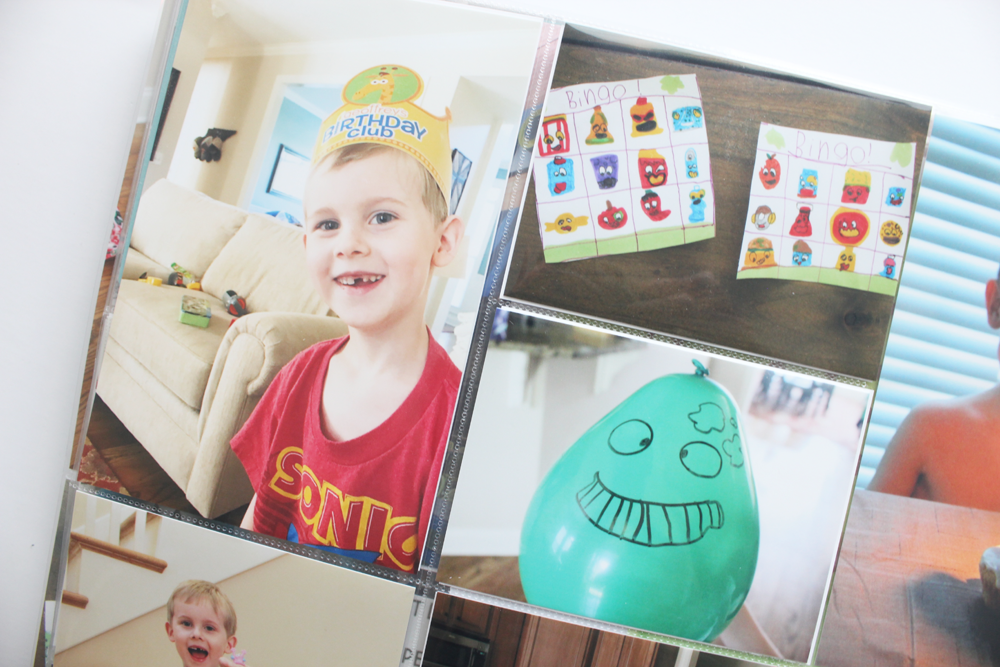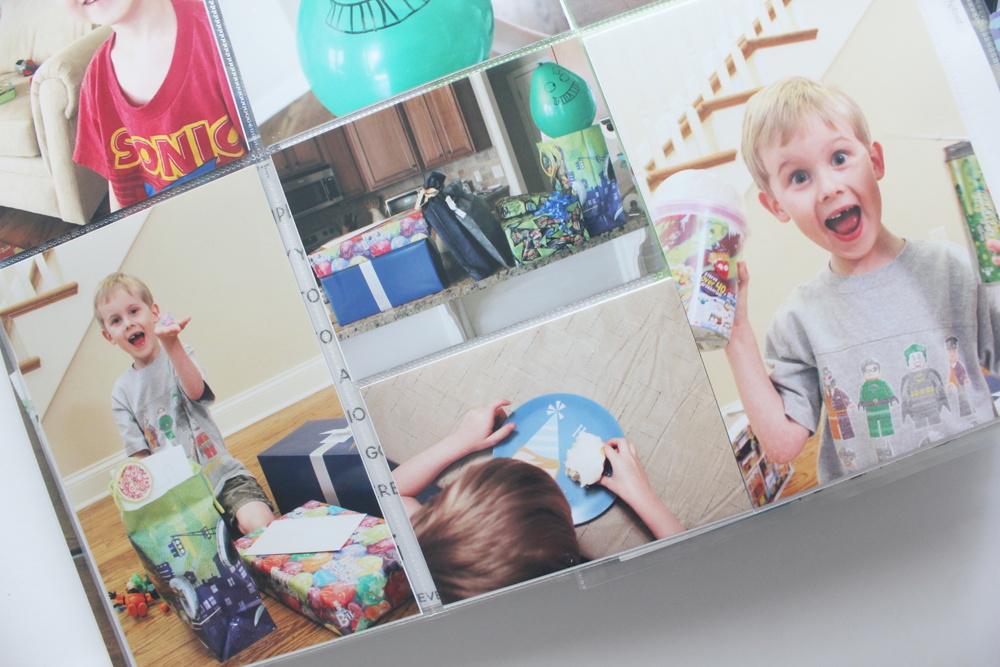 I've got lots more to share with y'all and I promise to get back at it! Thanks for sticking with me as I try to find some resemblance of balance. Ha! We all know real "balance" doesn't exist, but it is important to make time to do the things that we love and so that's what I'm getting back to. Just takes me a minute to actually get all of that here on the good ol' blog. It's time consuming! Ha!
Hope y'all are having a great Friday and that your weekend ahead is wonderful and you get some time to scrapbook or do something that you love!
XO!