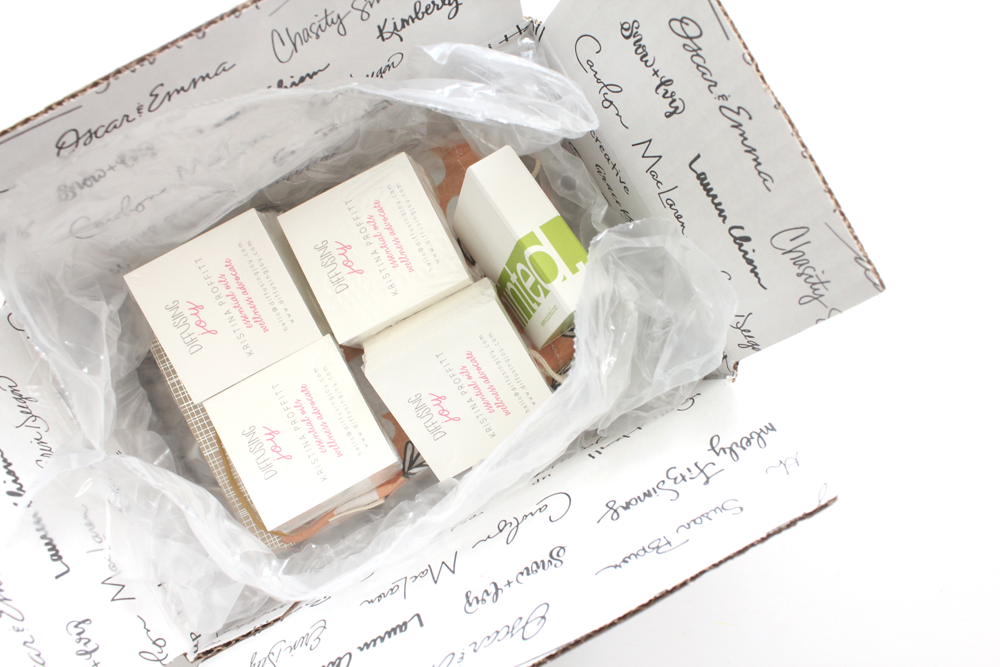 Thanks to the sweet folks at Minted, I was able to give their business cards a try recently. Business cards were yet another thing that I had no idea Minted even offered, but y'all – they do and (spoiler alert!) they are so nice! There are so many different styles to choose from (actually over 300 designs) and the whole process was super smooth and easy, which is a major plus for this busy, "I don't need a bunch of complicated stuff in my life," Mama. ;)
When I got the box the other day, I squealed with delight! I wasn't sure how they'd turn out, but they didn't disappoint! They came all nicely packaged in blocks of cards all wrapped up in plastic and nestled in the middle of some heavy duty bubble wrap. That's what I'm talking about, Minted!
You guys, I have bought business cards from three other companies in the past and although those were a bit less expensive, the quality of these business cards is like a bajillion times better and I do believe that if you are going to pay more for something for your business, investing some money into your business cards is a great idea because your business card is the first impression of your brand. So quality DOES matter. Minted does it up right when it comes to business cards and I've found the same thing holds true with everything else I've gotten from them, so they are consistent and that makes me happy!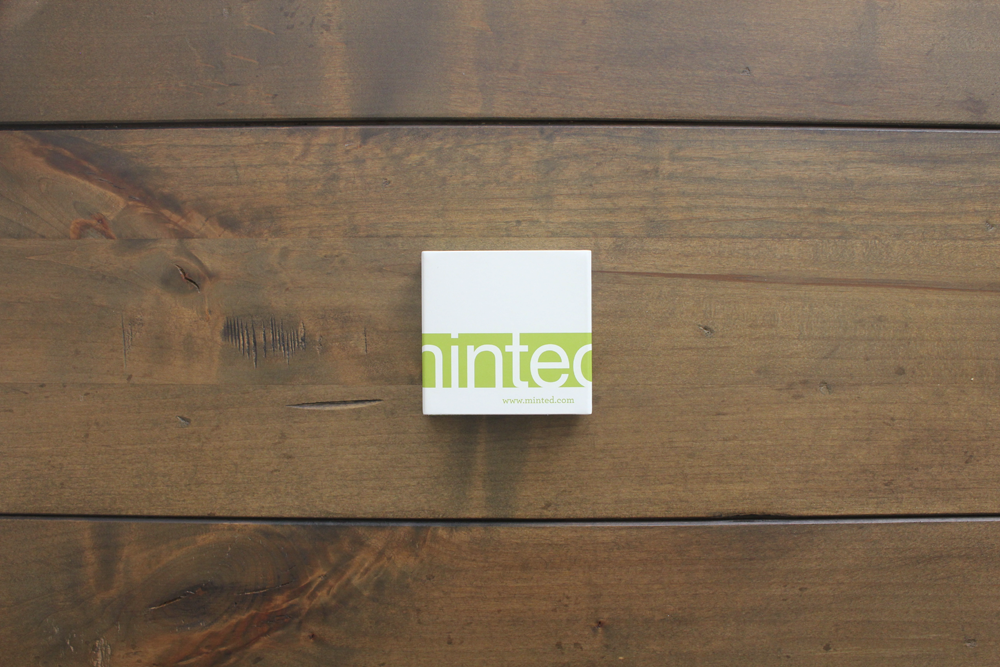 A little something cute that you get with every business card order is this complimentary card holder.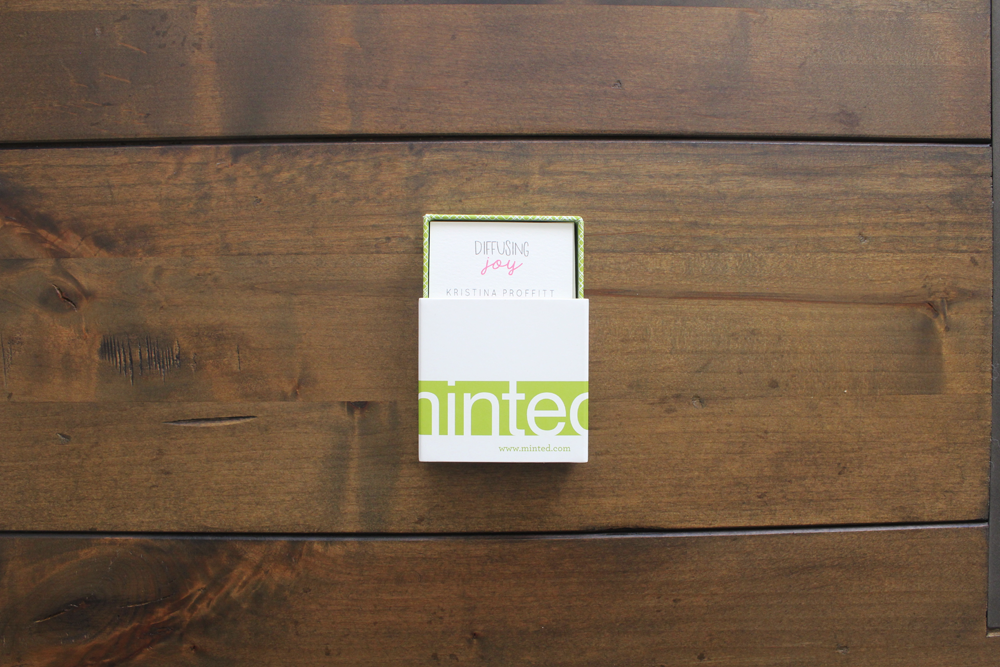 Um, Minted. You know a way to this gal's heart! This went right into my purse so that I have some business cards easily available to hand out at a moment's notice and they will be nicely protected. Thank goodness! I'm sure all of you other Mamapreneurs out there can relate to the crazy stuff that's in my purse and well – usually my business cards end up with bent corners, crayon marks, some sort of sticky something or another on them and are wedged between a Lego. So yeah, this little complimentary box is a nice surprise for sure!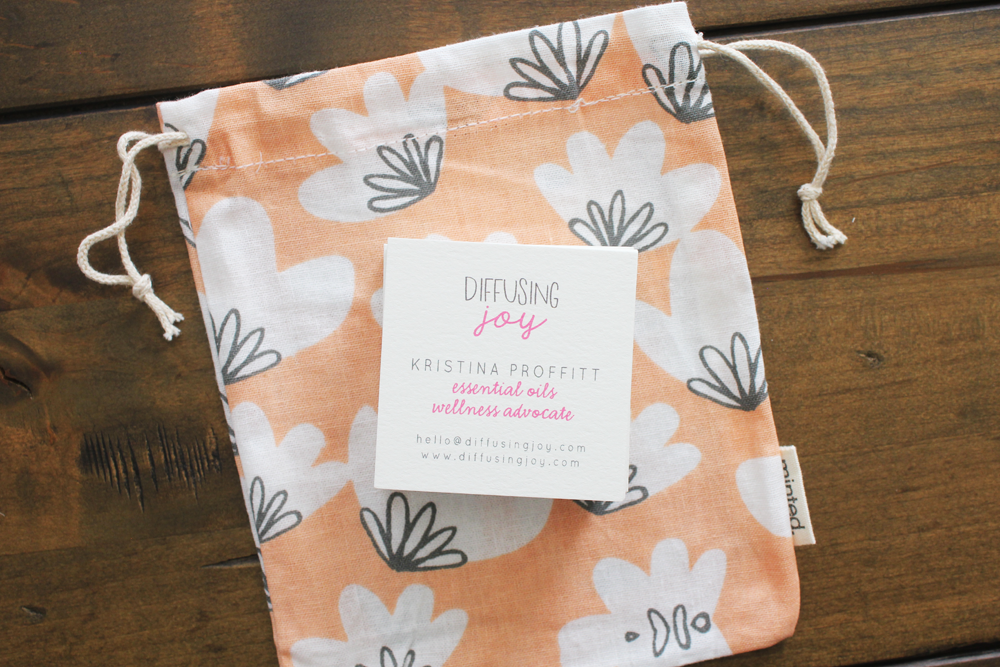 The order also came with this really pretty cloth pouch as well that contained the receipt for the purchase and a note from the designer, too. I just love the added touch and beautiful packaging that Minted provides. It's the little things like this that really make you want to continue to give them your business.
When choosing a design for my business card, I decided to go in a different direction this go-around. I wanted a square shaped card, so I went looking through all of the designs for a square format business card and was pleasantly surprised at just how many square designs Minted offered. I do wish that I was able to search just square cards in their format section, but for some reason I wasn't able to – the only format I saw was for the rectangular shape. Being able to narrow that down a smidge would have helped make things a bit quicker, but the searching that I did do though (gender, price and style) was easy to do and helped narrow them down a lot more. I loved how they have the QUICK LOOK feature for the business cards as well. It makes it so easy to see a design larger and I love how you can even pin a design that you like to Pinterest or even "heart" it to save for later in your account favorites. Lots of awesome helpful tools!
Once I settled on the basic design that I wanted, I knew that it wasn't 100% exactly how I was envisioning my business card to look and so the other really cool thing about ordering business cards from Minted is that you get to work with a professional graphic designer that will help create a personalized proof for you and nothing gets printed until you approve it and it's just the way you want it. The design that I found was a great starting point and once I gave some specific customizations for it, figured out how many I needed and what kind of paper I wanted it printed on and placed my order, I was then shortly contacted by a Minted graphic designer who worked with me back and forth until the design was EXACTLY how I wanted it.
It was super easy to include my own logo on it as well as customize the fonts, change up the colors to match my logo exactly and I even was able to customize the back to add my own photograph. There were so many options and the folks at Minted were more than accommodating. Every time I had some changes that I wanted to make to my business card, it was so easy to communicate back and forth with the designer who was helping me. They really did go above and beyond to get it all just right. I had a few, ahem, ok about 15, tweaks that I wanted to make and they were SO nice about it. They even double-checked the quality and resolution for me to make sure it printed well. They totally went above and beyond great customer service, which I appreciated.
Here's how the front of my business card turned out: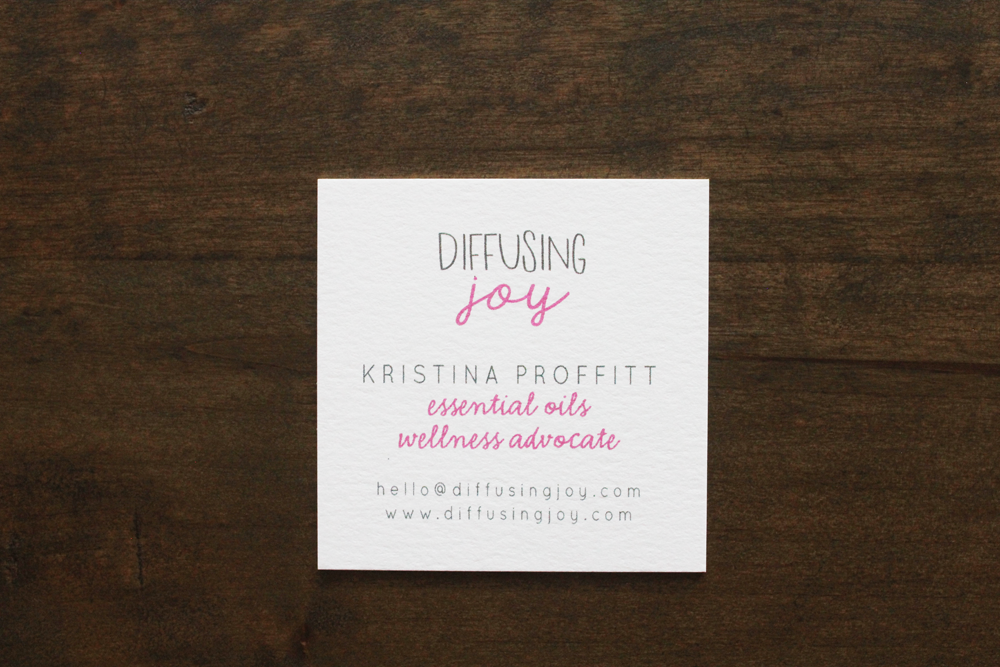 I even was able to pull a couple of different fonts that I had seen on another business card design onto my card and I loved how it turned out. It's very clean & simple and it's true to my brand, which I love.
You can see the back here: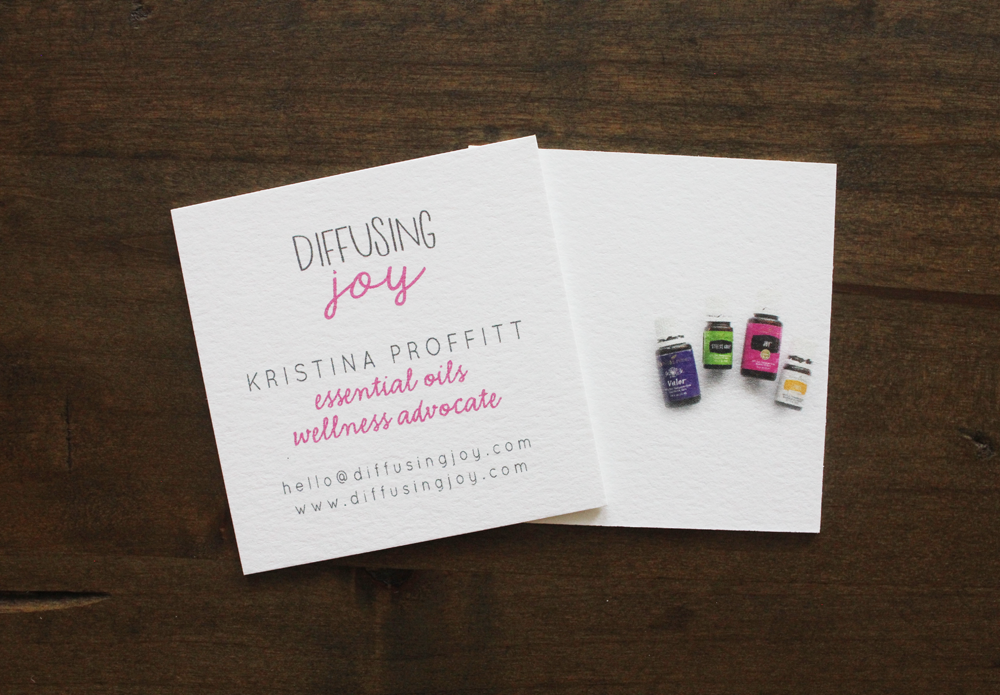 I just love the sweet essential oil bottles on the back! They make me giddy! I wanted to keep it very clean and simple on the back and loved all of the white space. Perfection! My absolute favorite business cards to date!
One of my most favorite things about this card is the amazing paper that they're printed on. I'm honestly a bit of a paper snob and wasn't sure how this paper was going to look or feel, but in the end, I decided to go with the DoubleThick Paper that Minted offers. The DoubleThick Paper is thick and luxurious and has a rich creamy cotton texture and let me tell you – it's SOOOOOOO nice! You pay a bit more for it, but it's totally worth it! It makes the card more sturdy and professional looking and people aren't going to want to just throw it in the trash. It's like a beautiful piece of stationary.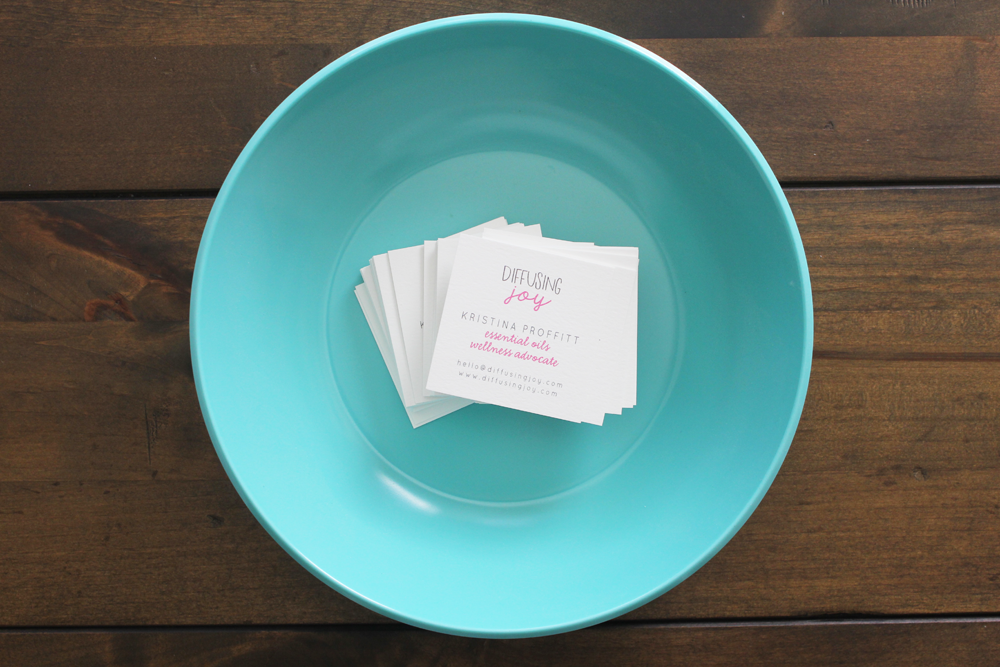 I love the size. I love the design. I love how simple the Minted website was to navigate and I love how helpful the graphic designer I worked with was. Although I was gifted with this first set to try on my own and test out, I will 100% without a doubt be purchasing my next set from Minted when I am getting close to running out. The quality is amazing and I'm just super impressed with Minted, yet again. I've already started passing them out and the response I've had from them has been wonderful. Exactly what I was hoping for. Now THAT is what a business card is supposed to do.
If you have a business, I really do believe that business cards are still a super important part of your marketing.
I'm not the best when it comes to marketing myself or my business (I'm working on that!), but with these beautiful business cards, I know they're going to make my job a little easier to get the word out there about what I'm passionate about and what I love to do and THAT makes this Mama super happy.
 Special thanks to Minted for allowing me to give these a try and letting me share my thoughts with all of you. All opinions expressed in this blog post are solely my own. Affiliate links contained in this post. No other compensation was given.