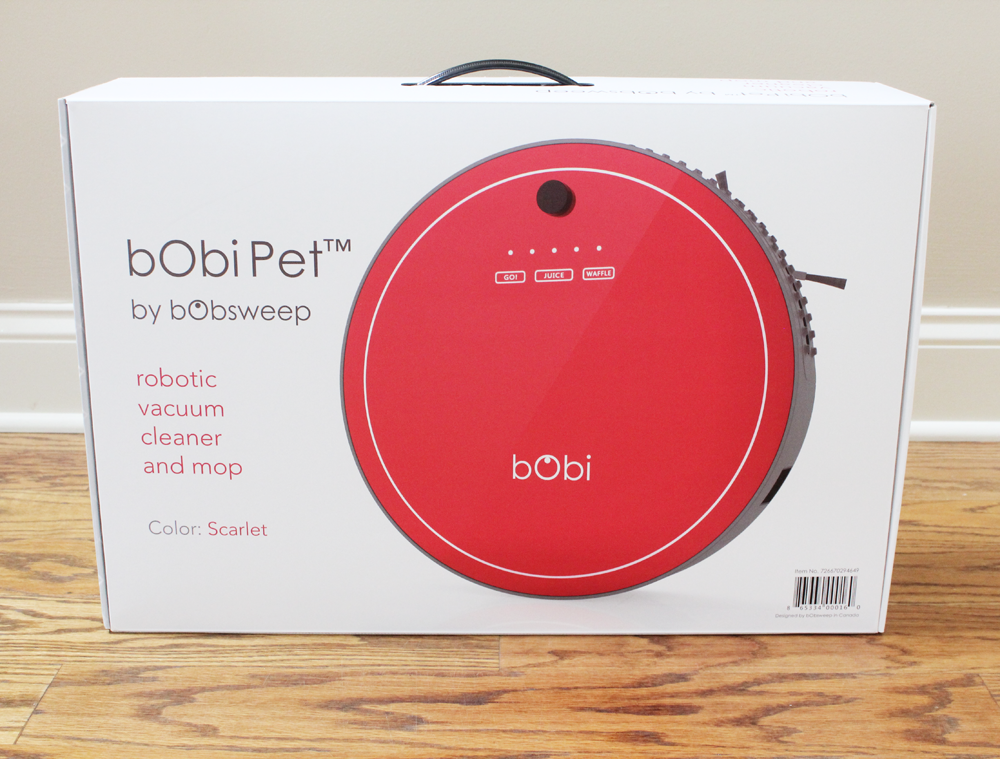 How many Mamas out there REALLY have time to vacuum their floors all of the time? Ugh. I know I'm not raising my hand, friends. In fact, with all hardwood floors downstairs and three kids, I could probably clean my floors every day and there would still be crumbs, dust, beads, Legos and who knows what else all over my floor at any given time. Throw in a dog that brings in leaves, grass and sheds a bit and well – that's a wonderful recipe for a lot of floors that need a lot of cleaning and this Mama does NOT have time for that. Ya feel me? I'm sure a lot of you Mamas out there are nodding in agreement.
That's why I was SUPER giddy (and might have done a little happy dance, just maybe) when I was given the opportunity to try out the bObiPet robotic vacuum cleaner and mop by bObsweep. Ask my husband – I've been wanting a robotic vacuum for FOREVER and so it was like Christmas morning when my bObi came in the mail and y'all – it actually arrived on my birthday! What great timing, huh?! Ha! I've had the bObi Pet robotic vacuum for about three weeks now and so I wanted to share my honest thoughts & opinions about it with all of you, in case you, like me, are in desperate need of a little robotic vacuum bestie to help you out, too.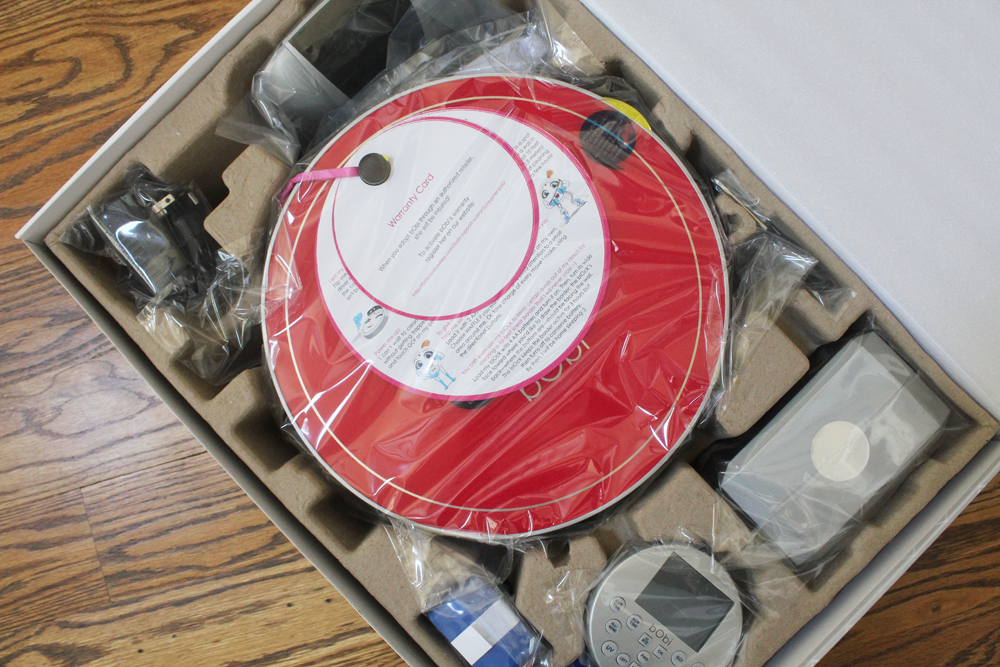 The bObi came in a nice big box full of lots of goodies. It was all packaged with care, which I liked. If you are going to purchase a big ticket item from a company, knowing that they DO package the product in a good way, does matter. So I was impressed with the care that they had with that for sure.
The bObi came with:
• a manual
• a remote control
• the battery
• the block (which I'll talk about in a bit)
• the charging station
• some extras – like an extra HEPA filter, extra brushes, cleaning tools and more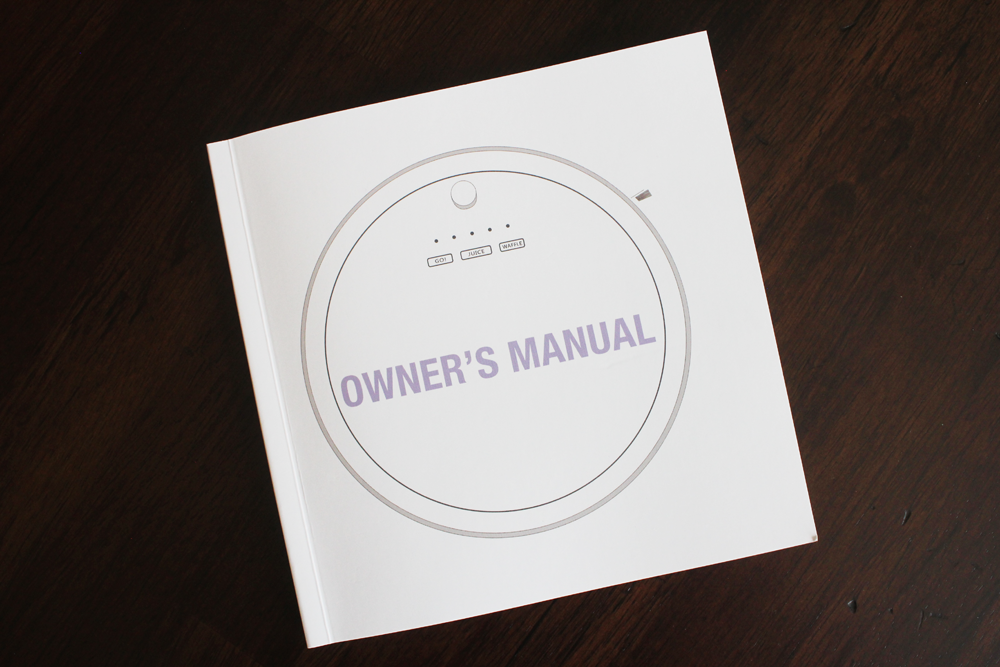 After I opened up the box and looked through everything, I pulled out the manual and began to go through it. The manual was easy to read and understand and I told my husband that I was committed to getting the bObi going on my own so that I could see if it was super easy because let's face it – sometimes these gadgets aren't the easiest to understand and use and I wanted to see if I could do it without his help. ;)
First up – installing the battery. It was super easy to do – there's even a little screwdriver that came in the box so I didn't have to go looking for one. How come those are always so hard to find when you need one?
Once that was done, I continued on in the manual and got super familiar with all of the parts and pieces of the bObi.
It's recommended that the bObi charge overnight for best results and so I pulled out the charging station and plugged it in and got it charging. It was super simple.
The next morning it was ready to go!
Let's talk about the three main buttons on the bObi: GO, JUICE and WAFFLE.
When you click GO it activates the cleaning mode and will get right to cleaning those floors! You, on the other hand, will get a super big smile on your face. Love the GO button. ;)
When you click JUICE it'll find it's charging station, dock and charge right on up for you. The super neat thing that I loved about the bObi is that when it has less than 15% charge left, you'll hear a little chirp from the bObi and it'll go find it's charging station and dock to be charged all on its own so it gets all charged up and ready to get back to cleaning the next time. Totally cool! My kids got the biggest kick out of seeing bObi find her charging station and dock on it.
And when you click on WAFFLE, it'll clean up small areas of about 10 square feet. It'll work on that area for about 3 minutes and then it'll stop and go in standby mode while it waits for your next command. I loved that feature because it's a great option to have for those problem areas that our kids get so messy.
Every step of setting up the bObi & syncing it with the other tools were laid out very simply in the manual. No need for my hubby to intervene at all! Mama's got this!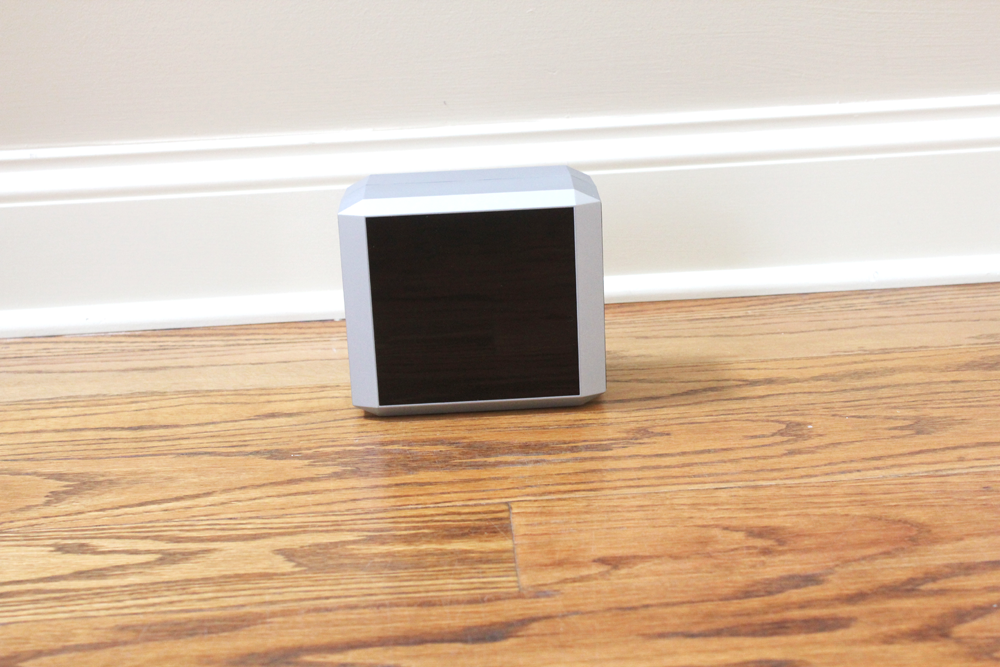 There's also a cool thing called the "block" (see photo above) that comes with bObi. The block helps you keep certain areas out of bObi's reach (like areas near stairs, certain rooms, different pieces of furniture, etc). It did take 4AA batteries, but syncing it with the bObi took like a minute and it worked well. I had to use the block near our couch because the new rug we bought didn't like bObi's bristles and was shedding super crazy. It  also would get stuck under our couch, so instead of rolling up the rug every time, we just positioned the block to help keep bObi out of that area. I honestly think I could use another Block! Might need to purchase another one in the future – those come in handy and I like how you can restrict it from certain areas if need-be.
The bObi's remote control is nice because you can control bObi from a distance and do things like change it's cleaning speed, stop it, start it, tell it to JUICE or put it on WAFFLE mode. You can even control it 100% by telling it where to go (forward, backward, left & right). You can also schedule the cleanings you'd like bObi to do! Once again – all of this is outlined in the manual and easy to follow.
Some of the really awesome features on the bObi:
• The mini mop. The bObi Pet comes with a mini mop attachment feature and 2 microfiber mopping cloths. You can use them dry or damp and they help remove small stains from hard floors like wood, tile, concrete and laminate. Perfect for Mamas with little ones and all of the messes that they can make in a day … ok in about 30 minutes. ;)
• The UV light. I love that the bObi has this. UV light is just another great way to help disinfect and sanitize your floors. Awesome!
 • The HEPA filter. This was one of the things that I found most impressive on the bObi.
Check these photos out: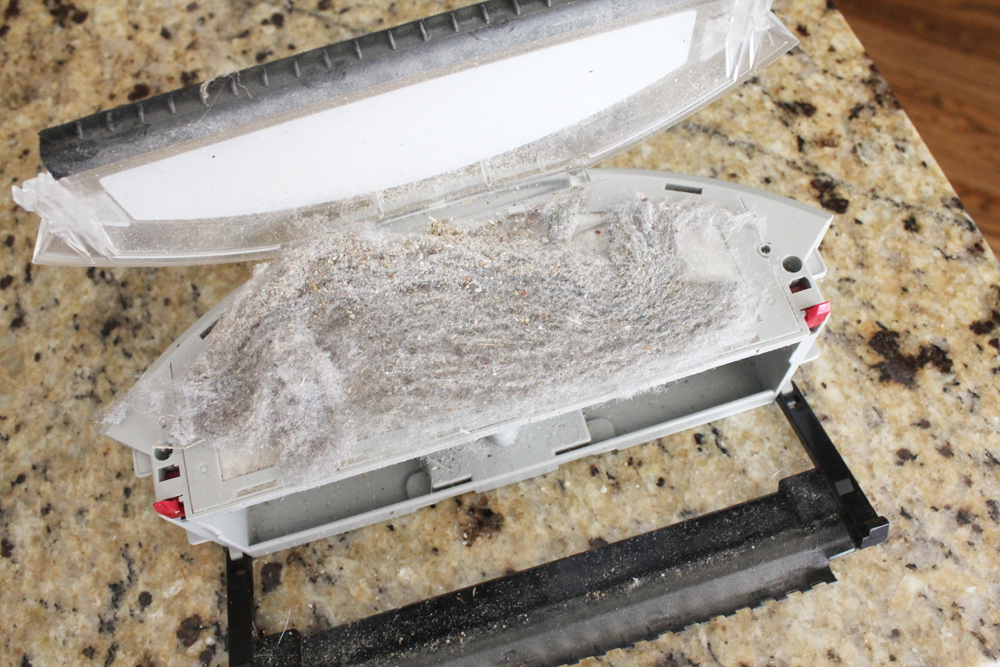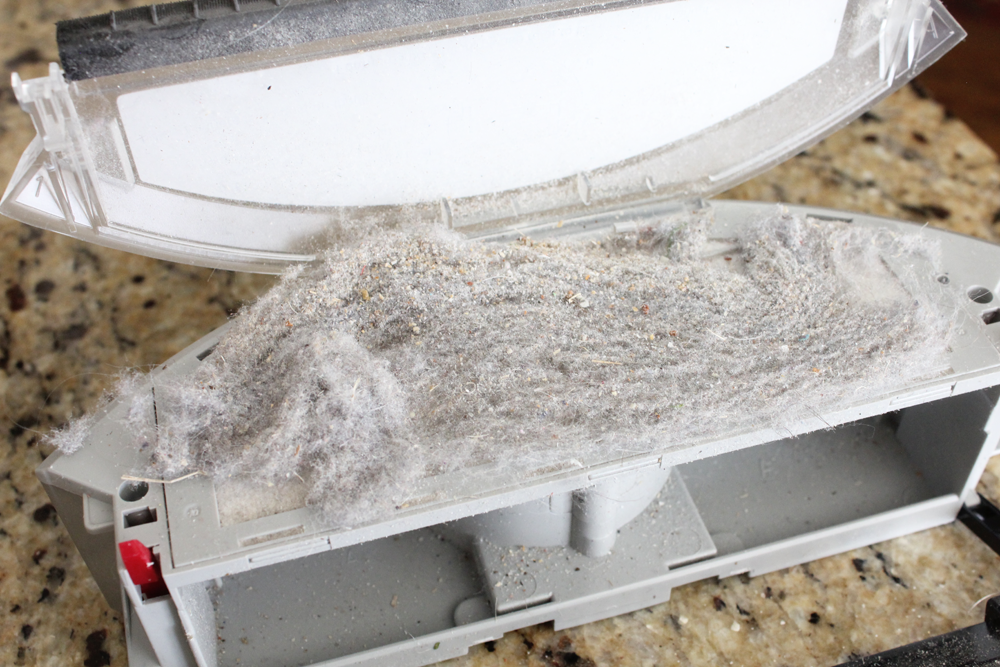 Look at all of that! Ew. The HEPA filter was super impressive and it got rid of all of the microscopic particles and allergens that I'm pretty sure my Dyson doesn't get. With all of the dust and other allergens in the home, I really do feel like the bObi was amazing at picking all of that up.
It's recommended to clean out the HEPA filter and the dustbin after each use for best results and both are super easy to empty out and clean. It takes no time at all. There's even a little brush that comes with the bObi to clean off the filter and I used some compressed air as well and it was done in just a minute!  It's recommended that you replace the HEPA filter every 6 months and I love how it comes with an extra HEPA filter and so you're good to go for the first year.
The brushes on the bottom of the bObi are easy to clean as well. There is a lot of hair in my home – let's be real – I've got long, thick, curly hair and have had 3 babies – it likes to fall out in bunches sometimes – and a daughter with long hair – so I had to cut away some of our hair that was wrapped around the bottom of bObi's brushes, but I do that with all of the vacuum cleaners in our home and I was thankful that it was picking it all up so well.
The bObi is not noisy at all – in fact way less noisy than our other vacuum. I've had it vacuuming while the kids were watching TV and while I was doing some work and it didn't bother any of us. Another great thing about it is that you can even schedule it to clean when you're away, so you won't have to hear it at all if you'd like! 
My kids LOVED watching bObi and they loved letting their beloved stuffies like Wolfie, take a spin, too. Heck, bObi even entertained my kids. Now THAT is what I'm talking about! Granted, she is NOT a babysitter, but y'all – she's so fun to watch, too!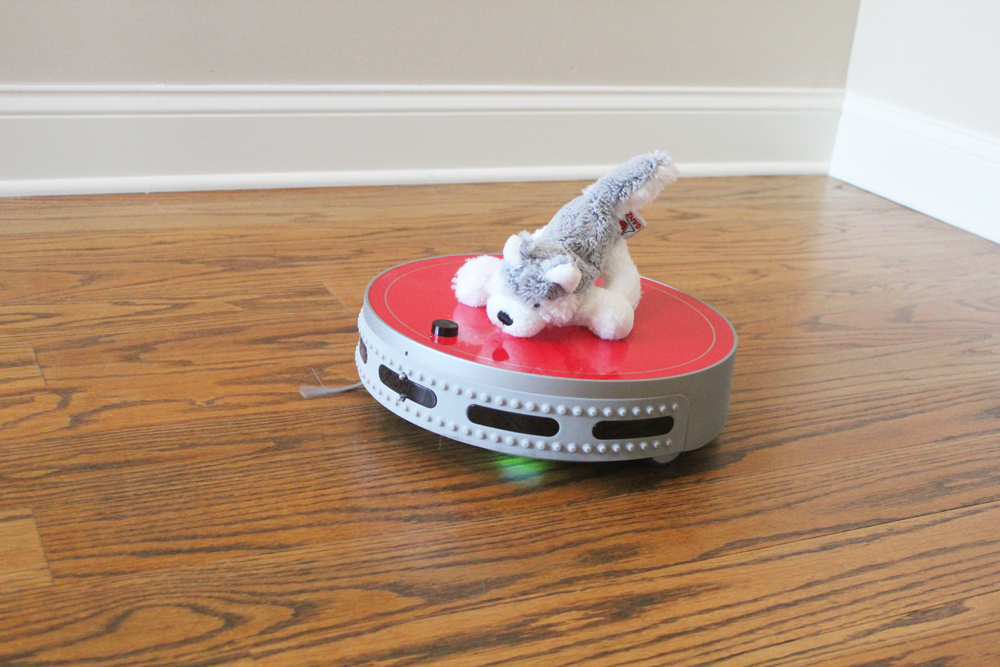 Here's a photo & video of my new bestie, bObi in action: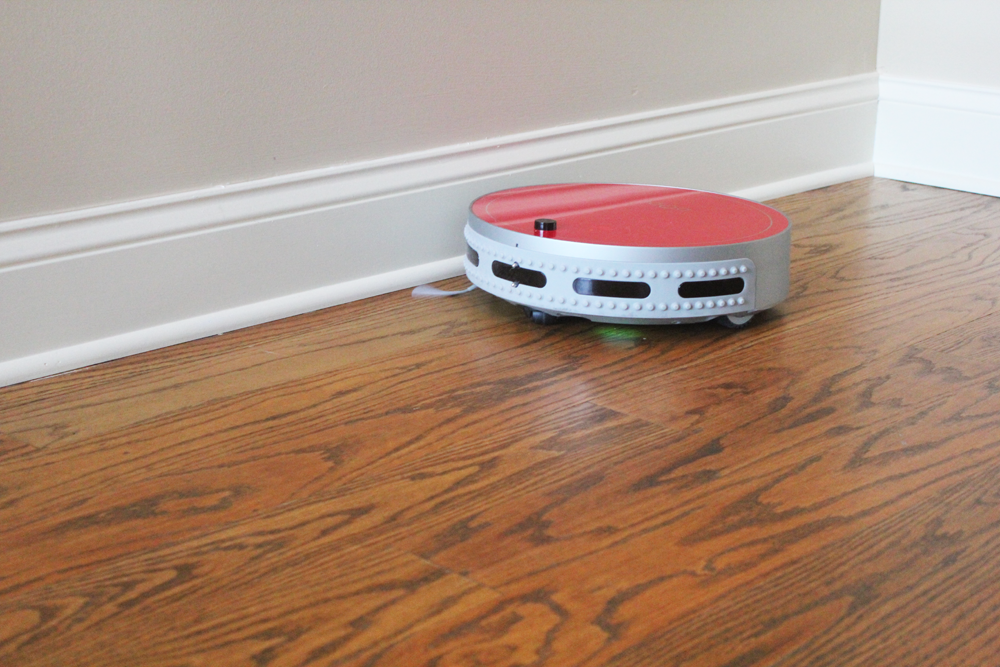 Here are the pros about bObi:
• She's so easy to use and picks up A LOT. She reduces the number of times I have to vacuum.
• The HEPA filter. It's amazing. I know already said that above, but it needed to be said AGAIN.
• I love how she automatically charges.
• The remote control.
• The dustbin and brushes are easy to access and clean, which makes emptying them a breeze. Nothing is complicated when it comes to the bObi!
• The UV light is a super cool and added bonus. I love that!
• She will alert you when something is wrong. You'll see an error code pop up on the remote and then you can look at the manual and see what is wrong with her. She picked up one of Luke's little rubber Grossery Gang guys the other day and it was stuck in the brush area so sweet bObi stopped and beeped and I knew something was up. Took it out easily, pressed GO and she was back on her way to cleaning my floors!
• She comes with a 1-year warranty!
 Here are the cons about the bObi:
• Our fridge has an indented tray underneath it and since the sensors on the bObi are a little lower than it, it doesn't see that the fridge is there and bumps into it. We just put up a little barrier around it, so it's not a big deal, just something to be mindful of.
• bObi would get stuck on a couple of our smaller area rugs and so you do need to pick up items on your floors that you think bObi might get caught up in, but you're cleaning your floors and so you'd do that anyway, right? Just a little prepwork when it comes to having bObi go to work. She did go over the larger area rugs we have totally fine.
• I know that robotic vacuums CAN be quite expensive and bObi isn't cheap, so you do have to invest a bit in her, BUT she is much more reasonably priced than a lot of other robotic vacuums that I've seen and does a great job! The time you save alone because of bObi is worth it.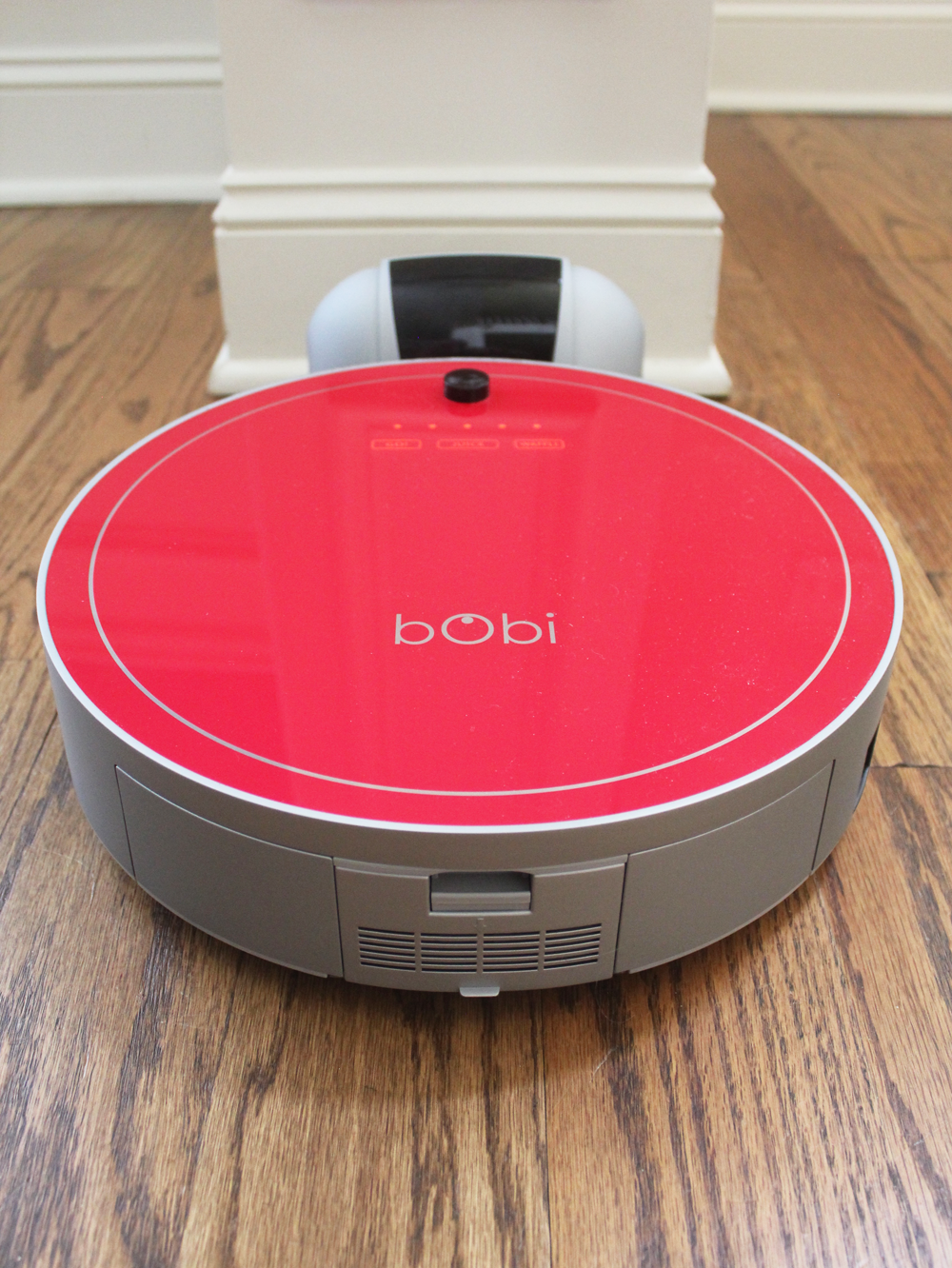 So with all that said, I'm glad that I finally have a bObi of my own. She is so easy to use and using her daily has cut down on the deep cleaning that I've had to do. Now I wouldn't say that this replaces your regular vacuum, BUT it certainly reduces your need to pull it out as much as you normally would! I love how I can just stay on top of my floor cleaning so easily and I can tell a BIG difference in the amount of stuff on our floors and area rugs and all I've had to do is tell her to "GO." Totally a win for this busy Mama!
I always felt like my floors were always in need of a vacuum and with bObi's help – I don't feel that way at all anymore. I believe every Mama needs a bObi bestie in her life. YOU deserve it, Mamas!
Find out more information about the bObiPet robotic vacuum and mop HERE on the bObsweep website. They have lots of great videos that you can watch HERE, too.
Disclaimer: The sweet folks at bObsweep sent me this bObiPet robotic vacuum for free to review, but all opinions expressed in this blog post are solely my own. No other compensation was given.