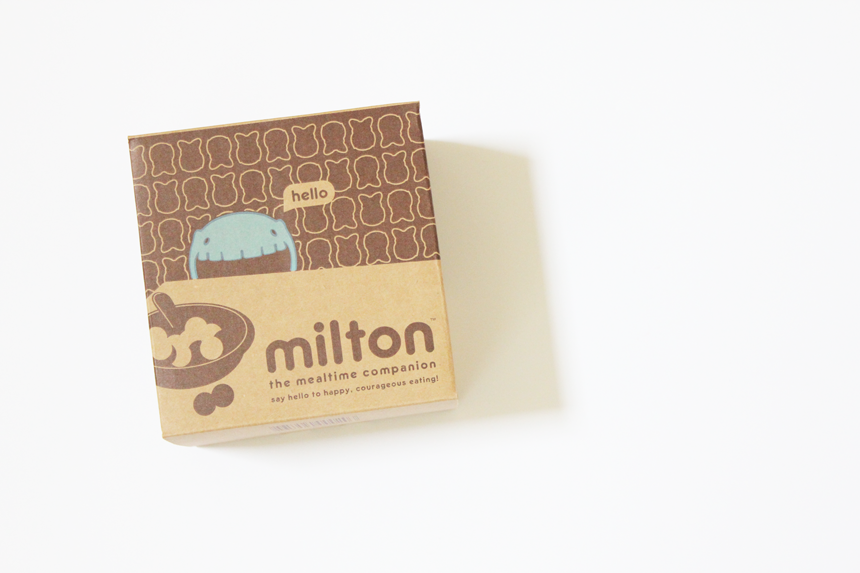 Hi friends!
I wanted to introduce y'all to a new friend of ours today named, Milton. Milton came to live with us the other day and has quickly become a favorite in our home (I've had to have the, "Boys, please share" speech about ten times today if that tells you anything, ha!).
So who is Milton, you might ask? Milton is a super cute little blue monster-looking guy that was created by two Dads who both have young children at home and wanted to create a fun and engaging product for kids that would teach them things like how to try new foods and eat healthy. They knew that there are A LOT of picky eaters out there and so that's when sweet Milton was born.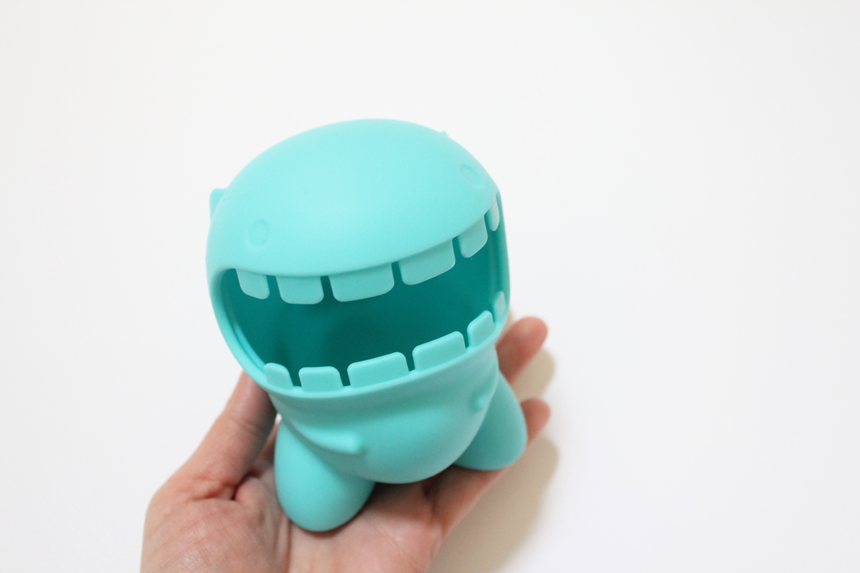 Oh, and let me show you cute Milton. This is Milton. See. He's adorable. I told you. ;)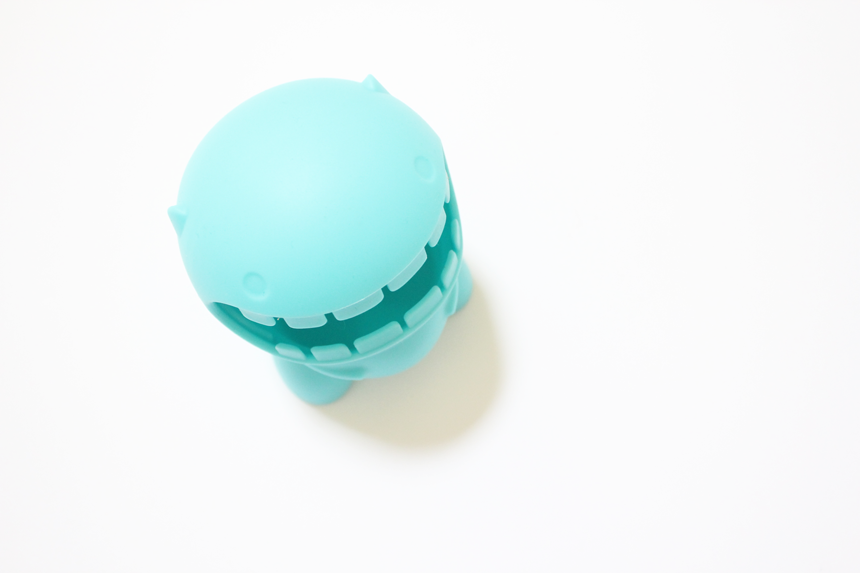 Milton showed up on our doorstep in a super cute little box and he came with his very own adorable storybook that was so fun to read (my kids wanted me to read it TWICE right off the bat) and they giggled throughout it.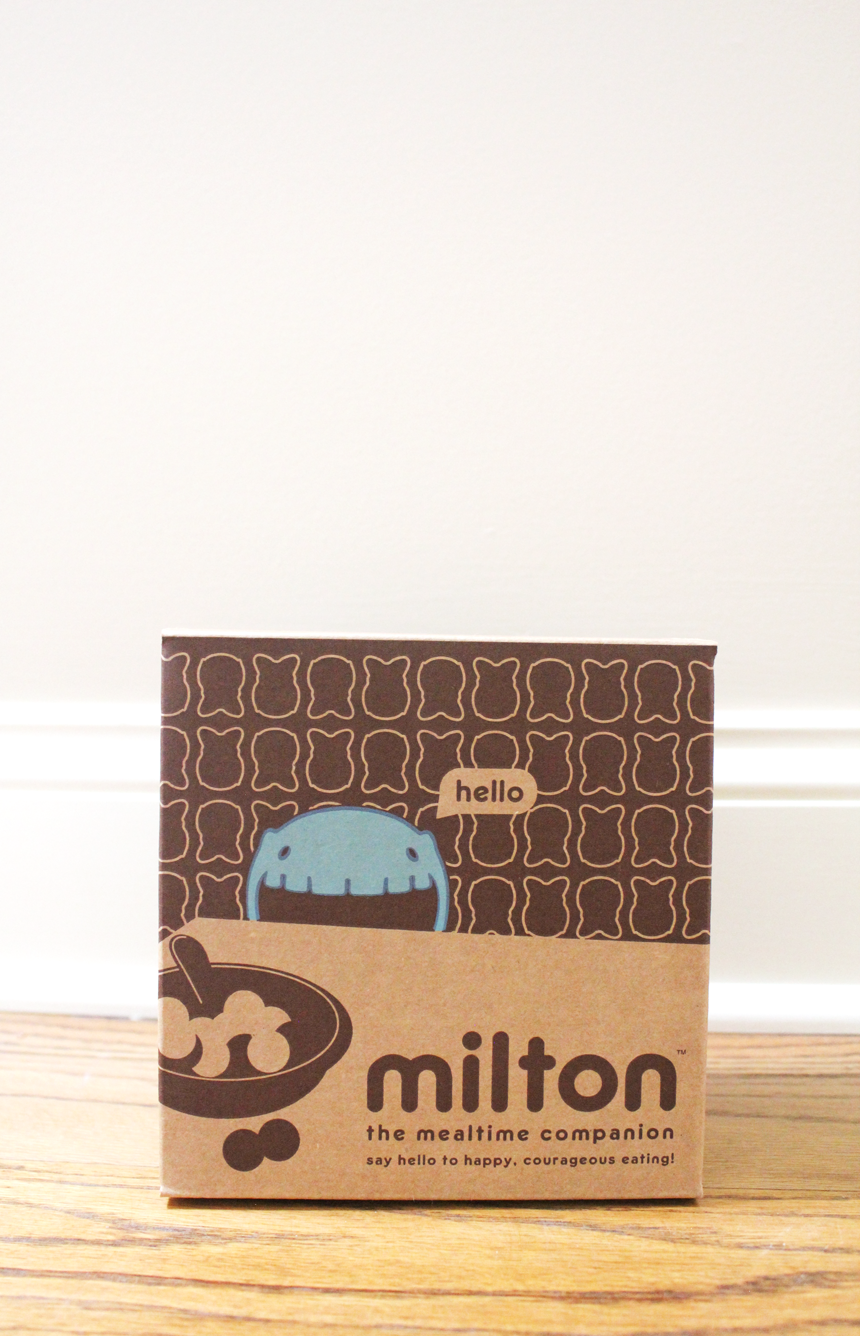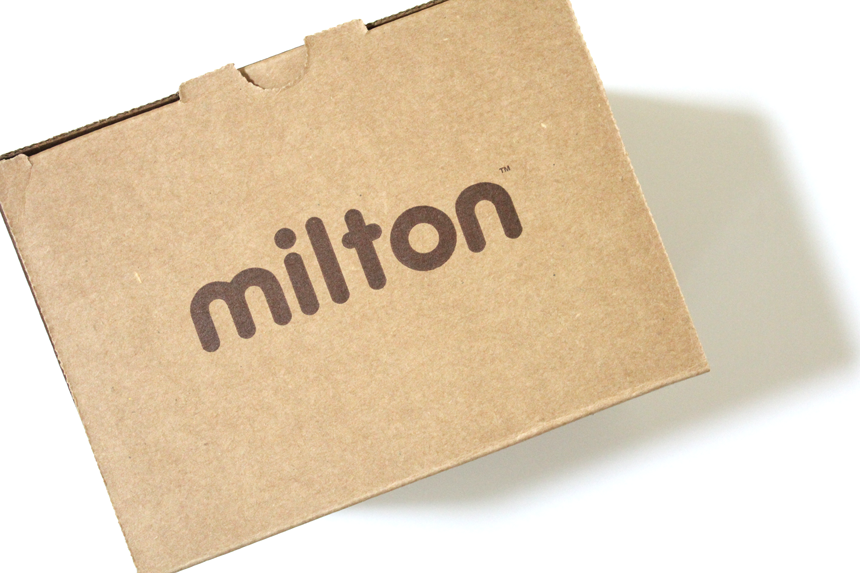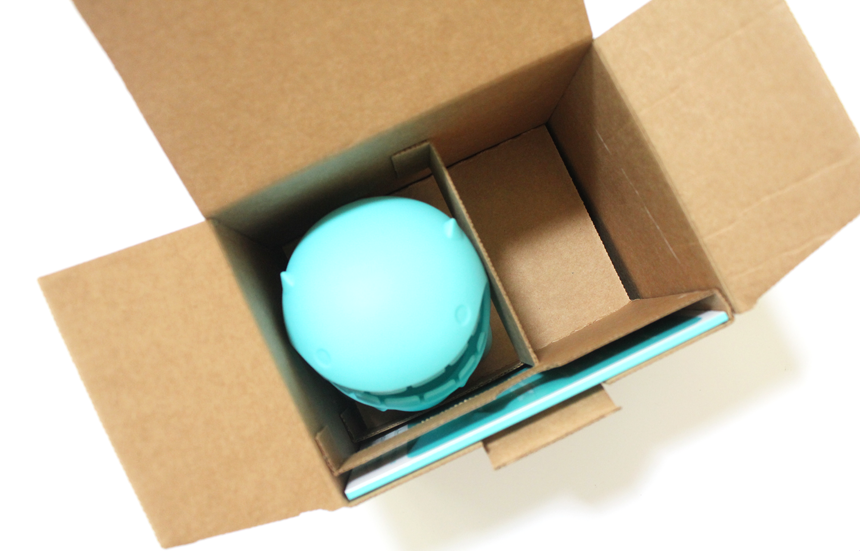 The storybook has great photos throughout it and follows Milton on some eating adventures that he has. It's so adorable, y'all. There are some great tips for parents throughout the book and on the front page and back cover, so that you utilize Milton to the fullest. :) I found that it was a lot of fun to introduce the kids to Milton by reading the book and telling Luke (my youngest son) that Milton was going to have lunch with us that day. Luke was super excited! He wanted to feed Milton right away!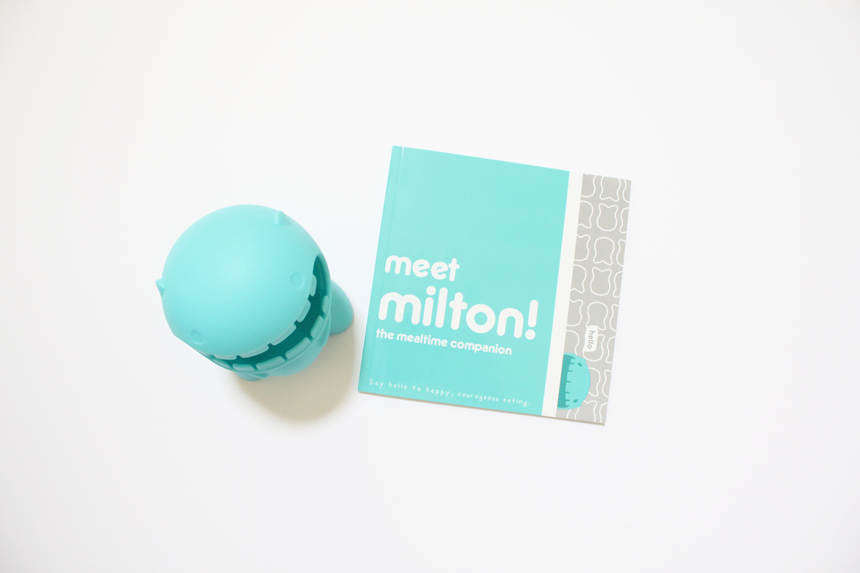 Luke was smitten with Milton right away. After I gave Milton a nice little warm bubble bath in the kitchen sink, I handed him to Luke and he proceeded to stretch his mouth open as wide as he could and look inside. Ha!
Then of course he welcomed Milton into the family with a big hug. Luke's a hugger like me. ;)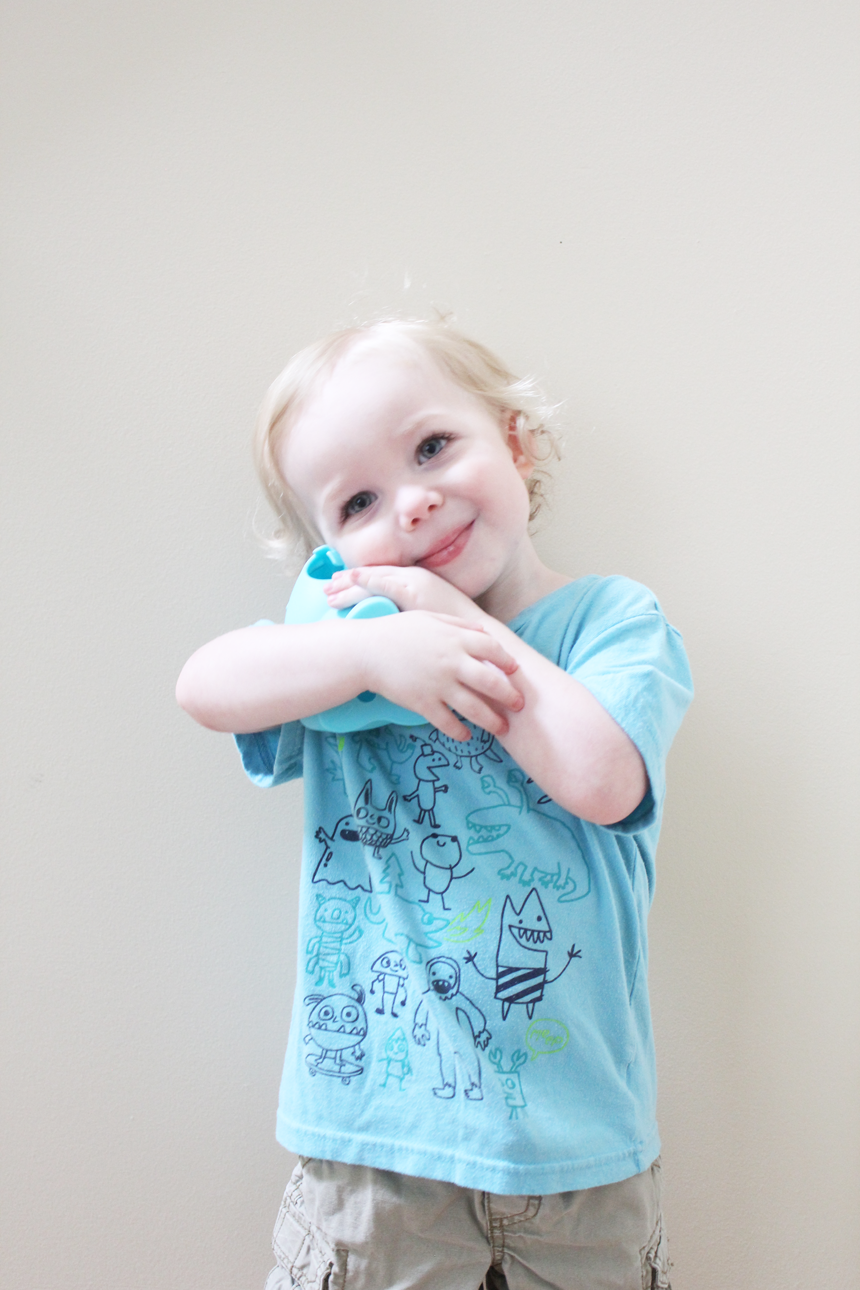 I think his hug got a bit too tight and I swear I could hear Milton scream a bit and so I quickly removed Milton from Luke's death-grip and we proceeded to sit down for lunch. ;)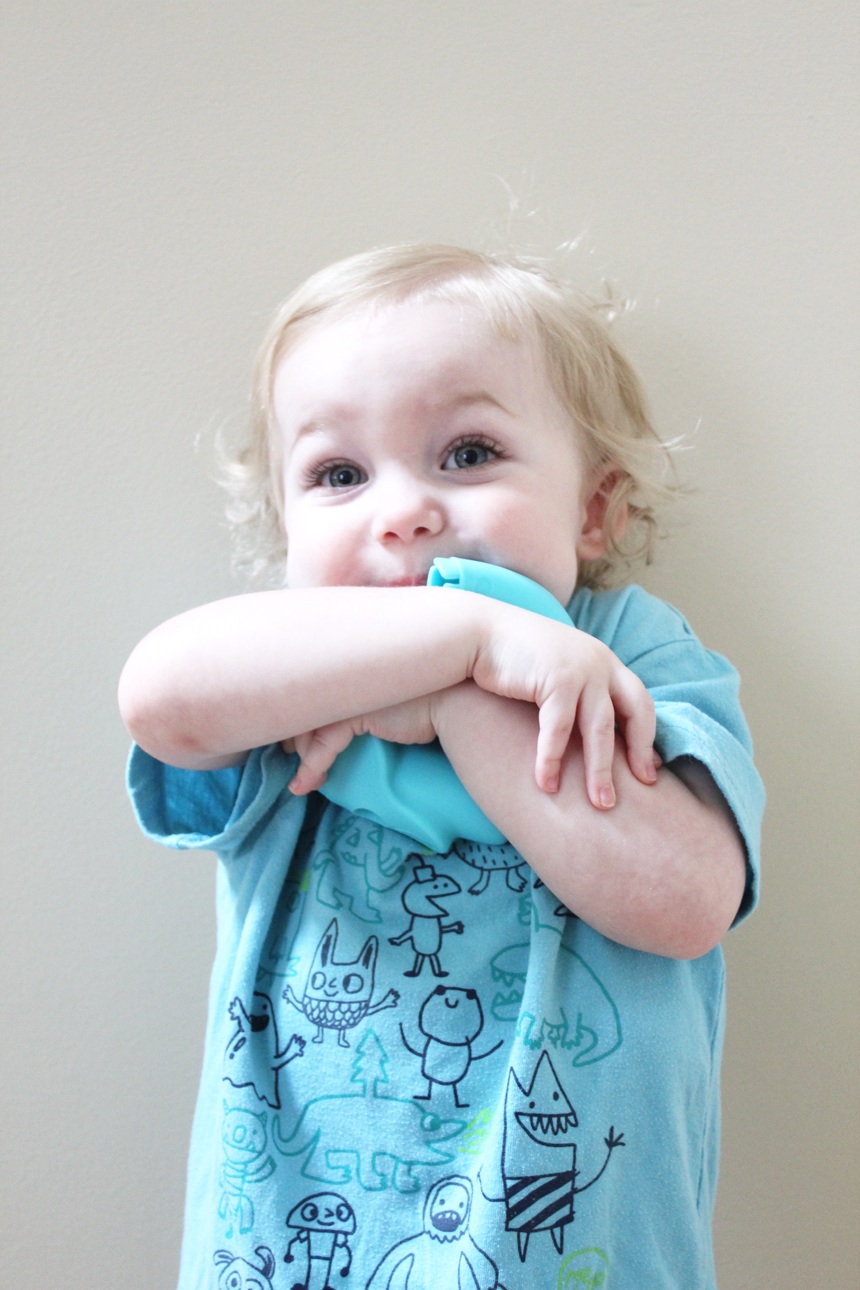 Luke is probably the best eater out of all of my kids, but he's still a bit hesitant to try new things, especially when it comes to fruits and vegetables. He's more of a carb lover like his Mama. Can you blame him? ;) On this day though, I thought since we had sweet Milton show up that it would be a good time to put a couple of new things on Luke's lunch plate. I always try to have some fruit and/or vegetables with every meal for the kids and so on this day I wanted to get Luke to try green peppers and a new sandwich (almond butter and strawberry jam). I also wanted to see if Luke would try a new brand of raisins (he's not the biggest fan of change – what kid is, right?) and so I knew this little box of raisins might not fly with him, but I wanted him to start eating organic ones.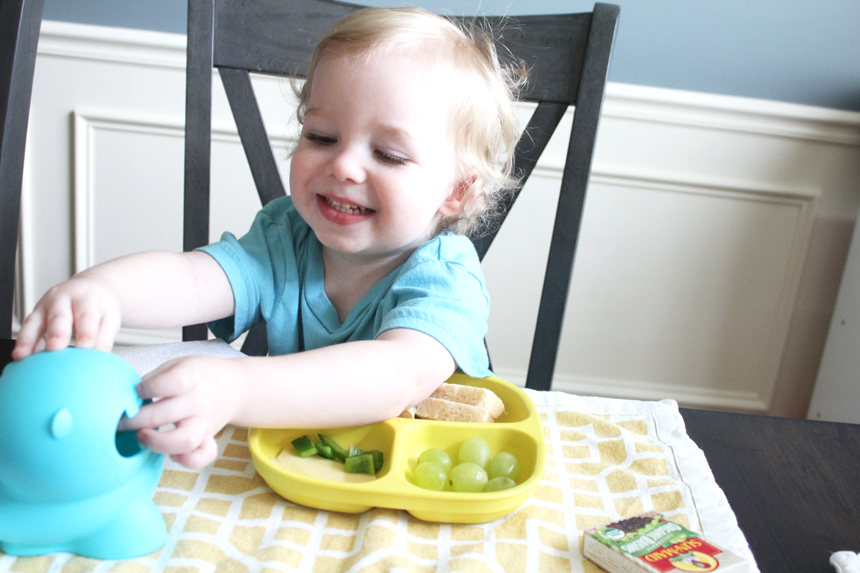 Right away he started to feed Milton the peppers and he was seriously smiling the whole time. He was having so much fun and I was sure to remind him that whatever he fed Milton, he had to be willing to try himself and so right after he fed Milton, he popped a green pepper in his own mouth. And guess what folks? HE LOVED IT! Score!!!! I told Luke about the new raisins and put the entire box in Milton's mouth – Luke got the biggest kick out of that! Ha! Doesn't he look so cute eating the raisins? ;)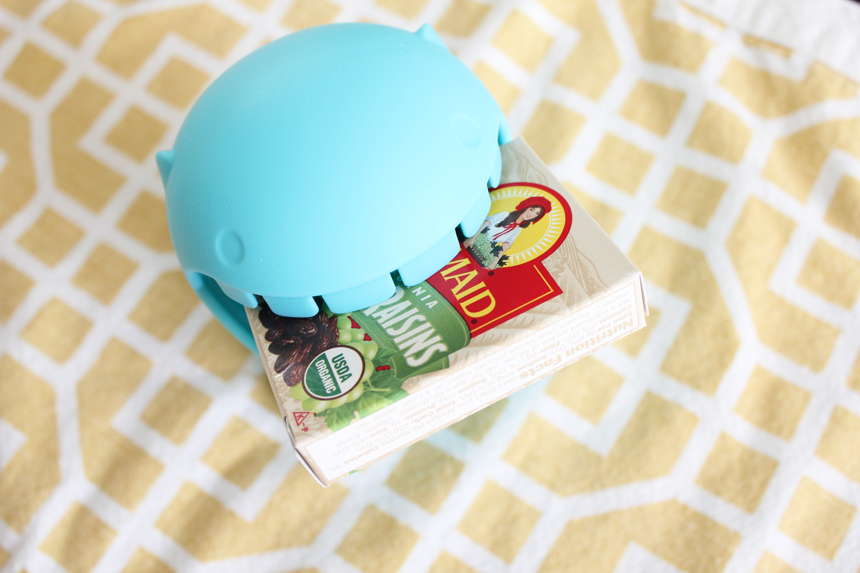 Luke proceeded to try the raisins himself and liked those, too! Another score for Mama! Finally it was time to feed Milton (and Luke) some of the new sandwich. Milton loved it (of course), Luke was a bit iffy about it, but he still tried it without any hesitation and even took more bites because he had to eat what Milton was eating, and he loved to feed him and so I'll consider that another win, too. There was NO whining about new foods on his plate and he actually had fun trying new food. Oh, and did I mention he got some good-for-him stuff into his body, too? YES!
I have to say that I think sweet Milton is such a genius idea! Having three picky eaters in my home, I know what kind of a struggle it can be to get our kids to eat things that are GOOD for them and heck, sometimes it's hard to get them to eat ANYTHING. I know the kind of guilt that comes with thinking that we're not giving our kids the proper nutrition and I know the frustration and how upsetting it can be to sit at a table having to raise your voice at a kid to tell them over and over and over again to finish their meal (ugh). Since introducing Milton, Luke has wanted him by his side at EVERY meal and Jack (my 5-year-old son) is actually playing with Milton in between meals (did you know Milton also loves to eat Legos? Sure enough, but I've made it clear to Luke that he's not to eat those! Ha!). So that tells me two things – 1) Milton is a BIG hit with my youngest and 2) If you get Milton for your child and they grow out of Milton after a bit and don't need him when eating, he'll be the perfect play buddy!
Some other things I love about Milton:
• He's dishwasher safe and super easy to clean. He loves bubble baths.
• He's 100% food grade silicone and BPA free, phthalate free, and PVC free.
• He's super durable. This is a BIG plus because let's face it – kids are rough with stuff and Milton has endured my two boys just fine the past few days and I know just by holding him that he's a tough guy and will withstand any beating and/or playing he might encounter.
• Milton is made in the USA! Awesome!
• Milton can teach your children other things – like how to brush their teeth (they can practice on Milton) and how to practice holding a utensil by allowing them to feed Milton.
• $1 of every Milton they make goes to Feed My Starving Children. Love that they give back! That Milton is a sweet guy! ;)
• Milton makes eating fun and we all know that with little kids, mealtime can be super difficult. That alone right there is enough for me to give Milton and the folks that created Milton a BIG high-five!!
So yep, I definitely recommend getting your family a Milton, too. You NEED one. To all of you parents out there who are dreading mealtime and ready to pull your hair out because your kid won't eat or try new, healthy foods – Milton is ready to come and save the day!
Oh, and here's what Luke thinks of Milton: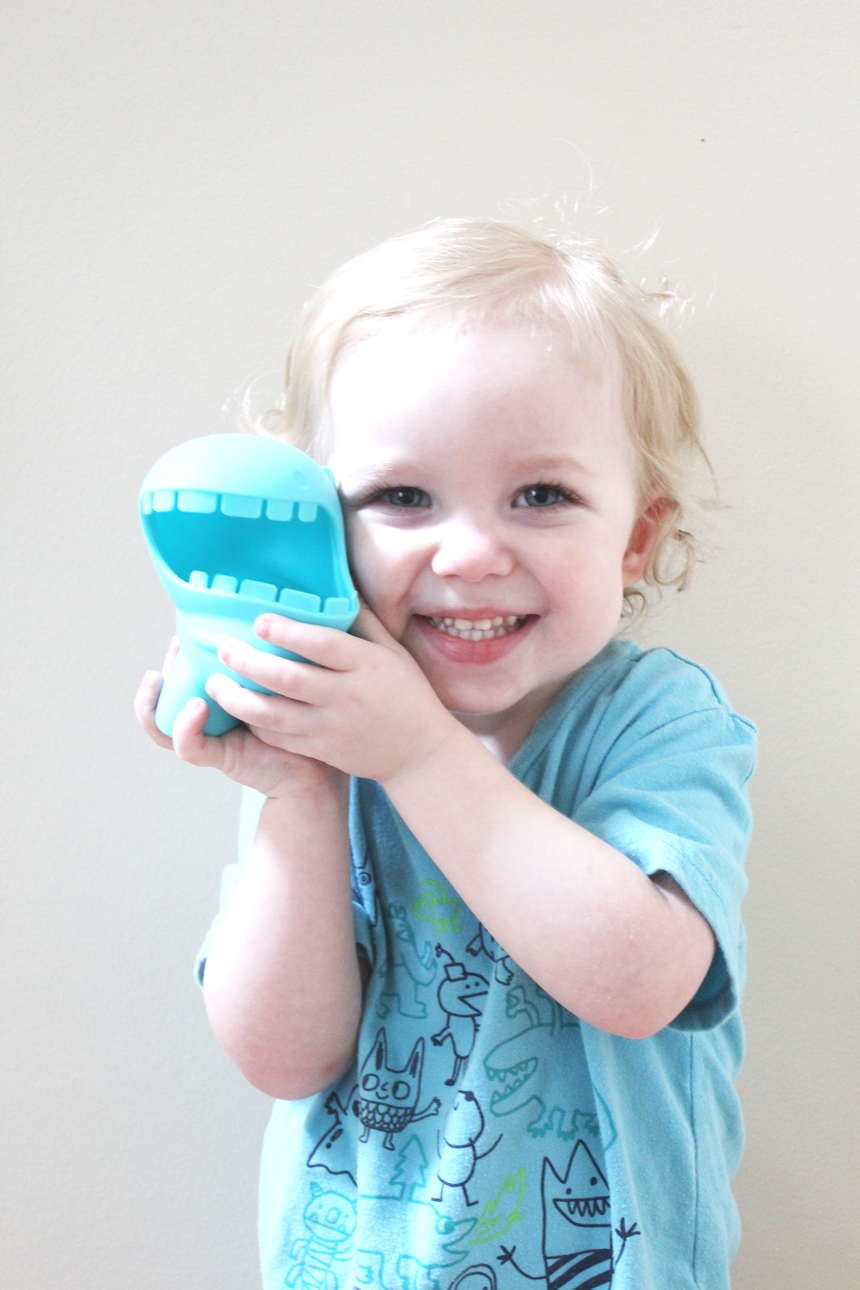 Yep, he's a keeper.
I think I need a Milton for my desk. ;)
Be sure to check out www.mealswithmilton.com to order your very own Milton and see lots of great tips and videos on how to use him in your family. And get this, the sweet folks who created Milton are giving you guys a coupon code to save 10% on your very own Milton! Just use the code: onehappymama10 at checkout! Have a great day, friends!
You can also find Milton here: Facebook / Twitter / Pinterest / Instagram
Disclosure: We were gifted sweet Milton, but all thoughts and opinions about him are solely my own. Milton ROCKS!