Hi there! Happy Project Life® Tuesday to ya!
I'm happy to be here and share my pages with you for the week! This two-page spread I'm sharing with you all has goodies from the March OHDEERME Embellishment Kit from Freckled Fawn. You can find out more information about it HERE. I can't rave enough about those kits. They are jam packed FULL of awesome goodies!
Ok, here we go!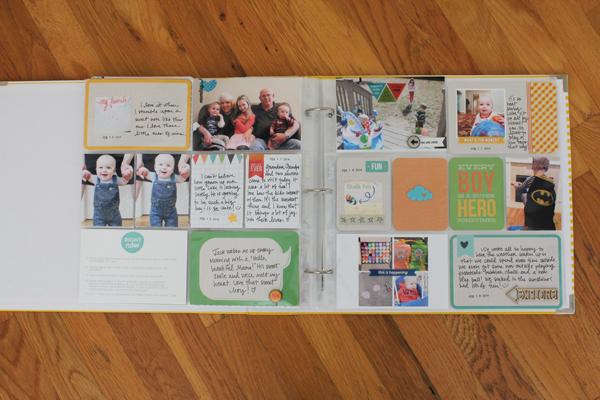 Here's a shot of both pages. I used DESIGN A page protectors and I think most all of the cards are from the BOY themed card pack. I recently got it and loved it and well – it goes great with the March OHDEERME kit! Win-win!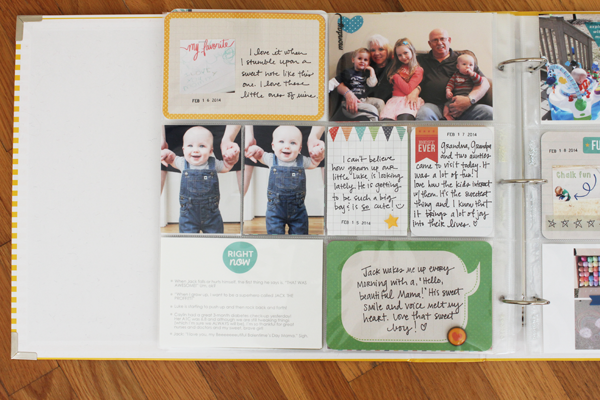 Here's the left side. I've included my "Right Now" card on this page and then have a few photos and journaling cards as well.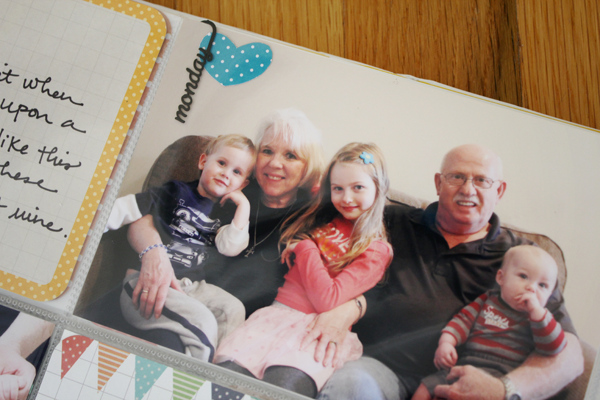 Here's a close up up the SUPER CUTE days of the week paperclip! I just clipped it onto this 4×6 photo on top of a cut out little heart. :) I just love those paperclips!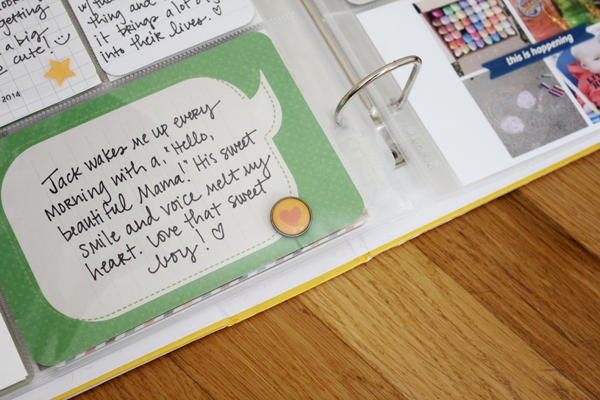 Here's another close-up shot! That heart brad is also in the kit! I just love the size of them and the color scheme! Super cute! Would work well with so many different types of pages or even on a card!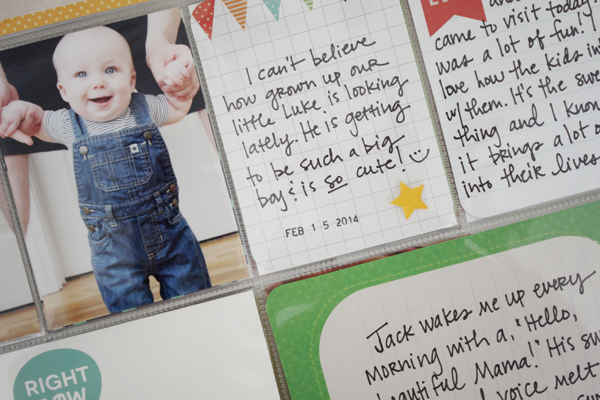 Another close-up shot of this page. I used the Project Life® date stamp – it's my go-to date stamp – and the little yellow acrylic heart is also in the March kit. Pen is a fine tip black Sharpie marker. My favorite. :)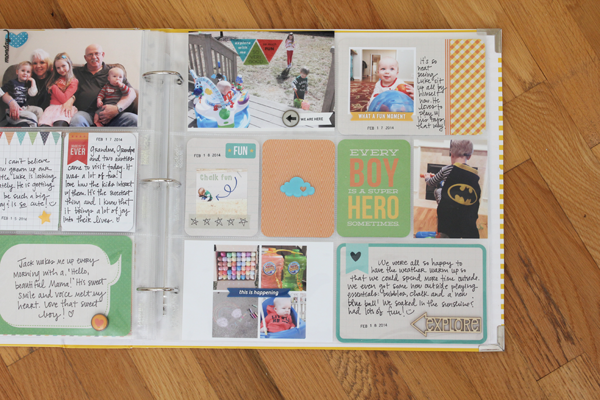 Here's the right side. :)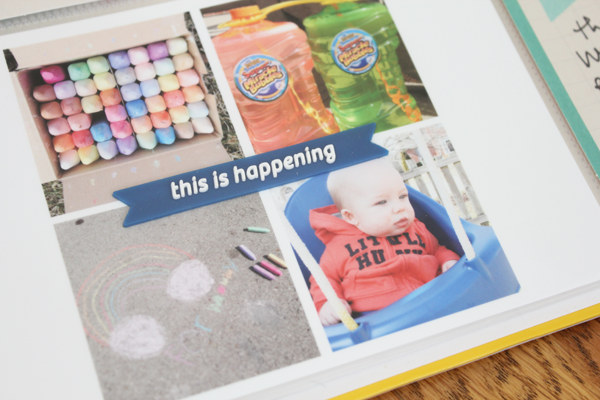 This is a close-up of a photo collage that I included. Photo template from HERE and that rubber banner embellishment is in the kit. LOVE it. :)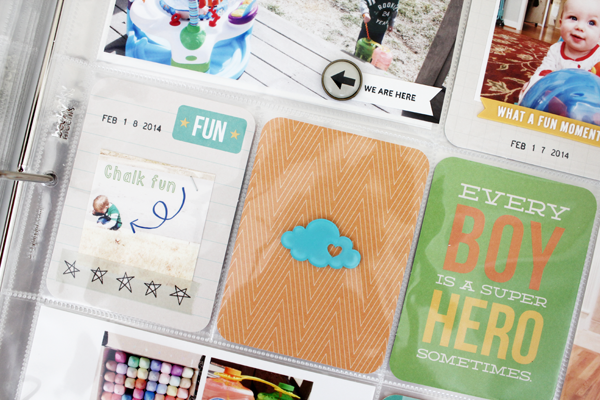 Love that little acrylic cloud! That's from the March OHDEERME kit as well – as is the star washi tape. Every kit comes with a roll of washi tape and it's always SO cute!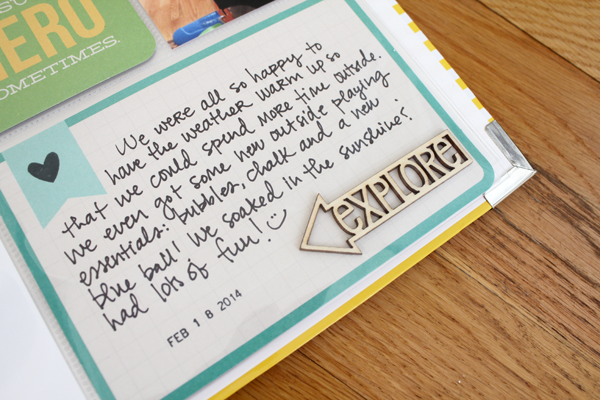 Here's a close-up of the 4×6 journaling card I included. The wooden "explore" arrow is in the kit and that little heart stamp is from my shop HERE.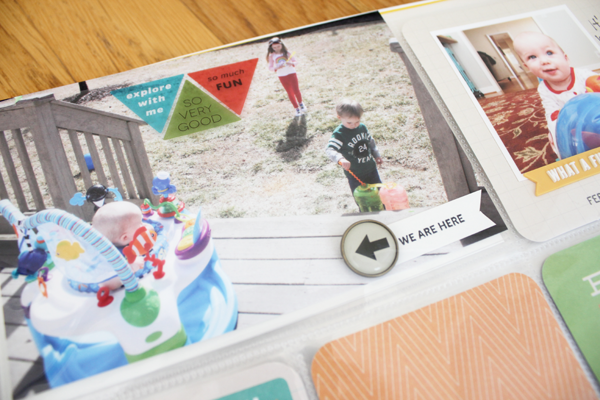 The arrow brad is also in the kit, the "WE ARE HERE" is one of the acrylic stamps in the kit stamped onto a piece of white cardstock and the triangle vellum stickers are in the kit as well. Love how you can see the photo through them. Super cool!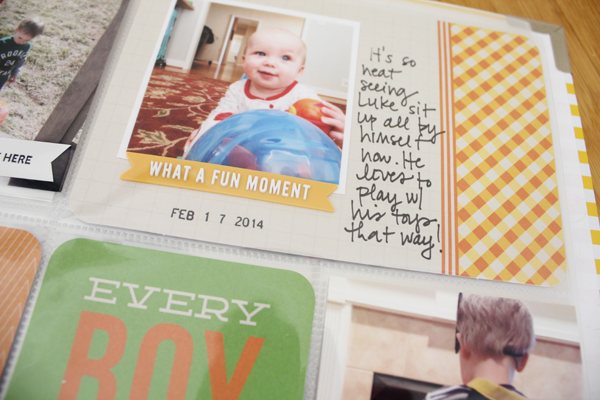 Lastly, here is another close-up of part of this page. That "WHAT A FUN MOMENT' is another of the rubber banners in the kit. Those are great! I love how I'm able to add just a bit of embellishing to my pages with these kits and then have lots left over for cardmaking, traditional layouts and other creative projects.
Well, there you have it! Next Tuesday I have a little video and giveaway to share with you all! I'm going to show you how I edit and print my photographs for Project Life®! I get asked that a lot and so I've just created some simple videos (2) to show you what I do! I hope you enjoy them so be sure to check back!
Have a great day! Hugs!