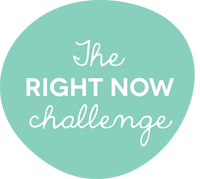 It's already Week 3 of the Right Now Challenge!
Here's what I wrote down this week:
Jack woke me up one morning and said, "Yoda wants some muffins for breakfast" as he waved his green light sabre in my face. 
Jack walked up to Luke on the changing table, grabbed his little hand and said, "Hi there little fella." So stinkin' cute.
Jack is started to notice Caylin with diabetes more lately. Just the other day I was giving her an insulin shot and he said, "Don't poke my Caylin with a needle, Mama." Then he cringed. It broke my heart, but I knew it was going to happen sooner or later. I'm just so happy he cares about her like that and watches out for her. Bittersweet for sure.
Luke is letting out these crazy laugh/screams now. He's definitely making his voice heard.
Luke loves to sleep on his belly or side. When he does that – he'll take a good nap.
Caylin is reading some wonderfully. I love seeing her pick up a book, read it and then tell me about it. I'm a super proud Mama.
Well, that's it for today's challenge post! I hope you are remembering to write stuff down! I'd love for you to link me up if you are doing it on your blog, too!
Sending you BIG hugs today! Happy Friday! I'm ready for the weekend!!! :-D