Happy Project Life® Tuesday! It's that time again!
Here are my page shares for the week!  I hope that you get some ideas and are inspired by them! As always – if you have any questions, please feel free to leave them in the comments and I will answer them! I'm going to do a video, I think, explaining how I edit and print my photos! I get asked that a lot and I know there are some of you who've asked me that recently! I'll do a post regarding that soon, I promise! :)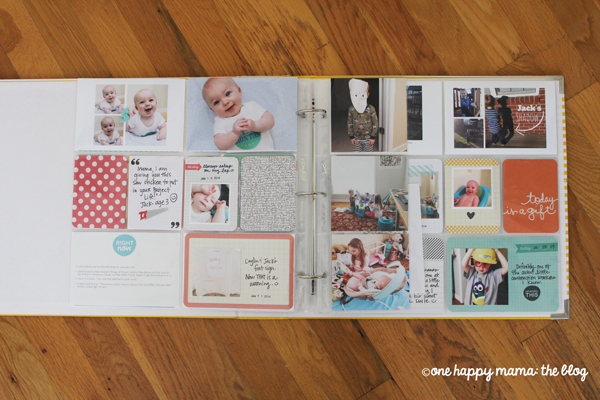 Here's the double-page spread shot! There's actually a couple of page inserts in there, too. I'll talk more about those in a minute. ;)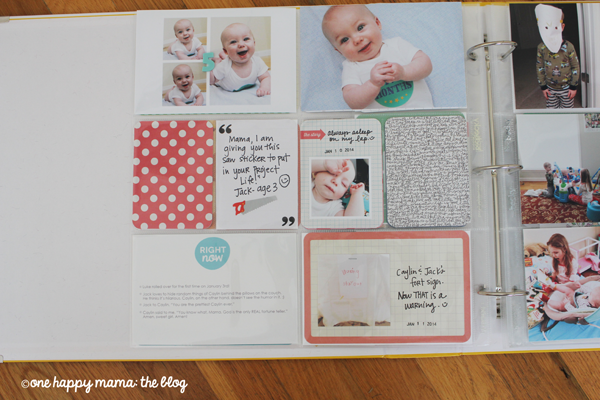 Left side. :) All cards are from the JADE edition except the one with quotes. That one is the SEAFOAM edition. :) The photo template on the upper left is of course from Tracy Larsen. LOVE her templates! Makes Project Life even THAT more simple! I'll talk more about her templates when I go over my photo/printing soon! :)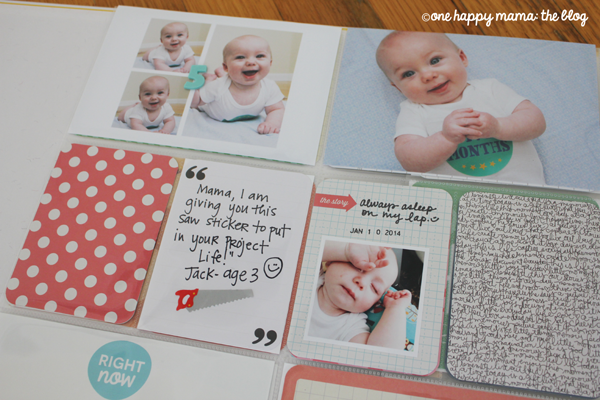 That little quote card has a saw sticker that Jack handed me last week. It was the sweetest! Of course it went straight into my album! ;)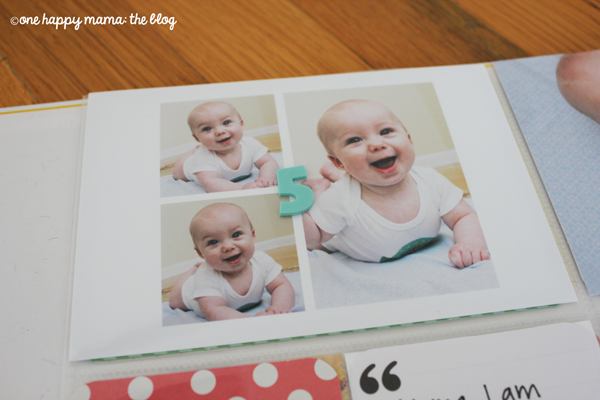 Here's a close-up of the photo collage I created with the template. I added a little "5" Thicker sticker to the outside of the page protector. :)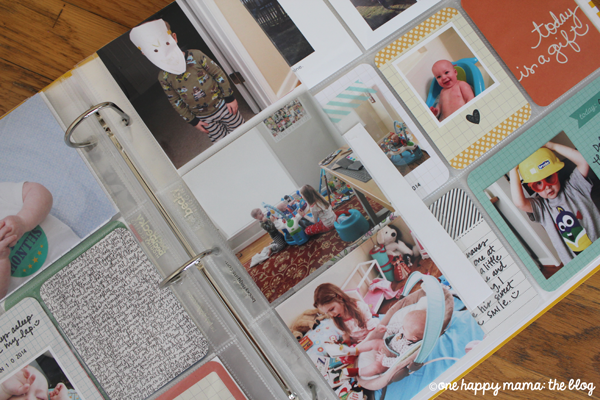 Now in the middle here I've used a DESIGN I page protector. That's great for instagram photos or even just printing 4×4 photos at home. That's what I did. All photos were taken with my iPhone, but I just printed them out 4×4 and slide them on in on the front side of the page protector.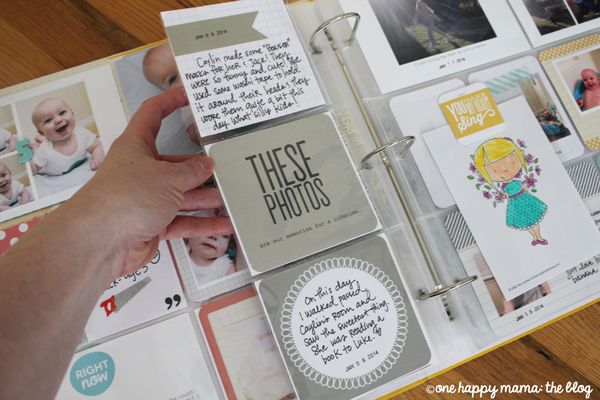 Here's the backside of that DESIGN I. I used three cards again (like last week) from the JUST ADD COLOR kit that was sold on the Home Shopping Network. I just wrote my journaling for the photos that are on the front on those cards. :)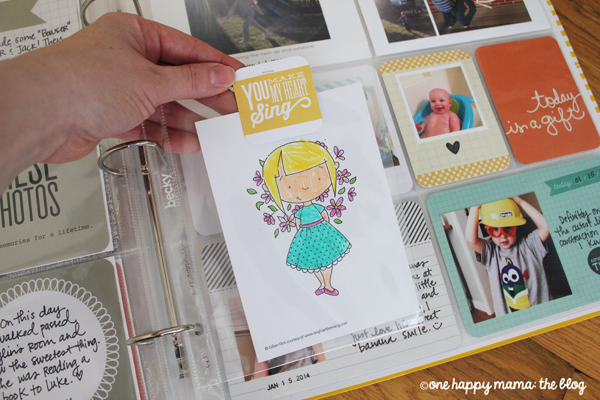 Another page insert this week. It's a 5×7 page protector. Caylin colored this sweet page for me and I wanted to keep it so I slid it in one of those and then took a 2×2 filler card from the JUST ADD COLOR kit and stapled it to the page protector with my tiny attacher (I love that thing)! It serves two purposes: 1) to keep the insert closed so that the drawing doesn't fall out and 2) it's a cute embellishment. :)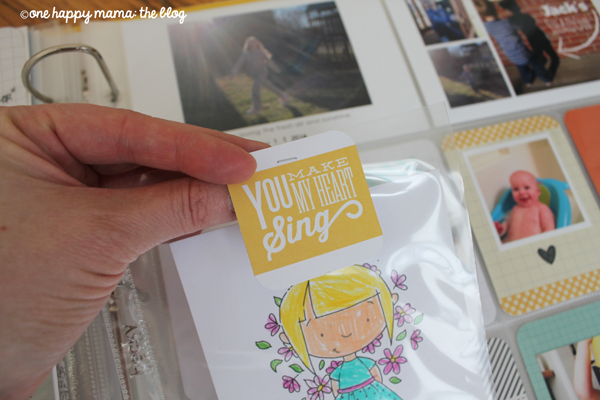 Close-up of that. :)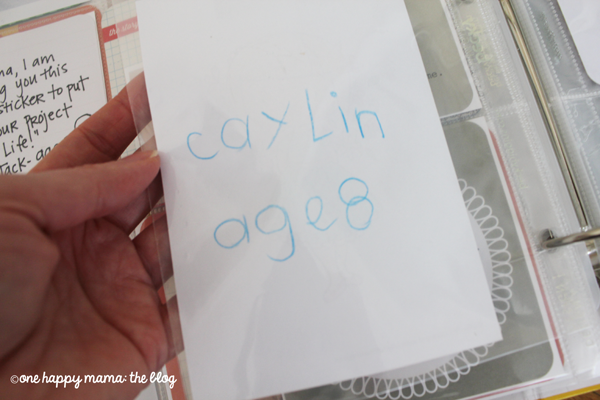 I asked Caylin to write her name and age on the back of the drawing as well.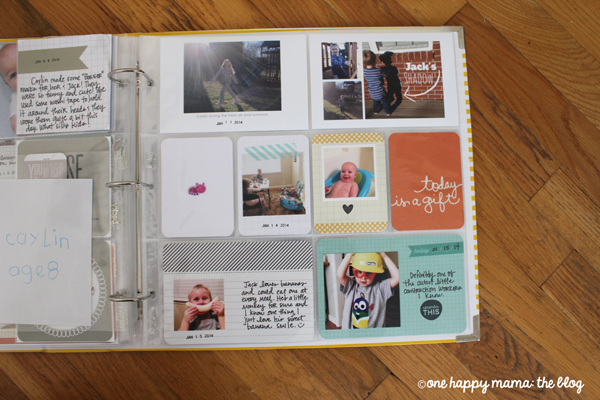 Here's the right side of the spread.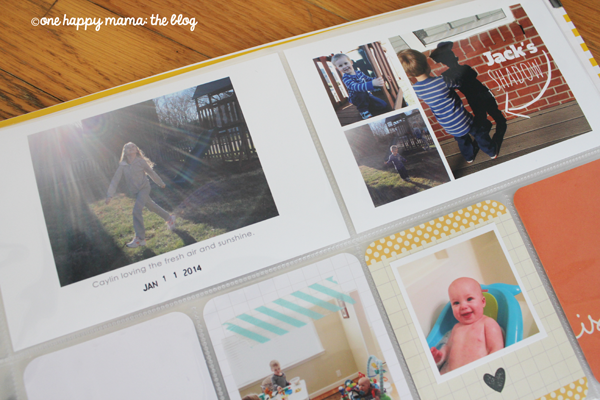 More Tracy Larsen templates. Told you I love them. :)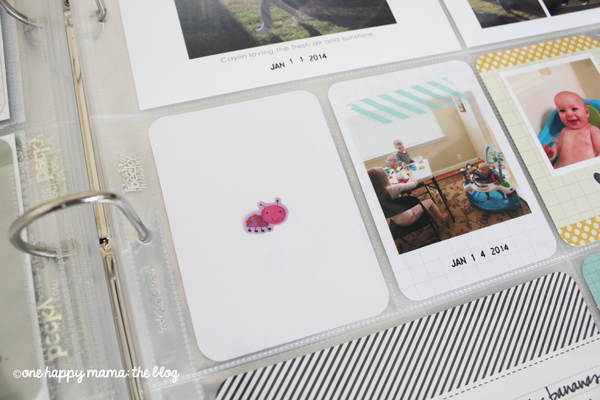 This little white Project Life® blank card with a tiny ladybug sticker was given to me by Caylin. She thought it would make a cute filler card and she was right. ;)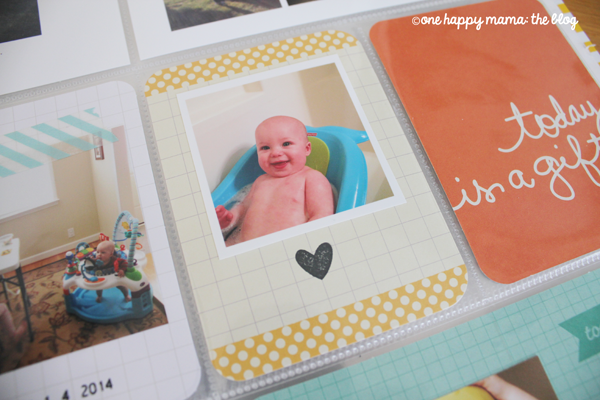 Sweet Luke in the bath and a little peek at something new coming to my shop. ;)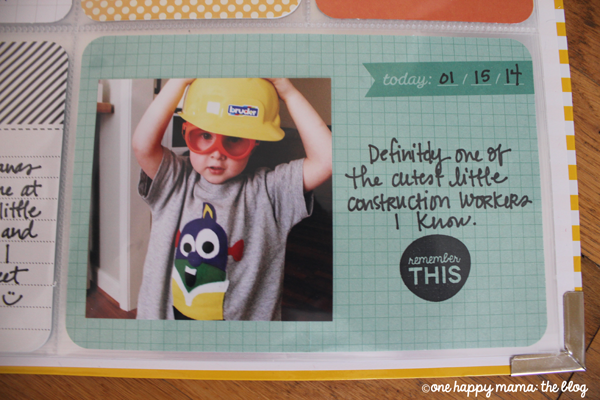 Another peek at something new coming to my shop. Can you guess what it is? ;) Stay tuned. Working on some cute, exciting things!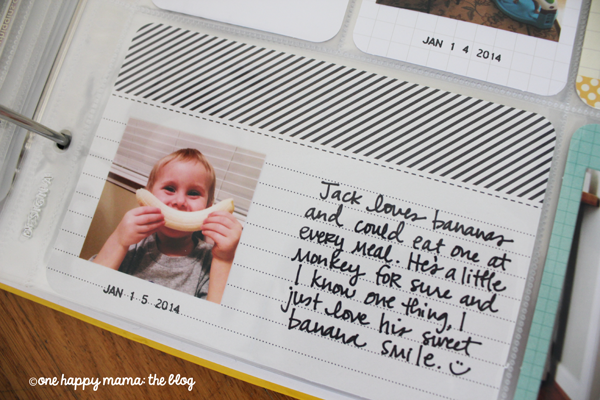 Had to end it with the "banana smile." Hope your day today is full of smiles! Thanks for stopping by! I'll back with more soon!
Hugs!!