Hi! Happy Project Life® Tuesday to ya! Hope you are staying warm wherever you are! It has been SUPER cold here in my neck of the woods. It barely got out of the single digits yesterday. Yikes! I know a lot of others are experiencing some really cold weather so I pray that wherever you are – you are warm and safe!
I'm just about to wrap up my Project Life® 2013 album! Yay! I have one more page (a half of a spread) to do and I will share that next week, along with Luke's baby album update! Then it'll be time to dig into 2014!
For this week's spread I used the always super awesome OHDEERME Embellishment kit from Freckled Fawn. It's the January kit and once again – it's FULL of super cute goodies that are perfect for Project Life®!
It's always a happy mail day when I get the kit! Eeeek!
Ok, here are my pages: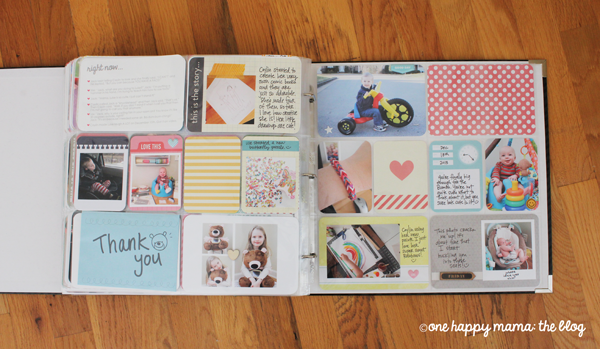 My go-to page protectors are always the DESIGN A page protectors. I just feel like those are the most simple to use and so I always have two pages of those and then I just sprinkle in other page protectors designs throughout the album. I'm going to try to be better about incorporating more of the different designs because there are so many awesome ones, but for now – DESIGN A is my favorite. Probably always will be. :)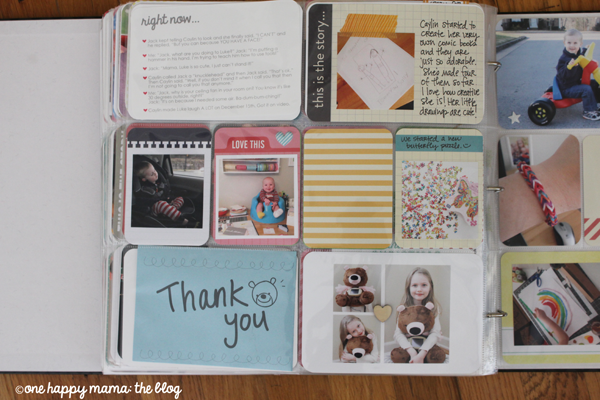 Left side: I've got my "RIGHT NOW" journaling card with everyday moments and memories that I've jotted down, of course! :)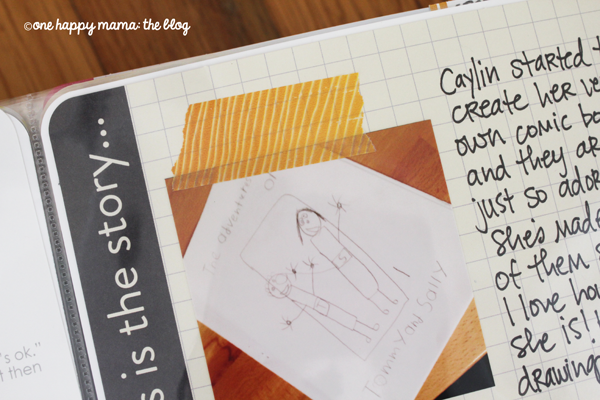 Love how the OHDEERME kit comes with a roll of washi tape! 4×6 card from the Kraft kit.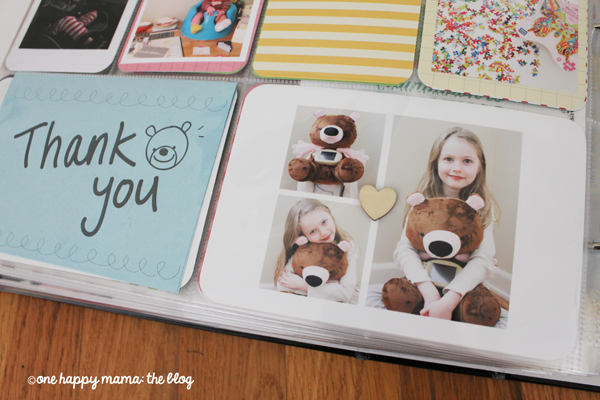 I definitely wanted to include the photos of Jerry the Bear! I used a super cool photo template from HERE to create the collage. I also included the card (on the left) that she got with Jerry. I just slipped it into the slot. No fuss – simple. :) That little wooden heart is in the kit, too. That one is plain, but there are others included in the kit with little "sayings" on them like conversation hearts. TOO cute! :)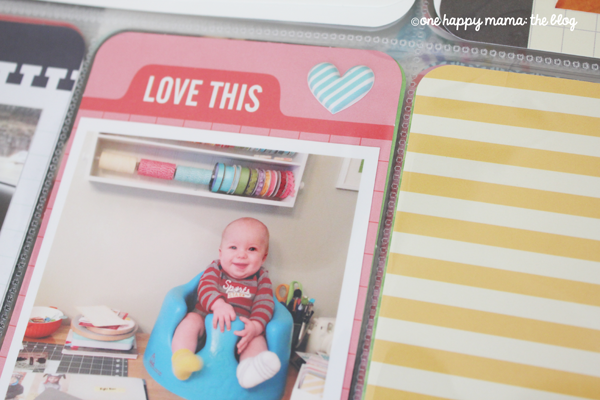 Is that photo not adorable? Ack! LOVE it! Luke was Project Life-ing with me one day. ;) That little blue striped heart is in the kit, too! It's puffy and blue and striped and well – ADORABLE. Sigh. ;) I love the yellow stripes of that card, too. That yellow and blue are my favorite and when you add in the stripes – well that just is happiness right there! :-D "LOVE THIS" card from the Honey kit and the yellow stripe is from the Kraft kit.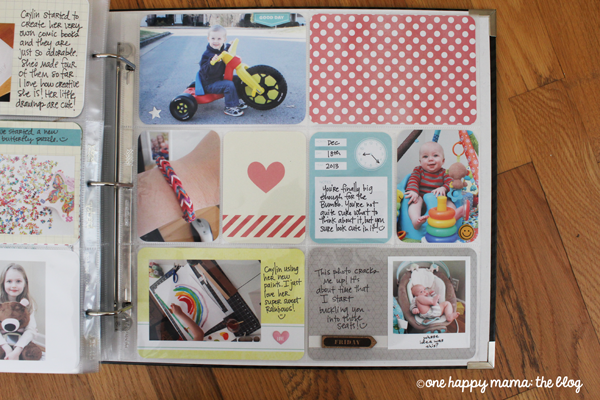 Here's a shot of the right side. That top 4×6 card is from one of the Dear Lizzy kits, I believe. The heart 3×4 card is from the Kraft kit. I'm loving that kit! I just recently added it to my Project Life® collection. :)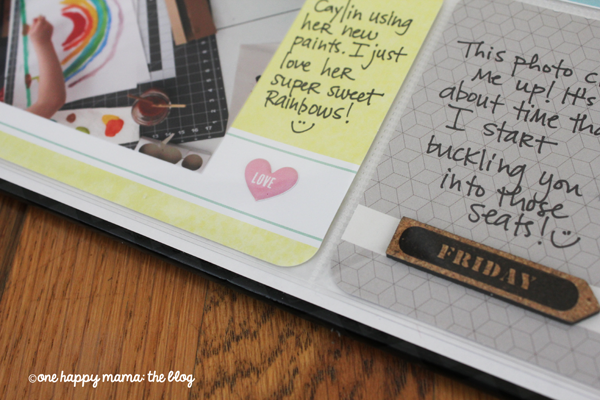 The little pink puffy LOVE heart is from the kit as is the cool cork "FRIDAY" arrow! Those arrows are just perfect for embellishing your Project Life® pages! Seriously!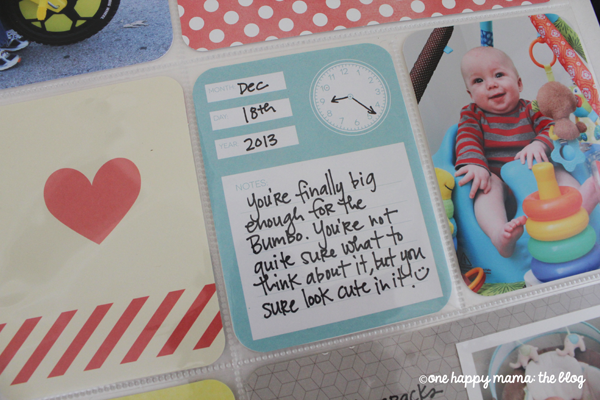 The kit also comes with this little pad of sticky notes in a few different colors! Once again they are PERFECT for Project Life®! I stuck one on some white cardstock, cut it out, rounded the corners, added my information on it and slid it in the pocket! Love!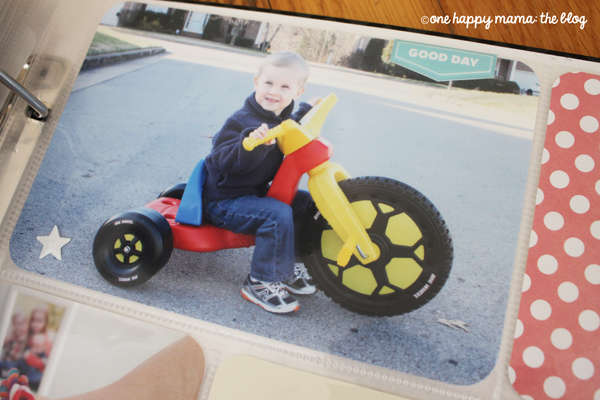 Here's a closeup on a photo on the right side. Doesn't Jack look like such a big boy? Sigh. He got this Big Wheel for Christmas and LOVES it. If he could live on it – he would. LOL! The "GOOD DAY" sticker on the top right is from the kit. It's puffy and that happy blue and just awesome. The little white star on the bottom left is from the kit, too. It's an epoxy sticker and glittery. Need I say more? ;)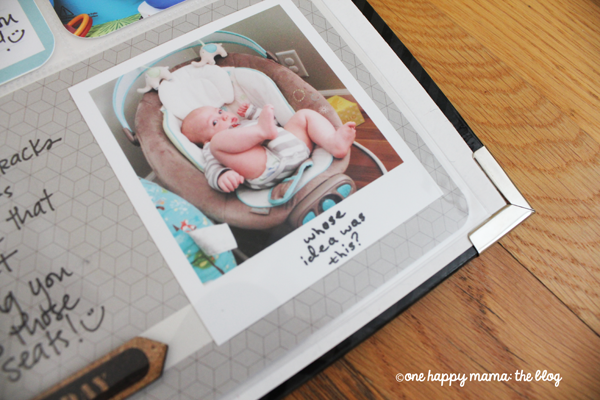 This photo just cracks me up! This is the day that I realized that I can no longer just sit Luke in his bouncy seat and walk away for a minute without belting him in! LOL! I thought the stamp "whose idea was this?" was perfect for the photo! It's just one of the stamps included in the kit. I LOVE how every month I get new stamps to play with, too! One of my crafting goals this year is to stamp more! It's so much fun and I want to get better at it.
Here's another shot of that page. :)
Well, that's it for today! Thanks so much for stopping by! If you have any questions – just let me know and I'm happy to answer them! Have a great day! Stay warm! :)