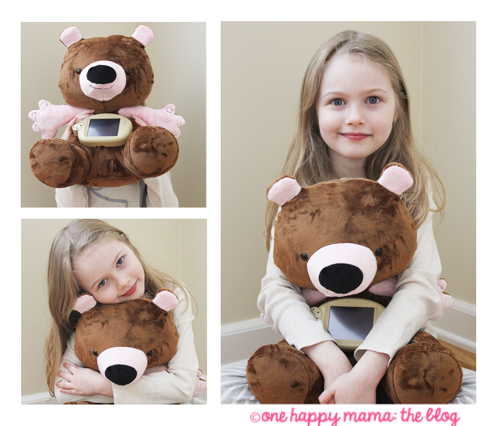 Caylin got a pretty big surprise on Christmas morning. Her Jerry the Bear was delivered a couple of days before Christmas and so we wrapped him up and put him under the tree and she was SO excited when she upwrapped him. She shouted, "Jerry?!?! I thought I wasn't getting him until the Spring!!"
You see, the bear was backordered until the Spring, but somehow the sweet folks at Sproutel (the makers of Jerry the Bear) were able to fulfill the orders for countless other children with diabetes and lots of kids got their Jerrys just in time for Christmas! How awesome is that?!
I just wanted to update you all on the sweet Jerry the Bear fundraiser that Caylin did to raise money for her Jerry. Thank you to everyone who bought one of her original pieces of artwork. She loves to draw and make art and being able to do that AND make money from it was just so rewarding to her and it made me one proud Mama to see her heart in action like that. It also made my heart fill with so my joy from so many of you who purchased a print or made a super sweet comment about Caylin's fundraiser. I'm so thankful she was able to sell all of her art pieces and get her Jerry. :)
Jerry the Bear is so darn cool. I knew he would be, but it's just amazing what the folks at Sproutel are doing. Caylin can check Jerry's blood sugar, feed him and then dose him for the food she gave him. It's such a great learning tool and it's helping Jack understand more, too! Caylin loves that she has a stuffed animal with diabetes, too! It's just such a super cool bear and I'm so grateful to have it in our home.
So proud and happy for my sweet girl.
Thank you again for your kindness and generosity. It doesn't go unnoticed or unappreciated.
Jerry thanks you, too. ;)