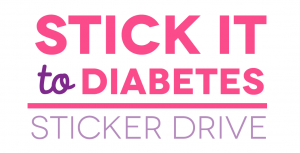 Hi there sweet blog friends!
November is Diabetes Awareness month and I have been sharing some tidbits, glimpses into parenting a type 1 diabetic child and important information over on my Facebook page so please go and like it and check it out HERE if you aren't already.
Caylin had her 3-month appointment at her endocrinologist this past week. She had a great check-up! Not only that, but because of the appointment, Caylin had the great idea to do something sweet that would help the other kids who go to the clinic. She was so excited to show me the cute stickers she got from the nurses there – and the stickers she so sweetly got for her brother so he would have some, too – and she thought that since sometimes they don't have that many stickers to choose from that providing the clinic a BIG ol' lot of stickers would make the kids there SO happy. It's so neat to see how something as simple as a sticker or two can make kids smile. Heck, I STILL love stickers. ;)
Well, I just love her heart and so there you have it …
That's how the "Stick it to Diabetes" sticker drive was born. :) From now until the end of January 2014 (before Caylin's next appointment) we will be collecting stickers to donate to the diabetes clinic.
We would love stickers of ALL kinds donated. If you have some opened up packs of stickers – totally fine to donate! Stickers in rolls, stickers in sheets, sticker packs – just any and all kinds of stickers imaginable. :) We would love a mixture of both boy stickers and girl stickers – oh and stickers for older kids, too! Just whatever kind of stickers you have or purchase – that would be SO great!
The details:
When:

Now through January 2014

What:

Any and all kinds of stickers (see above)

Where:

To donate to the sweet children at the Vanderbilt Eskind Diabetes Clinic here in Nasvhille

Why:

To brighten the day of many, many children with type 1 diabetes (and their siblings)
If you would like to donate some stickers, please email me at kristinaproffitt(at)one-happy-mama(dot)com and I'd be happy to send your our address. If you have any questions, please let me know and please share this sticker drive with your friends and family and on all of your social media accounts! Caylin would love to be able to donate a BIG box of stickers to the clinic!
Thanks so much to all of you! Have a blessed day!
Thanks so much, everyone! Blessings to you!