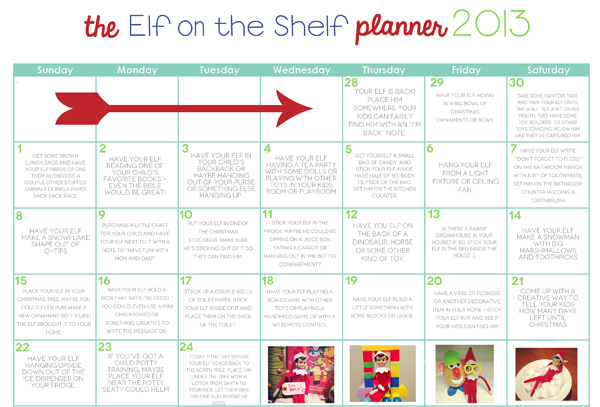 It's about that time again – elf time! ;)
For the past couple of years I've tracked our Elf, Henry's adventures here on my blog and I am going to do it again this year! ;) I've had quite a few people ask me if I was going to do another Elf planner and so here it is! I just whipped up a quick calendar and added some ideas that you can use while your family's elf is in town. Take it from me – it's ALWAYS good to plan ahead and not stress out the night of about where you're going to place your elf! ;) This planner is perfect because it'll be all mapped out for you.
You can see Henry's adventures in years past HERE.
If you'd like, you can download this year's Elf on the Shelf Planner HERE or if you'd like I've also got an empty one that you can print off and add your own ideas, too! You can go HERE for the empty one. I'd love for you to also take a minute and hop over HERE and like my page on Facebook before downloading. That would be great!
I started the planner on Thanksgiving night because that's the night that our elf Henry comes. :)
I hope you find it super helpful and I hope that you'll join me on my blog starting on the 29th as I document another year of Henry the elf's adventures! I wonder what he's going to be getting himself into this year. ;)
Have a great day!