Hi there! It's that time again! Project Life® Tuesday! :)
I've got a special little treat for you all today! ;) My daughter, Caylin, loves Project Life®, too and she asked me so sweetly last week if SHE could share her Project Life® album with you. I thought it would be the perfect opportunity to remind you all that not only can YOU enjoy Project Life®, but your kids can, too!
I just love it when my daughter and I are sitting at the table together, working on our albums, laughing, sharing washi tape, looking through the Project Life® cards (to find that perfect one) and just being together doing something that we both love.
I definitely think it's important to involve your kids in the memory keeping process – whether it be leaving some blank Project Life® cards out for them to draw on, write on, etc., asking them questions about the things they like or are into and then adding that into your Project Life® or even remembering to jot down those funny things your kids say. There are so many ways to involve your children and your albums will be THAT much more special when you do. I think those are the favorite parts of my album – seeing those everyday moments scattered about my album and those bits and pieces of my children growing up through the pages.
Another way you can involve your children is to actually get them a small mini album and a kit of their own. When it came to Caylin's album, I decided to get hear a Project Life® mini album and she wanted to just go through all of my goodies and so I shared. ;) So you'll see in her album it's just a mish-mash of all of the things that SHE loves. She put her own personal touch on her album and I just let her do whatever she wanted – she had complete creative control over it and since it was HERS – my OCD self didn't care. ;)
Here are some photos of her album: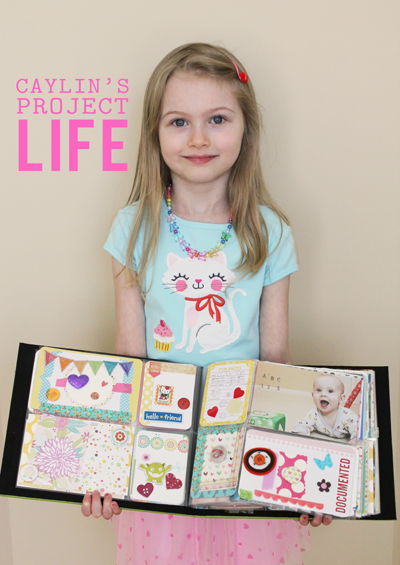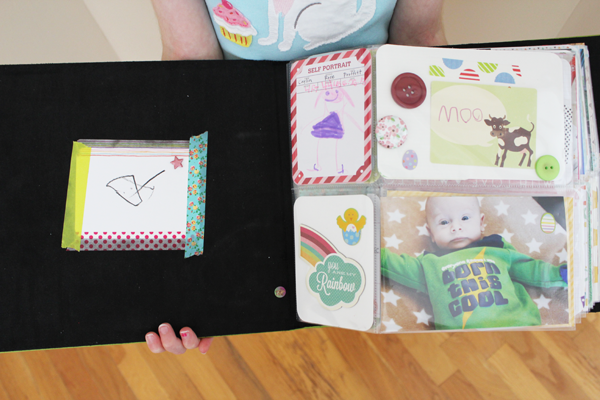 I had a bunch of extra photos (reprints, etc) in a box and I let her go through them all and use whichever ones she'd like. :) The little card on the left side is Jack's little "smiley face" that he drew her. She loved it and taped it to the inside front cover with washi tape. :)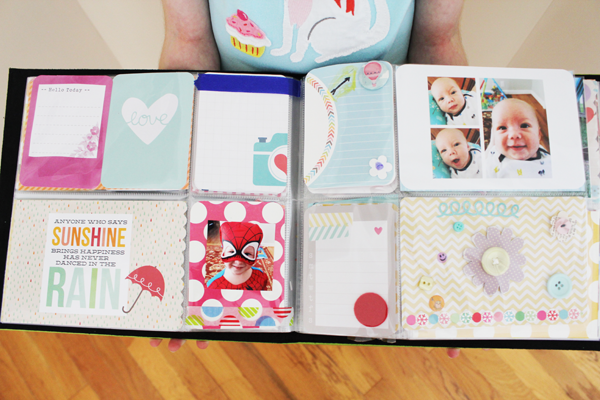 There really was no rhyme or reason to why she added which photos or which cards, etc. She just wanted to be free creatively and I let her. She had SO much fun going through oodles of embellishments and I heard her say numerous times, "I love Project Life®! I'm so glad that I have my own album to work on!" It was cute.
She wanted me to tell you all that she has to go back to do lots of journaling, but she will. She's not very patient when it comes to writing. LOL! :)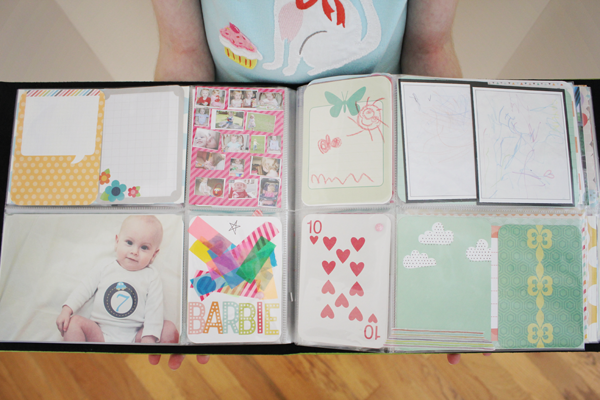 She loved to add her own drawings to the Project Life® cards and she included some of her first little drawings (top right) that she did when she was little (I had them scanned and printed) and she also made a "heart" with washi tape. Can you tell she likes washi tape? Ha!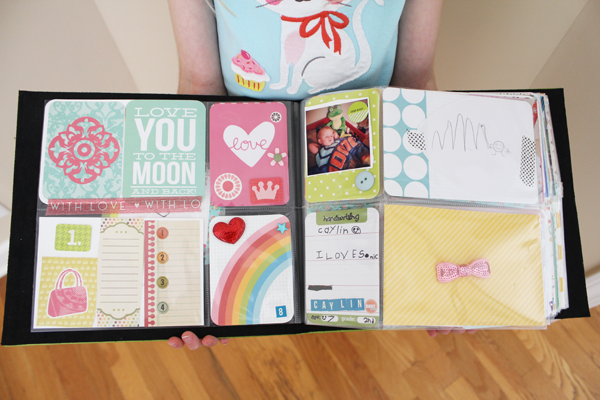 More cards, embellishments and doodles. :)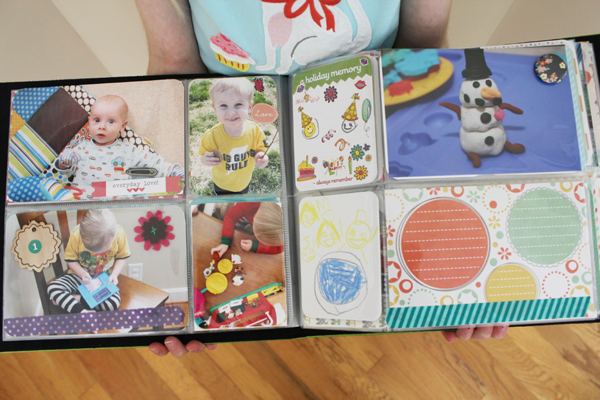 She has some more pictures with embellishments (her album is very chunky – lots of embellishments, LOL) and she did some drawings, too. Of course – more washi. Ha!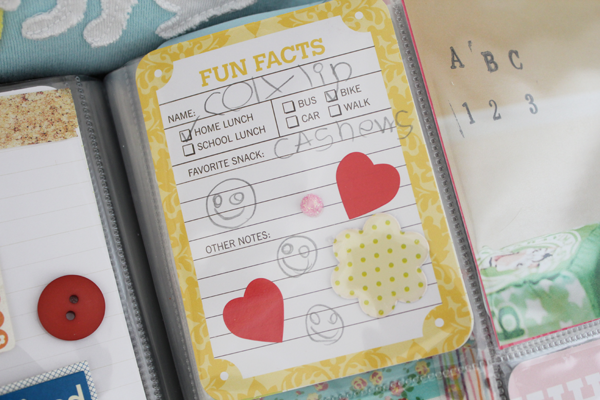 She also filled out some of the Project Life® cards from the Childhood Kits. :) Oh, and you can see she also did some stamping. The ABC, 123 was stamped on a photo of Jack when he was little. I thought that was cute. ;)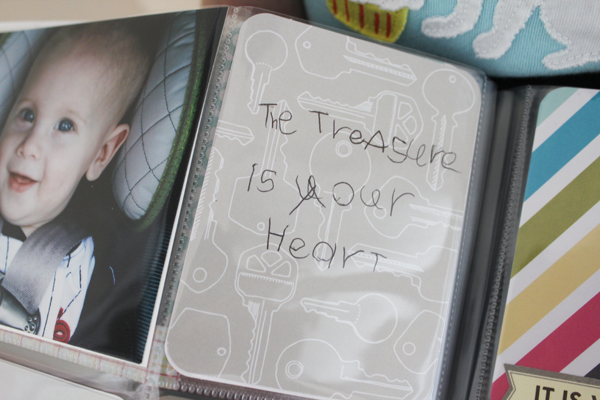 I saw this in her album and just melted. She did that all by herself. Sigh. :) THAT is a treasure.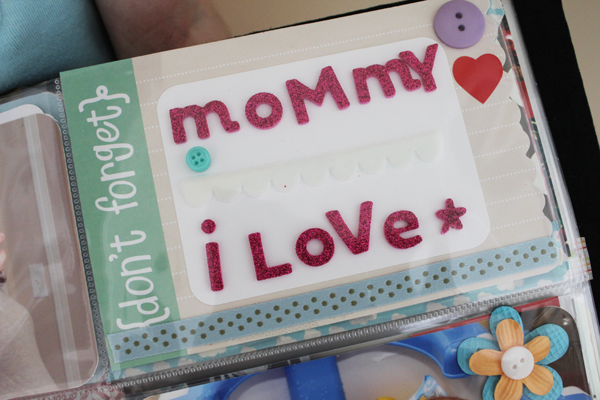 She definitely included lots of love notes in her album. Totally made me smile. She's got a big heart, that girl. ;)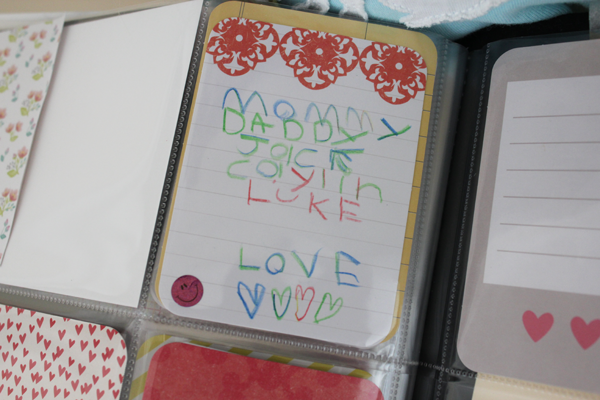 See – told you. Love how she wrote everyone in our family's name down and then put "LOVE" with hearts. Super sweet.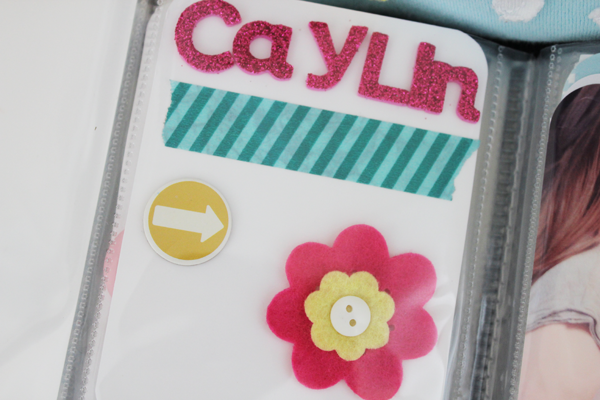 A blank card she decorated on her own. :)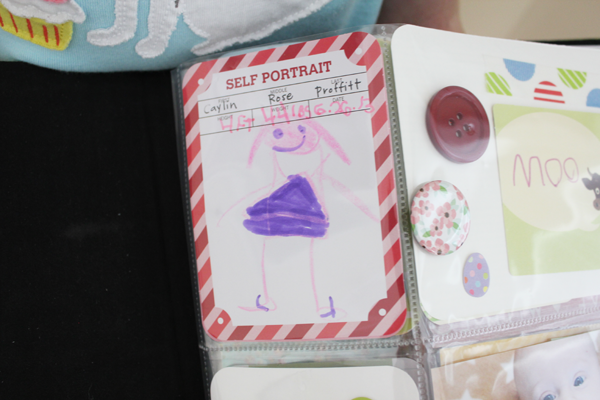 And this card is another one she filled out. It's actually on the very first page. It's a little self portrait, which is so cute and a few other details. I just love it so.
See – your kids will LOVE doing Project Life® and there is no right or wrong way for them to do it. Just let them be creative and capture their memories in their own way. Caylin is going back now and adding some journaling and has a few empty slots left that she's "waiting for the right picture and/or card for" in her words. ;) She's also already asking for another album to do – only this time she wants a BIG album. Uh oh. ;)
Hope you enjoyed her little album and be sure to check back next week when I'll have some more of my pages to share. Until then … have a great day!
Hugs!