Happy Project Life® Tuesday! Yay! Oh, and Happy October to you, too! I just LOVE October. One of my most favorite months of the year! :)
Today I'm going to do something a little bit different. I'm going to answer some of the questions that I've received regarding Project Life® and how I do Project Life®, etc. I don't have any new pages to share TODAY, but if you missed yesterday's blog post – you definitely want to check it out because I shared some new Project Life® pages over at the Simon Says Stamp blog to help celebrate STAMPTEMBER. Yep, I included some stamping on my pages and you know what – I LOVED it. I have done it here and there, but really need to do it more. I always use a date stamp, but it was nice to pull out my acrylic stamps, ink and acrylic block and do some more stamping! So check it out HERE if you haven't already!
Here's the sneak peek from yesterday's post: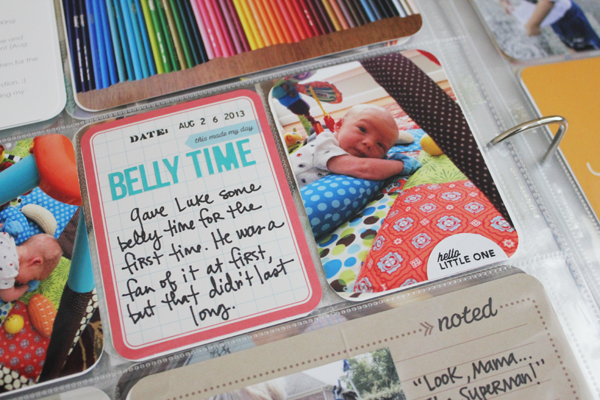 One more quick thing – HAPPY 4TH BIRTHDAY TO PROJECT LIFE®! Yay! Be sure to head on over to Becky's blog HERE and check out what they are doing to celebrate!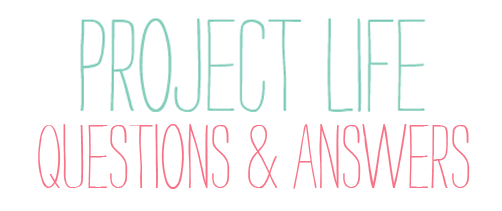 Ok, now onto some of the questions that I get asked a lot:
What do I need to start Project Life®? You honestly don't need much at all besides some photos you've printed out, a core kit, an album and some page protectors. No glue, cutting, embellishing necessary. The cool thing about Project Life® is that you can make it what you want it to be. If you want to keep it super simple (like it's intended to be) so that you can rock it out and get a bunch of memories into an album – then you can do that. If you like to add bits and pieces of memorabilia in your album or add tons of embellishings, etc. then you can do that, too. You can even do a combination of both, which is what I seem to do – then you can do that. You just find the way that fits best into your style and your life and then you get at it. :) You can read a lot more about Project Life® and see a great video about it HERE on Becky's website. I highly recommend you watch that video and also check out the PRODUCTS page to see all of the cool Project Life® goodies there are. 
Where do you print your photos? I mainly print my photos at home. I have a Canon Pixma i4600 that I absolutely love. If I do have instagram photos that I want printed or larger than 4×6 photos printed, I use persnicketyprints.com. LOVE them. Highly recommend them. They are great and the quality is awesome. I love having the ability to print out my photos and have them right away so that's why I print at home. It helps me stay caught up and I love using THESE templates, too. I use Photoshop Elements and edit my photos and that's where I see if I want to resize them (to 3×4, 4×4 or smaller) or if I want to keep them 4×6. If I resize them, I put two 3×4 photos on one 4×6 file template and print it out that way and if I make them smaller than I just do the same thing – open a file that is 4×6 and drag those smaller photos onto that file and then print it out on my 4×6 photo paper. :) Easy cheesy.
What pen do you use? My favorite is just the standard fine tip black Sharpie. :) I also love the Project Life pens by American Crafts. Those write super great, too!
Where's your favorite place to buy Project Life®? I really love to buy my goodies at local craft stores like Hobby Lobby or Michaels. I'm a sucker for a good coupon and who doesn't love to save a buck or two? Those places offer discounts and so I can buy even MORE Project Life® goodies. ;) Amazon.com is a great place to shop for them, too!
How do you handle the aspect of having 3 kids and creating your PL albums? Do you just have one album for yourself to keep? Do you ever feel like you should create an album for each child for the year?  I've been asked this question a lot and here's the way I'm approaching it. The family Project Life® albums that I make with all of the family photos, every day moments and right now memories will be kept in the family home – always. The kids are welcome to go through the albums whenever they want to. It's just for the whole family to enjoy. In regards to the baby albums – I think realistically the only one of my children who MAY want their baby album is Caylin because 1) she's a girl and 2) she loves scrapbooking too and I bet she'd love to show her children her baby album one day. I am betting that Jack and Luke probably won't care about having their albums so they'll just either stay with me or I can always show their wives and then I bet their wives will want them to have them. ;) I just have one album for each kid for their first year and then Caylin's album has a bit more – up to age 6, but like I said, I don't think the two boys are going to care that their sister has a bit bigger album. ;) Right now I actually have Jack and Luke's baby pages in the same album. I will just purchase another one down the line to separate them and most likely use the rest of the room to house some art keepsakes and what not throughout the years. I definitely don't have the time (or energy) to create an album for each child for the every day type stuff. I just add all of that into our family album. :)
When your kids get older and leave home…how will you divvy up the family albums among your three children? See above. :)
What binders do you use? I use the Project Life® binders. Right now I have about 7 of them. Only 4 of them are filled/being used. I bought a few extras when I got them at a great deal! I love the binders though! They're 12×12 and great quality. I don't necessarily use the binders that go along with the specific kits – I just buy the ones I like and trying to mix it up a bit. :)
What are your favorite page protectors and why? The page protectors that I ALWAYS use are the Design A page protectors. Those are my go-to protectors and I really just love the format. I keep that pretty consistent. I do love the DESIGN I protectors, which are the protectors for Instagram photos with the 4×4 slots three on both sides. I also seem to use the 5×7 page protectors that Becky has, too. Love that little size and they're perfect to slip invitations in, 5×7 photographs, little memorabilia, etc. Those three are my favorite. 
Can I have the Right Now template that you use on your blog? Sure! Just email me and I'm happy to share it! I have it saved as a PSD file and you're welcome to use it and alter it any way that you like! Just be sure to get some of those every day moments jotted down! ;)
How do you organize your Project Life® supplies?
Right now I honesty don't have a great way of organizing my supplies. My studio is still a major work-in-progress and so I usually just pull my super cute IKEA cart full of goodies up to my dining room table and do my Project Life® there. I've also been known to sprawl out on the floor of my studio with lots of opened core kit boxes, my corner rounder, date stamp and album and work on it that way. :) For the most part though, I love the boxes the kits come in and so I keep those and keep (most) of the cards in those. I love how you know which kit it's from and they're handy to grab and you can stack them, etc. Now, like I said, I do have one of those cute IKEA carts where I house all of my must have Project Life® goodies/tools, etc. It's full of 3×4 and 4×6 cards that I want to use and love (most likely from a newer kit). I also keep the tools I use when I work on my pages (corner rounder, date stamp and ink, favorite pen, trimmer, etc) super handy so I can just reach for them. I have a bowl that is full of stamp/sentiment stamps with ink, a wire basket full of colorful washi tape and a couple other containers with flair buttons, stickers and other misc. small items that I can embellish my Project Life® pages with if I want to.
Here are some pictures of my cart and its contents: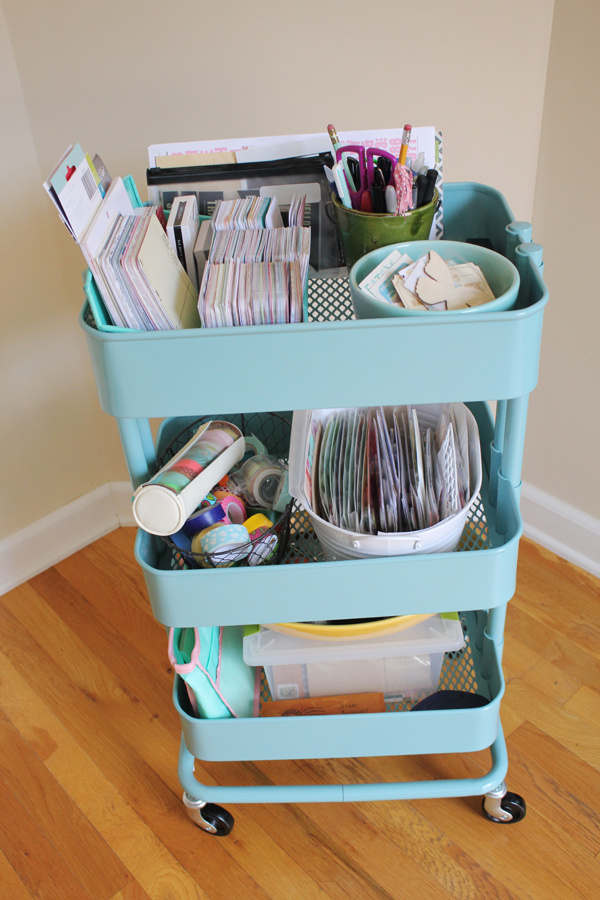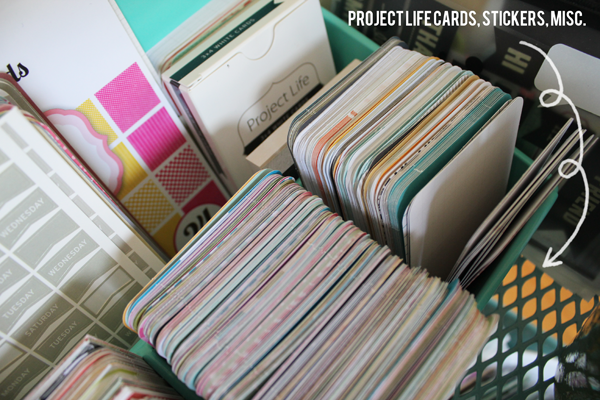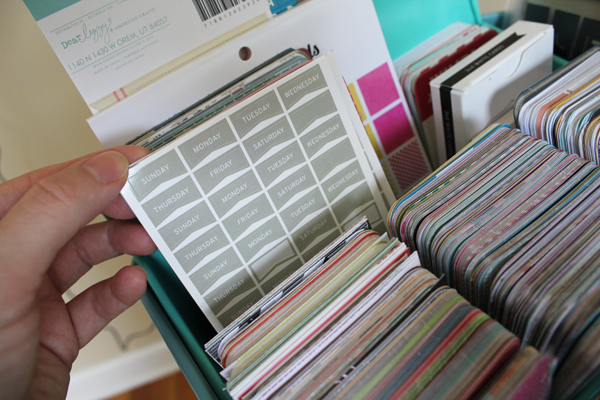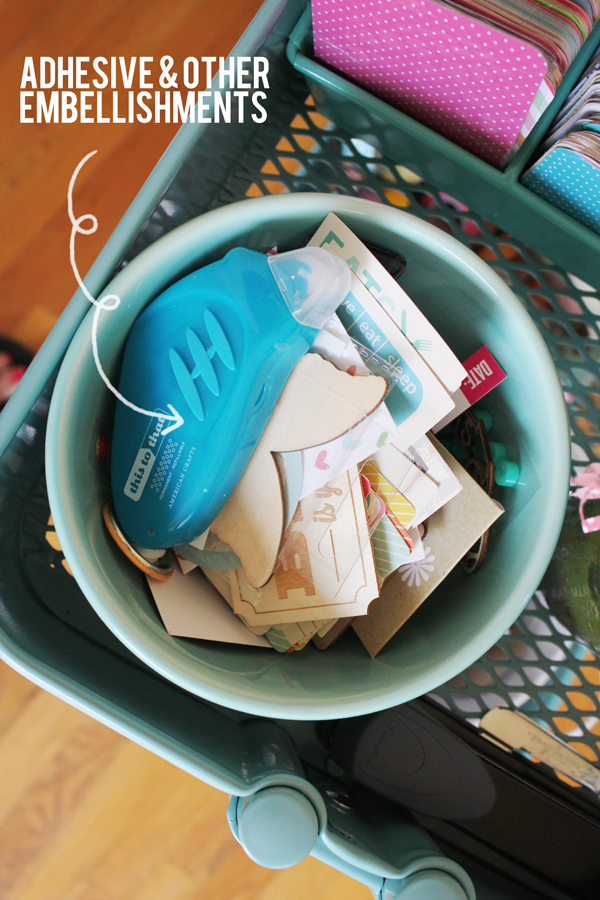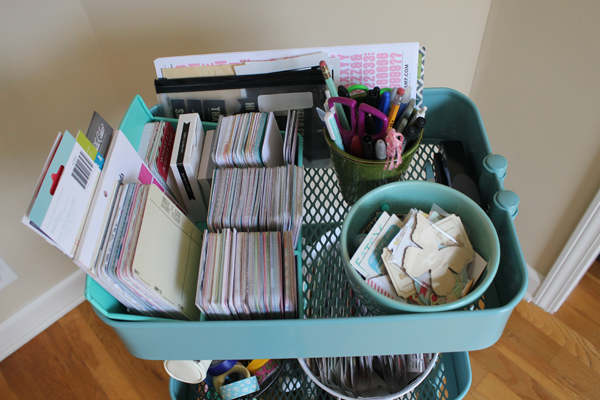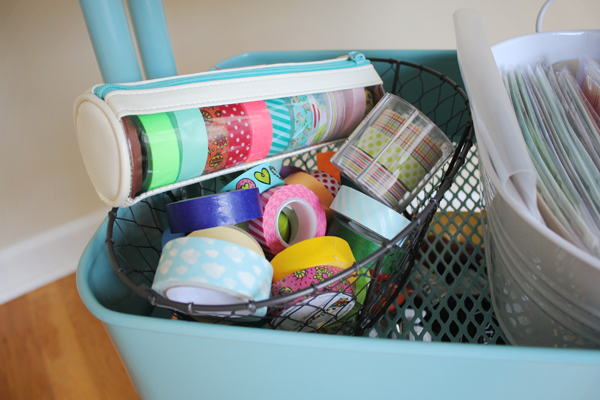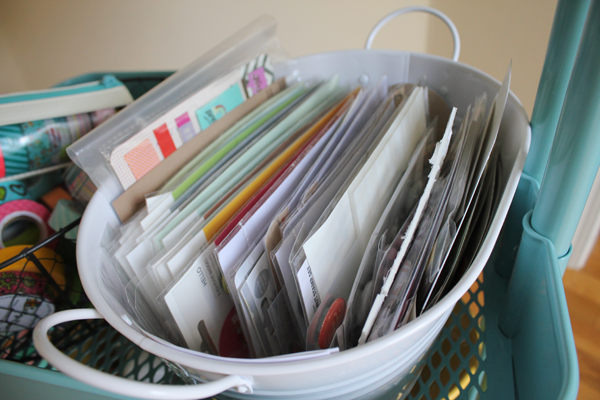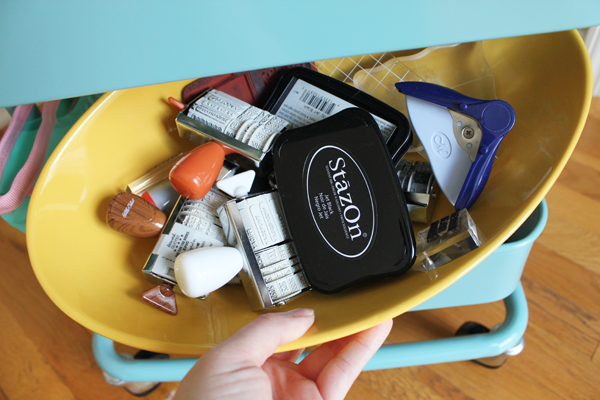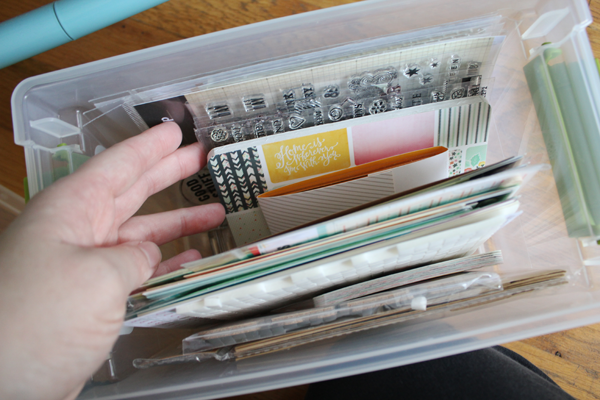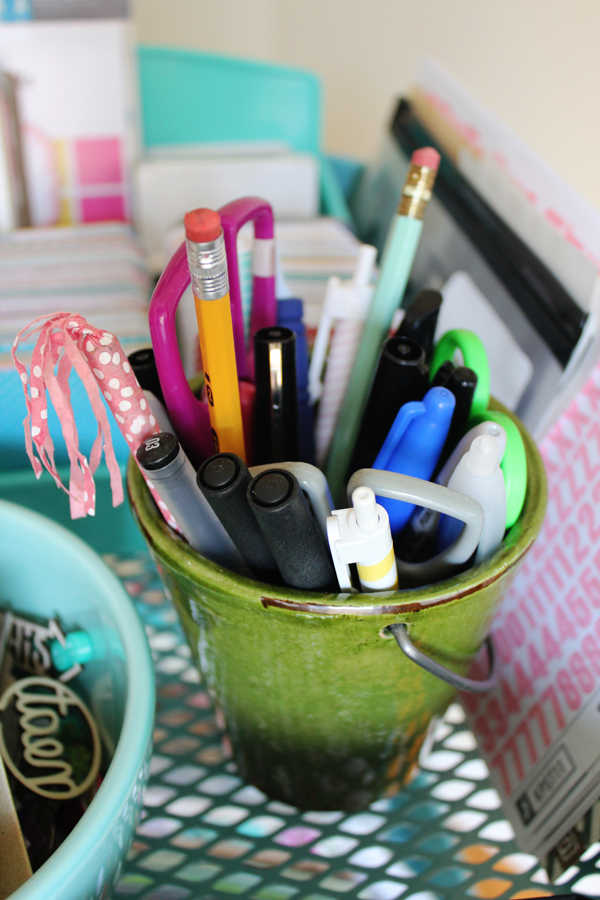 Well, that does it for today! Let me know if you have a question that I didn't cover and I will get back to you! :) I've got some pages in the works that I promise to share soon and don't forget to head on over to Becky's blog HERE to take part in the Project Life® 4th Birthday Celebration! She's giving away some super cute things today! Yay!
Have a blessed day!