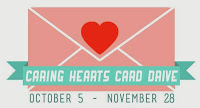 Hello sweet blog readers!
I wanted to let you all know about a super sweet card drive that is being put on by my sweet friend, Jennifer McGuire and some of her sweet friends! It's called the "Caring Hearts Card Drive" and they are collecting holiday cards for the elderly living in nursing homes.
I think this card drive is such a sweet and wonderful idea. The elderly living in nursing homes are often forgotten about, especially during the holidays and a simple card would brighten their day so much.
Please consider taking the time to make a card and send it into this card drive. The really cool thing is that just by doing so, you are entered to win your chance at some awesome prizes (including a gift certificate to my shop, Baby Bird & Bub Bub)!
You can read all about it HERE on Jennifer's blog.
Please be a part of this wonderful card drive and do your part to spread a bit of joy this holiday season.
Thanks so much!
Have a beautiful Monday!