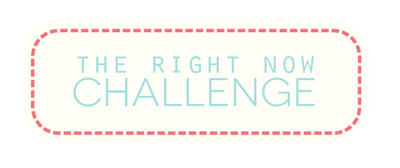 Woo hoo! It's Week 50! :)
Isn't that crazy? I've done FIFTY weeks of "The Right Now Challenge" and I'm telling you – it has been SO easy and the sweet little life moments I've been able to document have been crazy good. I'm serious. Get on this bandwagon NOW if you haven't already. ;)
If you're not sure what the Right Now Challenge is, check out my blog post HERE to read about the challenge and why I started it.
Here's what I got for week fifty:
All this week Jack has been someone different. First it was Batman. Then it was Spiderman. Then Raphael the Ninja Turtle and then finally Flash Gordon. I can't keep up! Ha!
Jack: "When you go to the Michael's craft store, Daddy can take me to the old man shoe store."
Caylin: "Mama, I know why I can understand Jack better than anyone. Because all he does is "blah, blah, blah, blah" all of the time to me. He never shuts up!"
Luke turned one month old. :)
Caylin, "Mama, you're one of my most favorite people."
Finally feeling like myself again after the c-section. Thanking God for a good recovery and healing.
Jack saw a commercial with the Pillsbury Dough Boy and shouted out, "It's the cinnamon roll guy!" Ha!
That's it for week 50! I hope you are writing down some bits and pieces of your week, too!
I hope you have a great Friday! Check back in a bit – I've got a great post coming about a super cute new embellishment kit and a giveaway, too! Yay! It's Friday!
Hugs! Be back in a bit! ;)