Happy Project Life® Tuesday!
Today I am sharing with you all a few more pages from Luke's baby album. Once again, I love how easy and cute this is coming together. If you have ever thought about doing Project Life® to either document your child's first year or do document your life each week – you most definitely SHOULD. I can't explain enough how much I love this way of memory keeping and how much it has simplified the process for me, but yet I seem to get even more memories into it! Total win-win! Ha!
Ok, here are the pages: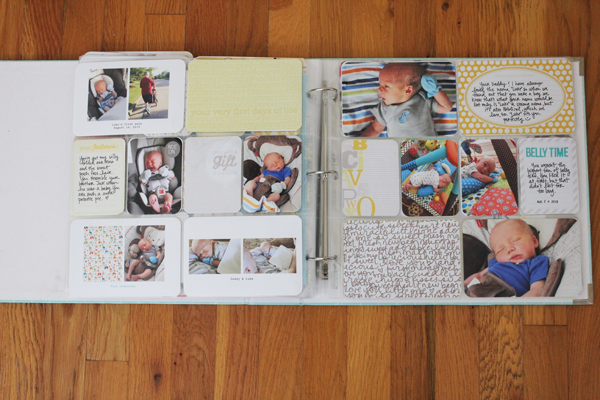 Once again, I'm using the Baby Edition of Project Life® and the Design A pages. These next few pages are documenting the first few days of his life. I've got pictures of him freaking out in his car seat as we're being discharged from the hospital and going home, pictures of him and his Daddy, pictures of his first walk. Also documented the first belly time and just random photos as well. :)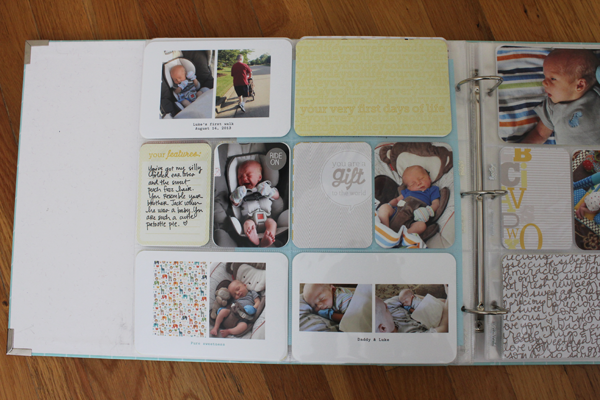 Photo templates used are Tracy Larsen's that you can find HERE. LOVE them! I need to buy more! I seriously think that I need them all. It makes creating these simple, cute photo collages a piece of cake and then I just print and pop them in the page protector! Doesn't get much easier than that!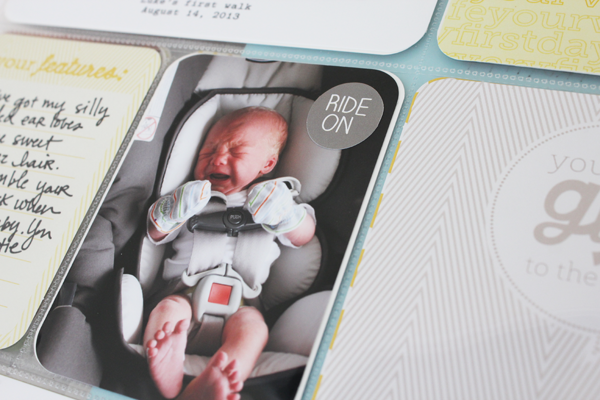 Close up of Luke freaking out the first time in his car seat. The "RIDE ON" sticker is from Studio Calico.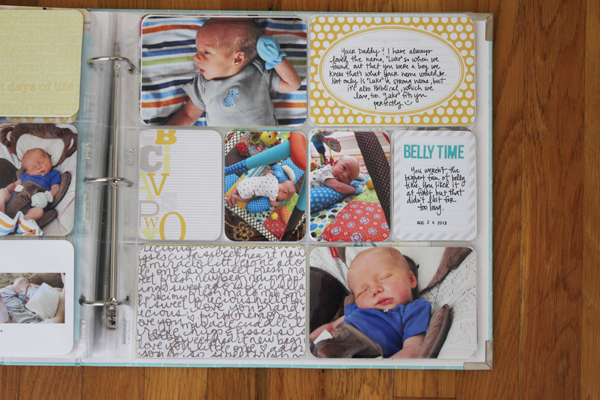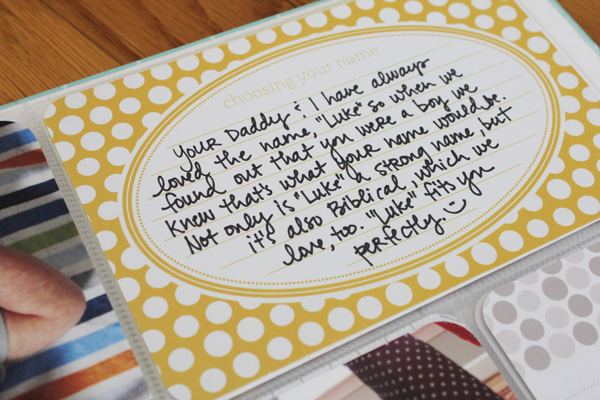 Journaling card from kit about why we named him Luke. Love these journaling prompt cards.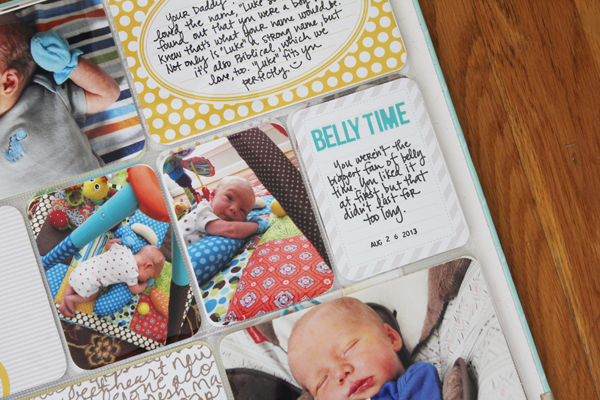 The "Belly Time" stickers are by Kelly Purkey and they are seriously my most favorite letter stickers at the moment. I have them in EVERY color. You can find them at Simon Says Stamp (my favorite scrapbook online store) HERE!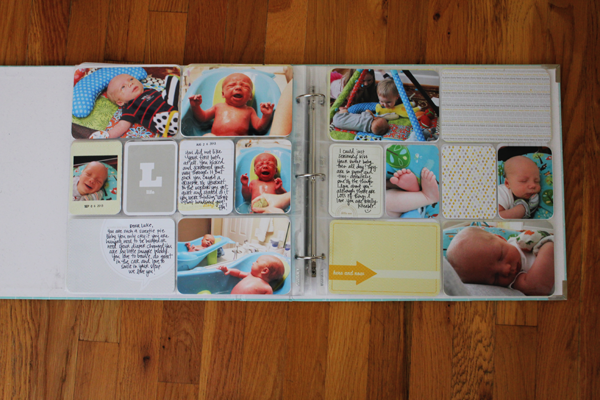 Here are the next couple of pages. Just more documenting of some firsts – first bath and just pictures of him with Caylin and Jack and then some pictures of him sleeping. I can't seem to take enough of those. LOVE to watch my kiddos sleep. Just something so peaceful, innocent and magical about it. Sigh. :)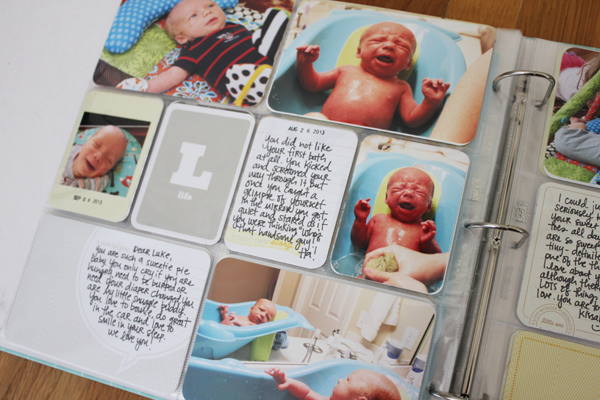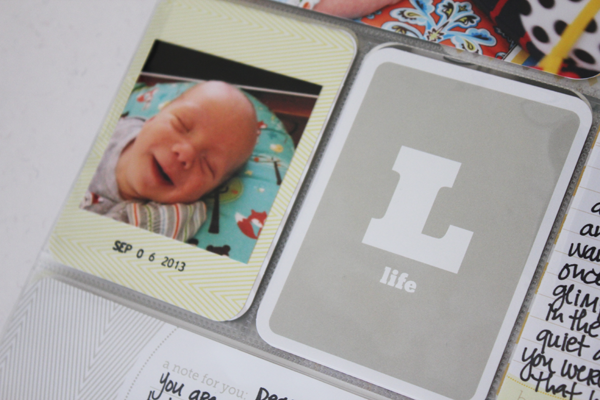 Who doesn't love the sleeping baby smiles? Sigh.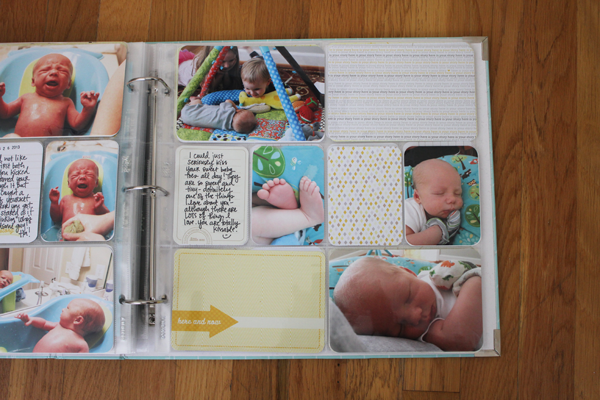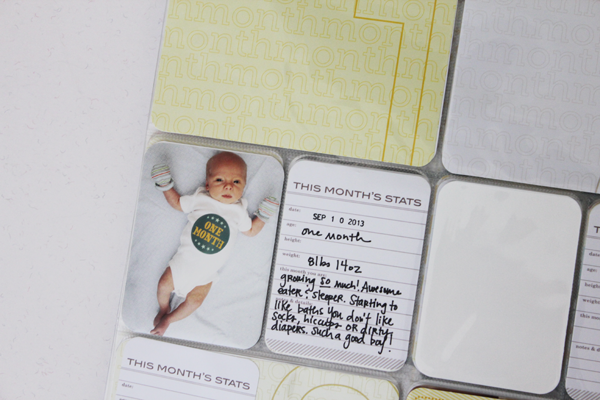 Lastly, I started the monthly pages since he just turned one month. I did it just like I did Jack's pages (you can check that out HERE) and this is the first month! :) SO happy to be jotting down the details right when I know them so I don't forget or have to go looking for them!
Well, that's it for today! Those are all of the pages I have in Luke's album so far. I'm up to date with it as of now, but as I add more pages, I'll be sure to show you all! Yippeeeee!
Thanks so much for stopping by!
Oh, and I thought it would be cool to do a Project Life® Question/Answer session on my blog one of these Project Life Tuesdays soon, so if you have ANY question about Project Life® or about my process, etc – please let it to me in the comments section and I will gather them all and I will answer them in a blog post soon! I know a few of you have already asked a couple of questions and I am going to cover those, too! :)
Have a blessed day! Hugs!