Happy Project Life® Tuesday sweet blog readers!
I told you I'd be back this week with some pages! Sorry about my lack of pages last week! I'm happy to report that no baby snuggles were jeopardized in the making of these pages! Ha! I have been doing LOTS of baby Luke snuggling and got plenty of time to work on his baby album. Yay! :)
I'm so excited to have actually already started his baby album and not done like I did in the past with Caylin and Jack's album – which is completing it LONG after they turned one. ;) Now I can work on Luke's album as he grows and start caught up with it and have it completed when he turns one. Pretty awesome! Project Life® makes it THAT much easier, too! Have I told you lately how much I love this system of memory keeping?
Ok, so above is the first page of Luke's album. I used the DESIGN A page protectors (like Caylin and Jack's album) and I used the Baby Edition Core Kit (HERE) that is gender neutral. I just LOVE all of the yellow and gray in this kit. I figured that since I used the Baby Edition for Her for Caylin and the Baby Edition for Him for Jack – I'd use this one for Luke. Worked perfectly. :)
Just like Caylin and Jack's baby albums, I included a few of the filler cards, the first ultrasound photo, the photo that I always take of the many pregnancy tests (Ha!) and a little journaling card about how we found out we were expecting. :)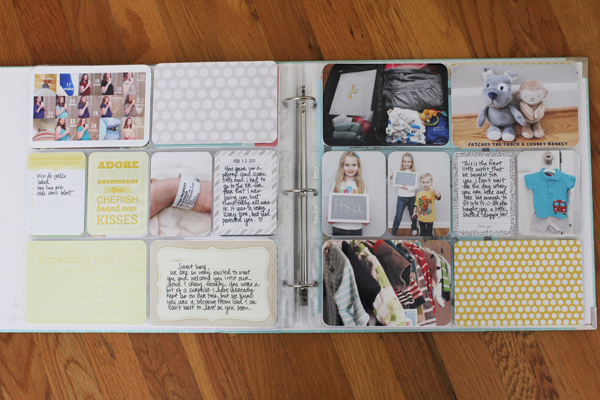 Here are the next two pages of his album. I was happy to be able to include quite a few belly shots in Luke's album. I only took sporadic belly shots with my last two pregnancies, so it was neat to see them altogether in this album. I didn't take a picture EVERY week, but almost. I just created a new file and then added them all to a 4×6 photo so I could see them altogether. You can see a close up below. :)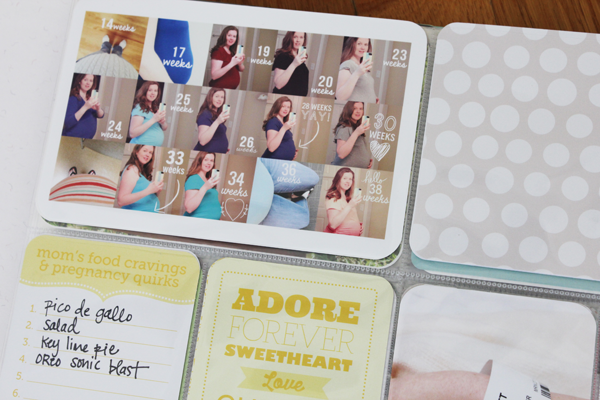 I then included a few cards like what I was craving and a couple of journaling cards. One about the scare we had early on when I thought I was miscarrying and the other just a little letter to him while I was pregnant with him.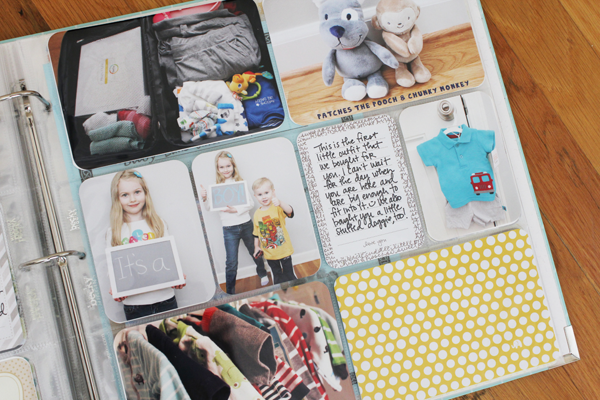 This page has the photos of how we announced he was a boy, some of his little clothes in his closet, the first little outfit we bought him, my hospital suitcase all packed and the two little stuffed animals we got him that Caylin named. :)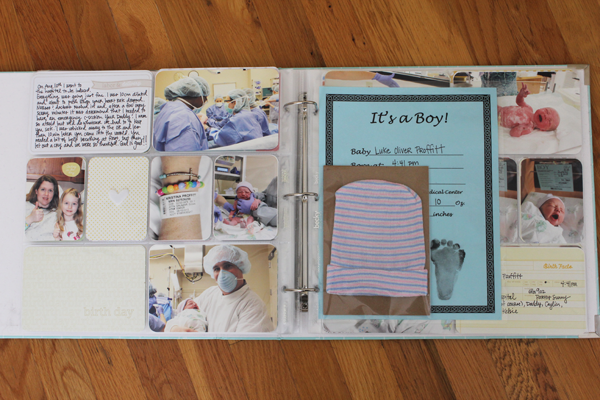 These pages are the next ones in the album. On the left you have my labor/delivery story and a picture of Caylin and I with a thumbs up! We did the same type of photo when I was having Jack so I wanted to be sure to get another one when I was having Luke! It was our thing. ;) I also included a photo that Michael snapped quickly during my c-section and a couple of photos of Luke right after he was born. I also included a photo of my hospital bracelets and a title card.
In the middle I did the same thing that I did for Caylin and Jack's album – I used a 5×7 Project Life® page protector and cut a piece of cardstock to fit it and then placed the hospital hat in it. I used just a smidge of glue to hold it in place.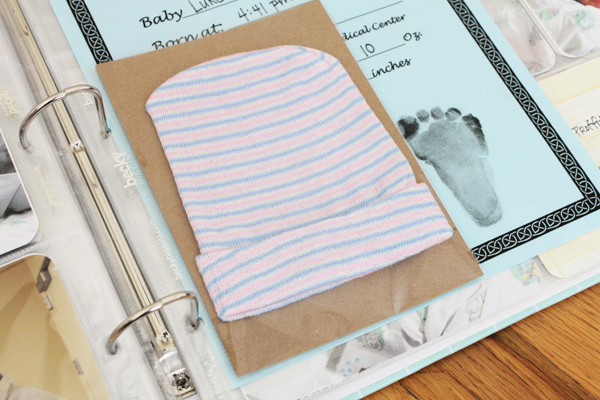 On the back I just slid in the rest of the ultrasound photos. :)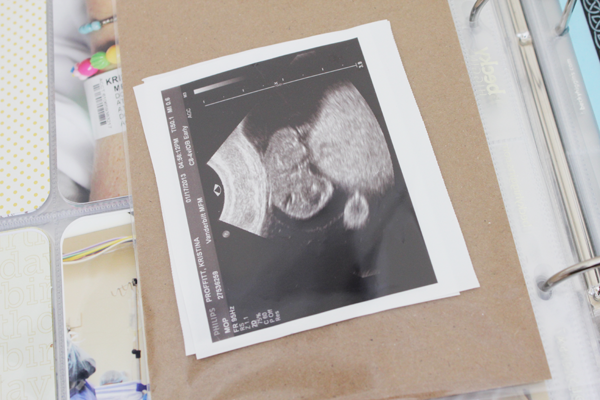 Then I just punched holes in this little footprint certificate from the hospital and included this, too. :) It was laminated so it was protected.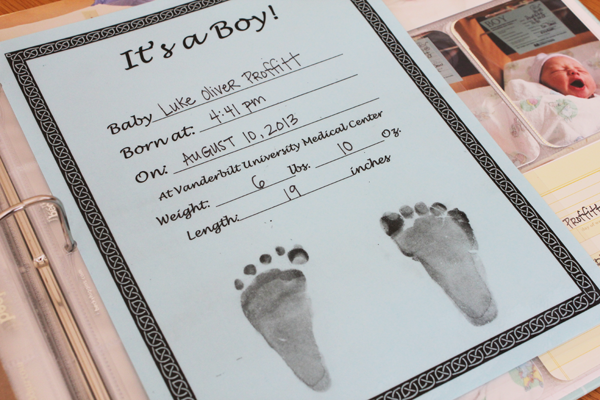 Here's a close up of the left page a bit.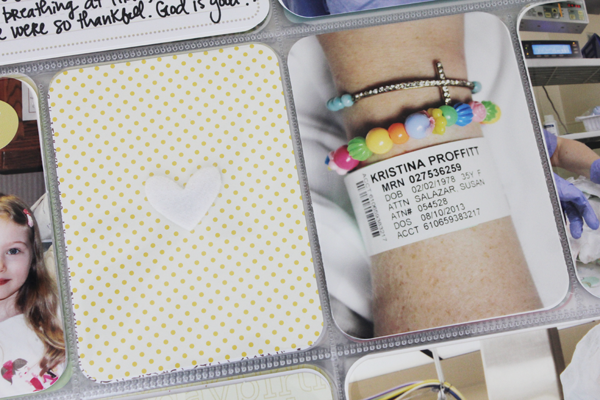 This page has Luke being weighed, his first bath in the hospital, his little hospital bracelet, meeting Caylin, a few other pictures from his first day of being born and the little "birth facts" card that's included in the kit. :)
Close up. :)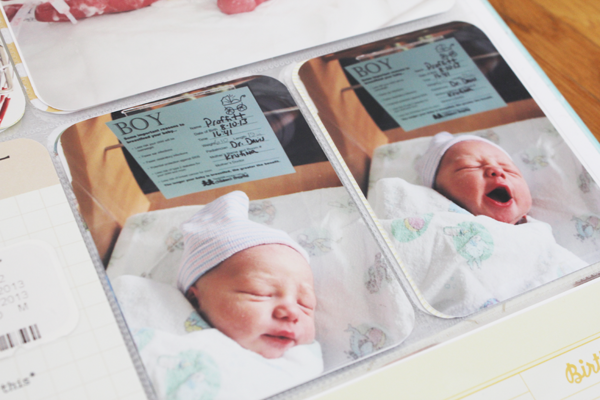 Well, that's what I have so far! I'm going to share more of his album next week, so check back! I just LOVE how these Project Life® baby kits make creating a super cute baby album for my kiddos SO easy. I'm serious. Luke is one month old TODAY and I already caught up on his baby album. I mean – come on! Thank you, Becky Higgins! Ha! ;)
Hope you all have a blessed day!