Happy Project Life® Tuesday!
I hope you all are having a great week! Today I'm sharing some recent pages that I've completed for our family Project Life album. Enjoy and let me know if you have any questions!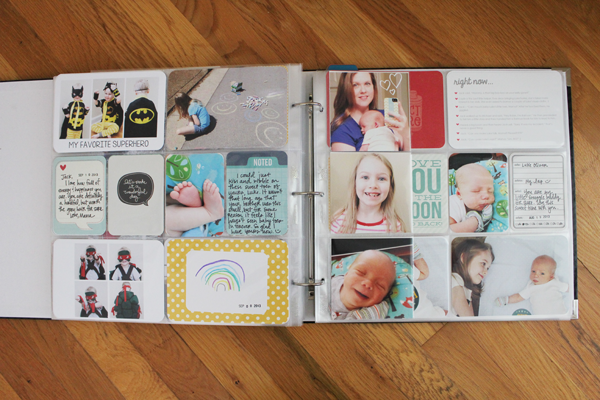 For this week's spread I used DESIGN A page protectors and a DESIGN I page protector. Those are my go-to page protectors, it seems. :) I also used the Honey core kit, Jade core kit and cards from the new Little Girl Themed Card pack! LOVE them!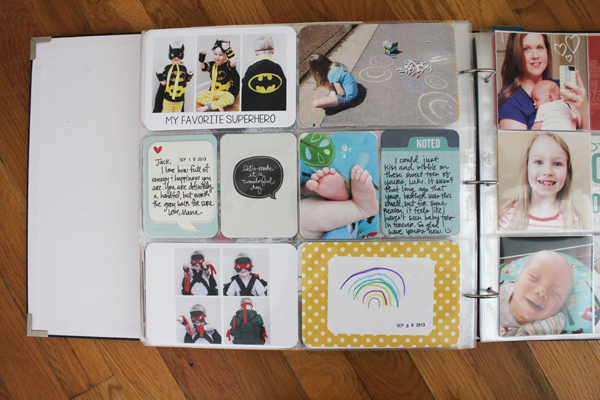 Here's a view of the left side. I used the awesome photo templates from HERE. Seriously – I can't rave about them enough. :) I also have to say that I love Becky's new date stamp. It's got such a cute font. You can see it up close a few photos down. I didn't think I needed a new one, but I'm glad I picked this up. I'll have more about those super cute superhero costumes on my blog soon. ;)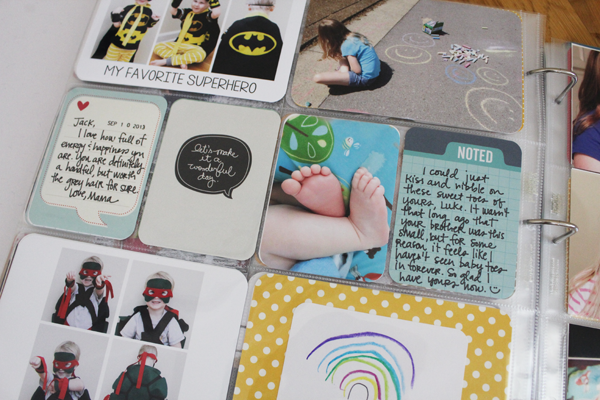 Close up. Just had to show a close up up those super cute baby feet/toes. You're welcome. :)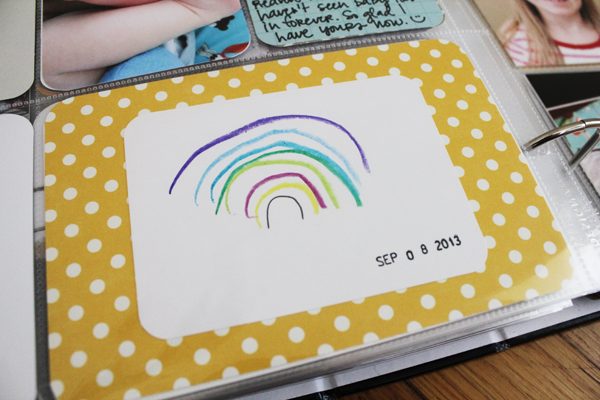 Here's that close up of the date stamp font. Love this sweet rainbow that Caylin drew for me. Here's a tip – leave some of the blank white 3×4 Project Life cards on your craft table or near a place where your children craft, write, draw, etc. They'll leave you sweet treasures that you can then stick in your Project Life album. Totally priceless. :)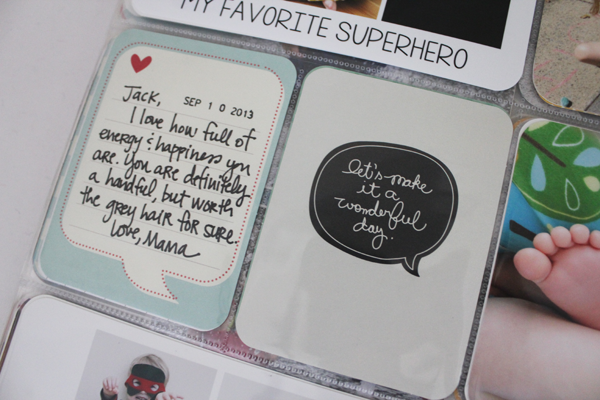 Sweet quote card on left from the new Little Girl Theme Pack of cards and the other quote card is from the Jade kit. I think I have a thing for quote bubbles, eh? Ha!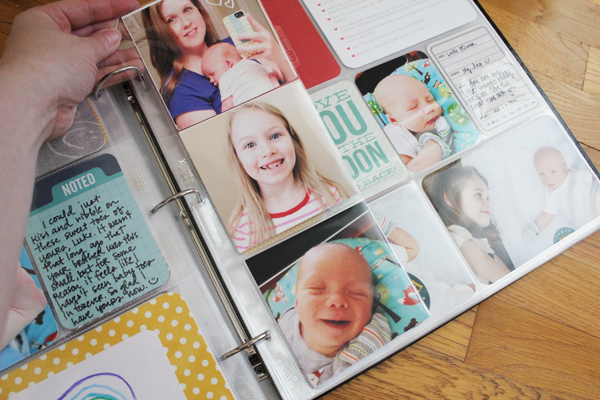 Had some cute photos that I took with my camera and wanted to print them out 4×4 and so I used these handy DESIGN I page protectors. This is the front.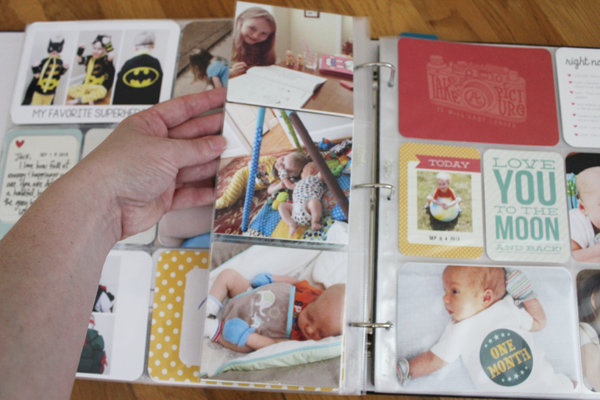 Here's the back of the DESIGN I. :)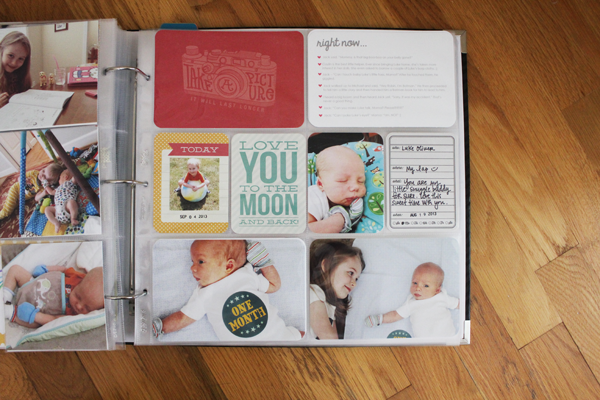 That red 4×6 card in the top left is from the Studio Calico Project Life kit. Of course I included my "Right Now" journaling card. :) A couple other cards from the Little Girls Themed card pack and a card from the Jade kit. Oh, and more cute baby. :)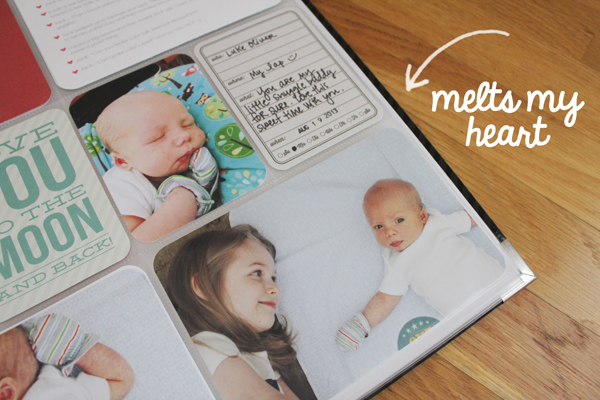 Can we say, "Aw!!!!" :)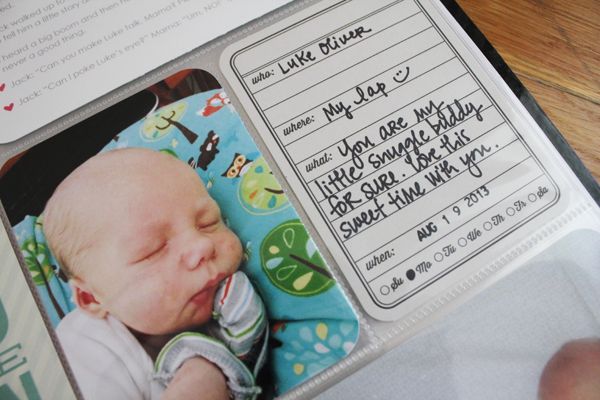 Close up. Love those cards from the Jade core kit!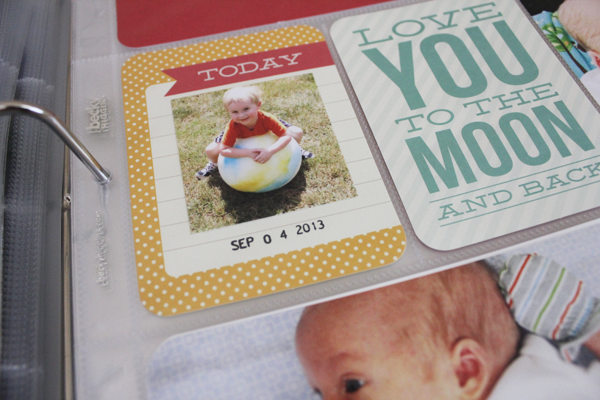 Last close up. :)
There you have it! My pages from this week! Thanks for stopping by and if you have any questions – let me know! I'm putting a post together for next week with answers to the questions I get asked the most when it comes to Project Life and the way I do it.
Hope you all have a blessed day! Hugs!