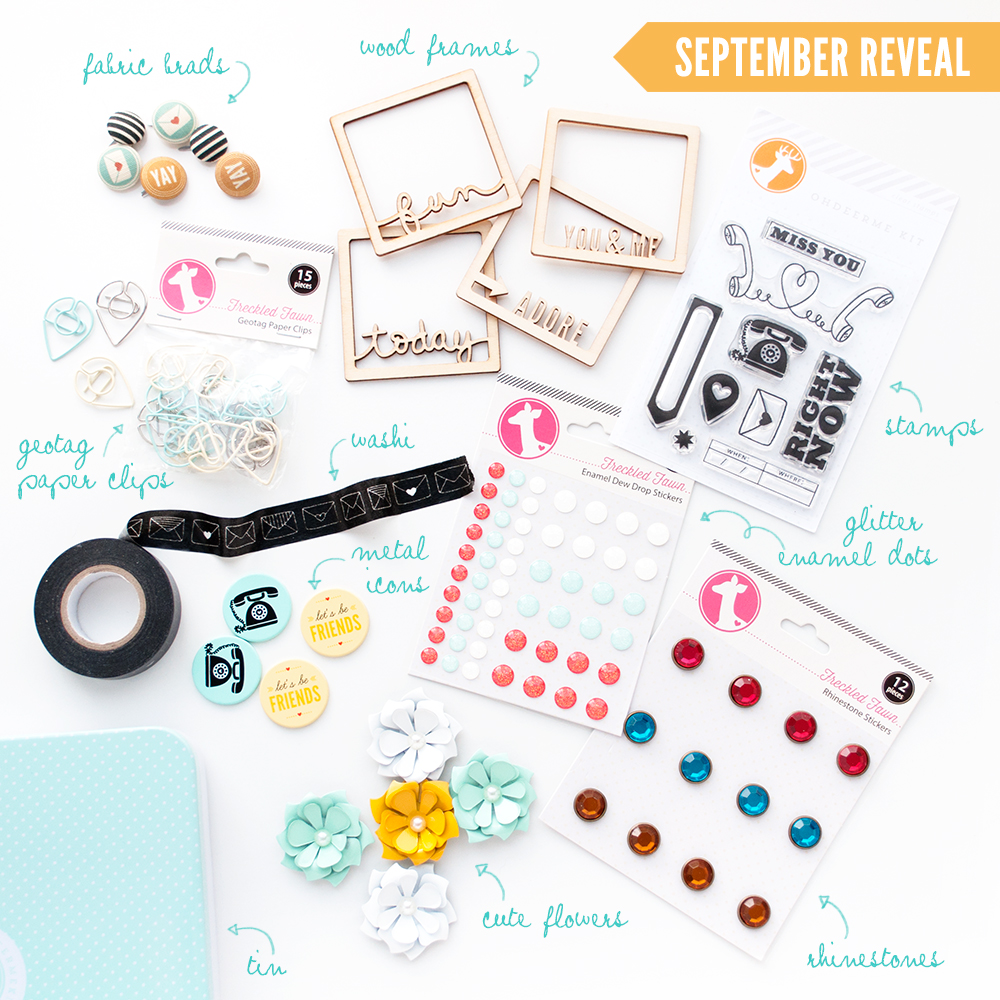 I was so excited when the sweet folks from Freckled Fawn asked me to use some goodies from their awesome September OHDEERME Embellishment Kit recently.
Have you seen this cute kit yet? Oh my!
I love the variety of goodies that are in this kit and how unique and one-of-a-kind they are! SUPER cute!
Here's a bit of information about the kit:
The OHDEERME Embellishment Kit Club is the perfect kit for crafters who want to use up their personal paper stash. Each month, Freckled Fawn designs and manufactures a collection of coordinating embellishments. You will receive a tin filled with enough embellishments to inspire you as you create dozens of lovely projects! With the OHDEERME embellishments in hand, browsing your personal paper stash each month will become an exciting endeavor as you preserve your memories, fashion a card for just the right occasion, or add flair to a gift for a special person.
This is what all comes in the kit:
An OHDEERME tin to store all your goodies
A roll of washi tape (21 yards long)
A package of 4 wood frames
A Freckled Fawn + Hero Arts stamp (3×4 inches; 9 images)
A package of 15 geotag paper clips (3 colors)
A packaged of 12 rhinestone stickers (3 colors)
A packaged of 54 glitter enamel dew drop stickers (3 colors, 2 sizes)
A set of 5 metal flowers (3 colors)
A set of 9 fabric brads (3 styles)
A set of 6 metal icons (2 styles)
That is A LOT of great goodies and if you ask me – the price is reasonable, too (click HERE for prices). I've subscribed to  some other kits and well – they honestly weren't worth the money and greatly disappointed, but this kit looks well worth the investment! I wasn't sent the complete kit to use, just the wood frames, rhinestone stickers, metal flowers, fabric brads and glitter enamel dew drop stickers, but just knowing the quality and uniqueness of those items – the entire kit would be even more awesome to receive! You just don't get this kind of super cute goodies, in this amount and this quality for this price anymore. Seriously.
Now you know I'm a pretty simple scrapbooker and don't include that many embellishment on my pages usually, but I really thought that the goodies from this kit were perfect to create a little something to add to Luke's baby album.
Here's what I created: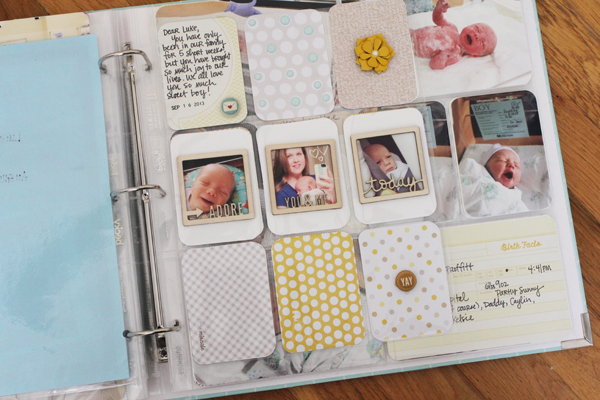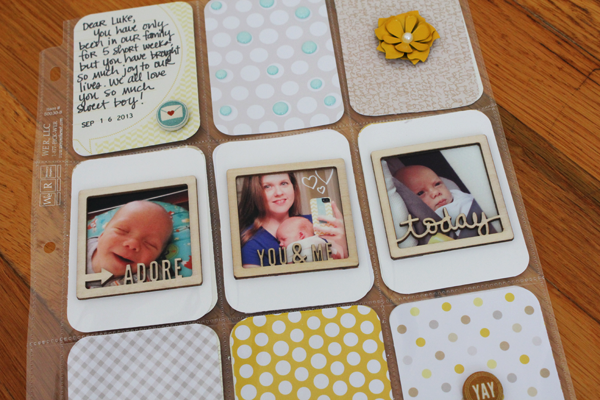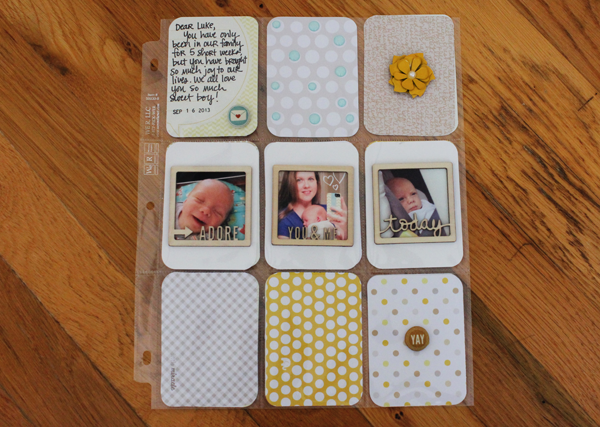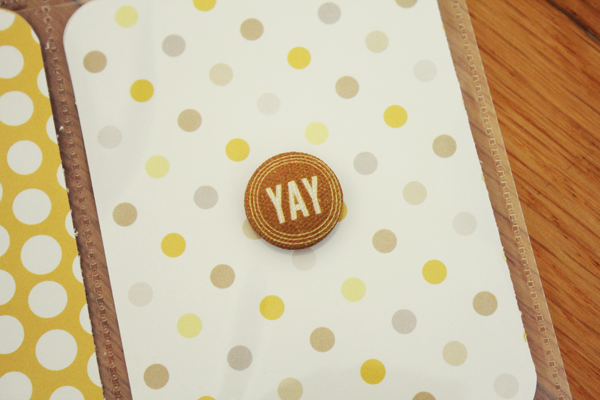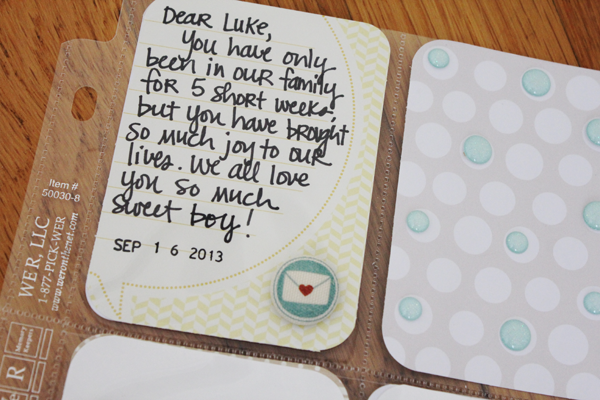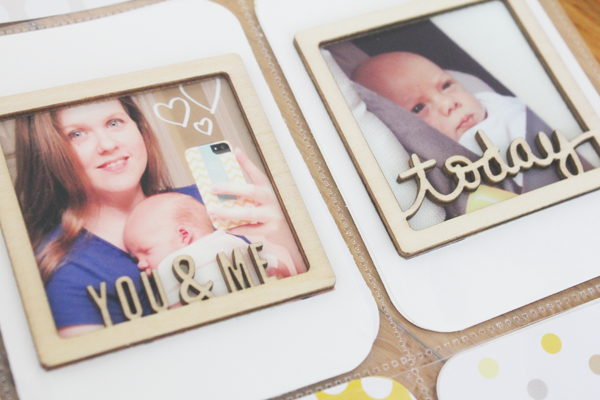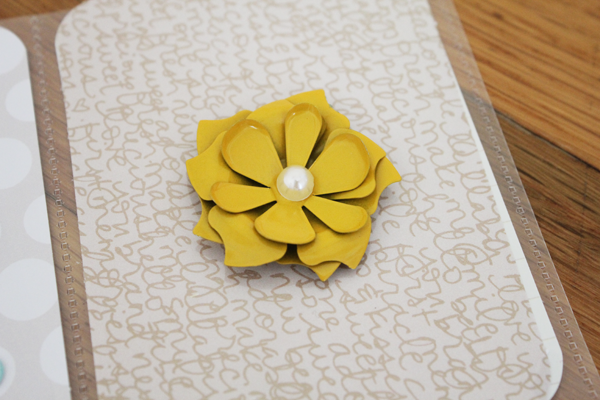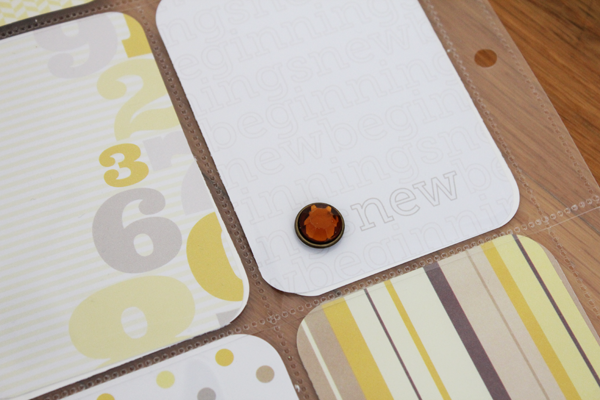 Can I just say that I love these wood frames SO much? Sigh. They are so cute! Oh my goodness I need MORE of them … STAT!
The page of the insert just has more patterned 3×4 cards from the Baby Edition of Project Life® trimmed to fit and I can always add more photos and/or journaling to it in the future, too. :) The page protector is an older WE R Memory Keeper page protector I bought awhile back.
I just love this little insert page that I created for Luke's album. Such a sweet little keepsake!
Thanks so much to Freckled Fawn for sending me these goodies to play with! I had so much fun!
Check back tomorrow where you'll see MORE pages of Luke's baby album as it comes together! 
To get more information about the OHDEERME Embellishment Kits, check out their website HERE.

Freckled Fawn is so sweet and giving away a $20 ohdeermekit.com gift card to one of my readers! Just enter below using the rafflecopter gadget! Good luck!
They are also on FB and Pinterest  so be sure to hook up with them there, too!
Disclosure: Freckled Fawn sent me the above goodies to create with, but no other compensation was given and all opinions and thoughts about the product are all mine.