If my blog posts are hit-and-miss the next couple of weeks, just know it's for a good reason. ;)
This little guy entered the world on Saturday, August the 10th at 4:41 p.m.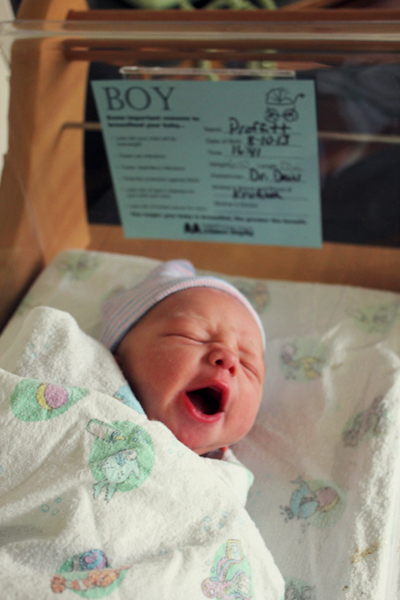 He was 6 lbs and 10 oz and 19 inches long. He's the smallest of my babies, but still a major cutie patootie pie. ;)
I'd like to introduce you all to my newest son, Luke Oliver Proffitt. :)
I wanted to share the birth story here so that 1. I would get it all down and documented 2. To share with my blog readers just how amazing God is 3. To remind everyone how life CAN change in an instant in so many ways.
Here's how the birth of our sweet Luke came about…
At my last doctor's appointment on Tuesday, August 6th, I was seen by my doctor and was already 3 cm dilated, 50% effaced and everything was looking great and a-go for an induction that following Saturday, August 10th.
I was induced with both Caylin and Jack and everything went smoothly. This time we were doing an induction especially because it was important for us to have family that was coming from a couple of miles away to keep an eye on Caylin (since she is a diabetic) and also Jack. I knew that I could go into labor at any time, but if the induction was possible and my cervix was doing great and progressing then I knew it would be OK and so we waited until the 10th.
That morning my sister, brother-in-law and niece came to our house. My brother-in-law, Todd, was hanging out with Jack all day in our home so that Jack could have a play buddy and more importantly because we knew that Jack (and all of his energy) in a hospital waiting room for the day was probably just way too much! Ha! ;) My sister and niece came to the hospital with us so that they could hang out with Caylin when the time came for me to have Luke. It was all perfect and going so smoothly. I was so relieved to have family in town to help us.
I felt very laid back that morning and excited. Sure, I was nervous, but knew that it was all in God's hands and every single person that I encountered were wonderful and kind. That always makes things better, I think.
I got my IV at 9:10 that morning. Even THAT felt great. Usually IV's bother me, but Christy, the resource nurse was wonderful and sweet and did a great job. My nurse, Charlene, was super sweet, too. I felt so much kindness in the room and although I could tell Caylin was a bit nervous, she sat next to me, coloring away in her Barbie coloring book. Michael, my husband was right there the whole time, too. We laughed, talked about how excited we are, I breathed my way through some contractions early on – life was good.
At 10:04, I was checked and was 4 cm, 70% effaced at a -3 stage and Pitocin was ordered. I was excited that I knew soon things were going to pick up and happy that I was another cm down! ;)
At 10:24 the Pitocin was sent through my IV to get the ball rolling even more and boy did it! ;)
At 12:30 I got my epidural. God bless those guys – that's all I'm going to say! Ha! The anesthesiology team was wonderful. So thankful that all went smoothly and my pain was taken away. It was getting a bit intense and I knew that I didn't want to wait TOO long like I did when I labored with Jack. Learned that lesson for sure! ;)
At 2:20 my water was broken and I was about 6 cm. Just sailing along and feeling pretty good.
At 3:25 I was checked again and was now 8 cm and +1.
At around 4:17 Michael decided to go to the cafeteria to get Caylin some dinner before Luke was born so that she wouldn't have a low blood sugar drop because we knew it was getting close to time for her to eat. I was a bit hesitant for Michael to go (and so was he), but our nurse assured him that he had time so off he went.
Right after he left I felt a contraction and asked sweet Caylin to check out the monitor to see how strong it was. She loved to do that throughout the day. She'd say, "Oh yeah – look how high that went" when she'd look at it and that time was no different. We knew it was an off-the-charts contraction. It was then that I noticed baby Luke's heart rate on the monitor. It went from 146 to 122 to 76. I thought at first that maybe it was just because the monitor belt on my stomach that was having a hard time reading my contractions throughout the day (those things are hard to keep still and place, etc) was being shifted, but then realized quickly after my nurse Charlene and about 7 other nurses and a couple of doctors rushed into my room that I was indeed going to have Luke right then and that his heart rate was dropping and they needed to figure out why.
Michael was still at the cafeteria and Caylin was sitting just feet away from me playing her Nintendo DS, thankfully pretty oblivious to it all. Things were tense and nerve racking, but everyone was calm. I told my nurse to grab my phone so I could call Michael and she did. I dialed the phone and when he picked up I told him what was happening and he rushed back to the room.
When Michael entered the room, I could see the look of concern on his face. We told the nurses that Caylin needed to be taken to my sister who was in the waiting room waiting for her so they rushed her out and took such great care of her.
I was checked quickly by the doctor – fully dilated and I needed to push. So push I did. I tried SO hard. He did not move an inch. Then the doctor used forceps. Yep, I said forceps. Lovely, eh? She was doing all that she could to get Luke out in a safe way. She was so surprised that she couldn't get him out and decided that it was time for an emergency c-section. I was scared. Michael was scared. I prayed. I was comforted by the nurses and doctors and whisked away for the OR.
Michael had to stay behind for a bit to get the scrubs on. All I can remember about this was how fast it all went, but then again how it felt like slow motion. Crazy way to describe it, but that's how it felt. I remember seeing all of the people in the halls as I was rushed by them in the hospital bed. I remember the sounds of all of the doctors and nurses around me, but they sounded muffled as I watched them all put on their scrubs and yell out their plans.
I was then placed on the OR table. The blue curtain went up so fast in front of me. I remember how clausterphobic it made me feel. I worried about feeling any pain. I worried about my sweet Luke. I heard beeping and shouting and the sounds of surgical tools. I was asked if I could feel this sharp object on my arms and my stomach and my leg. I was thankful that I couldn't feel it below my waist.
I was scared.
I wanted Michael near me. 
I wanted my sweet baby to be OK. 
I remember the sweet old man from anesthesiology who comforted me. He told me it was going to be OK. When I told him I felt nauseous and that I was going to be sick, he quickly gave me a little pan to get sick in and a cool washcloth for my head.
I remember the other nice guy from anesthesiology who tried to distract me by asking where we lived and he continued to make small talk with me.
I remember Michael finally coming into the room and sitting near me. I could see the look of fear in his eyes and the concerns that he had for both me and Luke. It was heartbreaking. It was all happening so fast.
I remember hearing "scalpel" just like on "Grey's Anatomy" and feeling it go across my body and knowing just what was happening. The pressure was SO horrible. It was like they were putting a hand straight through my body. It was uncomfortable, to say the least. I wish I could forgot the sounds from those 10 minutes or so, especially the sound of the stapler as they put my body back together (thankfully they used the kind of stables that absorb and don't need to be removed). Shew.
One sound that I wanted to hear so badly was the sound of sweet Luke's cry when he was out.
When I knew he was out, Michael and I both listened, but there was no cry. Immediately Michael asked for an update on our son. No one would tell us anything. I could sense his frustration at the lack of information we were being given. The one sound that I wanted to hear – I didn't hear. How cruel, I thought. Is my son alive? At that moment, I honestly wasn't sure. I prayed to God to breathe life into my son. I prayed the hardest I've ever prayed in my life. I kept saying, "Please Jesus, help my sweet boy." I knew Michael was torn because he wanted to be near me, but wanted to be near our son, too. I told him to go ahead and go and be with Luke once he was able to.
The doctors and nurses were working on Luke. Turns out he had a hard time breathing at first, but just like I prayed, "God breathed life into him." And there it was – his muffled little cry that sounded like a little kitten at first. His little cries were the sweetest sound that I have ever heard in my life. He was alive. Michael was with him. He was going to be OK. I breathed a sigh of relief, but longed to be off of that operating table and holding my son.
The time it took for the doctors and nurses to finish closing me up seemed like eternity. I knew Michael was with Luke and I just wanted to see them both.
Once that blue curtain was removed I saw about seven doctors and nurses standing there looking at me and introducing themselves to me. All I could say was, "Thank you all SO much for what you have done." There was a lot of kindness in that room. The nurses even prayed for Luke in that room. God was in that room.
Thankfully it wasn't that long before I finally got to hold Luke in my arms. He was perfect in every way. The doctors think that he had his hands up by his face and maybe even a hold of his umbilical cord for a bit and that's why he had such a hard time coming out and why his heart rate dropped. He sure did give us a scare, but if there's one thing that I know it's that God is there … always. He hears our prayers. He knows our hearts. He gets us through any storm no matter the outcome.
Saturday was just another reminder of how precious life is – EVERY life – and how it can all change in an instant.
Sometimes you just have to hold your breath and wait for that sound you are longing to hear. Sometimes you hear it right away. Sometimes it takes just a bit until you hear it and sometimes you never hear it, but you have to listen for it. You have to have faith that no matter what – God is with you and HE hears you.
I'll never forget the sounds contained in those scary 10 minutes, but most importantly, I'll never forget the day that God breathed life into my son and I heard his first cry. ♥