Hello sweet blog readers!
If you're like me – you take A LOT of photographs. Yep, like A LOT. I love to take pictures – always have – and there's nothing that I love more than actually printing my photos out and hanging them in our home. One of my favorite ways to do that is to get them made into a canvas. Now I realize you can't make EVERY photograph a canvas, but you sure can try! Ha! ;) I have multiple canvases around my house and there's just something about them that makes me so happy – I'm pretty sure it's what's captured in the photograph, but it's like a piece of art taken to another level when you make it into a canvas.
A couple weeks ago I got super excited when I was contacted by Easy Canvas Prints to try out their canvases! I ordered two 16×10 canvases and was super excited to receive them!
The ordering process was super easy and simple. I honestly think it took me less than 5 minutes to order the canvases – the most time consuming part of it all was all on own my end – trying to decide which pictures to use for the canvases! ;)
Once I had the two pictures chosen and ready to go it was a breeze and I loved that about their website! It walks you step-by-step through the process and there is even a preview feature that allows you to see what your canvas will look like once finished, which is a total plus in my book because I'm always worried that I'll mess up a canvas or some of the picture will hang off, etc. A cool feature is that you can even upload pictures from not only your computer, but from Facebook or Instagram, too! How neat is that?!
So I waited patiently for my canvases and just got them the other day. I LOVE them. Seriously LOVE them!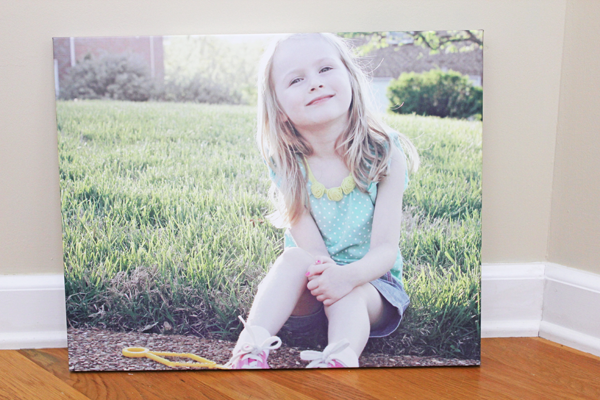 I just love this photo of my daughter. It's a favorite of mine and I love how light and airy the canvas is – there's a beautiful sun glare in the photo and I was worried about how it would translate onto a canvas, but it worked beautifully! The photo doesn't do it justice – it's light and sweet and that sun glare. Ahhhh. Love my sweet daughter. :)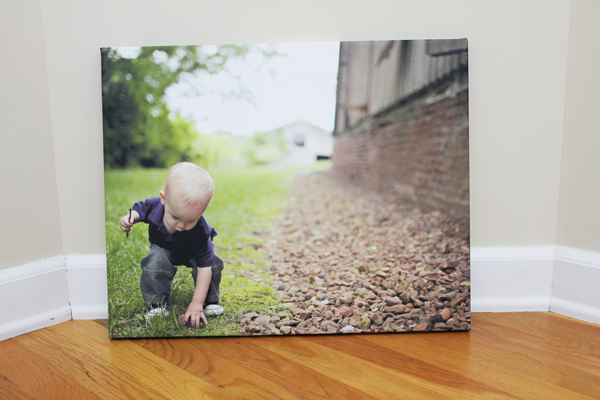 This is another favorite photo. Jack picking up some sticks and rocks at a family photo session we had last year. I've been wanting to get this made into a canvas and so happy that is is now! Boy has he grown up so fast!
The quality of the canvases are really great – strong and sturdy – and they were both packaged meticulously which I am appreciative of. I'm always so worried that when I order a canvas that it'll get ripped or messed up during shipping. They were both snug and secure in their boxes. Shipping was relatively quick as well, even with the Fourth of July holiday in the middle of it all. I loved how true to color the canvases were as well!
I would definitely recommend purchasing your canvas prints from Easy Canvas Prints. They're not kidding when they say, "Easy Canvas Prints." The whole process was super easy and better yet – the canvases turned out beautifully. Their prices are awesome – they always have deals and specials going on – and the customer service was great, too! Definitely check them out! Be sure that you're not only TAKING photographs, but printing them out and hanging them in your home! There's nothing like a cozy home full of memories on the walls and of course plenty of canvases here and there, too! ;)
Easy Canvas Prints also has a super sweet giveaway for one of my readers! You can enter to win an 8×10 canvas! Just enter using the Rafflecopter below! Good luck!
Disclosure: Easy Canvas Prints gave me two 16×20 canvas prints in exchange for this review, as well as provided the giveaway item. All views and opinions in this review are my own. No other compensation was provided. To view my entire disclosure policy, click HERE.