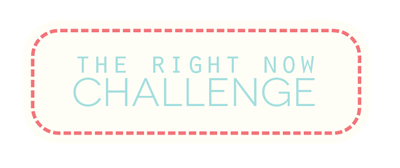 Yay! It's Friday!
Today is Week 28 of the Right Now Challenge! :)
If you're not sure what the Right Now Challenge is, check out my blog post HERE to read about the challenge and why I started it.
Here's what I wrote down this week:
Jack: "Mama, what do you want to talk about?" Mama: "I don't know. What do you want to talk about?" Jack: "Batman!"
While painting Caylin's nails glittery she said, "Mama, can you put another coat on my nails? They just aren't blingy enough." Um, ok! Ha!
Love listening to Caylin and Jack play and pretend together. Today they were pretending to jump out of an airplane. They both had "parachutes" on and were having so much fun. Love that they have each other and pretty soon they'll have another play buddy, too. ;)
After I came home from my dentist appointment Jack said to me, "I love you, Mama. Thank you for coming back home."
That's it for this week! I hope you are remembering to jot down those sweet, every day, right now moments in your life!
Have a blessed day! Hugs!