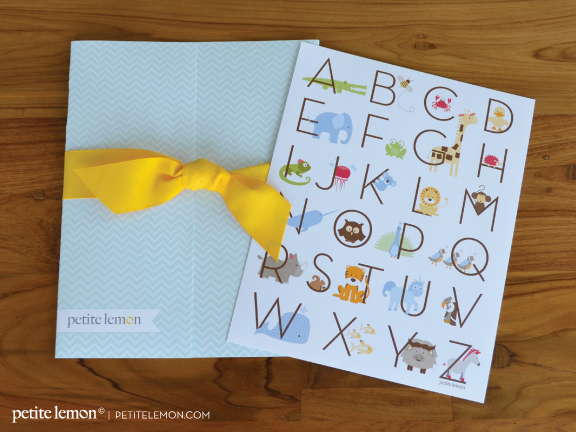 You know from previous blog posts I've done just how much I love Petite Lemon and everything they make. Their products are SO cute and the quality of their products are just wonderful! I've had nothing, but positive experiences when shopping with them.
I was so thrilled when Petite Lemon started a super cool blog promotion offering to send you a FREE super adorable ABC poster and one to give away to your readers! I jumped at the chance to work with them again!
I received the prints a couple of days ago and it's even cuter in person! It came protected and wrapped in a cute blue chevron print holder with a big yellow bow (see photo above). The print is printed on premium heavyweight card stock and the colors are super vibrant. I love the classic font that is used for the letters and the animals graphics are just so whimsical and fun! This print is going to be a super cute addition to the walls of our homeschool room! The print would also be a great baby shower gift, print for a child's bedroom or playroom!
Other details about the print:
it fits in an 8×10″ frame
exclusively designed and packaged by Petite Lemon 
retail value is $25
available only for this promotion — their other alphabet posters are all personalized, 16×20″ size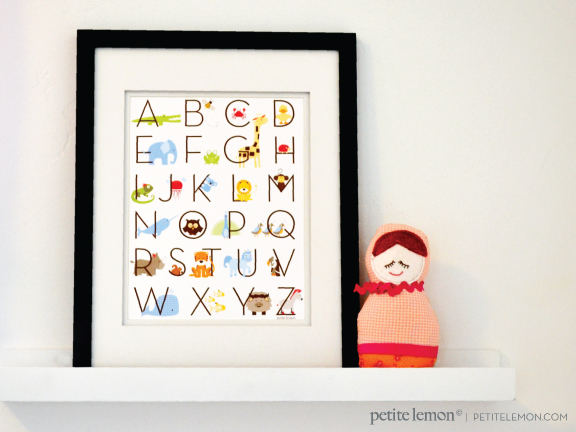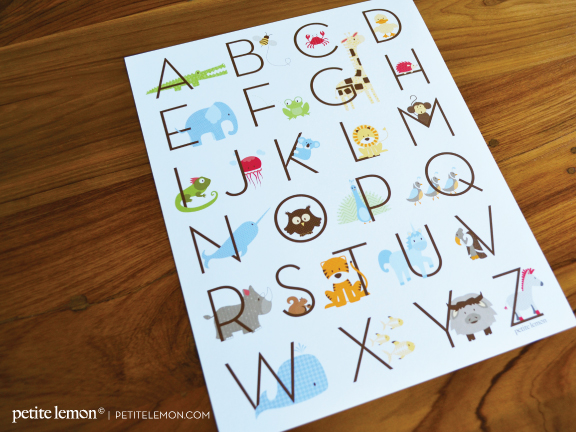 I recently got a super cute Big Brother shirt from Petite Lemon to announce that we were expecting again. You can see those shirts HERE and see that post HERE. :)
If you'd like to enter to win the other super adorable ABC print that they sent me to give away, enter below using Rafflecopter! The giveaway will end one week from today on April 19th at 12 A.M. CST. Open to US residents only.
Also, you can use the promo code BLOGGERLOVE15 for 15% off your purchase at Petite Lemon! How cool is that?
Good luck! Have a beautiful, blessed day! :)
You can see more about this cool blog promotion HERE!