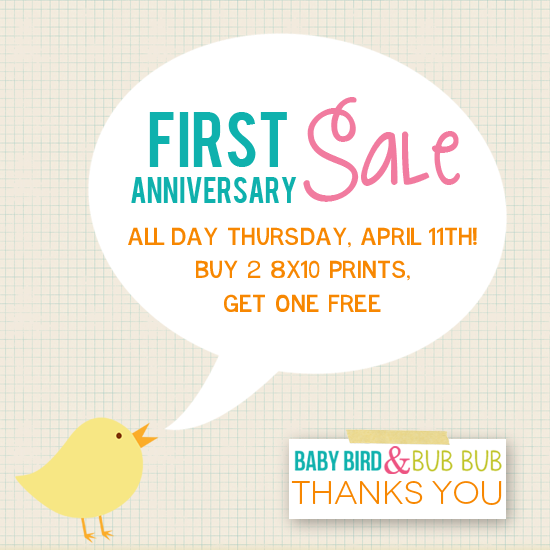 TODAY it has been one year since I opened up my Etsy shop, Baby Bird & Bub Bub! To celebrate, we're having a super cool special just for YOU! For every TWO 8×10 prints that you purchase – you get ONE FREE!
The details:
This BUY TWO, GET ONE FREE sale is going on for TODAY (April 11th) only! So take advantage of it now or you just might kick yourself. :)
This sale pertains to 8×10 prints only. Not 4×6 or 5×7 prints.
For EVERY TWO 8×10 prints that you purchase, you get ONE 8×10 print FREE. So for every TWO prints you purchase you get ONE free. For every FOUR prints you purchase you get TWO free and for every SIX prints you purchase you get THREE free and so on and so forth. :)
Just mention the 8×10 print you'd like for free in the NOTES TO SELLER section at checkout, along with any customization that the prints you purchased may need.
Also, for EVERY order that goes through today – your name will be placed in a drawing to win a $35 gift certificate to the shop! Yippeeeee! :)
Go HERE to check out my shop!
I just want to thank you all for making my little shop the success that it is. It's a blessing to me and something that I enjoy so much. I hope to expand it a bit next year – I've got some big dreams. :) We'll see what God has in store for it, but right now I'm just going to enjoy this journey that I am on and continue creating super cute print art with lots of heart. ;)
Thank you again! Sending you all BIG hugs and many thanks!