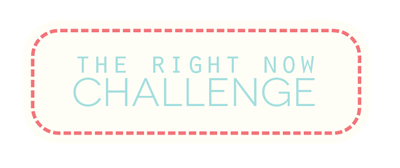 Happy Week 14 of the Right Now Challenge!  Check out my blog post HERE to read about the challenge and why I started it.
Here's what I jotted down this week:
Jack is all about giving kisses lately. He'll plant a big ol' smooch on you, if you let him, and how could you not?
While watching a football game Jack said, "I want a blue football helmet." He then proceeded to tell his Daddy that and I'm pretty sure his Daddy is working on making that happen. ;)
When we went to order a little treat at Sonic the other day, Jack was in the background shouting, "I'd like an extra cheeseburger, an extra shy-shy (what he calls french fries) and extra pickles!!" Totally made me LOL!
Morning dance parties are my favorite.
Caylin somehow fell out of her bed the other night. I thought I had heard a "thud," but wasn't sure. Sure enough when Michael went to check her blood sugar he found her on the floor. The girl didn't even wake up when she fell out of the bed. Crazy!
I am all about eating grapes lately. Yum.
Jack and Caylin are all about helping me eat my grapes lately. ;)
We rang in the New Year like we always do – in our cozy home, in our PJs … asleep. ;)
Happy Friday, everyone! Hope you are writing down those "right now" memories in your life! Hugs!