Happy Friday sweet blog friends!
I hope you are having a great day so far! I've been thinking lately. After writing THIS post the other day and then getting a super inspiring email from Ali Edwards, I thought to myself, "Self. You need to jot down more RIGHT NOW details." I love those "right now" details, don't you? So to challenge myself I thought that I would keep a journal handy and during the week I would jot down some "right now" details and then EVERY Friday I am going to post them here on my blog. That'll keep me accountable and all of these details will make it into my Project Life and that will make me happy. :) I know it's a bit silly to challenge MYSELF, but then I thought I'd put this out there and maybe YOU might need a bit of encouragement, too! So I'm inviting YOU to participate in the challenge each week, too if you'd like! There's no stress involved. No rules. You don't have to commit to do it EVERY week. Just use the challenge as a jumpstart to get back to writing down those little every day tidbits that we tend to forget because life does go by so quickly. I think it's those little tidbits about life that add up into such sweet memories, don't ya think?
Ok, so here are the details: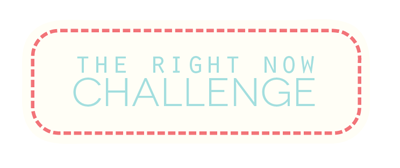 During the week, jot down little tidbits about anything going on in your life. It could be your child's (or children's) favorite toy, food, song, saying, etc. It could be something funny someone said. It could be some personal goals that you set for yourself or accomplished. It could be places you went. Things you did. Just those little mundane facts about your week that make up your everyday life.
You can blog about them to hold yourself accountable, too! If you do, come back here to my posts and leave me a comment with a link to YOUR list! You don't have to blog about them – so don't feel obligated at all! Just jotting them down is enough, but if you'd like to share then please do!
I can even email you the above graphic if you'd like and you can link back to my blog here so that it can encourage others to jot down their life "right now!"
I plan on making some freebie cute little Project Life cards, too for this little challenge, so be on the lookout for those!
The first Right Now Challenge is going to take place next Friday, October 5th. So be sure to take some notes about your week and then check out my blog post next week!
I'm excited! I think having this little challenge for myself is really going to remind me to jot down those little details and I know I'm going to be SO glad I did! I see them scattered about on my scrapbook pages and in my Project Life album, but I want MORE! There's no reason why I can't take a few minutes during the day or even at the end of my day to write some things down. If I don't, who will? I hope you'll join me!
_________________________________________________________________________________________________
I actually DID jot down a few things so even though the challenge won't officially start until NEXT Friday, I thought I'd share what I've written down the past few days. :)
When Jack gets into trouble, he looks down and puts his hands together and plays with his thumbs.
Caylin is on a major beanie baby kick right now. Her most favorite thing to do – gather up all of her beanie babies and line them up.
Jack calls pumpkins "apples."
The other day in the mall Jack started singing really loudly, "I'm Popeye the sailor man. TOOT TOOT!" He loves Popeye. :)
I overheard Caylin say to Jack, "Say it don't spray it, Jack." Guess he must have spit on her. It was funny!
Jack's hair is out of control. It's growing so fast. Looks a little Donald Trumpish.
Michael and I love to watch "American Hoggers," "Shipping Wars" and "Storage Wars."
Caylin loves to sleep with glow sticks.
I'm obsessed with my iPhone. There I said it.
Every morning I'm having blueberry pancakes and a banana.
Caylin and I played a fun new card game during her Math lesson today and she loved it! She's catching on so fast! Proud of her!
When Jack teases me, he closes his eyes really tight and acts like he can't see me and then smiles really big. He's a little stinker.
Caylin loves the classic cartoons, "Looney Tunes" and "Tom and Jerry" are her favorites.
That's my first little list of tidbits! ;) Those are some of my "Right Now" details! See! Totally simple and easy! You can do it, too! I hope this inspires you to get out a little notepad, journal or your phone and record even just a few little "right now" moments in your life. You'll be happy you did!
Have a great Friday and weekend ahead! Hugs!