Have you heard of Moo.com? Well, if not – you're missing out! I seriously love moo.com. Moo.com is a printing company. They do fabulous work. I have used them for a bit now and actually use their services to print out the stickers for my packaging for my shop, Baby Bird & Bub Bub. I also have used them in the past for other stickers (Oh Happy Day Handmade – the other little side business I had) and most recently, I ordered some of their mini cards. I have to tell you, I LOVE them!
The mini cards are half the size of regular business cards and well, anything miniature to me is cute! Ha! The neat thing about them is that you can have a different image on every card if you'd like and you can upload your own artwork OR use one of theirs and they have thousands of designs.
I wanted just a simple little business card that I could hand out to market my Etsy shop a bit here and there and these are PERFECT.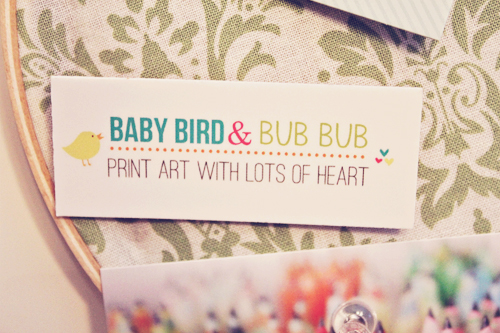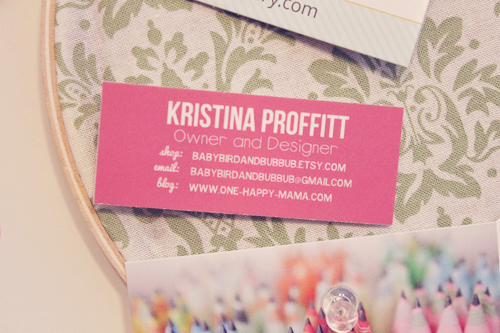 Simple, a bit of color and of course that happy bird that I love. ;) I love how small they are – just the perfect size if you ask me. The card itself is actually pretty thick. It's called a matte laminate and it's smooth and dreamy. :) You can find out more about their paper and even order a sample pack HERE. I also love the cute little box that the cards come in. It's even reusable. The company itself is pretty witty – you can tell that they are fun and their packaging has personality all over it. It's almost like you're getting mail from a friend! ;) I love company's who produce a great product at a great cost AND remember the little details, too! Moo.com definitely does. They even have a "moo promise" that says that if you aren't 100% satisfied with your product that you ordered from them – they will fix it until you are!
So if you have a business that has a need for some printing or if you just want some business cards printed for networking – you should definitely give the folks at moo.com a try. I even got a little coupon code with my last order that I am going to pass along to you if you'd like to try them. You can get 15% off if you are new to moo.com and place your first order. Use the code: 2RB2CK.
You normally get 10% off of a first order, but they sent me that code to pass on! Yay!
Well, I hope you have a great day! Hugs!
Disclosure: Compensated affiliate link used.