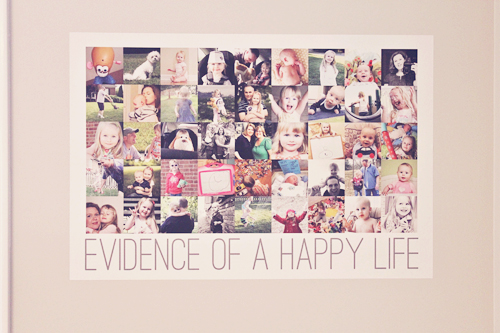 I used to have a bulletin board that I covered with fabric, painted and put a bunch of pictures on. I call it my "happy board" because seriously every time I walk past it and see those sweet photos, my heart gets SO happy. I think everyone should have a happy board. :) You can see a bit more about it HERE. Well, since I've moved my office into what used to be our formal dining room, I wanted to give my sweet happy board a bit of a revamp. I was SO excited when I saw Paper Coterie's awesome deal they had going on for a FREE goodie from their website. You can see more about that deal HERE on that post.
I ended up ordering one of their new 30×20 Large Landscape Posters. All I did was create a document in Photoshop  the size of my poster and sized and added all of the photos that I wanted on it. At the bottom I put, "EVIDENCE OF A HAPPY LIFE." That totally sums it up perfectly. :) I just LOVE the way it came out! The cool thing is that their posters are fabric posters and are made with a specially patented adhesive that can stick and re-stick to any surface. They are breathable and are safe to use and won't cause damage to paint, wall paper or carpet. How cool is that?! It was really easy to put up on my wall, too! I had to reposition it a couple of times because I'm a bit OCD and wanted it perfectly straight, but it came off the wall so easily and I was able to adjust it without any problem. You could even just put this in a big poster frame or regular frame, too. The possibilities are endless.
I'm a big fan of Paper Coterie, as you may already know if you read my blog. Their customer service is always fantastic and their products are always top-notch, very cool and the deals they have are awesome! Lots of times you can get an product for just the cost of shipping which is fabulous and a great way to try out one of their products. This poster is regularly priced at $29.00, but with the special they had going on, I got it for just $7 shipping. That's it! Yay! :-D
I can't say enough about Paper Coterie. Lots of fun, cute products! I'll be sure to keep passing along the great deals that they have going on! 
And speaking of a great deal and Paper Coterie, they have this really cute new "School Days" spiral book that I just love, too and guess what?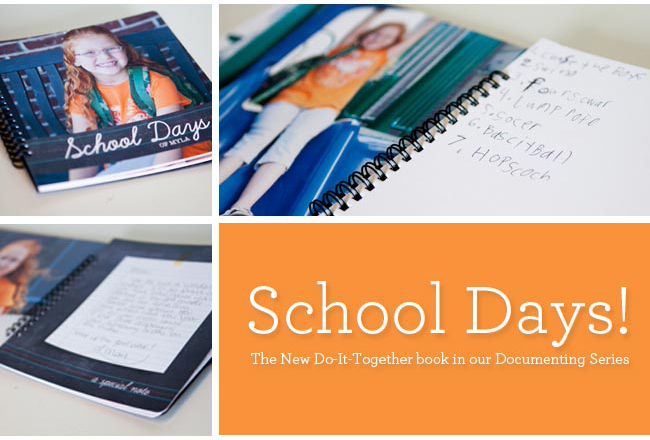 I just so happen to have a coupon code to giveaway to one lucky ready that is good for a FREE  one plus FREE shipping inside the US! How cool is that? Yay for freebies!! :-D
This book is perfect for documenting the school year through your child's eyes. Each book can be personalized with 19 photos and your own text. Throughout the school year complete the book together with your child by capturing favorite friends, activities, likes, dislikes, and everything they'll want to remember about themselves when they are grown. Just add crayons! How cute and cool is that?! LOVE it!
This book comes as a 5.5 x 5.5  spiral book for $26 or as an 8×8 for $32. You can order either with the free coupon code I have up for grabs!
For your chance to win this coupon code (expires 12/1/12), just use the widget below and you'll be entered! Good luck! It's such a cute book!
Oh, and check out these cute freebies that are over on the Paper Coterie site, too!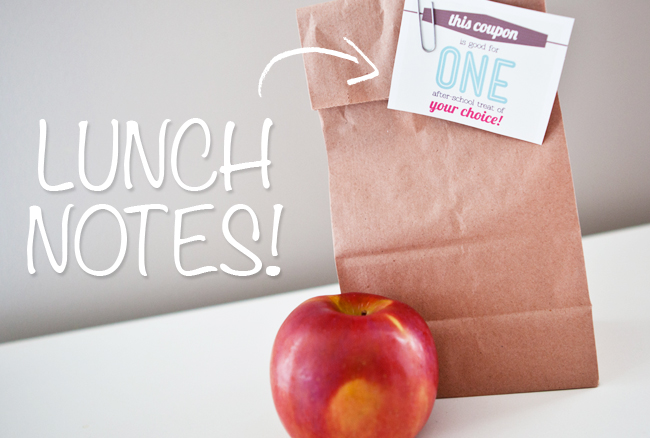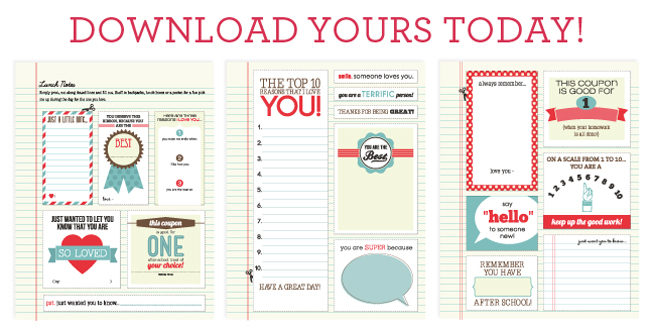 Such sweet little notes! Love simple, easy ideas like that! Check them out and have a great day!
BIG hugs to ya'll! :)
Disclosure: Compensated affiliate link used.