Boy oh boy did I fall off of the Project Life bandwagon the last couple of weeks. Between my neck injury, so much going on and then trying to catch up on everything – it has been crazy, but thankfully I'm back to being caught up! Yay! You can check out my Week 13 that I finally put up HERE. I still have to check out everyone's awesome pages and leave some comments, so please know I will do that soon! Thanks for your patience and for continually sharing your inspiring work! LOVE how we all can share and be inspired by one another!
Ok, let me get right to my pages!
I had quite a few photos this week, partly because of Easter and the fun we had that day and partly because well – I like to take photographs! Ha!
Here's a run down on what I included on the left side: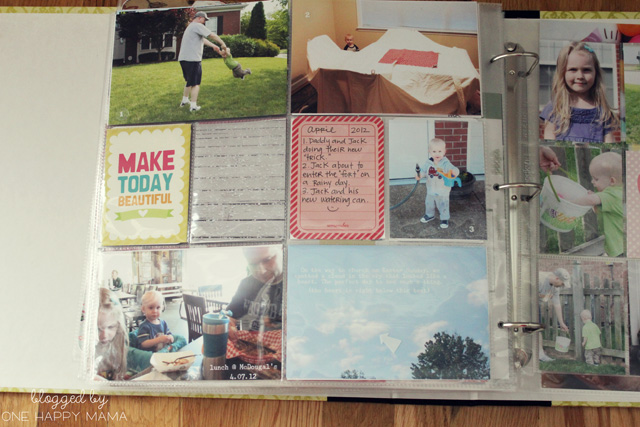 I just love the sweet photo of my husband and Jack (top left). It's a new favorite photo of mine and it's their new "trick" that they learned and wanted to show me and Caylin out in the yard after our Easter egg hunt. Jack LOVED it and so happy I captured his sweet, smiling face in mid-air. The second photo (top right) is Jack standing outside the makeshift fort we made on a rainy day. We love making forts. :) The "Make Today Beautiful" card is one that I whipped up especially for my new Etsy shop. (see the post below this one!) ;) Then there's a journaling card from the Clementine Core Kit to jot down bits about the photos. :) Next up is a sweet photo of Jack with his new watering can his sister bought for him. ;) Then there's a photo I snapped of us at lunch one day and then a photo of the sky – we spotted a cloud shaped as a heart. ;)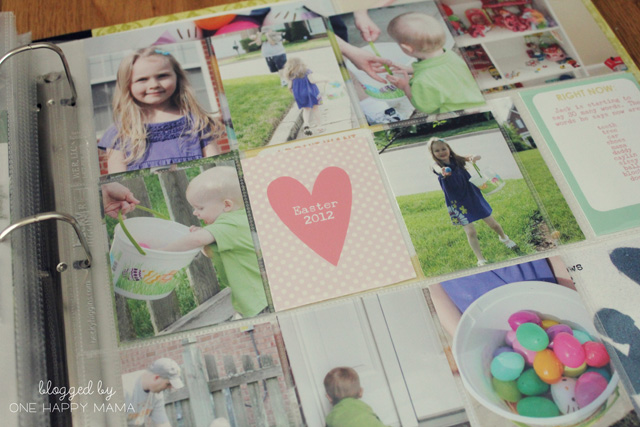 I included an 8.5×11 page protector in the middle to include 8 photographs from our Easter egg hunt. I got the page protectors HERE. I used one of the digital element cards from the kit that Crystal and I created (you can find it HERE). I added the text Easter 2012 to the middle of the heart and then printed it out. Easy cheesy. :)
On the right page: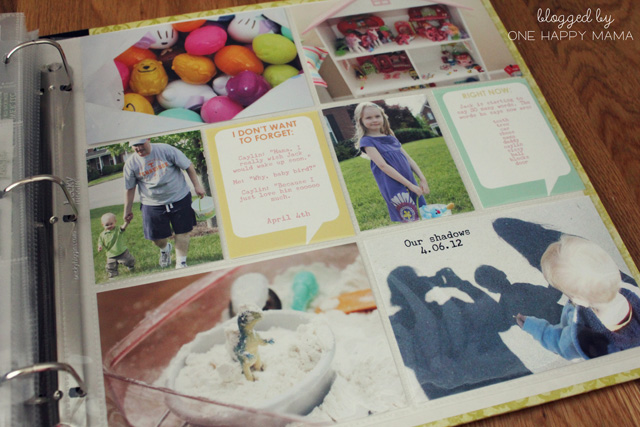 I added a few more photos from Easter (couldn't help myself!) and a photo from Caylin's room. I wanted to remember how she took all of her books out of her dollhouse bookshelf and it into a My Little Pony dream house. :) I used two of the cards from my Say What? Journaling Card collection (HERE). I added a quote that Caylin said on one card and then documented some of the recent words Jack has started to say. :) Then there's a photo of a little dinosaur covered in flour – Caylin loves to whip out this rubbermaid container I filled with flour and then plays in it! Ha! Then the last photo is of our shadows outside. Love how you can see Jack and his little shadow, too! ;)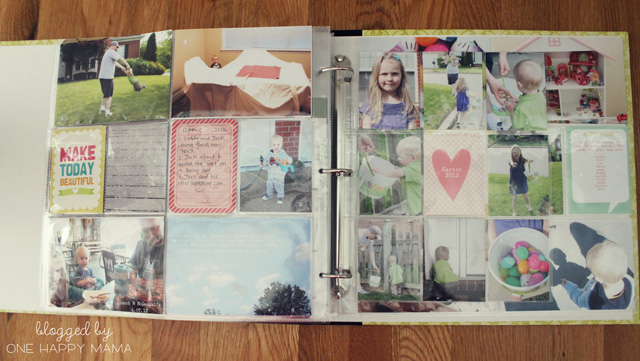 So that's it for week 14! Back on track! ;) Thanks for sticking with me! Have a blessed day! Oh, and be sure to check out my post below this one! I have a super exciting announcement to share! Yipppppeeeeee!
Link up below if you'd like! Check out more awesome Project Life inspiration HERE on my friend Jessica's blog!