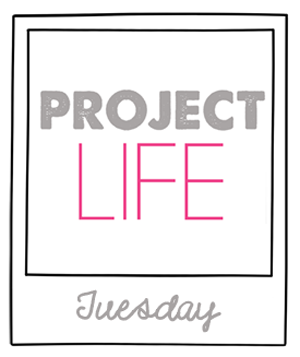 Hi everyone! I'm sorry my Project Life Tuesday is a bit late this morning. I found myself going to bed last night way earlier than normal. I am getting old! Ha! It felt good to get some rest though and not bring my laptop to bed. Here are my Week 12 pages!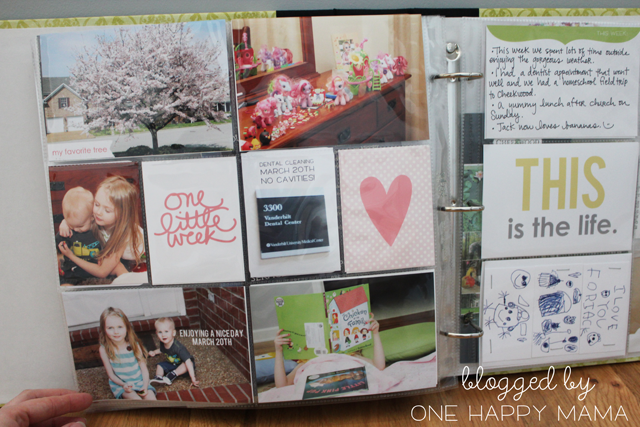 I used A BUNCH of photos this week. Normally I would use some 3×4 journaling cards, but really had photos that I wanted to use instead and I was ok with it. Then at the end I was left with a couple of those 3×4 spots and instead of using the journaling cards I opted to put a couple of graphic cards in their place. Where's all of my journaling you ask? Well, I'll get to that in just a second. :) The "one little week" graphic is a freebie from Ali that you can get HERE and the heart graphic card is from the kit that Crystal and I put together. You can find it HERE. 
The photos I included this week are:
A photo of one of my most favorites trees in bloom. It's in our yard and I just love it when it blooms. It's gorgeous.
A collection of Caylin's My Little Ponies that she had on my dresser. She was playing with them and had them all lined up and cute. P.S. If anyone has any My Little Ponies that you don't want – send them my way. She LOVES them!
A sweet photo that isn't the greatest in quality because I had to capture it fast, but Caylin gave Jack a bit hug and it was just so cute. SO happy I snapped a photo!
I've been taking more photos with my phone lately and LOVE it. I've been so inspired by everyone's Instagram photos and although I don't have an iPhone YET (our phone plan is up later in the year) I do have photo taking capabilities on my phone and started to use it more. The photo of my dental office's sign is a photo I took with my phone. Heehee! I had a dental cleaning last week and was there and decided I'd snap a photo for my Project Life. Ha!
Then there's a photo of Caylin and Jack by our front door. The weather has been SO beautiful lately and so we've been outside a lot. Yay! :)
Then this last photo on this page is of Caylin reading in the middle of my old studio. She just brought out some blankets, a couple of pillows and some books and laid there and read. It was cute!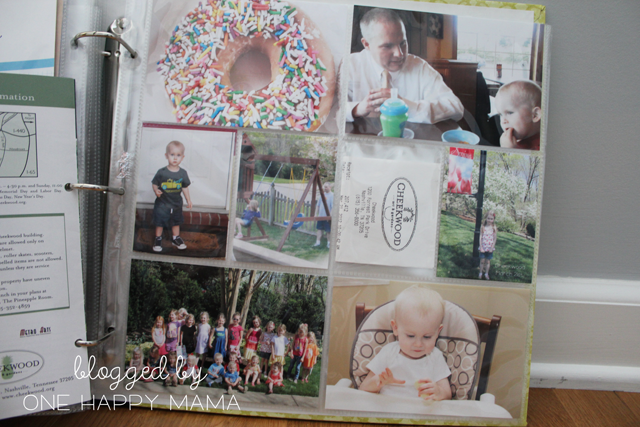 On this right side I have LOTS more photos.
A photo of a delicious doughnut that we indulged in. Yum. ;)
I also am making an effort to get Michael and myself in more photos. We both like to be behind the camera! ;) So once again my cell phone camera came in handy after church when we were eating lunch. I snapped a photo of Michael and Jack. :)
Then there's a photo of Jack looking like such a big boy at the front door. Every time we go outside he gravitates to the front door area. He loves to try to open up the door and there's a Japanese Maple tree by the door that he loves. :)
Another cell phone photo I snapped of Michael and Caylin out in the backyard. Michael was pushing Caylin on the swing and it was sweet.The photo itself isn't the greatest, but that doesn't matter to me. Just felt so nice to see the moment and also capture the sweetness in a photo, too. Michael's in there twice this week! Yay! :-D
I also included a receipt this week! We had a homeschool field trip to the Cheekwood Botanical Garden and so I tucked the receipt in one of the 3×4 pockets and also have a photo of Caylin by herself there and a group shot of Caylin and all of her homeschool friends as well.
Lastly, there's a photo of Jack with his new obsession. Bananas. :)
I have a couple of inserts this week. Another thing I did from our field trip was to keep the brochure from the garden and I just punched a couple of holes in it and added it to the middle. Easy cheesy.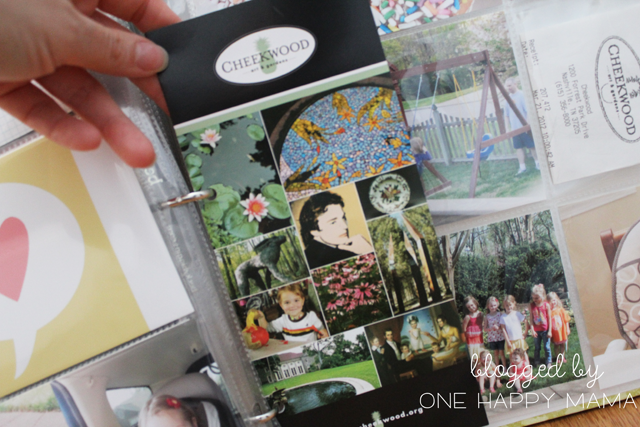 The other insert is my journaling solution for this week. Now, it's perfectly ok to just have a great bunch of photos in your week and no journaling. I almost went that route this week. I think photos say so much, but in the end I decided to use an American Crafts 6×12 page protector and some of Miss Tiina's free 4×6 cards and added some journaling that way.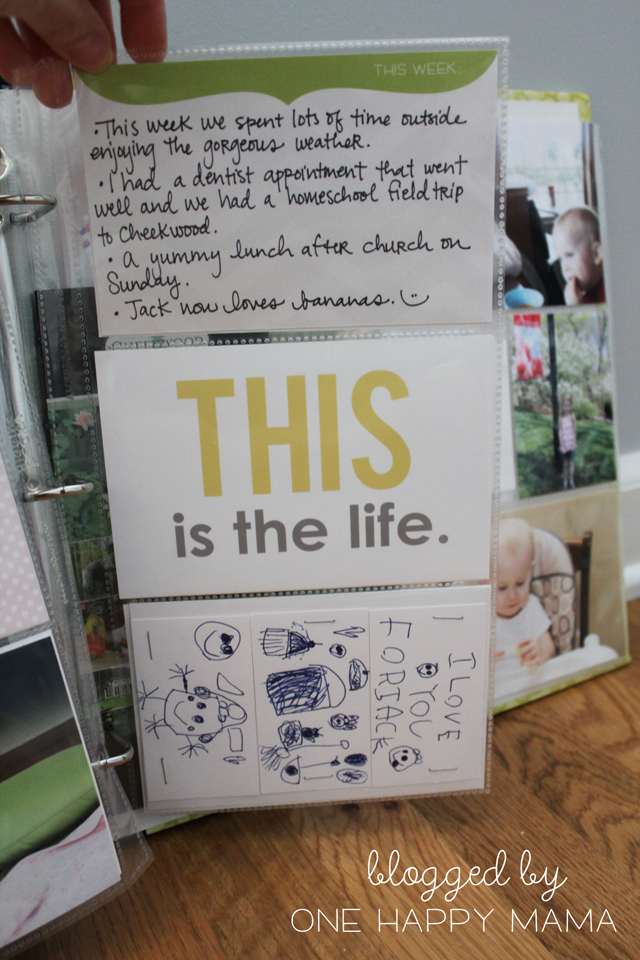 Using that insert not only gave me some room for my journaling, but I was also able to include some sweet little drawings that Caylin did on the back of my business cards and a little "This is the life" graphic I created.
THEN on the back of that page protector I had a bit more room. So another little graphic card, two 3×4 photos of Caylin and another little journaling card.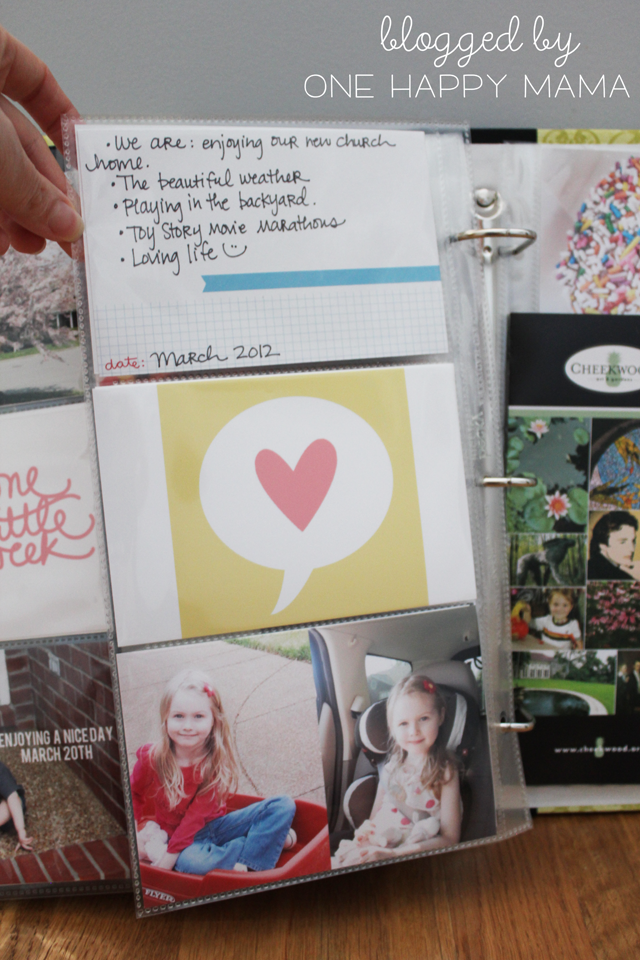 There you have it! Week 12. :)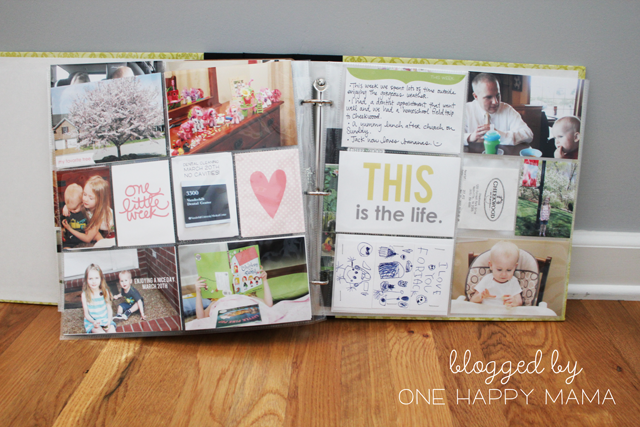 This IS the life. :) Thank you for stopping by! I hope you all have a blessed day! I am a bit behind on leaving comments on everyone's awesome posts from last week! Please know I haven't forgotten and will get to them (and today's link ups) this week! Thanks for your patience!      
Link up below if you'd like! Check out more awesome Project Life inspiration HERE on my friend Jessica's blog!