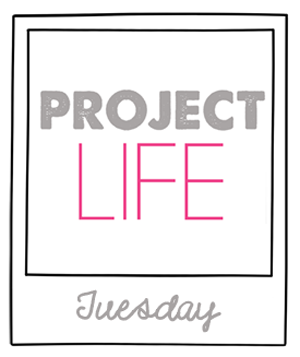 Yay! It's Project Life Tuesday again! Boy, that week sure when by fast! Ha! I hope you all are doing so great and still enjoying the PL process! I know I am! I actually look forward to printing out my pictures, tucking away little pieces and writing down the journaling for the week! It's so refreshing, don't ya think?
This past week was a lot like weeks past! Ha! Lots of photos, some journaling, a touch of the Clementine Core Kit, some digital elements and an extra insert with goodies.
Here's a closer look at everything: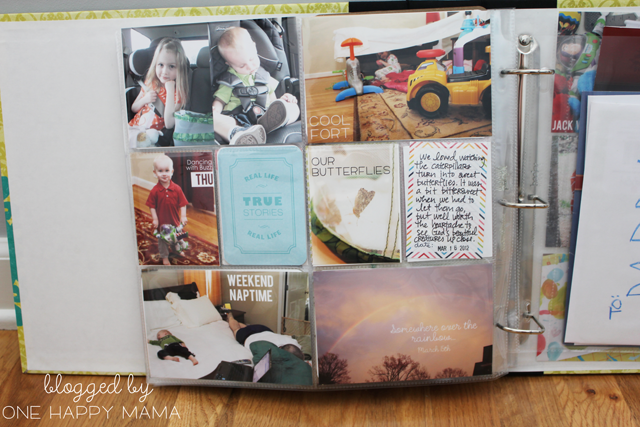 On this page I have photos of: Caylin & Jack in the car (Jack was fast asleep), Caylin's cool fort we made in the living room, Jack and Buzz Lightyear – he was dancing with him, ha!, our sweet butterflies that we watched go from caterpillars to butterflies, Jack and Michael napping on a lazy afternoon and the most beautiful rainbow I've EVER seen. I also used a card from the Clementine Core Kit and a freebie card that I got HERE. LOVE Miss Tiina's goodies! I also used the super cool digital freebie that Catherine from Design Editor shared HERE. Catherine is SUPER talented and her Project Life and work in general is some of my most favorite!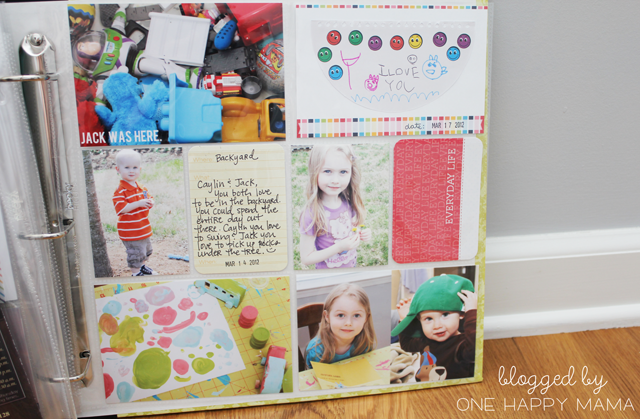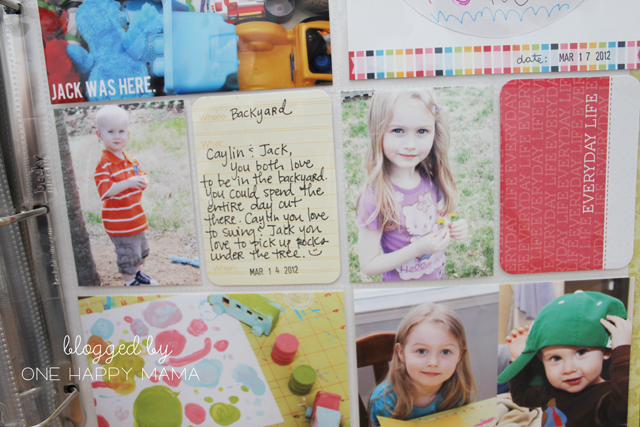 On this side there's of course, more photos! Ha! I was sure to add text directly on some of my photos this time. I'm not sure why I sometimes forget to do that, but it really helps make it even that much easier! I've got a photo that shows proof that Jack was there, LOL, also a little drawing that Caylin made for her Daddy on his birthday is glued onto one of the freebie cards from Miss Tiina. I thought it was so cute that my husband wanted me to add it to the album for safe keeping. ;) There's also a photo of both kiddos outside in the backyard, a picture of my daughter's recent painting masterpieces, a picture of Caylin when she was filling our her Daddy's birthday card and then sweet Jack in one of his Daddy's baseball caps. Oh my does he look super cute in one! ;) A bit of journaling, a Clementine Core Kit card and that's that! ;)
Some other close ups: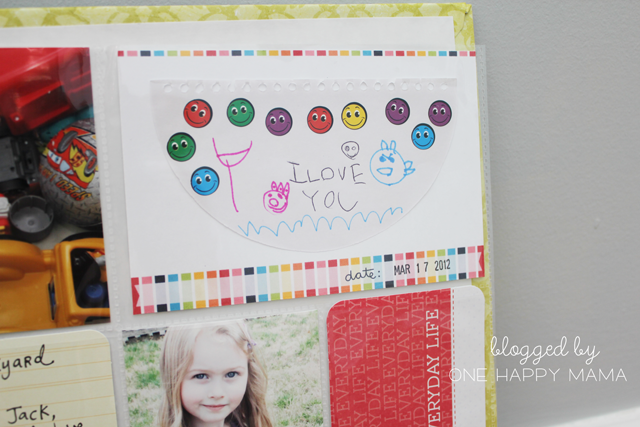 Just in case you were wondering – in Caylin's drawing – you can see she drew a slingshot, the king Pig and an Angry Bird. Ha! She loves Angry Birds. So does her Daddy. ;)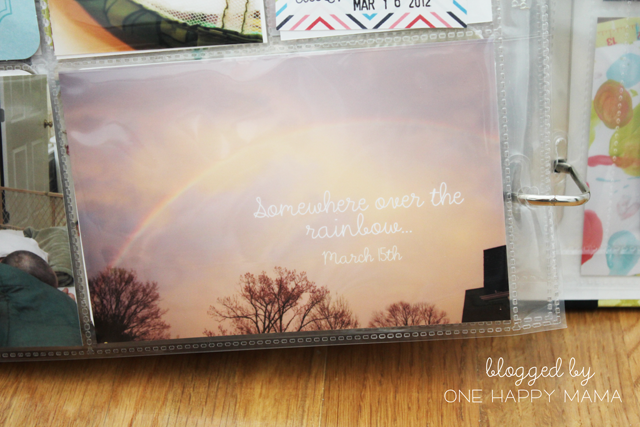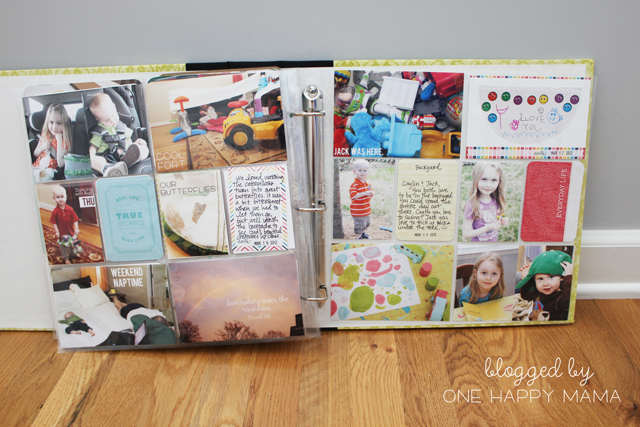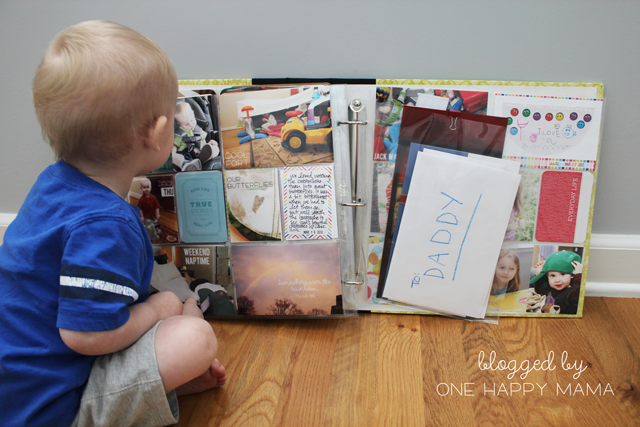 In the middle I have an 8.5×11 page protector that has Michael's birthday cards in it and then the church bulletin from a new church we've been going to and really love.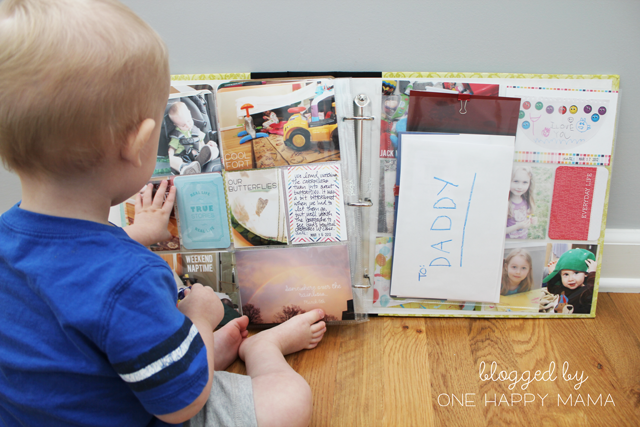 You can see that Jack really loves Project Life, too! ;)
Well, that's my week 11 I hope you've enjoyed it! I can't wait to see everyone else's week! Be sure to link up below so I can check out your lovely work and be inspired! I love how we are sharing our pages and inspiration! I look forward to it all week!
Thanks so much for stopping by! Hugs!! Have a blessed day!
Link up below if you'd like! Check out more awesome Project Life inspiration HERE on my friend Jessica's blog!