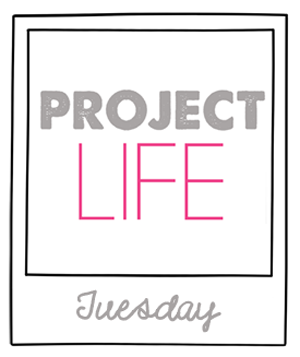 Happy Week 7 to you sweet blog readers and Project Lifers! Can you believe we're already 7 weeks into this? Whoa. Time flies! Ha!
Today I've got a special treat for you! An awesome giveaway! Yay! I LOVE giveaways!! First let me talk about my week 7 really quick.
This week I used some goodies from the Clementine Core Kit that I love and also some goodies from the Martha Stewart office line at Staples (Thank you, bestie!!). I threw in some thickers, flair and I'm loving my stapler lately so I any little bits I can, I staple. LOL! Also, this week I used cards from the kit that Crystal and I collaborated on. You can see the cards from the kit on this page – "hello there life" and "A Story from Today."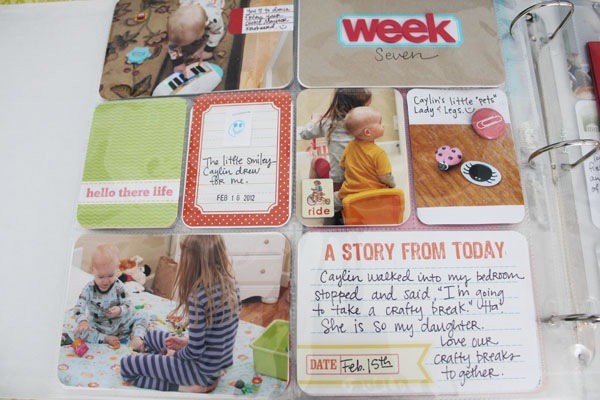 :left page:
On the right side, I used more Martha Stewart labels, the sweet tag I created using the March Card Kit from Simon Says Stamp, another 4×6 card from the kit Crystal and I put together and I also cut out a piece from the Nashville Symphony pamphlet from our field trip last weekend and included that.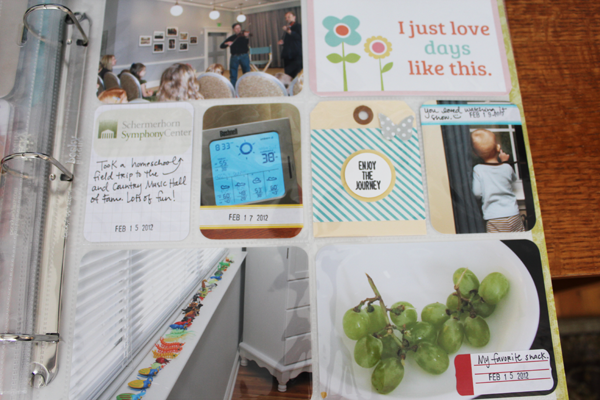 :right page:
I added a 8.5×11 page protector to this week to include the sweet cards I got for Valentine's Day from my husband and kids. I stapled one of the 3×4 cards from our new kit to the side and added a label as well. :)
I'm going to have more details and previews of the new kit that we're releasing up on my blog soon once it's in Crystal's shop, which should be later today. I promise that you're going to love it! It's a BIG kit FULL of cards in all different sizes that fit in multiple Project Life page protectors and they are also great to use on cards and on traditional scrapbook layouts. So many ways to use them! I'm excited to show you more.

I'm going to give away this new collection to TWO people. To be entered, leave a comment on THIS post. Everyone who links up to their Project Life below gets an extra entry! ;)
I'll draw a winner on Friday! Good luck and have a great day everyone!! Hugs!!
Link up below if you'd like! Check out more awesome Project Life inspiration HERE on my friend Jessica's blog!