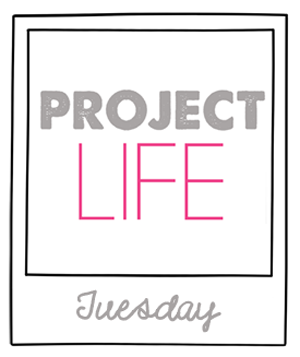 Hi there!
Happy Project Life Tuesday to you all! :) Here are my pages for week six!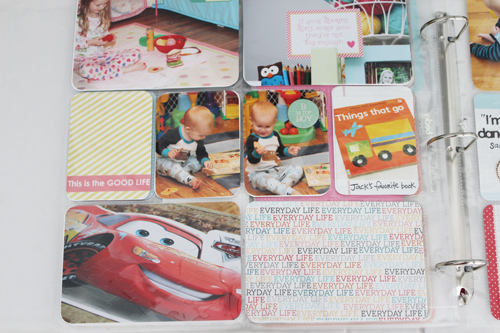 :left side:
Keeping it simple, like usual. Included a photo of Jack's current favorite book, the big Lightning McQueen puzzle Caylin and I put together during a big puzzle-putting-together fun we had the other day. :) Also, snapped shots of both Caylin and Jack in their rooms playing. I snuck around the corner for both photos and took them without them knowing on different days. ;) Also included one of the super sweet cards that says "This is the good life." Love those yellow stripes! ;) You can find those cards for sale HERE. They're only $2 and go to a great cause that you can read more about HERE.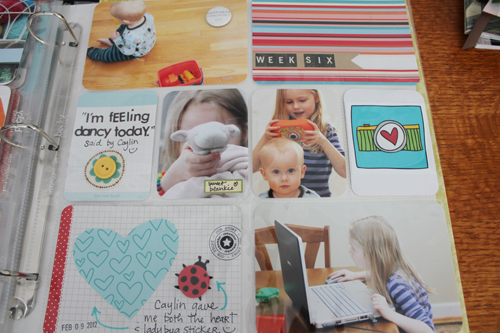 :right side:
On this side we have some little bits and pieces like a quote put on a journaling card that Caylin said this past week. I love adding quotes. They not only make me giggle, but I'm happy to jot them down with the excitement of placing them in my Project Life! :) There's also a cute camera graphic that you can download for free HERE. Oh, and while I was working on my pages, Caylin sweetly came up to me and give me a cut out heart and a ladybug sticker and said, "Mama, can you put these two things in your Project Life this week? They are from me to you because I love you." Now how could I say no to THAT? Too stinkin' cute and sweet. I just love that kid and love that she is excited and loves Project Life, too! A couple other photographs and then the week title and that's it!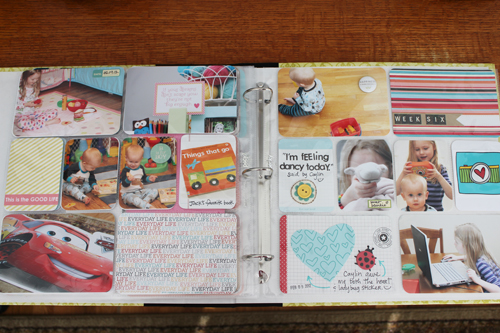 :both sides: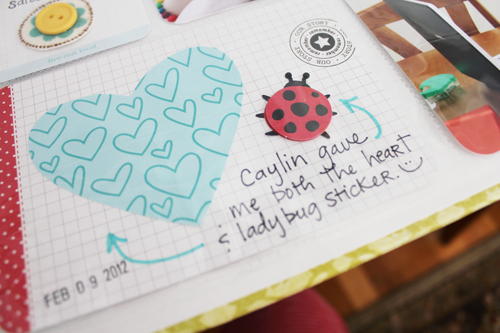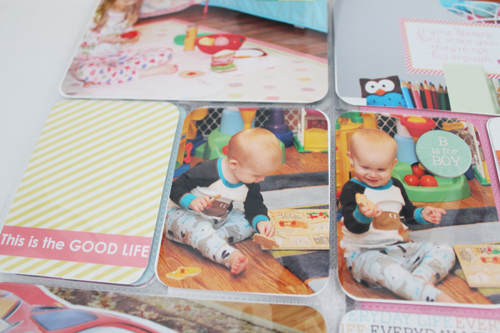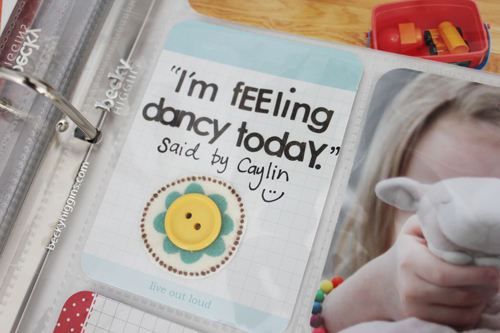 I hope you've gotten your week done, too! I would love to see it so please link up below! I love looking at everyone's sweet pages and seeing all of the inspiration that is out there!
Have a blessed day! :)
Link up below if you'd like! Check out more awesome Project Life inspiration HERE on my friend Jessica's blog!