Ok, brace yourself for major cuteness ahead. LOL.
Look at these super cute mini polaroid magnets I made.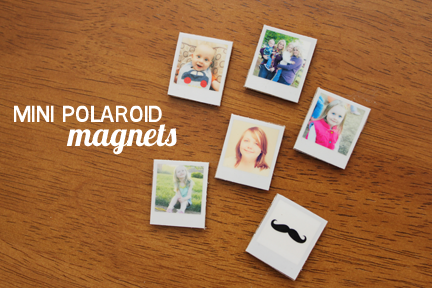 When I first saw THESE super cute mini polaroid magnets, I immediately bookmarked them (it was before Pinterest, I believe) and vowed to create some of my very own soon. Well, I totally forgot about them (isn't that always the case?!) until I spotted a pin on Pinterest (Sigh. Pinterest, oh how I love you) and then I promptly pinned it and made sure that I created some. And I'm happy to report that I did! I made some for my sisters as a little handmade gift to go with their Christmas presents and they were a big hit! They loved them and I loved making them! I recently made some for myself as well!

I thought I'd do a little giveaway to one of my sweet blog readers! Just leave me a comment on this post telling me about a favorite photo you've taken recently and you're entered! If you are a follower of my blog already – let me know and that'll count for an extra entry! If you're not a follower yet – click on "Join this site" under the FOLLOWERS section in my sidebar and then leave me a comment letting me know and you can have an extra entry, too!
I'll draw a winner randomly to win a set of 6 mini polaroid magnets of YOUR favorite family photos! :) Easy cheesy, right?!
This little giveaway will close on Sunday, January 8th at 5 p.m. central time and I'll draw a winner shortly after that! Hugs to you! Thanks for reading! Oh, and I'll have another giveaway coming up on Monday! :)